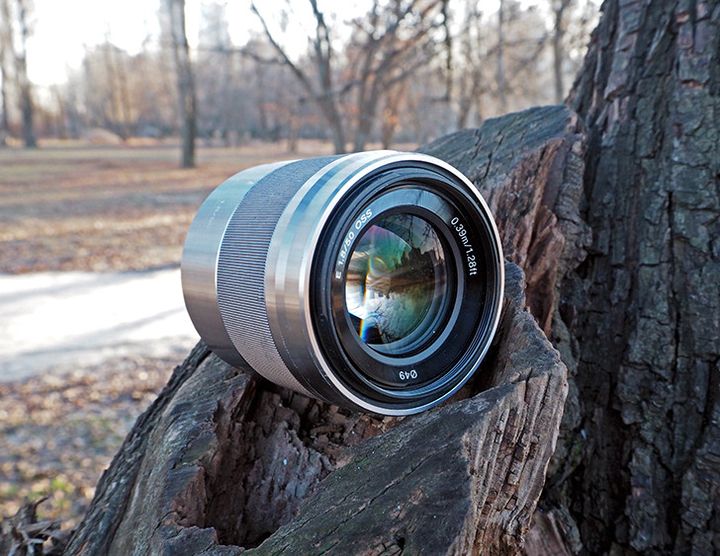 The hero of this review – not a newcomer to the market of photography. He was released more than three years ago – in late 2011 with the camera Sony NEX-5. During this time, the lens has won a lot of fans, because the owners of the brand Sony impresses with its price, picture quality, and reliability of the design. In this review we try to figure out whether he bribe us.
Housing Sony 50mm f / 1.8 OSS is made of aluminum alloy, which pleasantly cools the hand. It should be noted that the lens is available in two colors: silver and black. Both options were in our hands, and their photo will rotate.
Ribbed focus ring rotates easily, which ensures reliability when using manual focus. No it does not creak publishes. Yes, and the objects are collected fairly high quality – precisely tailored details, so it's hard to imagine that it could become loose or squeak.
Included with our own blend of "fifty dollars" considerably grows in size – it is huge and adds 70 percent length.
And this is how it looks on the Sony A6000 – a bunch with this camera we used in the survey:
Controls on the lens missing – all process control shooting is due to the camera. But inside the AF motor built with a linear actuator that provides smooth, fast, tenacious and virtually silent focusing. Autofocus completely misses, even in challenging low-light situations. Focus the hero of our review can with 39 cm.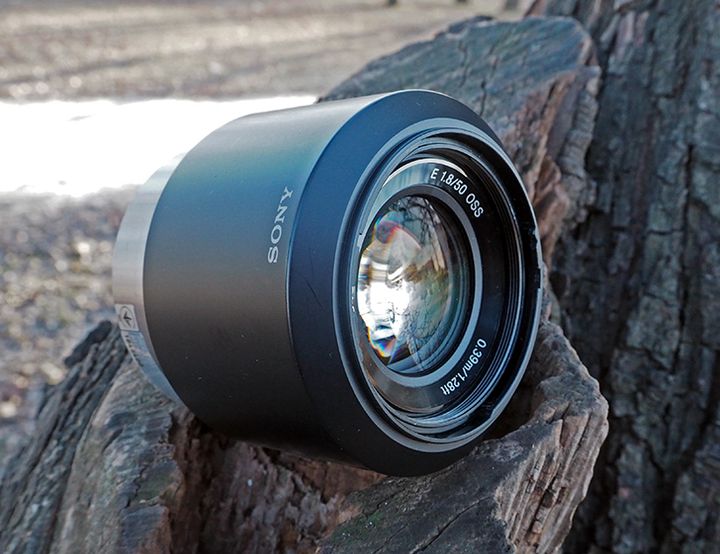 One of the main "chip" of the lens is the built-in optical image stabilization Optical SteadyShot. With the move at all difficult to name a couple of "fifty dollars" with built-in optical image stabilization on board. And the hero of this review, it is not enough that there is, as yet, and quite effectively works: in the dark on the type of shutter speeds of 1/20 or 1/10 is quite good images without any blurring. Besides being able to take pictures on the critical exposures with hands, Optical SteadyShot opens up opportunities for baggy movie: fast lens and even paired with stabilizer rollers allow you to write, without using a tripod or monopod.
However, the autofocus when shooting photos in low light conditions, sometimes, thinks for 2-3 seconds. In the gallery of images that you will find below, there are photos taken in this way.
Optical scheme of the lens consists of 9 elements in 8 groups. Aperture at "poltishka" – 7-blade circular. With it convenient to draw beautiful bokeh, which is obtained almost round (see the examples again in the gallery). But something sverhshedevralnogo still expect from such a construction is not necessary.
Now for the resolution – by tests "fifty dollars" shows excellent results detail in the center of the frame starting with the maximum aperture of f / 1.8. These results are stored up to f / 5.6. On a more covert lens apertures is hard horoshistom. The edges of the frame at f / 1.8 will be mediocre, but at f / 2.2 the result will be better. And starting with f / 2.8 can be completely worry blur the edges.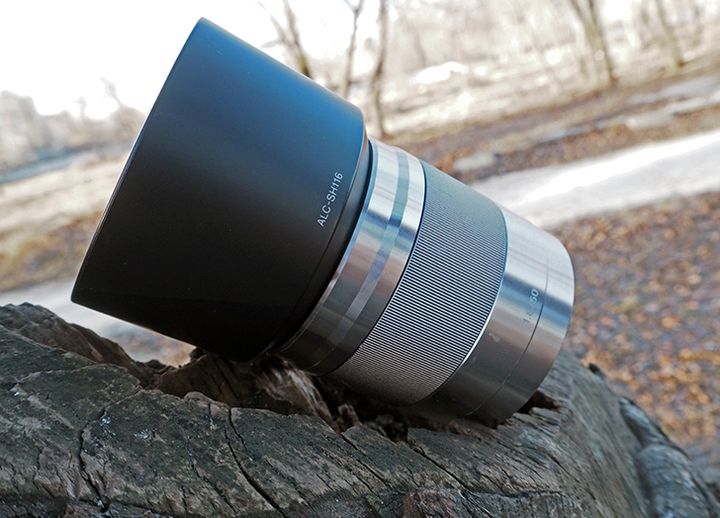 Since the lens is positioned more as a portrait lens, the blur at the edges of the maximum aperture even goes to the hand. And if you compare our hero from reaching whale Sony 16-50mm f / 3.5-5.6, the picture is the "poltishka" get sharper, especially along the same edge of the frame.
Initial data taken from the site photozone.de and were interpreted taking into account the fact that for the theoretical maximum was made conditional to 100 for better perception data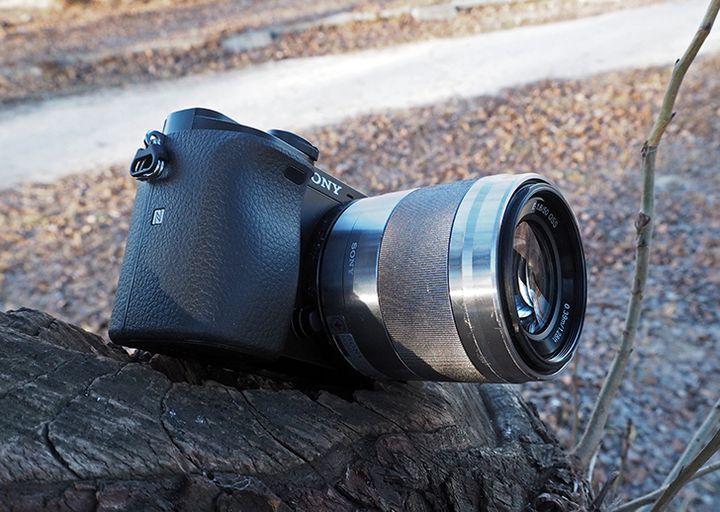 One great advantage Sony 50mm f / 1.8 OSS – it is practically not subject to lateral chromatic aberration. But zakordonnye colleagues, conduct thorough tests of the lens, highlighted his penchant for longitudinal chromatic aberration on the most open apertures. I will say that they are difficult to catch the eye – even at f / 1.8 the picture is remarkable both submitted copies.
Propensity to vignetting is also very small – it may appear slightly at the corners of the frame only on the aperture f / 1.8-2.0.
Lens weight is 202 grams and its dimensions – 62 x 62 mm. Place a bayonet coupling lens looks impressive and soundly – for the attachment can not be afraid.
Liked:
build quality;
quiet and smart autofocus;
the presence of built-in optical image stabilization;
beautiful bokeh thanks to the 7-blade diaphragm;
fine detail across the frame.
Did not like:
longitudinal chromatic aberration at full aperture;
Ping autofocus in low light conditions.
Resume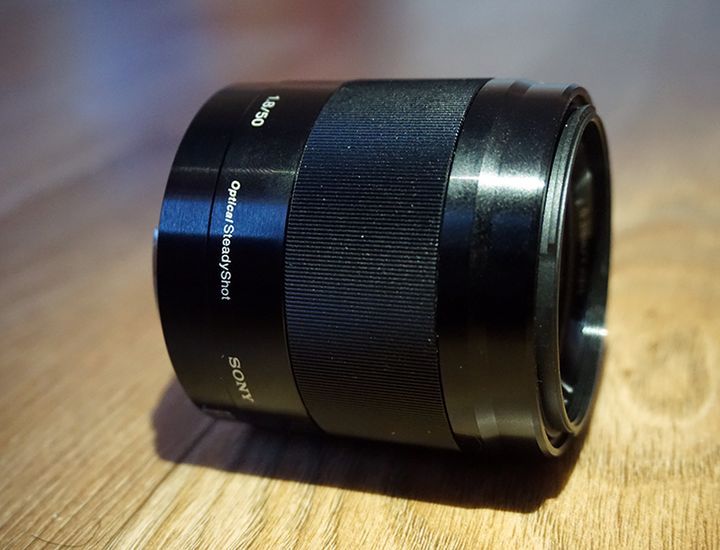 In the ratio "price-quality" hero of our review, perhaps, is the best representative among mount lenses E. Where do you even find a $ 300-aperture "fifty dollars" with a quick Wave Motor autofocusing system of optical image stabilization Optical SteadyShot, allows you to shoot with hands on critical exposures and write video without any blur, superior aluminum housing, painting, moreover, sharp image with beautiful bokeh? So, going back to the origins of the review, still have this lens bribed, and we can safely recommend it for the camera Sony-mount E.
Read another very interesting article about alternative energy of the Sun, water and air.