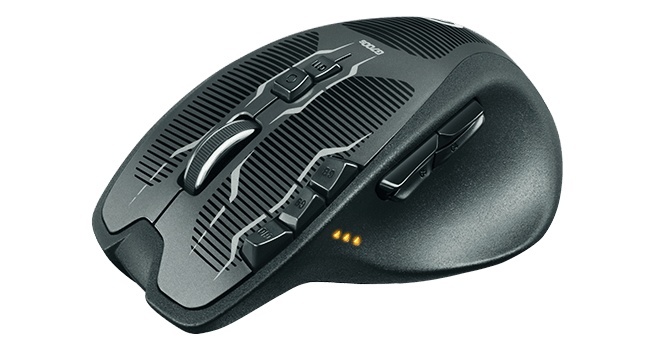 Updating the line of game controllers, Logitech did not forget about wireless Representative G-series – Logitech G700 . As model G100s, G400s , G500s , novelty, Logitech G700s Rechargeable Gaming Mouse, as well received not only cosmetic updating.
In an update in 2013 is clearly seen some unification, starting with the packaging. G700s comes in a nice cardboard box with magnetic clasp, and has included a cardboard case with a manipulator, a receiver and extension to it, charging cable, a set of documentation and AA battery capacity of 1900 mAh.
As junior "colleagues», G700s got dark gray top panel with stylized stripes, in this case, it's gone for the benefit of the manipulator, because the original panel podladonnaya G700 was dull black color and eye, in general, was not for that engages . Logitech says that now is a panel with a hydrophobic coating, preventing the adhesion of the palm are misted. Many hours of use manipulator confirmed this assertion. Side panels now have mouse rough coating, as in the G500s, which improved uhvatistost, because novelty is almost identical in size predecessor – 126 × 80 × 46 mm, and its weight is 153 grams with battery.
Fortunately, the company decided not to change very successful and Flawless ergonomics G700 and manipulator as before perfectly fits in an average size hand and cause absolutely no discomfort after prolonged use, and the best one is the grip "palm". However, grippy side panels allow very confident to keep the mouse and fingers. G-8 extra keys still in their places. Group of four side buttons under the thumb, has a well-identifiable form, though their progress is too soft because of what neighboring buttons are easy to catch in the heat of battle.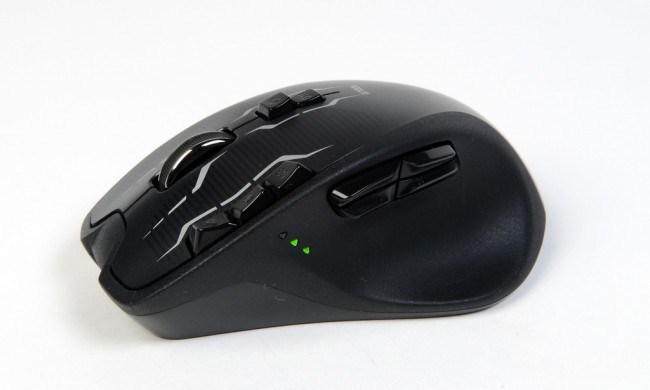 And if the design has not changed, the crane has a new toppings. As sensor works here ADNS-98xx from Avago with laser illumination, resolution 8200 dpi and adjustable in increments of 50 points. Frequency range of the survey – 125-1000 Hz. The use of such high resolution was not a necessity, because the Logitech G700, possessed 5,700 dpi sensor also has no problems with positioning. The decision to install a new sensor rather marketing, because the main competitors in this price range have already got more modern sensors. Besides – this is a good foundation for the future era for 4K displays.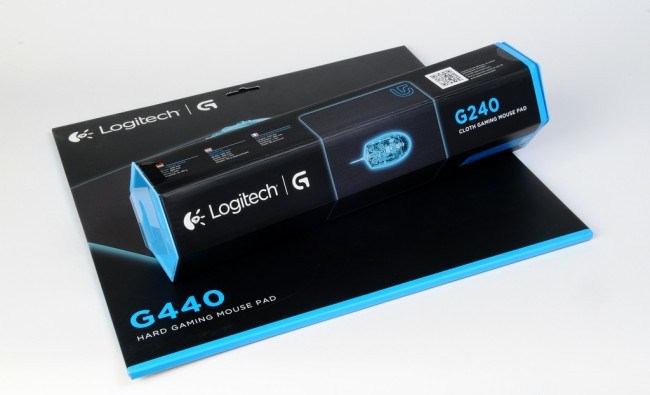 With regard to slip, this point it is worth mentioning separately. Submit an updated G-series, Logitech, it seems the first time in its history, and introduced gaming surface – Logitech G240 Cloth Gaming Mouse Pad and Logitech G440 Hard Gaming Mouse Pad. G240 – a thin cloth mat with a smooth texture and is positioned as a solution for lovers of control and precise control. G440, on the contrary – a plastic rigid surface with a rough microtexture designed for high speed travel. Both the surface impression of quality products and the perfect complement game series, but I would like to see more in the series and mat for daily use. Logitech statement about better compatibility submitted surfaces and manipulators new G-series does not mean that on rugs from third-party mouse behaves worse. Tests on tissue Razer Goliathus Control, MadCatz GLIDE and plastic Razer Sphex showed that G700s feels equally well on surfaces and from third-party manufacturers.
For changing the parameters of the manipulator as usual liable for Logitech Gaming Software. Since the time of G700 functionality remains at the same high level. You can adjust the parameters of the sensor, reassigning key functions, creating macros and edit profiles and then to use gaming applications.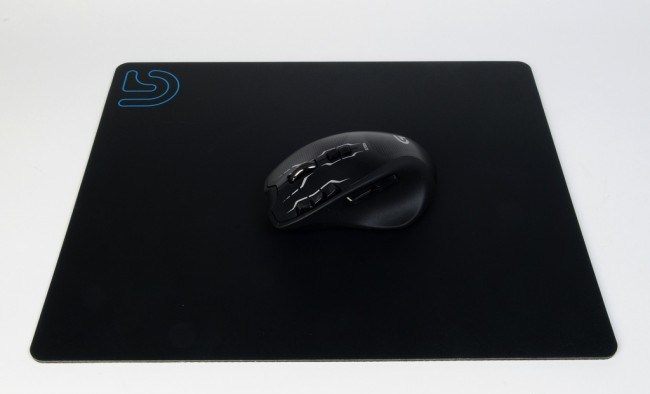 The battery life depends on the capacity of the battery. Complete battery of Logitech G700s can work up to 40 hours in office mode with low rates of dpi and polling rate, but in a game mode with maximum performance, the manipulator discharged for 8-12 hours depending on the parameter setting of sensitivity and polling frequency. So there will be no extra simultaneous operation and battery charging. Experience only slightly spoils too hard and heavy USB-charging cable. It should also be noted, and the ability to work directly from the cord without the battery installed. In this case, the mouse becomes less inertia.
At the time of writing the average cost Logitech G700s was about $ 110. Given the quality and functionality of this amount does not seem excessive. Especially because at the start of sales of the same amount requested for Logitech G700.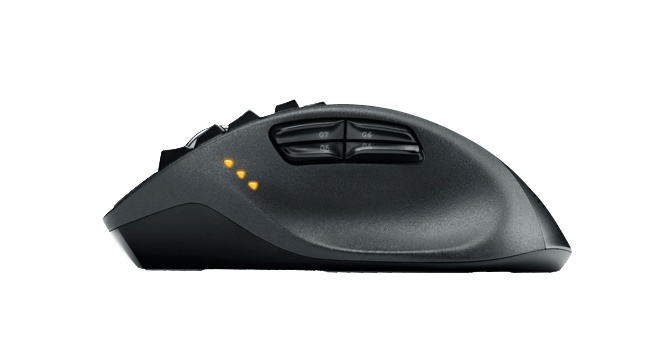 As a result, Logitech G700s – it's still a worthy representative of the G-series and a successful update. This mouse can be recommended primarily for daily use, but become the perfect game manipulator, novelty, unfortunately, prevents large mass and dimensions. Although, if that is not a problem, the other characteristics allow the use G700s in games.
Liked
+ Ergonomics
+ Body Materials
+ Functionality
Dislike
– A large mass
Read another very interesting article about alternative energy of the Sun, water and air.