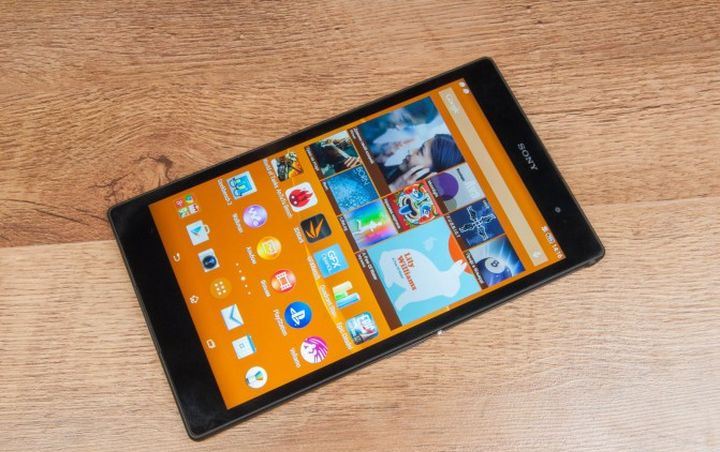 Previous models of tablets from Sony – Xperia Tablet Z and Xperia Tablet Z2, proved to be very successful, so the novelty, compact 8-inch version of the Xperia Z3 Tablet Compact, awaited with interest.
Acquisition, modification
Sony can not change the traditions – the tablet comes in a box, made in the same style as the Xperia Tablet Z2. This matte white cardboard box with a picture of the tablet (again, white, despite the fact that the model – black), in which, except for the tablet, there is also a charger, USB-cable and Start Guide. Set, we can see that the minimum – headphones and other "bonuses" are not available. Total available 6 versions of the tablet – black or white, with internal memory 16 or 32 GB, and a version of «Wi-Fi only» or with built-in 4G / LTE-modem with support for voice calls.
Design, connectors – Sony Xperia Z3 Tablet Compact
In terms of appearance Xperia Z3 Tablet nothing (except for size, of course), is no different from previous models – it uses all the same air OmniBalance design with an emphasis on symmetry, miniaturization and tactile user. Hallmark tablets Xperia – slim and lightweight body – fully manifest here; A new model is 6.4 mm thickness (the same as that Xperia Tablet Z2), and weighs about 270 grams, much lower than any other similar plate with diagonal and comparable with readers for E-Ink.
Housing is protected against dust and water in accordance with the standards IP65 / 68, making it much easier to take the tablet on a sandy beach, swim with them in fresh water up to 30 minutes and dive for underwater shots at depths of up to 1.5 meters. The only condition – all the connectors and slots should be tightly covered with adequate blanking without additional protection cost only audio port. It should be noted that the degree of Dust in Z3 was higher than it was at one time Z2 (IP55 / IP58) – by the standards of the classification system of protection, the previous model was the "Dust" (some dust still could get inside, but without affecting the operation of the device), while Z3 become "dustproof" (full protection).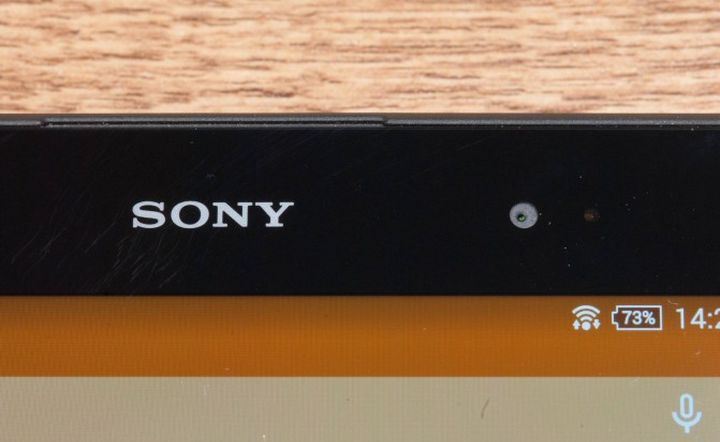 The front panel of the tablet is covered with durable tempered glass oleophobic coating. At the top we see the logo of Sony, eye front camera of 2.2 megapixel, LED light and unobtrusive in passive mode indicator that displays the battery charge and missed signals about system events.
Screen bezel for traditional plates with a diagonal – wide on top and bottom and narrow – on the sides. Such a frame, it would seem, the main option involves the use in landscape orientation (in which the grip is very convenient), but the location and logo / camera lens, and indeed the "ideology" of using the tablet with a diagonal indicate that the preferred embodiment of the use of Xperia Z3 Tablet Compact – still in portrait mode, in which the thin frame under the thumb of some users may not seem very comfortable. The rear panel is completely flat, made of rough to the touch plastic (which is not fingerprints) on it we see the main camera lens at 8.1 megapixel, logos, Sony, Xperia, and NFC.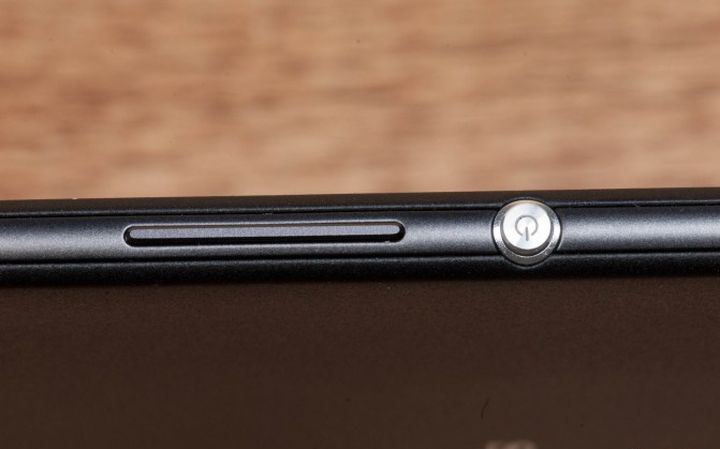 All of the available controls and connectors Sony Xperia Z3 Tablet Compact brought to the brink of thin body. Right in the center, right under the thumb of his right hand, settled down the power button and volume rocker, here at the top – headphone jack. On the bottom under the protective cover is a connector micro-USB, on the left side – brand connector to connect to the dock and again covered with a protective cover, a slot for memory cards microSD (near plug there, on the spot where a modification is LTE connector for the phone card MicroSIM).
Display
In Sony Xperia Z3 Tablet Compact uses a proprietary 8-inch IPS-matrix with a resolution of 1920×1200 TRILUMINOS pixels.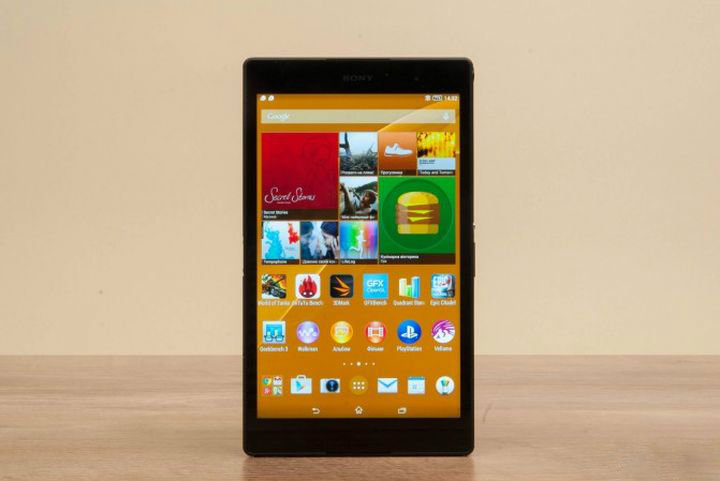 Angle markedly reduced brightness, but any appreciable discoloration occurs. The brightness of the backlight is adjustable from 10.5 to 450 cd / m2, available both manual and automatic brightness control. Contrast was pretty standard for IPS-matrix 769: 1. At default settings, the picture looks chilly and oversaturated (tests confirm this: the color temperature is near 9000K, gamma value – 2.5 with standard 2.2), to remedy the situation by using the manual adjustment of each of the three primary colors separately in the settings of the tablet.
Functionality Interface
As Sony Xperia Tablet Z2, the new model is based on let no longer the newest, but still powerful hardware platform composed of quad-core Qualcomm Snapdragon 801 (operating frequency was increased to 2.5 GHz to 2.3 GHz at Z2), Adreno 330 graphics and 3 GB of RAM. It is not surprising, therefore, that in benchmarks it shows excellent performance – the power of this platform enough to head for any, even the most demanding, tasks.
Available storage capacity of 16 or 32 GB memory card capacity plus MicroSD. In addition to standard Bluetooth and Wi-Fi, the tablet is equipped with a module GPS, NFC sensor and optional LTE-modem with voice calls. Battery capacity is 4500 mAh – according to the manufacturer, this is enough for 15 hours of video playback or 170 hours of music. As can be seen from our tests, these numbers are not far from our results.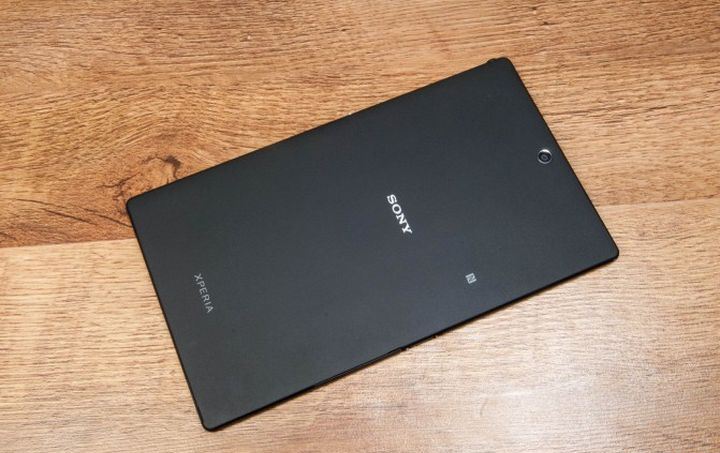 The tablet is running an operating system Android 4.4.4, supplemented by proprietary software shell and pre-installed applications. Appearance and functionality of the shell from Sony is familiar to anyone with a family devices Xperia, so the interface Sony Xperia Z3 Tablet Compact for them would be familiar and "native".
Results
Sony Xperia Z3 Tablet Compact – a stylish, slim and very light 8-inch tablet at a sufficiently powerful platform and body protected against water and dust. However, he has a drawback – a price that is higher than the iPad mini 3. That, however, can not boast of a protected body and at the same time by as much as 60 grams heavier.
Liked
+ Nice design
+ Slim and lightweight body
+ Good display
+ Dust and water
Do not like it
– High cost
Read another very interesting article about alternative energy of the Sun, water and air.