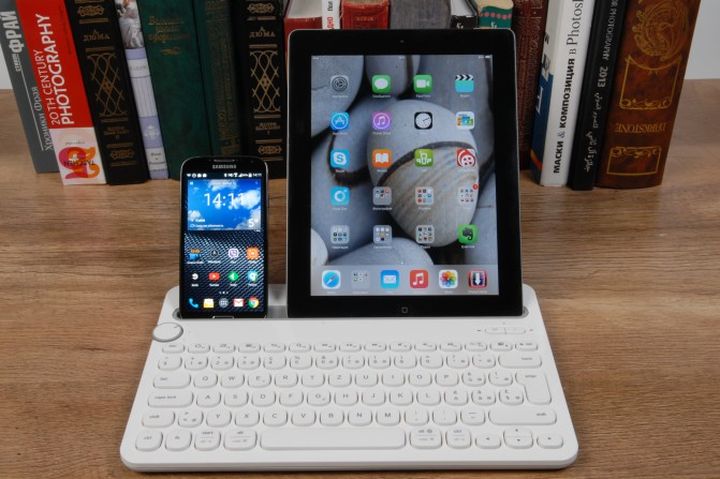 You probably have repeatedly faced with a situation where while working at the PC has to be in correspondence not only a desktop computer, but also on mobile devices. If yes, believe it makes no sense to resemble with any inconvenience this sometimes involves. Logitech K480 Wireless Keyboard is designed to blur the line between typing on different devices and today we see how well it is her work.
At first glance it may seem that this is a portable solution – so similar to the appearance of the K480 with the latest models of mobile Logitech Keyboard for iPad. However, the place of today's guest review solely on the table and, with rare exceptions, on the couch with your tablet. This impression promotes compact keyboard design, but the feeling of mobility and portability leaves as soon as you take Logitech K480 hands.
Relatively considerable thickness of 20 mm and a weight of 800 grams makes the keyboard to put on the table in front of the monitor for a long time and do not take it from there. However, this is not a claim, portable keyboard is not created, and its considerable weight is needed for balance when docked in the tablet.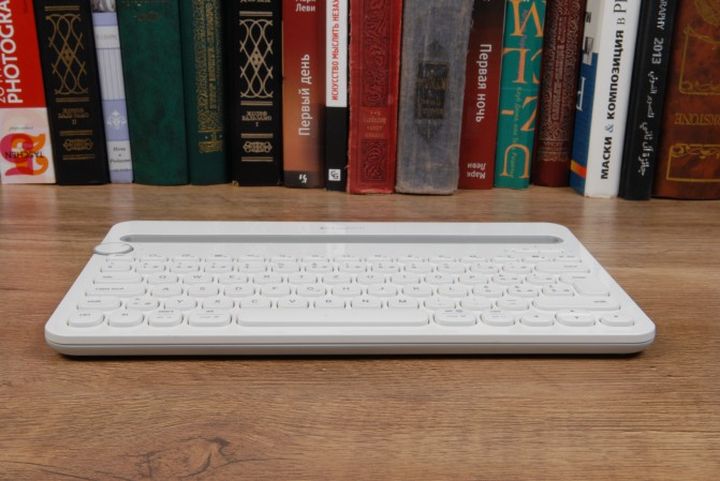 With this no problems, even with two docked in gadgets weighing more than 700 grams of sustainability keyboard never broken. For reliable position of the device on the table correspond to 5 rubber feet. But the build quality is upset, keyboard testing we received is not new, the body can not be called a monolithic, even just taking the device in your hands you could hear the creaking and crunching, but the process of work is not affected.
Ergonomics, experience with
When creating a Logitech K480's engineers was quite a challenge to make the process of switching between different devices as simple and transparent, which is complicated nuances layouts on different platforms.
Were taken into account especially WIndows, OS X, as well as mobile operating systems such as Android and iOS. We use a keyboard paired with a PC based on Windows 7, iOS 8 on the iPad, smartphone and tablet Android 4.4 on Windows 8.1. With Windows Phone, unfortunately the keyboard does not work in spite of connectivity.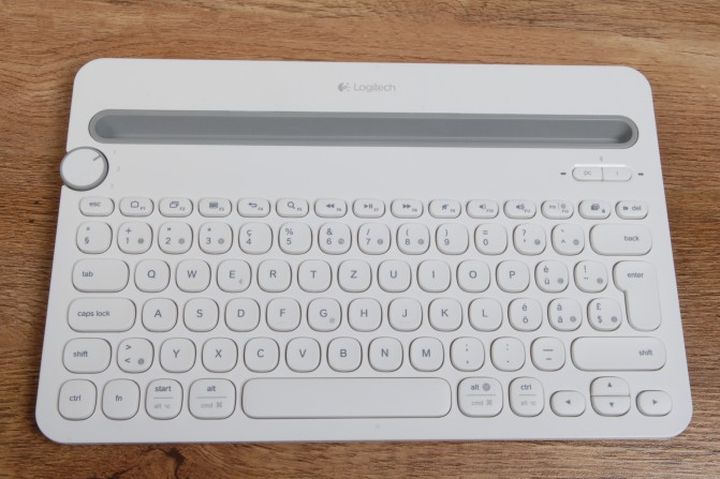 Let's start with the main feature of the keyboard – switching between devices. The pairing process takes place as quickly as possible, regardless of platform. To do this, you only need to turn on the keyboard, press the connections necessary platform, confirm the pairing code and you're ready. You may have to pay attention to the photos located on the left side of the selector – a switch between paired devices. You can "tie" three devices to the keyboard and switch the text input mode on the device, the reconnection occurs within a second or two and, for example, typing SMS on your phone, switch on the set of posts on the iPad, and then, without any problems continue to set the document on the PC. It was very cool, and in this regard is to pay tribute to the company Logitech. Lag when entering an extremely minimal and probably depends on the receiving device. Autonomy deserves only the highest rating – up to 2 years from the pair of AAA batteries.
However, not everything is so rosy, in an attempt to "please" all platforms, suffered ergonomics. We received a very functional, but uncomfortable tactile keyboard. Due to the compact body, the keys are very crowded, block arrows turned noutbuchnogo sample, and most functional range of the F-keys just can not boast of any separation from the common block or convenient size of each key. The rounded shape of the main keyboard takes some getting used, and at first may occur errors.
Software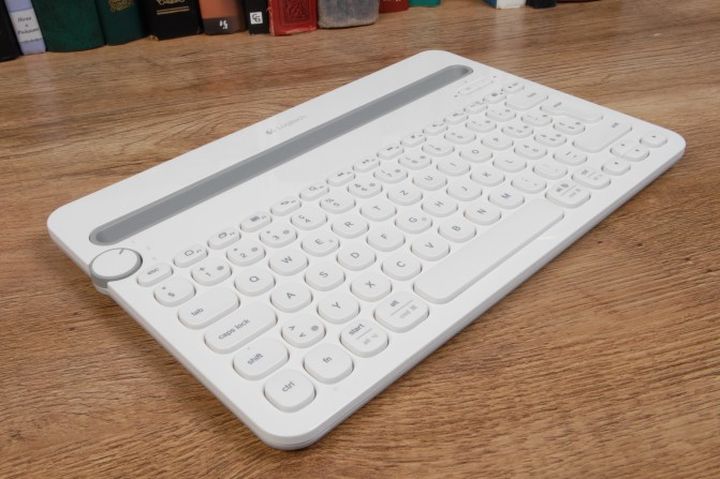 Logitech K480 – this is one of those products that "just work", regardless of the connected device. However, for example, Windows 7 default F-number keys perform additional functions, and their standard functionality available only via modifier Fn. To remedy this inconvenience will help you install the utility Logitech Options, where you will also be able to turn off Caps Lock, and other special keys.
For users of Android in Play Market application is available Keyboard Plus , thanks to which users versions prior to 4.4.2 can customize the layout, choice of languages and the default input.
Results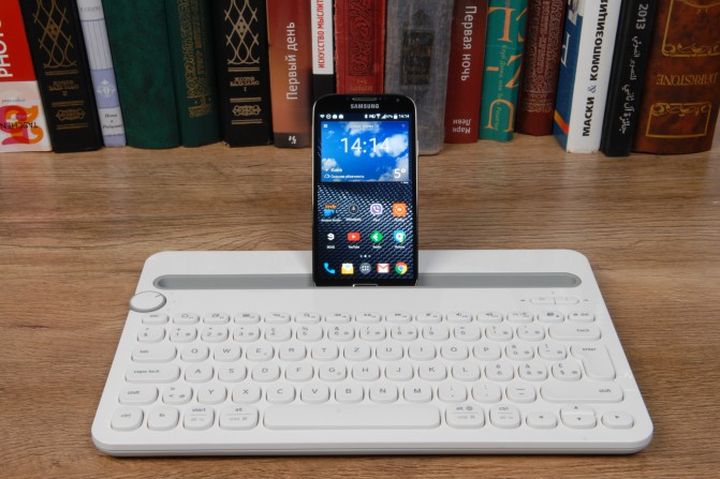 Logitech K480 – very niche device, because of the cost and problems with the ergonomics are not suitable for everyone and for every day. The exceptions are people who are forced to regularly enter text in different devices, for them such a keyboard is an excellent choice. We very much hope that the model K480 – not the last device of its kind, and the company will develop this direction towards improving ergonomics.
Liked:
+ Idea and realization of fast switching between devices
+ Functionality
+ Autonomy
Did not like:
– Nuances ergonomics
Read another very interesting article about alternative energy of the Sun, water and air.