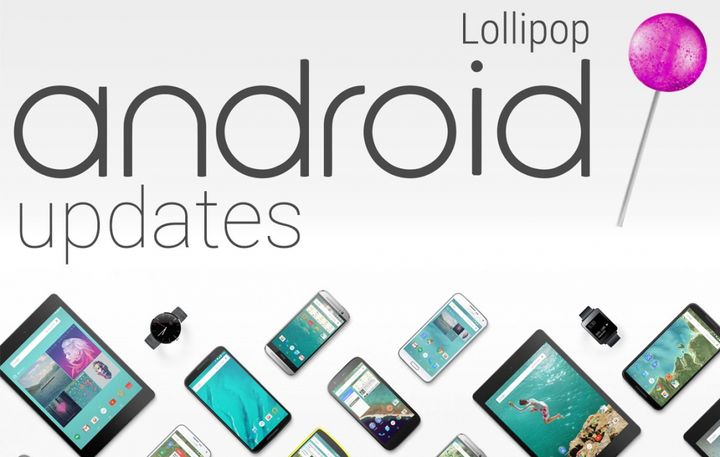 The first Android-based device has already begun to receive their portion of "candy." First, the long-awaited update "flew" the owners of smartphones and tablets lineup Nexus, and is rumored to be soon a series of Google Play Edition will feel the whole charm of the new operating system. Overview Developer Preview version we already have, but the full list of changes in the final version, prepared by the official website of Android 5.0 Lollipop, you can read under the cut.
I want to warn that the faint of heart (the people who will not soon see Lollipop on their devices), this material is better not to read. Indeed, the list of changes is very large and "delicious" and the owners of smartphones and medium budget (some models) price segment should not pray for official updates, and direct hands of third-party developers who sometimes make this world a little brighter.
Material Design – Android 5.0 Lollipop
The new design of the user interface, which was established on the basis of experience with many devices.
Natural animation, realistic colors, as well as visually familiar controls that help to get used to the style update.
Proprietary applications in the same style on all platforms.
Notification – Android 5.0 Lollipop
The opportunity to set the time when the notification will come from specific users or specific applications.
Replying to a message directly from the lock screen. There are privacy settings.
Priority mode messages, which is activated by the volume buttons.
Incoming calls are no longer interrupt the operation of the application. You can take the call or just roll it.
You can disable notification of some applications and customize their priority.
Intelligent sorting messages and other notifications (like applications, etc.).
It is possible to view all notifications in one place by clicking on the top of the screen.
Battery – Android 5.0 Lollipop
Optimized power consumption. On average, all devices with Android Lollipop will be able to work for 90 minutes more.
Information about the time remaining until the end of a full charge.
Detailed statistics on the cost of the charge system and third-party applications.
Security – Android 5.0 Lollipop
SELinux – protection against vulnerabilities and malware.
Protect your device using the Android Smart Lock – association with a trusted device (hours or even a car).
Encryption out of the box, which helps to avoid the loss of personal data.
Joint use – Android 5.0 Lollipop
Support for multiple accounts, which allow you to use your smartphone to a group of people.
Guest mode (only access to certain features and applications).
Improved ability to data to other devices or the Internet.
Access to the Quick Setup – Android 5.0 Lollipop
Opportunity to launch frequently used settings in a few clicks of the top of the screen.
Quick start flashlight, access points, Screen Cast and steering control screen.
Manually adjust the brightness for the conditions.
New switches Wi-Fi and Bluetooth.
Relationship – Android 5.0 Lollipop
Faster Internet connection by optimizing.
Elaborated selection logic network – only with the Internet or Wi-Fi.
Scan Bluetooth-enabled devices now consumes less power.
New mode Bluetooth Low Energy.
Performance – Android 5.0 Lollipop
Improved computational work (faster, better, cooler).
New runtime – ART.
"Flat" user interface for filling applications.
Support for 64-bit devices (Nexus 9), 64-bit systems on chips with nuclei ARM, x86 and MIPS.
Support for 64-bit architecture applications branded services (Chrome, Gmail, YouTube, Google Play and other).
The Java language without other add-ons – automatic adaptation of the 64-bit applications.
Media – Android 5.0 Lollipop
Improved graphics, audio (low latency audio output, mixing audio streams) and work with the camera (opportunities).
Support for USB-microphones and other USB-Audio.
New graphics capabilities with OpenGL ES 3.1.
Support to shoot photos at up to 30 frames per second, supporting YUV formats and Bayer RAW. Tunneled hardware video decoding (saves energy). Working with 10-bit video resolution of 4K.
OK, Google – Android 5.0 Lollipop
Starting voice assistant using the phrase "OK, Google» even when the screen is locked on devices with digital signal processing support.
Easier access to information and more accurate speech recognition.
You can "talk" with your smartphone on the go, to find out information about the weather, location and much more.
Android TV – Android 5.0 Lollipop
Easy access to content through an updated interface.
Personalized recommendations for movies and shows based on your preferences.
Voice Search system applications (YouTube, Google Play) and third-party (subject to support such a possibility by the program).
Gamepad support in special games.
Broadcast content on the TV from your smartphone or tablet "on air".
Special Features – Android 5.0 Lollipop
Special treatment for people with poor eyesight.
Opportunity to adjust the contrast and invert colors (enhances clarity of the text).
Adjust the color differentiation.
Support for 15 new languages.
Set up your device – Android 5.0 Lollipop
First start and setting now takes very little time.
Setup and activation of Android-devices using the NFC-chip in just a few seconds.
Automatic synchronization application from Google Play with your smartphone on Android 5.0 Lollipop.
Rest – Android 5.0 Lollipop
New additions to the keyboard: Support «Emoji» and adaptive input.
Android Beam.
Turn on the device by double-clicking on the screen or while lifting gadget (need hardware support).
Feedback for owners of devices line Nexus.
Supports simultaneous operation of multiple payment systems and fast switching between them.
The list is taken from the official website of Android 5.0 Lollipop. As you can see, there are really a lot of useful features, but also shows clearly that some of the features appended "for show". But really, Android 5.0 Lollipop can safely assume that most major upgrade of the operating system for the time of its existence. There developers are not as usual "remove old bugs and added new" and have done a great job over many aspects of the "Green Robot."
Read another very interesting article about alternative energy of the Sun, water and air.