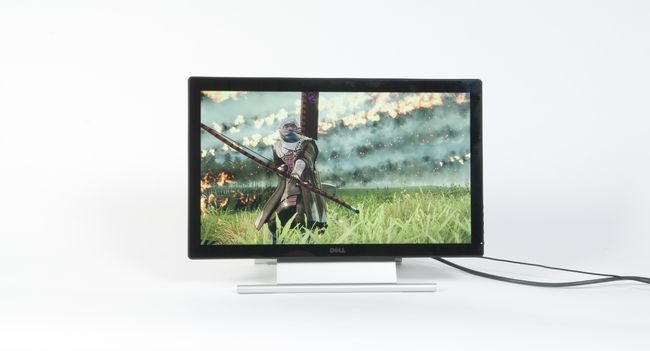 Touchscreen Monitors – thing is still rare, despite the fact that the latest operating system from Microsoft, Windows 8 is optimized for touch control. Besides, most of these models is based on the TN-matrices, which generally can not boast of high quality images. It is gratifying that this "rule" there are exceptions – for example, Dell S2240T, VA-based matrix.
Design
Outwardly, this monitor is a bit like a giant tablet support – "streamlined" body of black matte plastic, the back panel slightly convex, with the possibility of wall mounting (VESA 100×100, access to the connectors necessary to remove the stand.)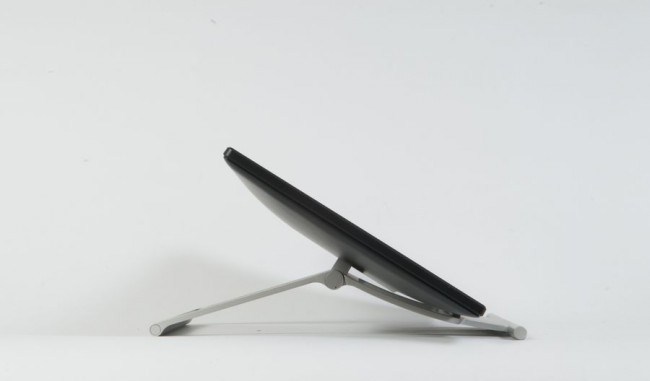 Connectors facing downwards and do not interfere with such an option using the monitor. There is an element of the video inputs VGA, DVI-D and HDMI, also located here, and audio line out port USB 2.0 (for touch input).
Around the screen – a typical "flatbed" frame a couple of inches wide, of which there is only a legend logo Dell. The frame is not relief, is integral with the touchpad that is very convenient. Activity indicator is located opposite the power button, and glows with white light, not distracting during operation.
Metal stand, ʌ-shaped. Front "leg" fixed rigidly, can be shifted back and change back so the screen angle, with a very wide range – up to 60 °. Both feet are rubberized, so spontaneous "razezzhanie" excluded – to "put" the monitor on the table, you need to make some effort, but a return to the traditional state is very easy, you just pull the top edge of the display.
Menu
Menu control buttons are located on the right side, they do not touch, and hardware and frankly tight. Traditionally, Dell, no symbols on them or near them there, and when you click on any of them on the screen in front of them there is a quick menu with access to two arbitrary functions (the default switch video modes and adjust the brightness / contrast, but their value can be changed in the settings) and the main menu.
The menu here – familiar to any user of products Dell. First item is the brightness / contrast, then – point auto-tuning available with analog connection and the video input selection. In the Color Settings, you can specify the input format (RGB or YPbPr), select one of the display modes (Standard, Multimedia, Movie, etc.) and include an "improvement" of the picture. Also, depending on the mode selected, there may be added the Hue and Saturation. In the Display Settings via a digital connection is available only to switch aspect ratio and sharpness adjustment, as well as enable / disable dynamic contrast (not available for all video modes).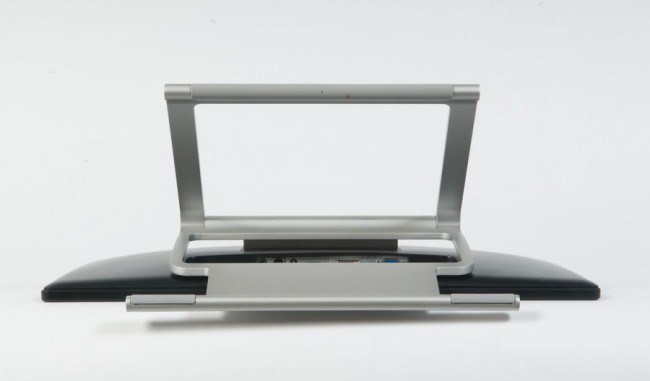 In the "other settings" you can select the menu language (no Ukrainian or Russian) and configure other settings OSD (transparency, time off, etc.). There is also a possibility reset all settings to their factory defaults.
And in the last menu item, Personalize, the user can edit the structure of the quick menu by assigning two programmable points of the other values.
In this paper,
In Dell S2240T used VA-matrix diagonal 21.5 "16:9 aspect ratio and a maximum resolution of 1920×1080 (FullHD), point size in this case is 0.248 mm.
Stated response time is large enough – 12 ms, which is not surprising for VA-matrix. No overdrive settings menu could not be found, according to the tests, light compensation response time there still is used, but notice artifacts acceleration is virtually impossible.
Floor display is glossy, but, unfortunately, the main advantages of this type of screen is not here – Dell S2240T has a pronounced crystalline effect noticeable in almost any monophonic site.
Perhaps this effect is protective glass, but the fact remains – the users for which this parameter is critical, this monitor is unlikely to fit.
In this model the projection-capacitive touch input system, which supports up to 10 simultaneous touches, claimed response time – 25 ms. As expected from this technology, responsive management, in terms of subjective feelings does not differ from the control tablet or smartphone (adjusted for the size of the screen, of course). As mentioned above, the frame around the image is made integrally with the protective glass, so the problems with access to the edges of the image (faced by users of touch screens with embossed frames) is not here. Branded "swipe" from the edges of the screen in Windows 8 also performed basic, no failures or false positives were noted.
In terms of viewing angles Dell S2240T looks good, though inferior to what we have seen in the latest models on a matrix AMVA +. Large-angle picture fades, brighten dark areas and lose depth, but in normal mode it discreetly – on the contrary, because of the glossy screen picture seems saturation and contrast. Color irregularity moderate – much weaker and those that can be seen on TN-matrices, and those that were on the VA a couple of years ago. Thus, the image is noticeably warmer and dims (white color starts yellow, yellow "out" in the direction of pink, etc.), but even at the maximum deviation of the picture as a whole retains its properties.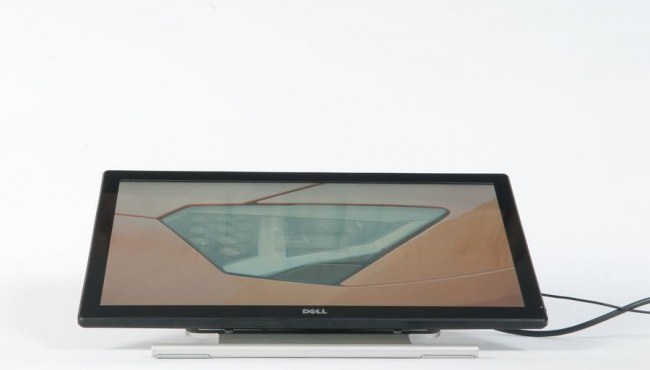 To adjust the brightness of the monitor uses a PWM so that the backlight flickering here and there is clearly evident in the "pencil test." Will it affect the eye fatigue – individual issue (in my case, no adverse effects were not, unlike some other monitors with PWM), but to consider it before buying in any case it is necessary.
Uniformity of illumination on the whole good, though inferior to what we have seen in the last AMVA + models. On the other hand, it is at least not worse than they can "brag" IPS-cost monitors.
Glow-effect here is moderate, when viewed diagonally from above appears relatively weak gray "tide", and the same shade as seen from the right and left.
Minimum brightness of this model is 35 cd / m ², which is a very good result and allows you to work comfortably behind the monitor even in complete darkness. Maximum brightness (average value measured in the 35 points) was at the level of 235 cd / m ², with the difference between the least bright portion (center top of the screen), and the most striking (center) was 55 cd / m ².
In the Standard (which, most likely, and will be used in most cases) we observe the color temperature, almost perfectly with the standard 6500K, and significantly underestimated range, which makes the picture somewhat faded, especially in dark areas (bright gamma increases almost up to the standard 2.2). Color coverage was 96.9% sRGB, color accuracy was good as well – the maximum value was 3.06 deltaE that more than acceptable for a home system.
Gamma curve on a scale of brightness, color gamut, color temperature chart and color accuracy mode (Standard).
Other modes are distinguished by different color temperature settings, brightness and sharpness of the image, in addition, in some cases included dynamic contrast – for example, in Movie mode is activated option "improved picture" and a dynamic contrast, sharpness is set to maximum, and the color temperature is frankly cold ( ~ 8000K). By the way, if Standard mode seems too pale, and color accuracy while not particularly critical, you can switch to Multimedia – it offers a slightly lower temperature range and, closer to the standard, but the color gamut was only 89% sRGB, but in terms of color accuracy all much worse – the average deviation of 3.3 and 8.5 do not allow maximum advise this mode for tasks involving any serious work with color. However, as evidenced by the very name of the regime – Multimedia.
Used for calibration mode Custom Color, you can manually adjust the primary colors. After this procedure, the color coverage was 98.4% sRGB, the color accuracy of any serious improve (compared with the mode Standard) failed, but the value of gamma and color temperature became almost perfectly correspond to the standard values.
Color accuracy, gamma curve on a scale of brightness, color temperature chart and color gamut (Mode Custom Color, after calibration)
Results
Dell S2240T approach from the standpoint of conventional monitor is not quite right – the main thing it's still a touch-sensitive controls, and here he looks pretty decent. Touch-sensitive screen on sensations here is no different from the tablet and has substantially the same degree of responsiveness and speed of reaction. It is gratifying that in this case, and the image quality will not disappoint – though inferior to monitor a number of parameters IPS-models (primarily, of course, the viewing angles), but is head and shoulders above most other touch screens. Carp, by and large, in this case can only be to use PWM and a marked effect of the crystal.
Liked
Responsive touch controls +
+ Good image quality
+ Nice design
Dislike
– Using PWM
– Notable crystal effect
Read another very interesting article about alternative energy of the Sun, water and air.