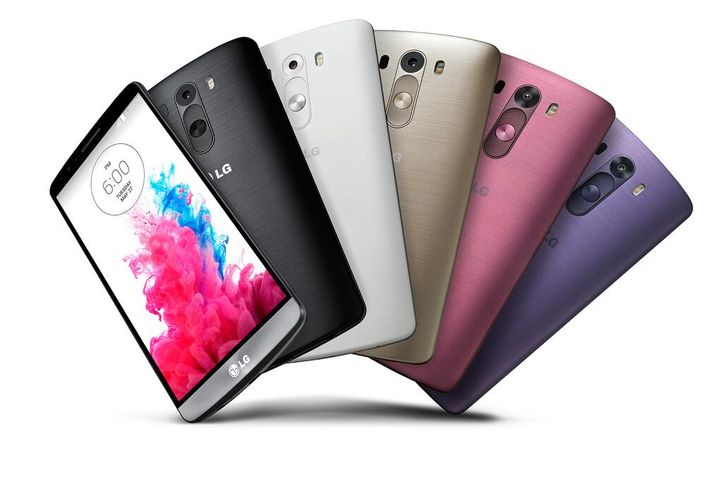 Well, friends, LG introduced a new generation of its flagship – G3. Just want to say that attention geek community all over the world this evening was not dispersed on all sorts of stuff, and is concentrated around the G3 and it's cool, LG deserve attention. As we remember, the light in the tunnel at the time of the announcement appeared Optimus G and became intensified with each new model. G2 and Nexus 5 became particularly good and have won the trust of many who previously would not risk purchase flagship LG. G2 in particular distinguished thin frame around the display, a good camera and a great autonomy. What is so interesting we've seen in G3?
Display LG G3 size risen from 5.2 "to 5.5", but the scope, as I seem to have become even thinner. Accordingly, according to the manufacturer, the size of the smartphone more close to the 5 "model. In practice, the size of G3 is almost identical to Sony Xperia Z2 and HTC One M8, that is not small. However, for 5.5 "good. But most importantly – with FullHD resolution risen to QHD, namely 2560 x 1440, and it is 538 pixels per inch. At the presentation tried to show the difference between FullHD and QHD, but showed not entirely correct – in a larger size. It is clear that more pixels, but we consider only permit a relatively small screen smartphone, then I sense still not really see.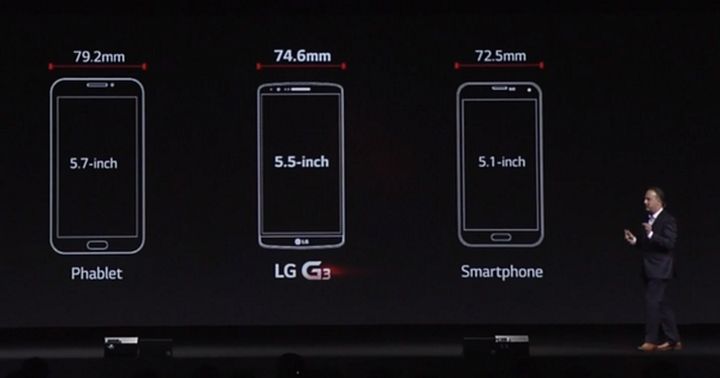 Hope for smooth interface increased resolution will not affect, although there is no more important processor as optimization, because Optimus UI on G2 podlagivaet. And autonomy should increase even promise to increase 20%. Battery capacity is 3000 mAh. Common sense also tells me that the diagonal risen, the resolution also increased, and the capacity of the battery remained exactly the same. Accordingly, we should expect a decrease in autonomy, but we will see during testing.
13 MP camera left, front – 2.1 MP. I'll start with the front. At the presentation remembered, of course, about the self and demonstrated the ability to make self using hand gesture. Squeeze the palm, wait three seconds and get a picture.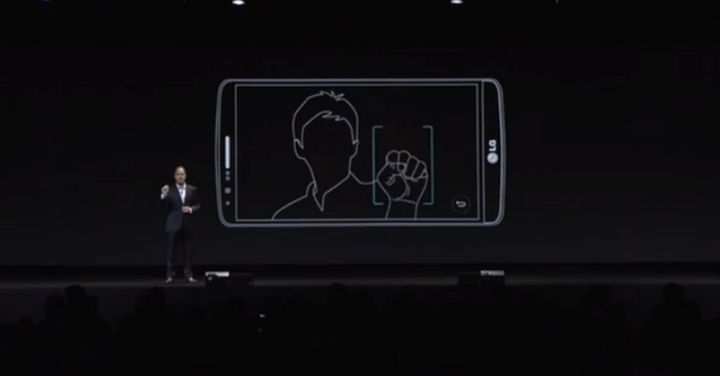 Optical stabilization improved main camera – OIS +, now it stabilizes the image by 20% efficient. A main feature of the camera – laser focusing, allowing focus with the speed with 0,276. Quickly, however in the dark time is greatly increased.
Interesting fact – RAM can be both 2 and 3 GB, depending on the version you will get a 16 or 32 GB. I wonder how much the cost will differ between the two versions? I think a lot stronger than a year earlier.
Processor – Qualcomm Snapdragon 801, sorry, that is not 805, some hope to the last. Graphics – Adreno 330. Again – very much hope that the processor can handle such a resolution, given the availability of proprietary shell. But the backlog of major competitors in terms of 3D-performance, it seems to me, obviously. Unlikely we will see a miracle.
I liked the new interface. Most likely, everything is relative, I did not like the previous design a little more than full, and the new has become such a minimal and pretty. Incidentally, his presentation was very similar to the announcement iOS7 – just talked about in the following interface.
One of the chips is the new smartphone keyboard resizable. You can make it a minimum, or stretch, as you wish.
What smartphone came out very good. I am most pleased that LG did not increase the frame around the display, the battery is removable and made added a slot for memory cards. I would like to, to become a plastic matte, gloss but we are already accustomed to. On the cost so far nothing is known.
Specifications LG G3
Dimensions: 146.3 x 74.6 x 8.9 mm.
Weight: 149 g
Operating System: Android 4.4.2 KitKat.
Processor: Quad, Qualcomm Snapdragon 801 (MSM8975AC), 2,5 GHz.
Graphics: Adreno 330.
Display: IPS, 5,5 ", 2560 x 1440, 538 ppi.
Memory: 16/32 GB flash + MicroSD (up to 128 GB).
RAM: 2/3 GB.
Camera: 13 MP, video recording in FullHD, 2.1 MP front.
Wireless Technology: Wi-Fi, Bluetooth 4.0.
Interface connectors: 3.5mm headphone jack, MicroUSB.
Battery: Li-Ion battery 3000 mAh.
Read another very interesting article about alternative energy of the Sun, water and air.