The first launch of a series of headphones Momentum in 2013, the company Sennheiser has proven to the market that quality and style need not be mutually exclusive categories. The second generation of these headphones has become more solid proof of this thesis. The line has not only been modified but also supplemented by new wireless headphones with noise canceling – and they are just great.
From a design standpoint, Sennheiser Momentum 2.0 Wireless are just as good as all the other models of the company. At first glance, they are very similar to the first generation of headphones: full leather headband and cups of graceful shape with stainless steel rails. But it is worth a closer look and you will notice some differences. Rama was the folding headphones that can reduce their size for easy transport and increased cups provide a tight fit.
Soft leather ear pads also become thicker and thus – even more comfortable. During several hours of wearing, we did not feel like to remove or correct them, and ears listening not heated.
The main advantages of the new model over the standard Sennheiser Momentum 2.0 Wireless – is aptX Bluetooth support and active noise cancellation system. Both innovations have shown excellent results.
Feature of Sennheiser Momentum 2.0 Wireless
Headphones provide a stable 22 hours of music playback in wireless mode with the included Noise Cancelling (and in low volume levels – even more), and after the discharge of the battery can be connected to the cable and keep them in passive listening mode (available only with cable connection). We would just like to see in the active state in headphones constantly burning indicator – or they can forget to turn off, and the battery is discharged.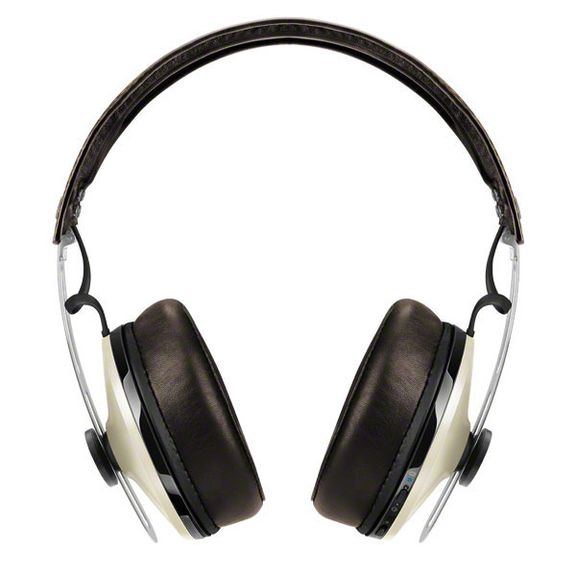 All controls on and reproducing are at the right cup. The power button is also used to establish contact with the different devices (headphones recall up to eight pieces), can also be used for pairing NFC.
Multi-function button while moving up and down controls the volume, and when you perform different functions. Once you remember which combination of keystrokes is responsible for what, this system seems very comfortable.
Proprietary noise reduction technology Sennheiser NoiseGard noise drowns out the great outside world.
It's a little to almost complete soundlessness which provide Bose QC25, but not create the characteristic pressure on the ears when the noise reduction.
Office noise almost inaudible, the roar of aircraft engines is reduced to a barely audible hum – it is not only one of the most effective systems for noise reduction, but also one of the most natural.
Play music, we felt the familiar and beloved character of the sound Sennheiser Momentum 2.0 Wireless, which is in the process of getting rid of the cables did not lose a grain of enthusiasm and excitement. It's amazing how similar sound with cable and without it. In the first case, it becomes a little tighter, but in the second you definitely have nothing to lose.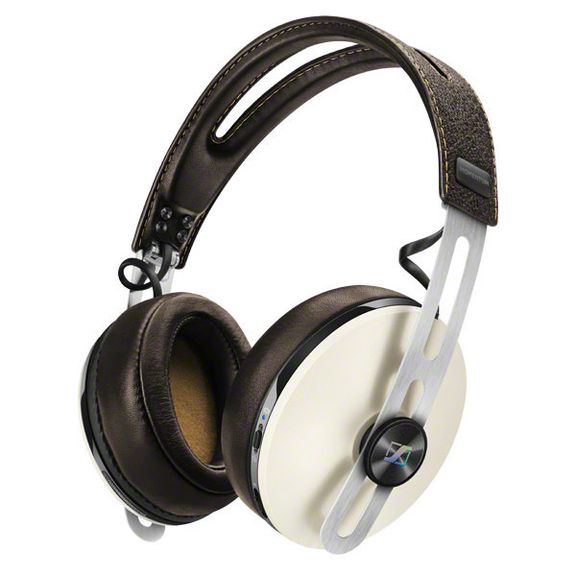 Rich and full-blooded sound characteristic poise and sophistication, which are rarely found in Bluetooth-headset.
Weighty and detailed bass give energy pulsing bass line in the song Jay-Z and Kanye West No Church In The Wild, doing it without suppressing echoing and higher frequency ranges.
But the main advantage of Momentum – even high-quality woofer and a great middle range. Transmission of any material, from vocals to guitars, differs enviable meticulousness, revealing the set of the smallest detail and high purity.
In the song, Rihanna FourFiveSeconds voices are expressive and focused, and guitar chords Paul McCartney – depth and texture. Momentum Dynamics is excellent; their impeccable rhythmic and groovy enthusiasm always hold the listener's attention, prompting him to listen to a song by song.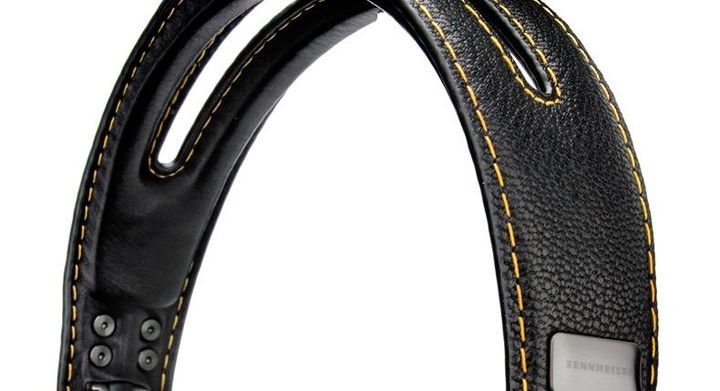 HF perfectly coordinated with other bands; open and intelligible, they are not prone to stiffness even at low-quality recordings. Headphones Sennheiser Momentum 2.0 Wireless has always been lenient to those of the original signal, and a new generation has kept this approach.
In addition, they surprisingly surround sound headphones for private; voices and instruments are enough space to breathe even in the rich arrangements.
Thanks to a special intended to talk microphone built into the cup, you can answer calls using the headphones – you do not need a microphone on the cable. Its signal – a clean and stable, subscribers on the other side is always clearly heard our voices.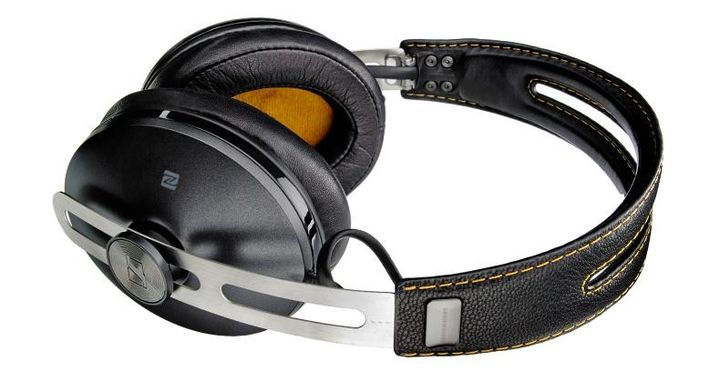 The only downside to these headphones – their price. $ 475 – a very substantial sum, but if you're willing to part with it, you will not doubt the wisdom of their investment.
Verdict Sennheiser Momentum 2.0 Wireless
Sennheiser Momentum 2.0 Wireless – incredibly nice and very high-quality headphones and new features and design changes have made them even better than the original version. Those who can afford it will be happy.
Source: Sennheiser
Read another very interesting article about alternative energy of the Sun, water and air.