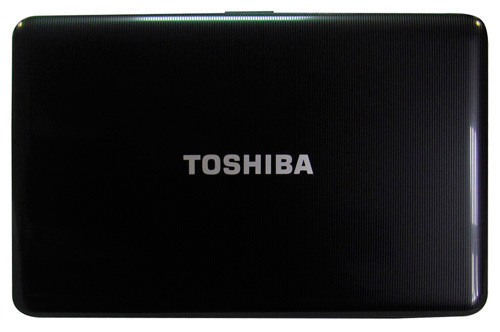 The notebook market found a lot of versatility. All of them are adapted to perform different tasks. As a general rule, any laptop can handle office applications, will watch movies and even play. The question is how well. In this review we look at the Japanese company Toshiba laptop worth about $ 800. Filling Satellite L850 is not exactly in front of the above tasks will fold, so the owner can confidently take up the job. So is all good or not without its pitfalls?
Design
This laptop has a very attractive appearance. It is not limited only to the black coloring, so you can buy Toshiba Satellite L850 in red, gray and even white design that make your laptop will be at least smart.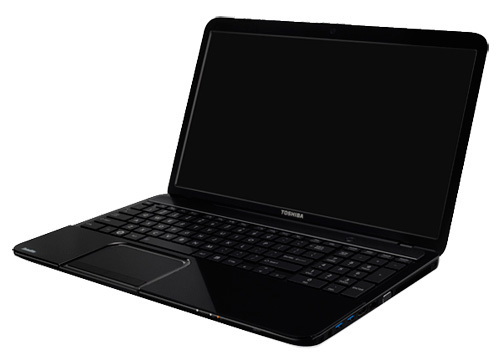 The laptop is made of a plastic material having a simple design, which is a simple overlapping bands. Such a surface is unusual heavily soiled, except that small speck of dust will be visible on a glossy substrate keyboard. By the way, in the interior there is a similar pattern, though he is not particularly original, but noticeable, and the same practical.
The bottom panel Satellite L850 looks more standard: legs all the way, a pair of vents, removable battery, and a compartment behind which are hidden memory and hard drive. Separately, you can see the card reader located on the bevel. Frankly, such a location is not very convenient to insert a memory card.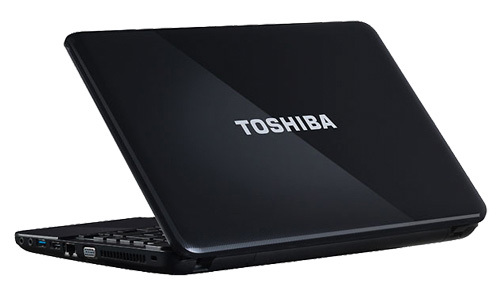 The build quality of the laptop is quite normal, no defects in terms of fixing parts were found. Many more questions to the stiffness of the body, as he sometimes bends. Note that the size of the laptop are 380h242h33 mm and weighs less than 2.3 kg.
Display, audio, webcam
Notebook is equipped with a 15.6-inch display with a resolution of 1366×768 pixels. The screen is characterized by the presence of LED backlighting and a 16:9 aspect ratio. The brightness of the display is in the range of 250 nits, that the model of the middle class is a good thing. We were pleased and color saturation. It is a pity that the contrast does not hold, it is really low. Of course, for office applications and watching movies would suit such a display, but for graphics – no. There will be no sense and of using a laptop outdoors on a sunny day, in view of the fact that the gloss will be a lot of reflections.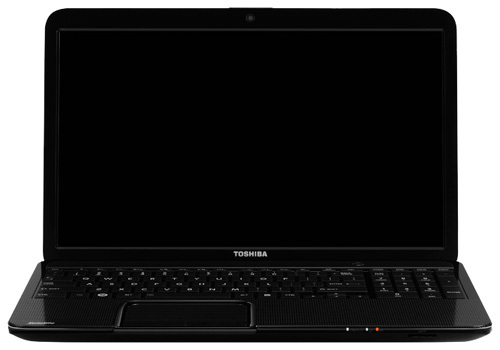 Unfortunately, the notebook comes standard TN-matrix, and it can not make you happy good viewing angles. However, while you are sitting right in front of screen, there will be great, but even a slight deviation will also change the brightness and the colors in the image.
The acoustics in the Toshiba Satellite L850 comes with support for SRS Premium Sound HD. However, the sound quality is not much affected. In fact, one can only rejoice volume rate, which is above average. Otherwise the sound lacks purity and low frequencies. Obviously, listening to music or watching videos will be better with the headphones connected.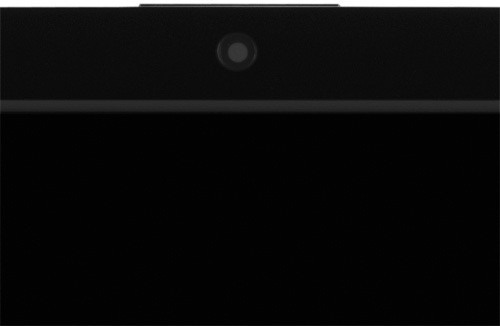 Manufacturers installed in the laptop webcam with relatively low resolution of 1 megapixel. Of course, it is suitable for video conferencing, but not for the photo or video.
Keyboard and Touchpad
In the Toshiba Satellite L850 provides island keyboard with a standard layout. All buttons have a flat surface and a conventional square shape without any curves.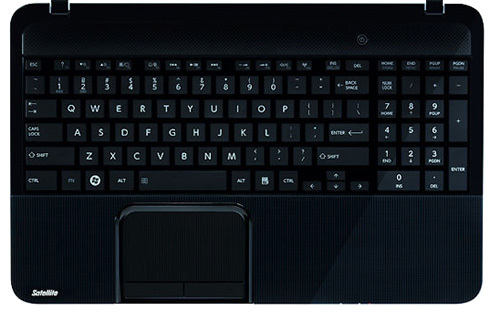 Basically, the keys are large, even those that are included in the digital block. Exceptions were the arrows, but they, or rather to their small size with time can be used. By the way, some may be inconvenient, not only that but a small key [Space], as well as single-row [Enter].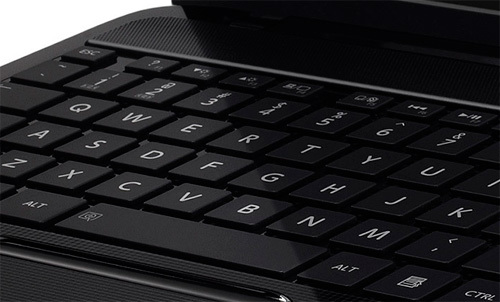 In the button pressed easily, only with fast printing in the area there is a numpad punching. From the outside of the keyboard shortcuts only have a power button.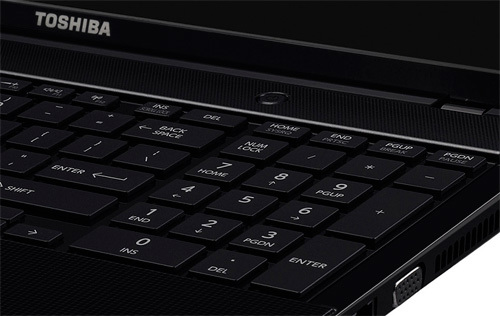 Laptop touchpad seems to be very large. Perhaps such a visual illusion created by a small gap. At the same time, its area is enough to be easily positioned. By the way, even when working blind you to immediately find the touchpad because it has a glossy frame that is fundamentally different from the texture podladonnoy site. The very rough touch sensitive panel, which will promptly execute different commands, including multi-touch gestures: rotation, scrolling, zooming.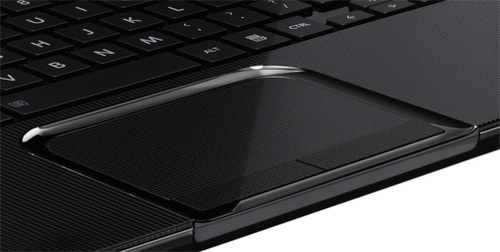 Performance
On the laptop is preloaded 64-bit operating system Windows 7 Home Basic. The heart of Toshiba Satellite L850-C9K is a third-generation dual-core Intel Core i5-3210M processor with a clock frequency of 2.5 GHz and a cache of $ 3 MB. With support for Hyper-Threading Technology and Turbo Boost, which allows to increase the base frequency to 3.1 GHz CPU will provide a good laptop performance and increase productivity. In this case, the laptop will be enough power for simple as well as a number of challenges.
In the Satellite L850 provides integrated graphics Intel HD Graphics 4000 (disabled by the manufacturer) and a discrete AMD Radeon HD 7670M. In contrast to the integrated graphics, HD 7670M with 2 GB have its own video memory standard DDR3. In this case, will be available in addition to 4847 MB ​​of memory, taken from the operational. The discrete controller, built on 40-nanometer process technology, supports DirectX 11. He is well decodes the video, and thanks to Eyefinity technology provide multiple monitors simultaneously.
For games, this video card is a pleasant find. With it, many modern games will go on medium and high settings. A good example can be considered F1 2012 or Counter-Strike: GO with a frequency of greater than 50 frames per second on high-settings. But in Darksiders II is better to play on medium with 40 fps. In this case, the display resolution will be the same – 1366×768 pixels.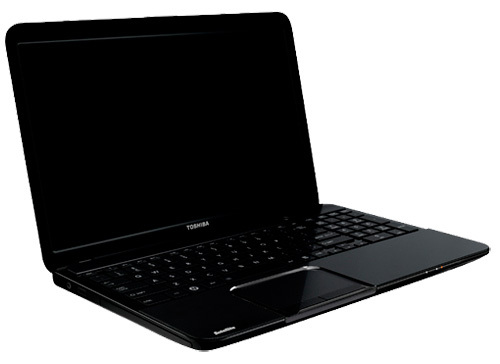 Under the system memory allocated two modules. In the first set plank 4 GB memory, in the second – 2 GB. In which case an opportunity to increase the capacity up to 16 GB. DDR3 RAM is standard and the operating frequency to 1600 MHz. Certainly, 6 GB of RAM is more than enough for the most demanding applications and in general for the stable operation of the system.
No less noteworthy drive. In this configuration it has a capacity of 640 GB and a rotational speed of 5400 rpm. For the owner, who is going to be stored on the hard drive software and documents for work, stop and lower capacity, but for the fan to create multimedia collection – 640 GB at the time. In any case, do not have to worry about every time there is a free space on the HDD.
Ports and Communications
Most of the interfaces laptop is placed on the right side. Here you can see two USB 3.0 standard, 19-pin digital port HDMI, VGA, RJ-45. To the right are audio jacks for headphones and a microphone, as well as the Kensington lock slot. All of these interfaces are grouped and located closer to a front end. But the rest of the space is a vent. For right-handed people, working with the mouse, the output of hot air directly under the arm will cause a lot of discomfort.

But the opposite edge Toshiba Satellite L850 little congested, there is only USB 2.0, slot for charging a laptop and a built-in optical drive DVD Super Multi Double Layer drive. 

The back side of the case is free, but on the front edge of the bevel visible card reader for memory card standard SD / SDHC / SDXC / miniSD / microSD / MMC.
Also on the front end, there are three LEDs (wireless, power and battery status).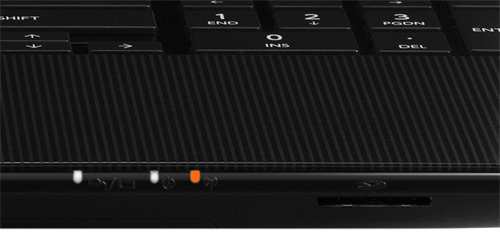 Like all modern devices, Model L850 is equipped with wireless communications, Wi-Fi 802.11b/g/n and Bluetooth 4.0 + LE.
Battery
The laptop has a removable 6-cell lithium-ion battery of 4200 mAh (48 Wh). Charging the battery by using 65-watt power supply.
Frankly, the duration of the Satellite L850 upset. So, without recharging the laptop was in a simple no more than five hours. In other modes, the autonomy was even smaller. For example, web browsing and video will be enough for 3 hours and 2 hours and 30 minutes, respectively, and the time under load does not exceed one and a half hours. In general, a longer trip will have to be "economical".
Verdict
Agree that the laptop cost about $ 800 to be laid out in many ways. In our case, is not so smooth. Does not hold the display and speakers are not too great autonomy, and the rigidity of the chassis is far from perfect. However, at the same time, the laptop has a lot to offer decent performance and good input devices, finally, the availability of the necessary ports for connections.
In all probability, opt for Toshiba Satellite L850 is not so obvious. However, there are those for whom loyalty to the Japanese manufacturer is in the first place. Perhaps these and other weaknesses of the laptop users do not seem too serious.
Read another very interesting article about alternative energy of the Sun, water and air.