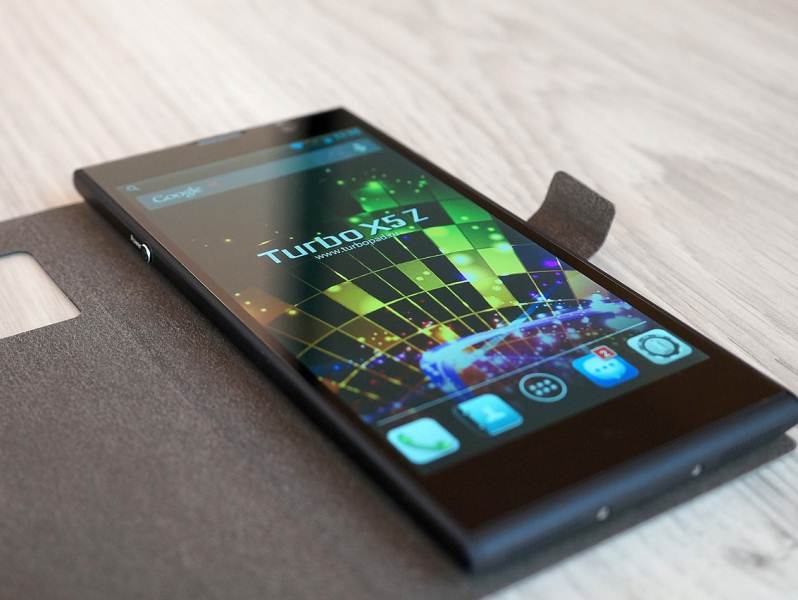 Line of smartphones Turbo X5  is already familiar to our readers on the original model and the version of Star. Today, the text modification Turbo X5 Z, continues the successful series of low-cost smartphones with balanced characteristics. She received a 16 GB internal memory, 1 GB of RAM, quad-core processor, 13 megapixel camera, extended delivery and other interesting features, which we'll cover in this review.
Turbo X5 Z came to the test in a red box with a black cap.
At the bottom of the table you can see the packaging specifications of the gadget, and under cover – Detect smartphone or its accessories. Options in Turbo X5 Z rich: a standard set – cable USB, charger and user manual – manufacturer supplied headset device, magnetic cover, spare battery and a protective film on the screen.
Reaching complete vacuum-type headphones were decent, except in the ears do not sit very comfortably. But give a clean sound, you can comfortably listen to music even. Same for movies or games in general remarkably fit.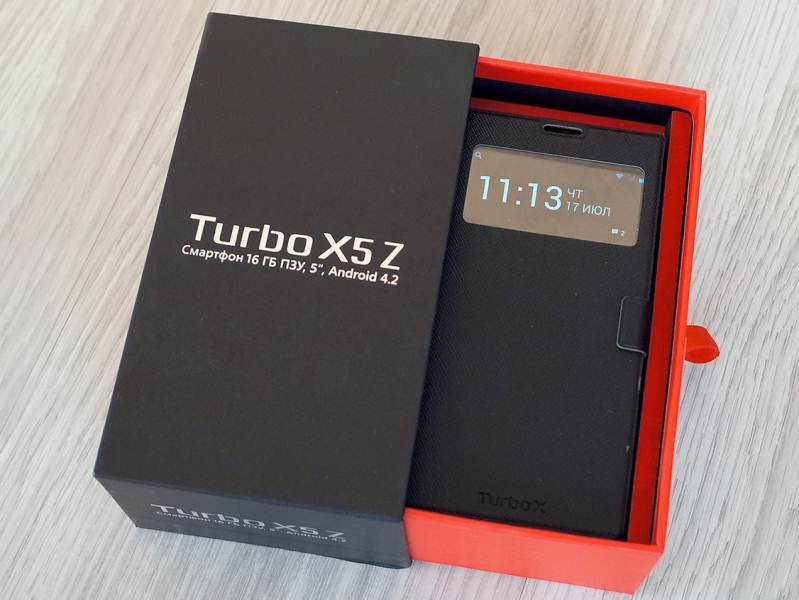 Case-book has a clear window on the lid closed on this area of ​​the screen displays the time, date, icons, messages or missed calls. Case blocks or unblocks smartphone when opening / closing. However, sometimes it does not work, but this rarely happens.
Appearance and ergonomics Turbo X5 Z
Housing smartphone is made of dark gray soft-touch plastic, rounded ends. Buttons – volume rocker on the right and turn left – made of metal and is very easy to press.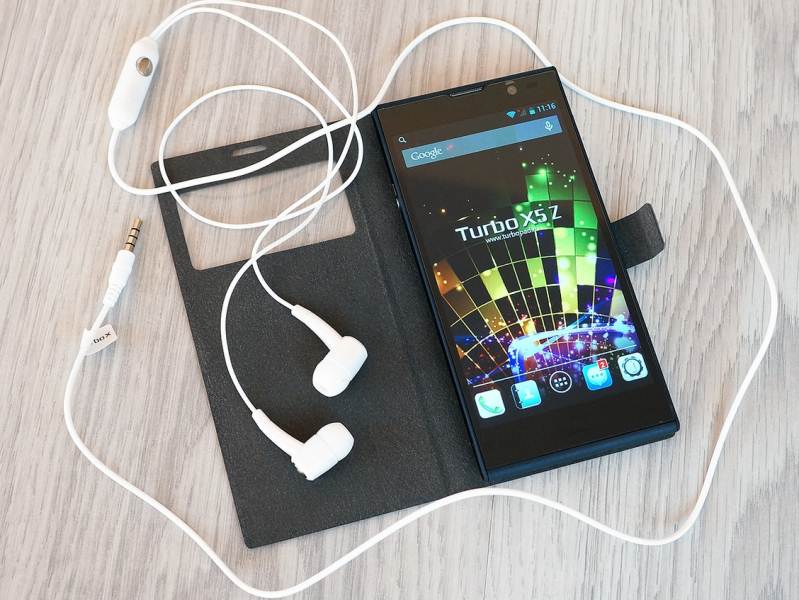 The power button round shape, well groped blindly. This is particularly valuable in applications that require a very quick release. This can be done directly through the cover when the cover is closed – it is applied corresponding icon.
External speakers brought to the lower end of the device. Two of them, are arranged symmetrically. Close their hand or accidentally put the device so that the sound will be muted, easy, so that their position very well.
On top of the device are 3.5 mm jacks audio and micro-USB.
At the top of the front panel – the earpiece grille and front camera.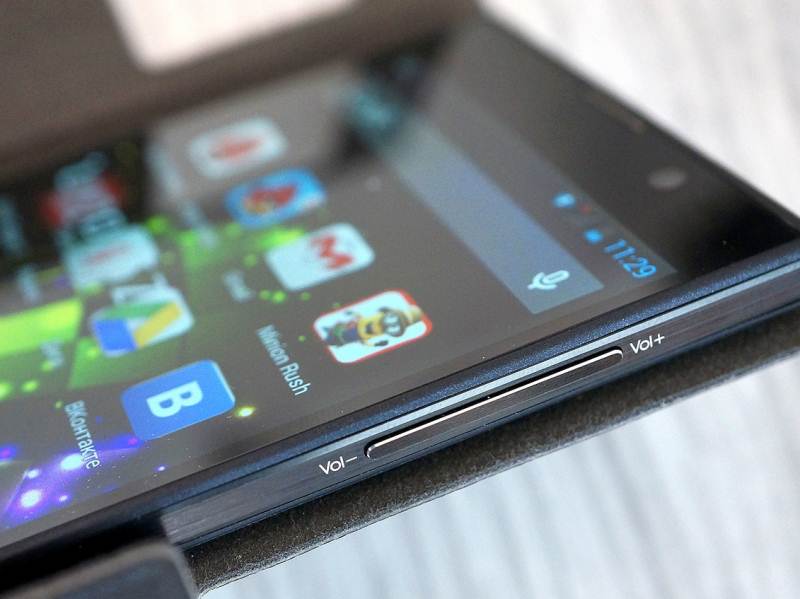 At the bottom – three touch buttons, the mean «Home» highlighted original illumination. The main camera is located at the top of the rear panel exactly in the center. Next to her is available in flash.
The back cover is easily removed and worn, no tricks with improvised means not required. SIM-card change too convenient.
To assemble no complaints, the device is made qualitatively, no detail dangles and creaks.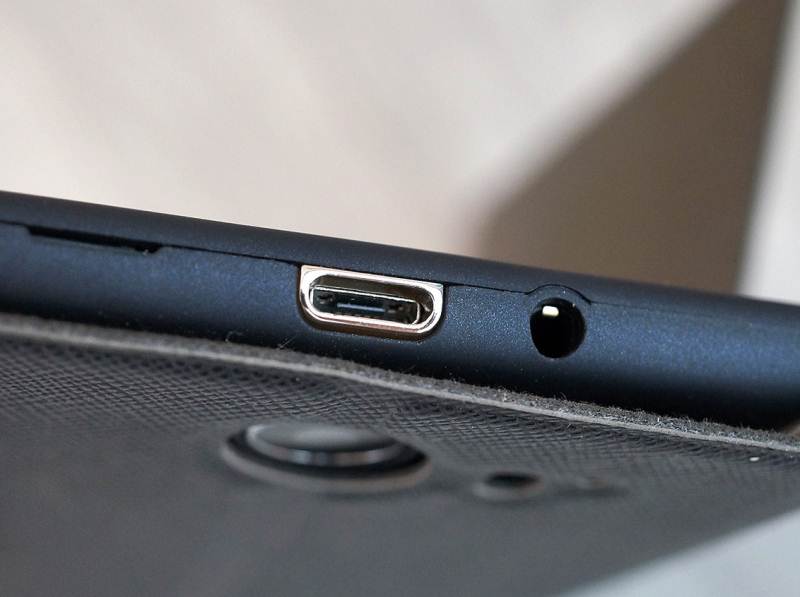 The developers obviously worked on the design, pleased the attention to detail. Turbo X5 Z looks interesting and quite severely. In addition, it is thin – 142 x 70 x 5.9 mm – and weighs only 131 grams. The gadget is excellent in hand, including being in the bag, all the controls are logically. In general, the structural part deserves only good words.
Screen Turbo X5 Z
Display – another forte Turbo X5 Z. Novelty five inch OGS IPS screen resolution of 1280×720 and an aspect ratio of 16×9. Sensor Type – capacitive, multitouch, handles up to five simultaneous touches. The screen is equipped with a light sensor.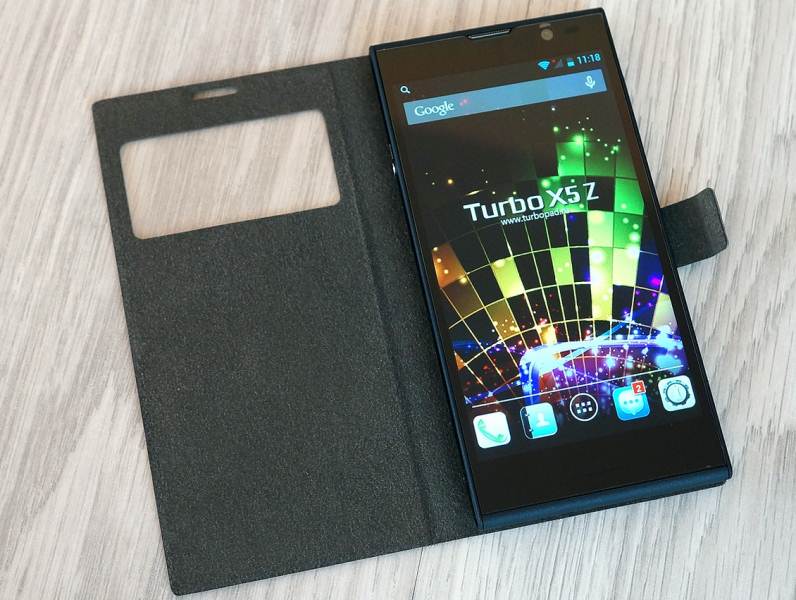 Display quality pleases doubly excellent viewing angles, the picture is very clear and smooth, and the pixels invisible even on small text. Large supply allows the display brightness does not go blind in the sun, almost no glare.
The sensor is very responsive, with gestures problems do not arise. Natural color rendition, as there is no excessive saturation and fading.
Interface Turbo X5 Z
Installed on a smartphone Android 4.2 version. The manufacturer did not make any changes, leaving a "clean" version of the OS. With the speed of the system is all right: she responds instantly, applications run fast, does not slow down the animation.
Set of predefined standard applications, there are many small but useful utilities such as the recorder, two kinds of compass and flashlight.
Unit in operation Turbo X5 Z
The smartphone is based on the chipset MTK6582 quad cores with ARM Cortex A7, running at up to 1.3 GHz. Responsible for the graphics accelerator component Mali 400. Device memory is 16 GB and 1 GB of internal RAM.
In the daily work of Turbo X5 Z proved himself a great tool. Does cope with multiple open pages, social networks, customers operate smoothly, 720p video played smoothly.
External speaker produces reasonably clear and loud sound without distortion, but the voice sometimes sounds too quiet and noisy place interlocutor is hard to hear.
In all games, we tested if the smartphone and brakes, then very little and not so much that this could be said about the lack of both. Even a very "heavy» Minion Rush goes quite smoothly. Angry Birds running smoothly and without any problems, Dead Trigger 2 – with very few hitches in the rest of the time just flies. In general, mobile gaming fans certainly appreciate this device.
Finally announced the results of synthetic benchmarks and AnTuTu 3DMark.
AnTuTu: 17260.
3DMark: 2989 in Ice Storm, 1998 in Ice Storm Extreme, 2853 in Ice Stirm Unlimited.
Wireless interfaces Turbo X5 Z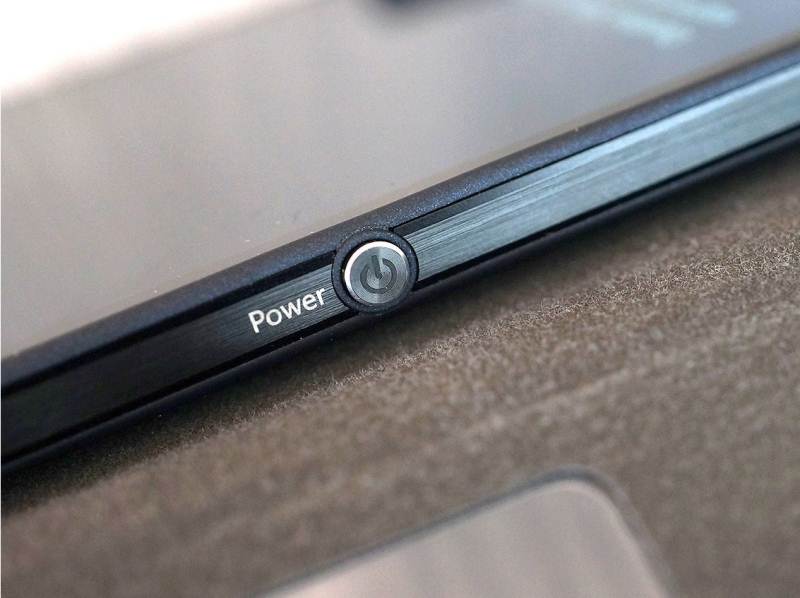 Turbo X5 Z supports two SIM-cards (SIM and microSIM), both working in HSDPA, HSUPA and 3G-networks. Smartphone keeps you connected with confidence and without interruption.
Among other services – Wi-Fi 802.11n, NFC, Bluetooth 4.0 and Miracast, image projection technology on the wireless screen. Turbo X5 Z also supports GPS. Everything works as it should, during the test in terms of smartphone navigation and Internet never failed. To WiFi-points it connects almost instantly, the GPS signal is received with confidence, so that complaints in this regard no access devices.
Camera Turbo X5 Z
Turbo X5 Z camera along with a display, we can refer to the pluses smartphone. Resolution Camera Module – 13 M; it shoots well, with adequate lighting provides distinct saturated pictures with excellent color rendition. Also there is an outbreak, but it is not too bright and a little distorted colors.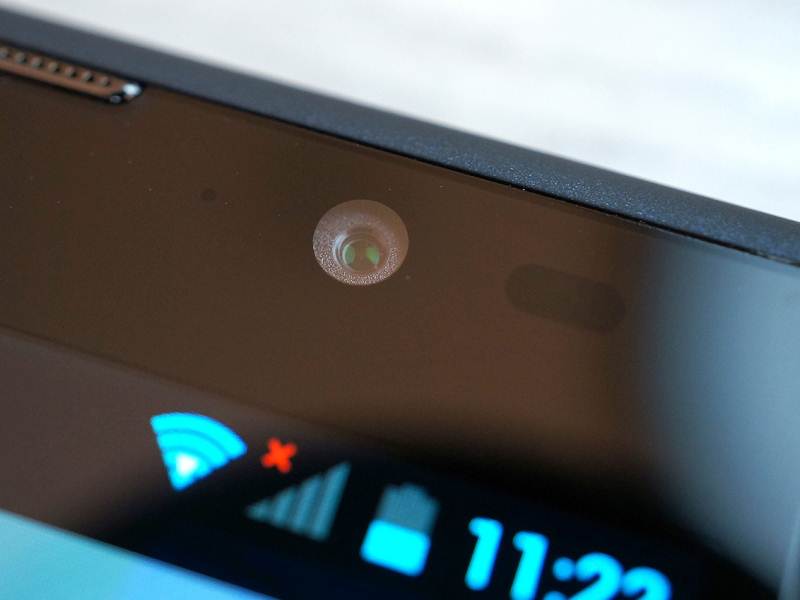 With artificial light camera also folded.
Among the modes have HDR.
You can take a picture of printed text, with the filming of a short focal length of the smartphone all is well.
Shooting speed at height, autofocus works also very fast, so you can easily capture moving objects.
Video is saved in 3GP.
Photos on the front camera 5 MP are unclear, but under normal lighting conditions are suitable for self, with video connection model also cope.
Autonomy Turbo X5 Z
Responsible for the autonomy of two removable battery capacity of 1830 mAh. During the test, the smartphone is actively used for 5-6 hours per day: games, ringtones and SMS, watching videos, run a variety of applications, web-surfing and use of social networks. The screen brightness was set to 50%, and the evening was about 20-30% charge. Never had to use a spare battery, but a long trip or a very active use of smartphone it certainly useful.
To evaluate more precisely the autonomy of the smartphone, we conducted a test by placing the device in the regime of continuous video playback at maximum brightness. Turbo X5 Z battery lasted for five hours. That is, if both take the battery, then loaded the charge will last for the whole day.
Results Turbo X5 Z
Turbo X5 Z- a worthy representative of the middle price segment. It is interesting high-quality display, a good camera, a spare battery and the presence of stable operation of the system, as well as thin and light body. As a result, Turbo X5 Z can be regarded as a great solution for everyday use and is quite acceptable even for advanced gamers. Novelty worth 500$.
Pros Turbo X5 Z:
excellent screen;
good camera;
rich package.
Cons Turbo X5 Z:
Read another very interesting article about alternative energy of the Sun, water and air.