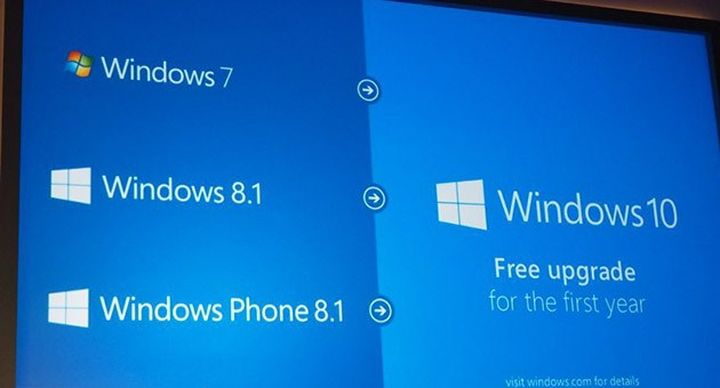 As planned, today, 21 January, Microsoft revealed details about the operating system Windows 10, the preliminary announcement of which was held in the autumn of 2014.
According to the Redmond corporation, the process of testing a prerelease version of "dozens" of 1.7 million connected users who have sent in the end about 800 thousand comments. (That is roughly polzamechaniya brother, because in reality, this can not be, at least half were tested just keep quiet – apparently finding Windows 10 almost perfect.)
Contrary to expectations, with the transition from Windows 8.1 to Windows 10 will not ask for money: the update will be distributed free of charge (but only during the first year since the release of "tens"). Moreover, Windows 7 users will also be offered to upgrade at no charge. And, of course, as promised earlier, Windows 10 gets a free smartphone users with Windows Phone 8.1.
On the innovations in the interface. "Start" menu in Windows 10 will return as close to pristine, that is what we have seen in Windows 7 and a number of previous versions of the OS. However, it will be possible to disclose the full screen, and in this case it looks like the Modern UI interface of Windows 8 / 8.1. However, to activate this mode is not necessarily: users will be able to leave the "Start" compact.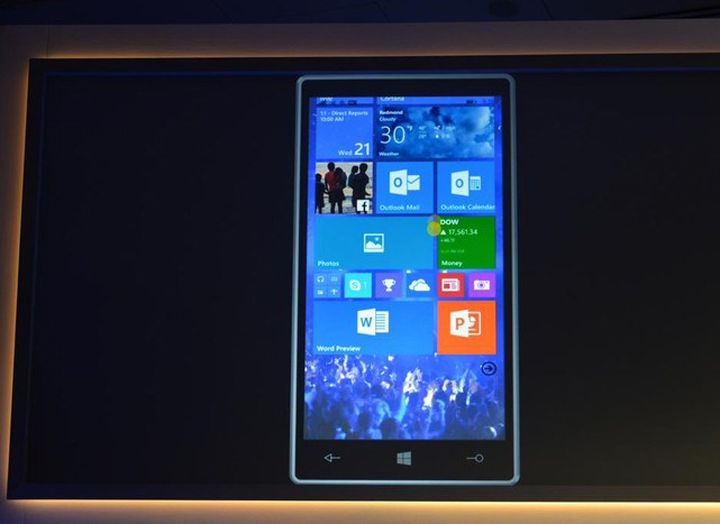 Hybrid device, which can act and tablet, and desktop computer, get two interface options with possibility to switch between them. In tablet mode, the interface is optimized for fingers in the desktop – a keyboard and mouse.
Not without a voice assistant Cortana, which will now "live" not only in smartphones. Of course, it will follow the user to learn and improve. And she will learn new languages, that's just what – until the matter. The event was not told about it.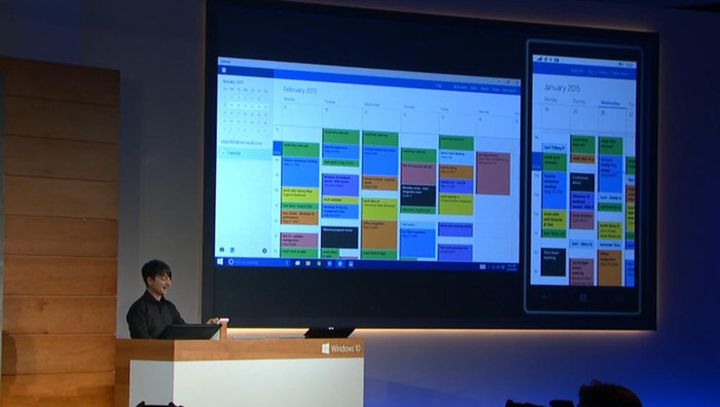 The presentation showed early build of Windows 10 for smartphones, using his Phablet Nokia Lumia 1520. As is usually the case at Microsoft, added a bunch of new small and not very functions, but apparently "mobile window" has not changed much. As for applications, the majority of programs for smartphones and larger devices will actually be compatible. One such application would be the package MS Office – its capabilities on all gadgets with Windows 10 will be the same.
Among other things, Microsoft release a new Notification Center in smartphones, synchronized with the PC.
Generally synchronize your phone and a computer belonging to a particular user in Windows 10 is given a lot of attention. And the timing is not only in the literal sense, but also in similar operating experience. For the same application, if not look the same (all the same physical dimensions screens impose limitations), the maximum similar.
The software keyboard can be moved around the screen, reducing and increasing its size. This feature is especially relevant for Phablet and tablet computers.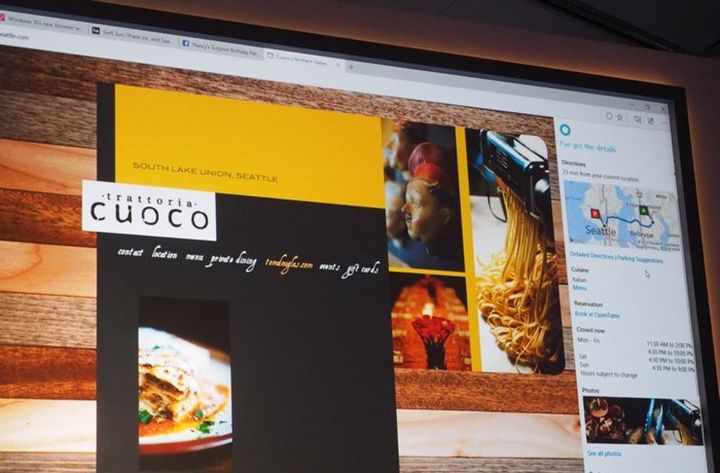 Confirmed the rumors about the new browser – Project Spartan. It will be available for computers and smartphones. In the new browser renderingovy engine, the new interface and what developers are doing the emphasis that function to create notes with your fingers, a mouse or stylus. You can select a piece of text and then examine it later, even when there is no Internet. Also promise mode for reading and close integration with voice assistant Cortana.
Briefly about the game: a special game center called – surprise! – Xbox contains information on all the games you purchased. Even including titles from Steam. Also with the help of the center you can watch and communicate achievements in Xbox Live. Well, the interesting thing is that the game with the Xbox One will be to stream to any device with Windows 10. That is to say, it will be possible to play on the tablet while lying in bed. For some people it is much more convenient than sitting in front of a TV.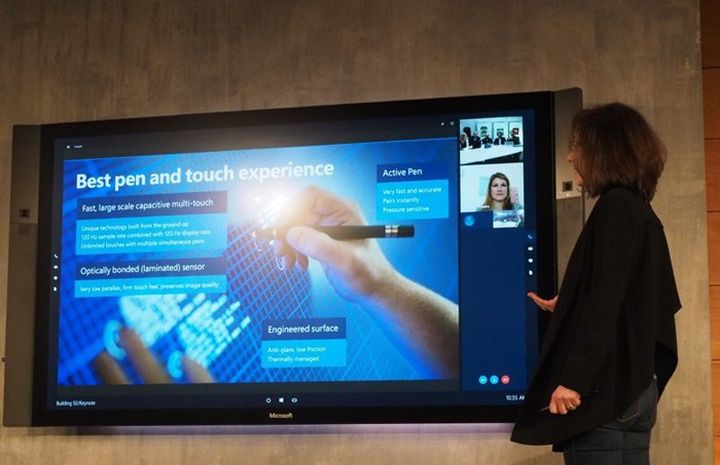 As a bonus. Remember the legendary 80-inch "tablet Ballmer"? Although charismatic Steve Microsoft is long gone, Microsoft decided to make a serial tablet: Corporation announced wall device called Surface Hub 4k-touch screen having a diagonal of 84 inches, speakers, a microphone, a pair of camera, support for pen input and a built-in PC. It is expected that the new product will be a place in the negotiation and meeting rooms.
Another bonus, too hard – glasses computer Microsoft HoloLens, equipped with a special "holographic processor» (HPU), and technology of Windows Holographic. This "kit" allows you to immerse yourself in augmented reality, and not only with the help of three-dimensional image, but also by some artful sound, supplementing the picture. Software to create holograms – HoloStudio – also announced at the presentation.
And then appeared on the scene Satya Nadella – CEO of Microsoft. He looked very impressive and, forgive us in Redmond, intimidating. Briefly summarize what Mr. Nadella, it can be done about this conclusion: "Microsoft has a lot of new cool technologies that have found application in Windows 10. Windows 10 will change the world for the better, and it megakruto. Classical computers leave the stage, their place gradually pull apart the device completely new type in various form factors designed for close interaction with the network. Microsoft intends to move to the forefront of new trends, and Windows 10 – the strongest tool for this. "
Another portion of the details of Windows 10 will be revealed in April at the conference Build, whereas the release of the final version is scheduled for the end of 2015.
Read another very interesting article about alternative energy of the Sun, water and air.