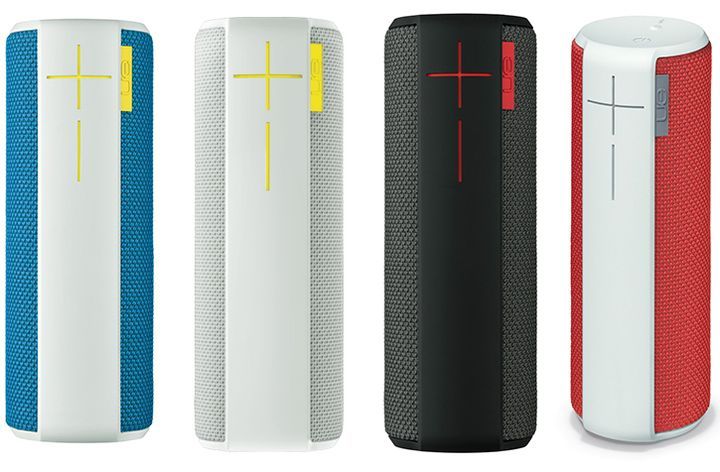 We continue to observe not the standard speakers. With original SSSSSpeaker and Edifier Luna Eclipse you know, today our guest hipster portable wireless speakers Ultimate Ears Boom. But here's the catch is that the sound of the last totally not what is expected from such a device. What's wrong with him? Read the review!
Any device from Ultimate Ears – it's a bright, unusual and cool. Yes, that's cool – no other word to choose. The very same UE Boom is an intermediate option between the Mini Boom and Megaboom. Going to the official website, you can feel in the mood, which is impregnated with each product. It's fun, beautiful young men, emotions, and a slice of madness.
The first acquaintance – Ultimate Ears Boom
Greets us with an unusual device packaging-tube, which shows the column at a ratio of 1: 1. Printed on the back of the basic information about the device. Opening the tube is seen me device and two pull-out drawer round, one of which is cable type "noodles" and documentation, and the second power adapter and plugs for the outlets.
Appearance
UE Boom outwardly produces extremely positive impression. We visited a guest editorial in the red-and-white coloration, but the sale is also a wide range of different colors. All models are made in bright colors, are the most austere black and white version, and those with bright highlights. By type seems to be very simple, but tastefully. The main part of reminds embroidery thread, the rest of the body material – rubberized plastic. Such a thing clearly attract attention.
Weighs just over 500 grams, which is a lot, but this column does not seem serious. Elegant assembly, materials, too. But among the drawbacks, we note a strong soiled white, in our case, rubberized material.
Controls, Connectors
Buttons on the column are the minimum. Front gathered to itself two big keys to increase or decrease the volume, on top – the on / off power and Bluetooth. Below, under the rubber cap, hidden connectors mini jack 3,5 mm and Micro USB. Indicator three – charging power and Bluetooth.
Scope of Use
The portable device is portable and to use it outside the home. Ultimate Ears Boom – virtually ideal for such purposes. High volume and sound quality will enable even the largest music company. Moisture protection IPX4 standard too, as it suggests that at the beach or in the bathroom this column will be very useful.
But no matter how paradoxical it may sound, such a device can be fully recommended for home, especially if space is limited and need maximum sound quality with minimum dimensions. In such a situation, and I just turned out – after repairs to deliver great speakers especially nowhere, the sound on the laptop which is understandable, and with wires completely reluctant to tinker. So during the week UE Boom I had as a music center with which coped perfectly well. Came home from work – included in the phone / laptop music and do my own thing.
For cycle trips, model is also suitable. I threw UE Boom in a backpack and wheels – the sound, of course, the muted bass became more the rest of the spectrum less. But with all this, in the bustling metropolis volume I had, even from the backpack.
The tab at the bottom of the column can be hung on the carbine. If unscrew the cap, then there is access to the thread for a tripod, too, a good solution if you want to place the speakers at a certain height.
Connection functionality
The main interface is used to connect Bluetooth, which control the conjugation of all compatible devices. Can be simultaneously connected to the column two devices are stored as integers 8. For simple connection there is a module NFC, how it works, I think no need to explain. For wired connection has a connector mini jack 3,5 mm, with which you can already hear the sound from a greater range of devices. If there are two columns UE Boom, they can be combined into one stereo.
When connecting via Bluetooth range is 15 meters but should also take into account the listening position. Personally, I have no problems in the apartment or in the outdoor gym was not. All actions, whether it is on, off or paired with a beep.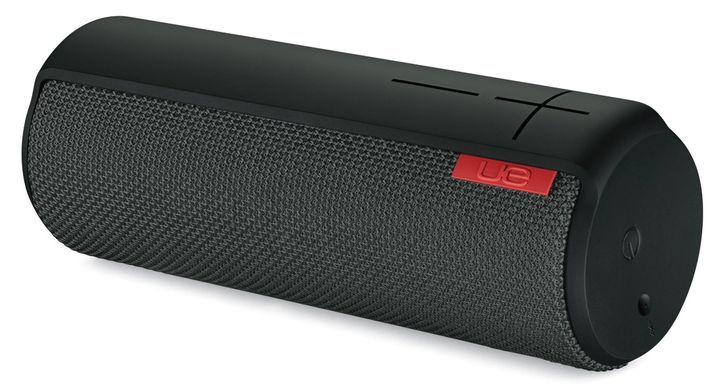 To control column has an application for Android and iOS, where you can disable the device, see the charge, please connect the UE Boom, change the equalizer settings, set the alarm, change other settings, and so on. D. Also, using this application software itself is updated column. It is worth noting the alarm function, which is activated even when the heater is turned off.
UE Boom also can be used as a speakerphone – in case there is a microphone. 2-3 meters sensitivity missing, then popping noise and sound disappears. If to talk directly to the column, the voice is transmitted clearly and loudly.
Sound
Immediately it should be noted – column plays quite as expected. With such a compact size model provides an unusually pure, voluminous and very loud sound. This pipsqueak voice can easily double, or even two-bedroom apartment. And when I write "sound", we mean good sound but does not break and screeching hiccuping small speakers. Emitters, by the way, only two, each with 9 W, well, plus two passive radiators for bass. All acoustic component inside is so sound traveled 360 degrees – so reads the inscription on the packaging. In fact, the sound gets better when you expand the band with plus and minus from the listener.
Of course, someone will say that the cost of $ 250 is simply inexcusable for this type of device. Here it is to each his own. But the best sound in a similar form factor will be quite hard to find.
Autonomy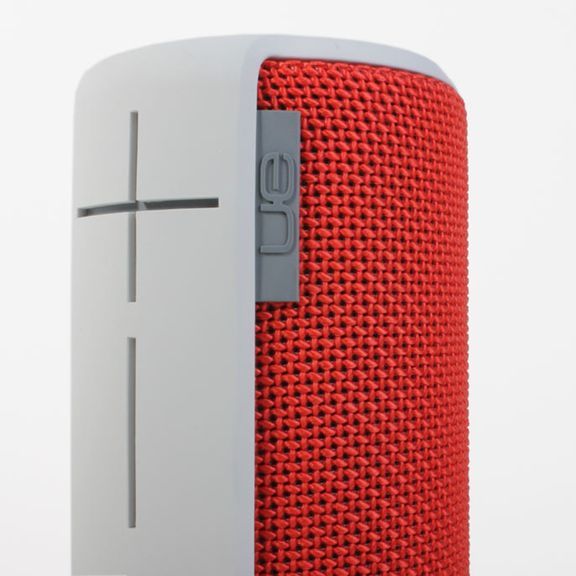 The manufacturer claims that the built-in battery holds about 15 hours when listening to music, charging the same lasts 3.4 hours. In practice, I have received more than 15 hours – due to the fact that listening to music mostly on a small volume.
Results – Ultimate Ears Boom
Ultimate Ears Boom – it's a portable music product which gives a positive and good mood. A small device sounds an adult, has a wide range of use and is in the premium hipster outfit. For those who are looking for just such a portable speakers – we recommend a closer look.
Liked:
– Appearance
– Assembly
– Quality of materials
– Sound
– Functionality
– Autonomy
– Protection against moisture
Did not like:
– Soiled rubberized plastic
– Price
Source: Ultimateears
Read another very interesting article about alternative energy of the Sun, water and air.