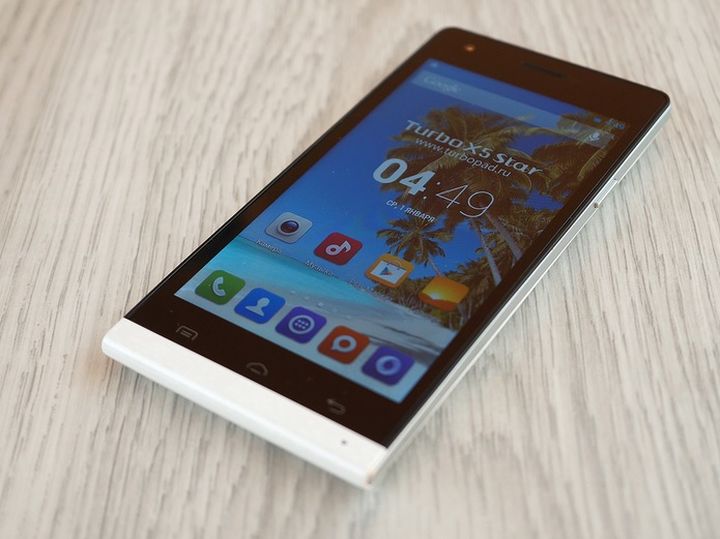 The company has expanded its line Turbo X next priced smartphone – Turbo X5 Star, a simplified version of Turbo X5. Novelty worth 175$, can boast 4,66" IPS-display with a resolution of 1280×720 and a quad-core processor with a frequency of 1300 MHz. Smartphones in this price segment should not expect much at all – but suddenly Turbo X5 Star will surprise us? Let's check out what this work literally sparkling gadget.
Technical characteristics Turbo X5 Star
Display: IPS, 4,66", 1280×720, 16:9, capacitive, multitouch to five points of tangency
Chipset: MTK6582
Processor: Quad ARM Cortex A7, the frequency of 1300 MHz
Graphic processor: Mali 400 MP2
Operating system: Android 4.2 Jelly Bean
Memory: 1 GB
Built-in memory: 4GB
Memory Card Support: MicroSD up to 32 GB
Communication: 3G, HSDPA, HSUPA
SIM: SIM-card + microSIM, Dual Sim Dual Standby (DSDS)
Battery: 1850 mAh, removable
Hours: 5-6 hours of video playback
Wireless Interfaces: Wi-Fi 802.11b/g/n, Bluetooth 4.0, MIRACAST, NFC
Navigation: GPS
Camera: Basic – 5 MP (autofocus, flash), front – 0.3 megapixel
Sensors: Accelerometer, proximity, lighting
Dimensions: 138h68h9, 5 mm
Weight: 160 grams
Packaging, equipment Turbo X5 Star
Manufacturer does not reach his usual style and packed Turbo X5 Star in a small black box with silver coated on the cover model's name and table specifications printed on the bottom of the package. Additionally charger, user manual, USB-cable included in the box protector, earphones and case-book.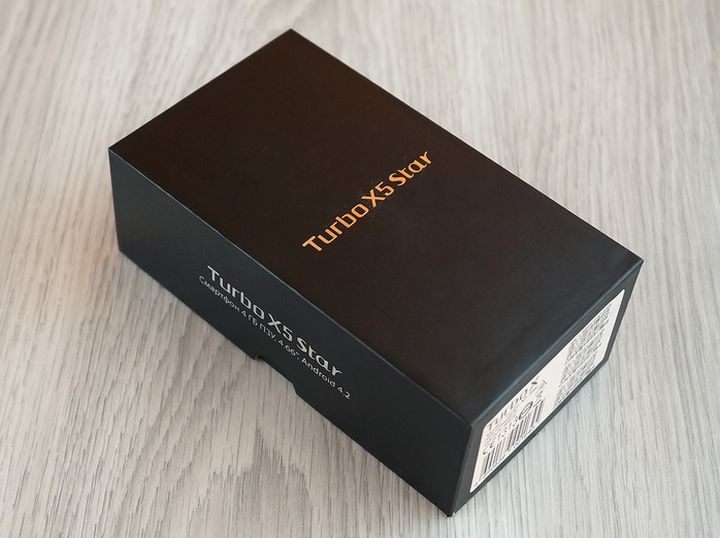 Appearance Turbo X5 Star
Smartphone weighs 160 grams and has dimensions of 138x68x95 mm. Removable back panel is made of light glossy plastic with a very interesting texture: it consists of a small pearl squares, something like flickering pixels. This bright little plastic pulls into the front panel, creating a rounded bottom end.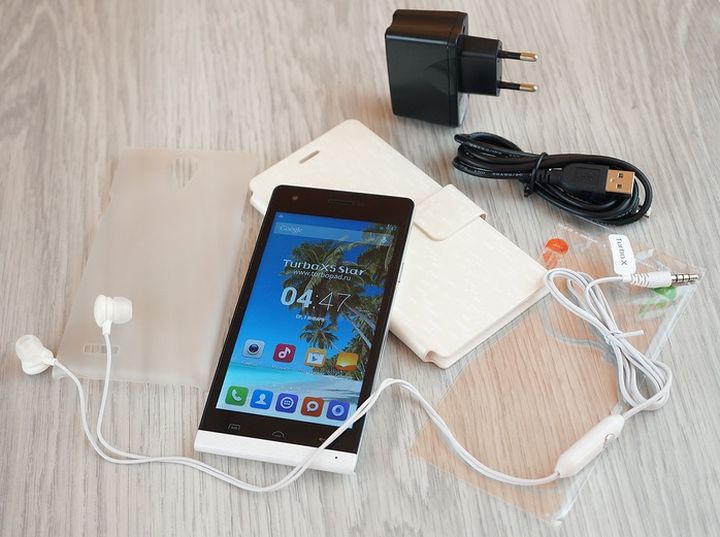 Side and top faces smartphone covered with silver paint and look like metal. On the right side is the power button and the lock on the left – the volume rocker.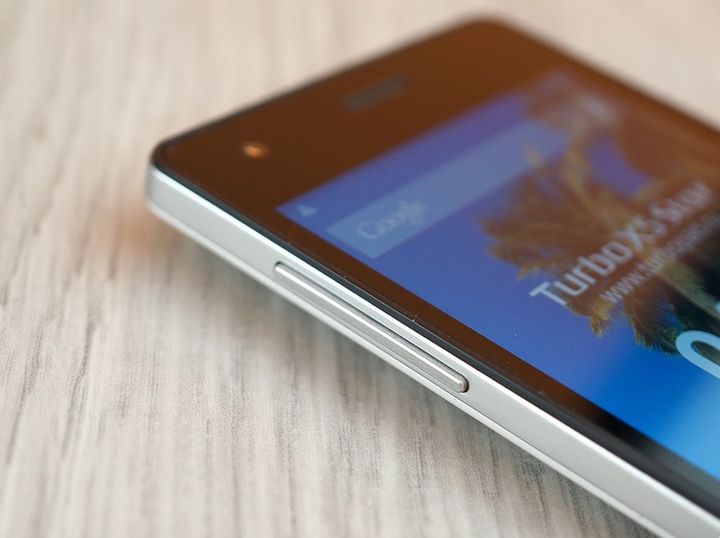 On the upper bound handed 3.5mm jack socket and microUSB.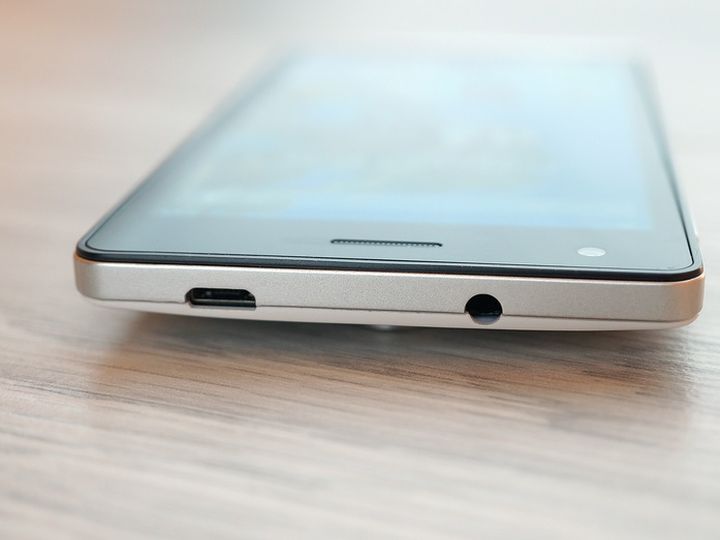 The front panel is entirely covered with glass 4.66" display is framed with black borders. In the center is placed over it the voice speaker, which is located to the left of the front camera.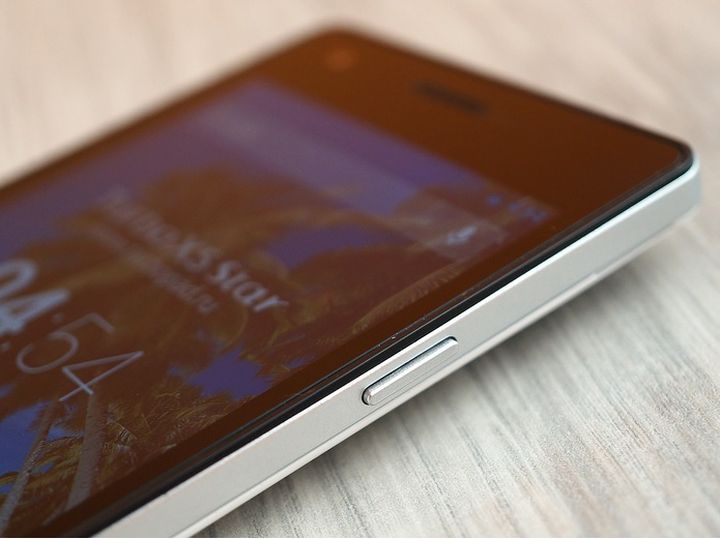 The "menu", "home" and "back" feature backlit Vibrate and under display. In the lower right corner of the panel – the microphone hole.
Camera lens, located in the center of the rear panel is quite protrudes from the housing. Below that is a flash. Even lower – the inscription "Turbo X", in the lower left corner of the back cover is an external speaker.
Ergonomics Turbo X5 Star
Turbo X5 Star – small and smart fit almost any hand. In his hand he is fine, the only thing – a little glossy back panel slides. But fall smartphone during the test was not necessary.
The buttons are convenient, but I would like them to be harder.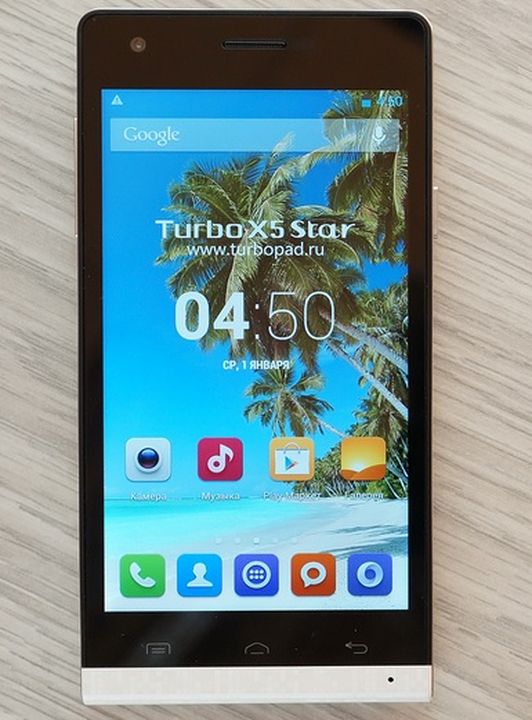 Comes with case-book of the same colors as the back panel of the smartphone. On the cover of the smartphone can be put on a table or other surface so that it is very convenient to watch. That's great, but because of the light color cover quite easily soiled, so that very long walk with him will not work. However, for the first time is quite suitable as protection from scratches in a bag.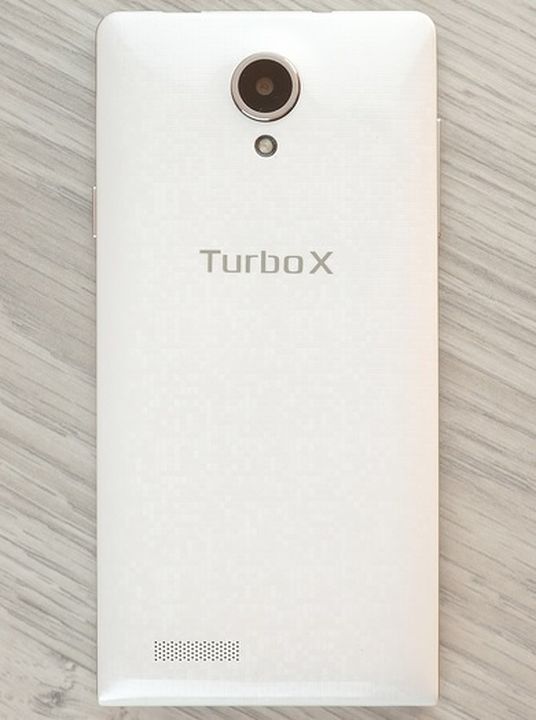 The rear panel is removed easily, stands in place as effortlessly. Assembled smartphone good creaks and not crushed.
Screen Turbo X5 Star
Turbo X5 Star – a smartphone with a relatively small 4.66-inch IPS screen resolution is 1280×720 pixels.
The sensor operates based on capacitive technology and processes up to five simultaneous touches.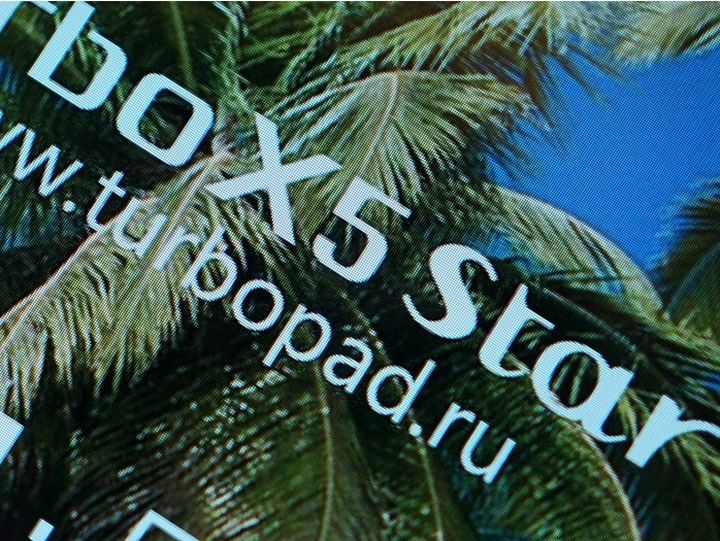 Screen can not be called very sensitive, but in most cases it correctly recognizes gestures and touch. Difficulties may occur only at very fast typing.
By itself, the display is crisp and bright with good viewing angles. Pleases supply of brightness, light sensor works properly and without delay, almost no glare screen and fades in the sun.
Interface Turbo X5 Star
Turbo X5 Star operates under the "naked" Android 4.2. Only slightly changed exterior shell – regular application icons are drawn in a single "rounded" minimalist style. Everything else is standard, staff have not received any application changes, nothing unexpected in a set of pre-installed software is also no.
Unit in the Turbo X5 Star
Turbo X5 Star is based on a quad-processor cores ARM Cortex A7, running at 1300 MHz for the graphics performance accelerator meets Mali 400 MP2. The smartphone has 1 GB of RAM and 4 GB of internal. You can extend the scope of the latter with the help of microSD-card up to 32 GB.
For system stability, performance smartphone missing – interface works smoothly, do not let the program run at lightning speed, but smartly. Dialer and other applications work stably established.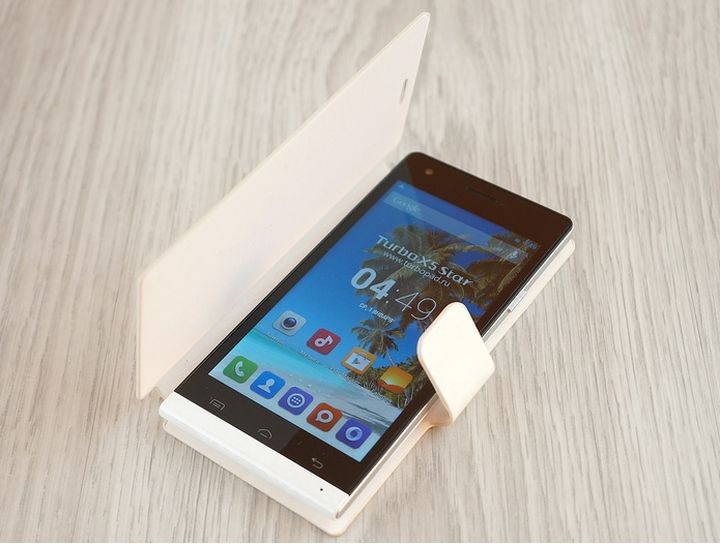 Play with toys on Turbo X5 Star can. So, Angry Birds goes perfectly well, but the more demanding Minion Rush, Asphalt and 8 Dead Trigger 2 and then slows down (Asphalt 8 to a lesser extent, the rest – a little more noticeable.) But it is, in principle, does not interfere with play. Sometimes when performing demanding tasks unit heats.
With 720p video Turbo X5 Star handles, c 1080p – no longer reproduces delays and, again, hot.
By smartphone-ear headphones are attached. Ears they sit well and even partly insulate them from external noise, but the sound quality can not boast, giving much illegible and muted medium and low frequencies. But talk on the phone through the headset, they come in handy.
External speaker pleases more – there is a decent supply of volume and sound quality of sound mind. Sound shallow but legible and clean, and most importantly – loud.
Camera Turbo X5 Star
Main camera smartphone received permission 5 megapixel camera with autofocus and flash. The front camera has a more modest 0.3 megapixel.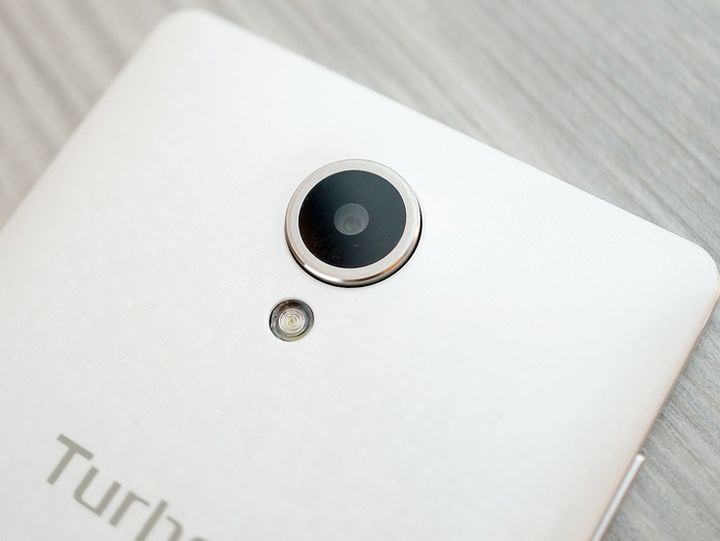 Among the available options – standard white balance, ISO, and several shooting modes, including panorama, smoothing the face and HDR.
Images themselves are not bad in color, but it clearly lacks clarity.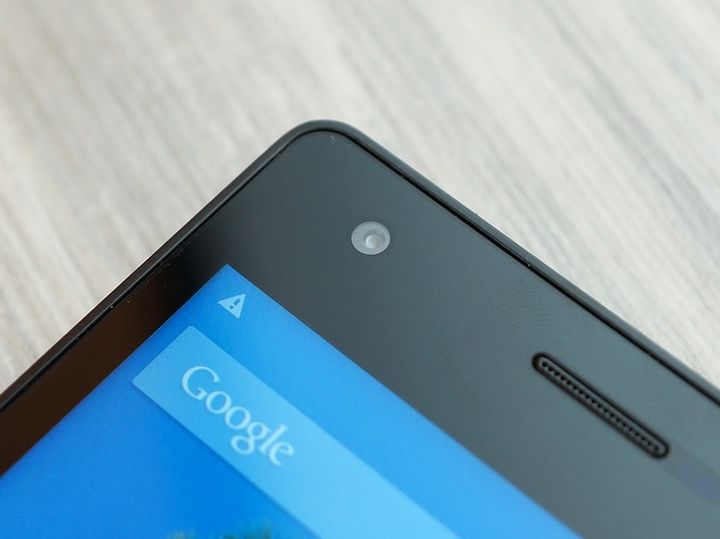 Macro pictures can not be called outstanding, but readable text to photograph it allows.
Front camera slightly "soaps", but not enough to make you unrecognizable in Skype.
Wireless interfaces Turbo X5 Star
In stock have all the necessary set of wireless interfaces, except, perhaps, LTE. The smartphone is equipped with Wi-Fi 802.11b/g/n, Bluetooth 4.0, MIRACAST, NFC, and it supports 3G and works with two SIM cards mode Dual SIM Dual Standby.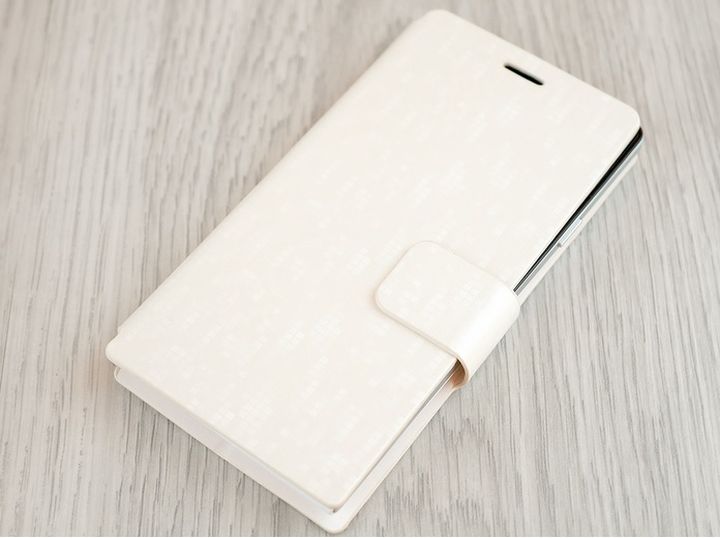 The reception and voice criticism has not caused, as well as stability of the smartphone in cellular networks. Wi-Fi and Bluetooth are running normally, GPS started and connected to the satellites quickly enough. NFC works.
Autonomy Turbo X5 Star
Turbo X5 Star battery has a capacity of 1850 mA * h With continuous HD video playback (was enabled "in the plane", the brightness is set to maximum) Smartphone discharged within four hours.
Per hour of play Asphalt 8 we spent about 30 percent of the charge, while were seen surges of charge when heated smartphone.
With daily use the battery can safely stretch day. But if you use a smart phone "from the heart", indulging in 3G, gaming and video, the evening before, he may not live.
Results Turbo X5 Star
Turbo X5 Star stands out above all, a combination of a relatively compact size and quality of the display – a distinct advantage for those who do not like hefty smartphones with a diagonal of 5 inches or more. A unusual pattern back cover certainly will attract a female audience. Smartphone's performance enough for everyday tasks, the quality of communication and speech transmission is also no problem. The disadvantages are low figures in complex 3D-games. And then we must remember that the price for Turbo X5 Star more than democratic, 175$ , so do not wait on the machine performance flagship, which cost several times more expensive.
Pros Turbo X5 Star:
quality assembly
good display
«Clean» Android
NFC
Cons Turbo X5 Star:
the lack of performance in games
"Weak" front camera
Read another very interesting article about alternative energy of the Sun, water and air.