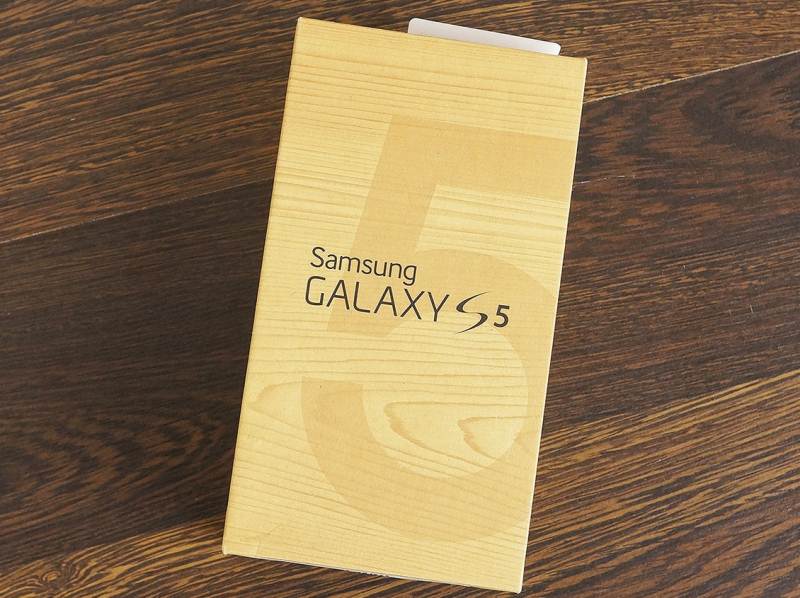 Samsung Galaxy S5 few people hit during the announcement. Moreover, it has not met most expectations and hopes pinned on it: plastic chassis remained, the design is also not changed radically, display resolution, like last year's model – Full HD. And innovations like the fingerprint scanner or heart rate look more flimsy than necessary. However, this is actually a 2014 model, and now that the price for it fell from 850 to 750$, some retailers offer becomes more interesting.
Transmission device made of cardboard, but stylized wooden.
Inside the box is divided into several sections: the top is very smart, and beneath it – all the accessories. Grade does not stand: smartphone, USB-cable to connect to PC, charger, wired headset, documentation.
Appearance Samsung Galaxy S5
The body is a candy bar with the dimensions 142 x 72.5 x 8.1 mm, side frames are very thin. The housing is made entirely of plastic, including a shiny metal border around the perimeter of the device. Adds showiness finish back cover. Her plastic has the original invoice under the skin and soft to the touch. Manufacturer offers four trims – black, white, gold and blue. It got us to the test last option.
The entire front panel is a monolithic glass plate with two slits at the top: – for lattice earpiece at the bottom – hard buttons for "House." It has the same glossy edging that smartphone itself, and it is located on the fingerprint scanner. Light sensors and proximity handed top right of the lattice, yet visible to the right front camera. LED notifications to the left of the grid.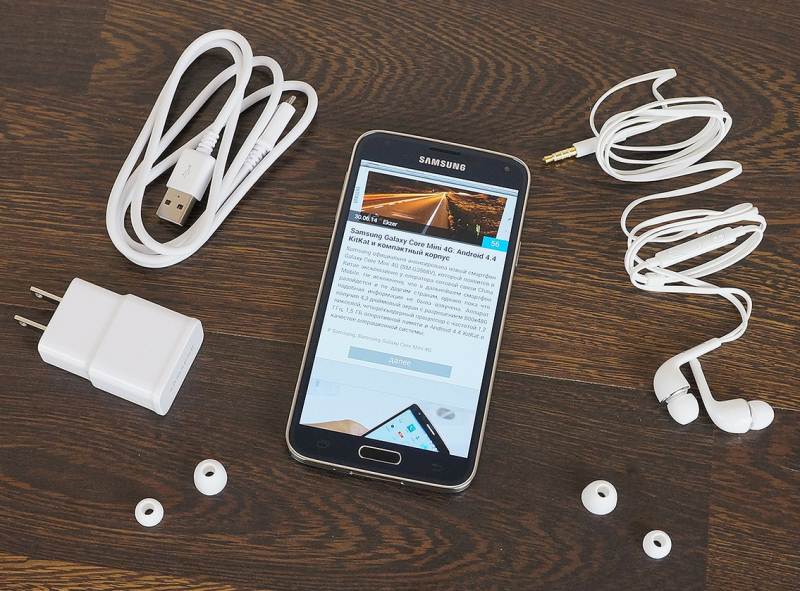 Couple softkeys "Task Manager" and "Back" are located in the lower part, there in the middle – the aforementioned hard button. The power button is located on the right edge on the side of opposites – the volume rocker.
3.5 mm audio jack, an IR emitter and noise canceling microphone hole found a place on the top edge.
Displayed to the left of the main microphone cover on the bottom that covers micro-USB connectors and MHL.
At the top of the back cover – main camera lens, surrounded by a square frame, and underneath unit consisting of sensor and LED flash heartbeat.
Two slots for the main speaker on the lower left side.
Slots for SIM-card and memory card located under the cover.
Ergonomics Samsung Galaxy S5
Smartphone perfectly in the hand, despite a decent size. Part, this contributes and slightly rounded back, and the texture of its material. Operated with one hand there is no difficulty, power button is always at hand, the screen takes up most of the surface. Although, of course, the size of the screen does not give forget about yourself, and sometimes need to intercept smartphone.
Shiny edging around the perimeter willingly collects fingerprints, although parting with them just as easily. Rear panel in this respect is much cleanliness. I wonder how the show itself in the long-term operation cover on the lid during the test appearing suspicions that it may wear out pretty quickly. However, this problem is solved by a cover.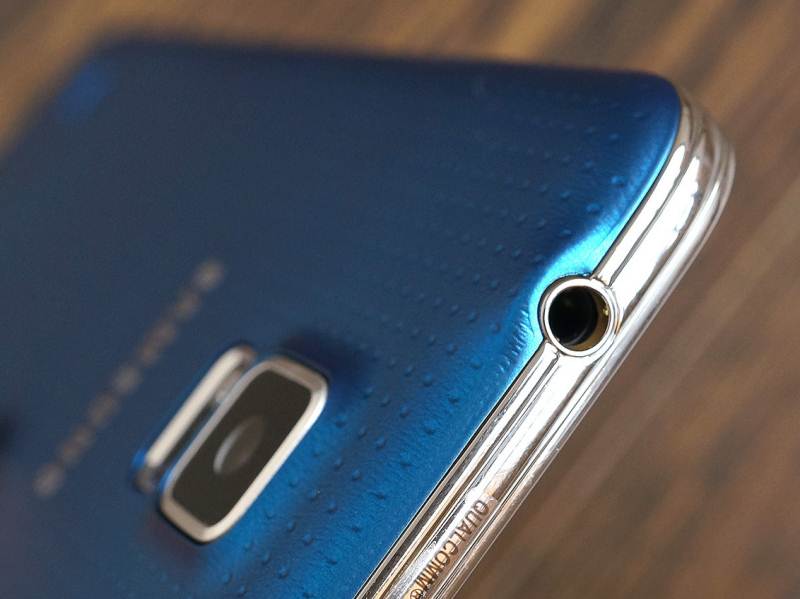 The back cover is removable, because to achieve 100% monolithic device is very difficult. In this case, the lid fits very tightly, quickly and easily snaps, but still squeaks when gently pressing on it. The rest of the build quality of the mark, the minimum clearances and smooth all around. Progress at the side buttons clear, with a noticeable click. The only thing that has caused some confusion – a tray for SIM-card. It should be noted that the hot metering SIM-card or memory card is not possible because to remove them, you must first remove the battery.
LED notification has several colors for different types of tasks.
Screen Samsung Galaxy S5
Traditionally, a top smartphone from Samsung is equipped with SUPER AMOLED-matrix diagonal 5.1 inches. It has Full HD-resolution of 1920×1080, the density is 432 ppi. Capacitive sensor, multi-touch. Light sensor and automatic backlight adjustment, of course, are present. Screen covered with a protective glass with anti-reflective coating and olefobnym filter.
Pros AMOLED display all known and have not gone away – the maximum viewing angles, high brightness and kontrastkost, "real" black. Margin impressive brightness, the sun screen does not fade and retains its functionality. Auto Brightness copes with its task, twist setting alone did not have any time during the test. Minimum level of illumination really minimal, night eyes do not get tired. There is also a high sensitivity mode screen that allows you to work with your smartphone gloves.
By the implicit but nevertheless disadvantages include excessive riot of colors on the display. Sometimes it really irritates the eyes, especially accustomed to more "calm" IPS-matrices. After a while, eyes adjust, but for some, this moment can be unpleasant.
However, the smartphone excellent screen – he will arrange the most discerning buyer and will allow to perform any task in any conditions, even with a minor caveat.
Interface Samsung Galaxy S5
The smartphone Samsung Galaxy S5 runs on Android 4.4, which is complemented by original shell TouchWiz. Radical changes not undergone shell, it still has a bright design, familiar sounds and melodies have also remained. The interface is more simple and flat, according to new trends.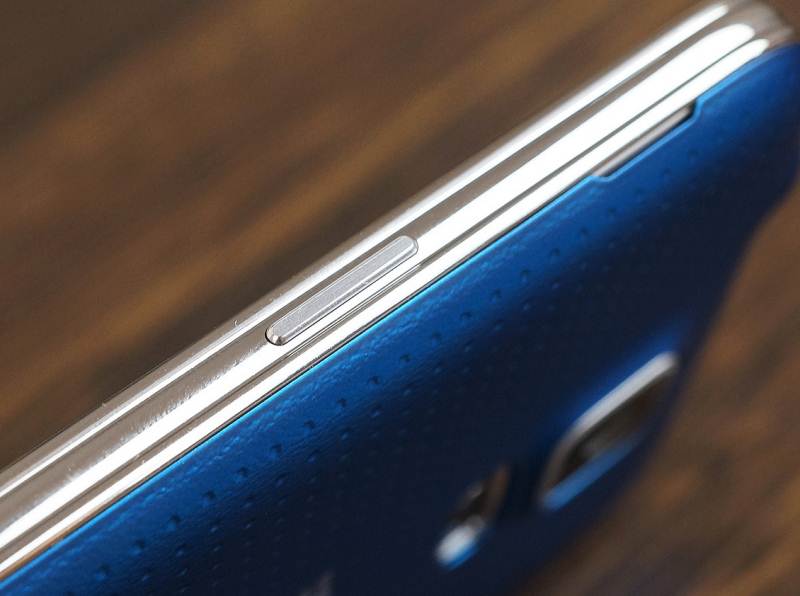 The most noticeable changes received the settings menu. Now all settings are presented with a long list of round icons. The menu has a breakdown of the different items, but at first glance the sight incomprehensible mess of icons and it takes time to find the desired menu item. Curtain notifications received several new buttons – S. Finder (a quick search on the smartphone) and fast connection to the "familiar" devices.
There are multi-mode. The device supports a variety of gestures, including without direct contact with the device. You can make a screenshot spending side of his hand from left to right. Or smartphone will turn off the screen as soon as the user translates look at another object.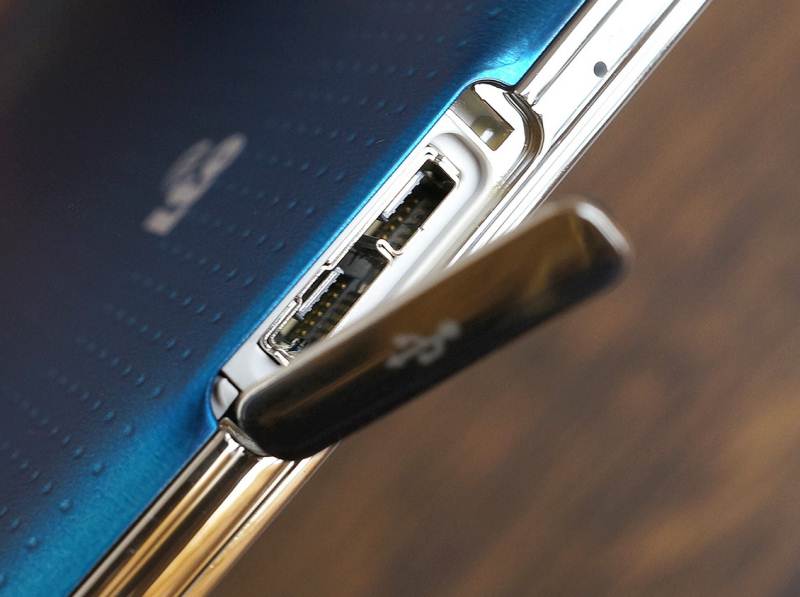 Much attention is paid to the synchronization and work with wearable devices – for example, Gear. Also added another way to unlock the screen – using fingerprint. To enable it, you must scan eight times fingerprint and optionally enter an alphanumeric password that will be used if the mark can not be considered from five attempts. Unlocking happens if you hold your finger downward on the sensor. This method does not unlock caused any difficulties in working, the scanner worked well and quickly.
On your smartphone found a large number of software, including paid apps: subscribe to Bloomberg Businessweek and Wall Street Journal, a well-known Evernote, Bitcasa cloud storage and more.
File Manager has a built-ZIP-archive. Smart Remote allows you to control not only the home appliances via the infrared port, but also provides for the inspection program schedule. Has undergone further development and utility of data protection Knox. Integrated video player without problems supports basic formats like audio player. From FM-radio in their devices Samsung refused for a long time.
We should also mention the fitness app S.Health. Traditionally, it allows you to move otslezhivta workout – measure distance, calories and steps. There are several modes of training: walking, jogging, biking and hiking.
Compared with the previous version, it has lost the ability to measure the temperature and humidity, and the mode was added heart rate measurement. All you need to do – make a few seconds finger to the sensor and displays the data on the smartphone pulse.
Also there is a stress meter, it works on the same principle, but the accuracy of his testimony to judge do not take.
In any case, you can visually assess the dynamics of rate during active sports. The application also allows you to gain a menu based on the daily value for calories.
The dialer is typical of most smartphones, it has a speed dialing and smart-dial with support for both English and Russian language.
A huge number of filters and capabilities to search for contacts.
Home software token presented in Galaxy S5 – power saving mode. One touch, he turns into the usual powerful smartphone "dialer" with a large, but black and white screen. Disabled wireless modules Wi-Fi and Bluetooth, simplified interface. According to the manufacturer, in this mode smartphone can run overnight at 10% battery, only making calls and sending messages.
Unit in the – Samsung Galaxy S5
Samsung flagship is equipped with a quad-core Qualcomm Snapdragon MSM8974AC with 2.5 GHz, 2 GB of RAM and 16 GB of built-in, it is available at 32 GB. You can expand the memory by microSD-card capacity up to 128 GB, or using external USB-drives through support OTG. Of the nearly 1.8 GB of RAM available to the user no more than 600-700 MB.
Characteristics correspond to the status of a flagship smartphone. No jerks and lags in work desks scroll quickly. But for some reason there is no feeling of lightning tasks. For example, when you start Task Manager impression, perhaps because the animation is composed. When browsing different browsers no problems with any display or scrolling.
Other tasks are performed quickly and accurately.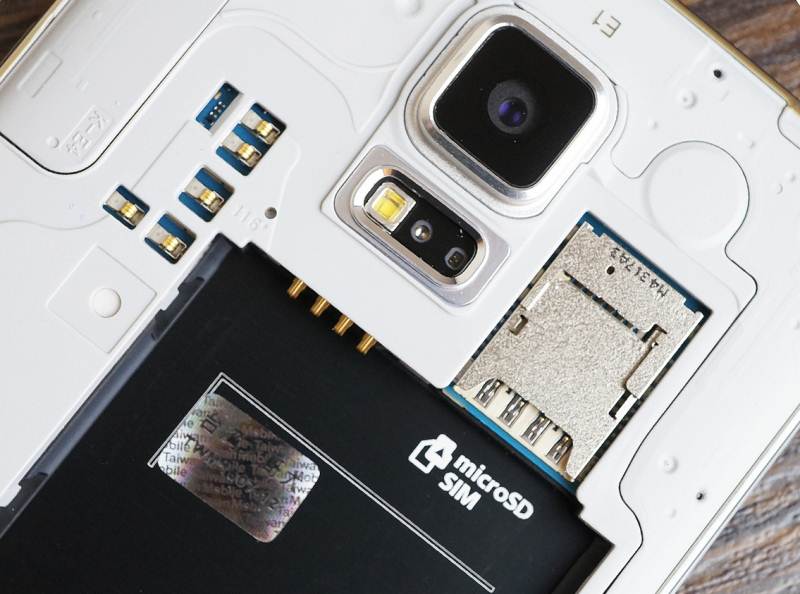 The gaming benchmarks confirm the excellent performance of the machine. Let's start with Dead Trigger 2. Everything is fine, the levels load quickly, drawing on high, control problems have been identified.
Asphalt 8 – similar picture: the schedule at the highest setting, no lag, the gameplay is nothing disturbs.
In the test Minion Rush smartphone also showed his best side: fast downloads, no delays and lags.
Angry Birds, as it is easy to Dogan, could not create any difficulties for our hero. It should be noted that the device is not heated very much, compared to the previous generation.
HQ video on YouTube – that through the application, in the browser, – excellent display and not hindered. VIDEOTEST performed on the video at 1080p using MX Player. Needless to say, with this task is handled excellently smartphone without heating does not exceed reasonable limits. The headphones sound loud enough, but some unconvincing. Perhaps this is a problem of regular headphones, which might be better.
The results of the benchmarks can be found below.
Camera Samsung Galaxy S5
Cameras have traditionally been two smartphone: frontal with a resolution of 2 megapixels, and the main – 16 Mn. The main camera uses a new sensor technology ISOCELL. According to the manufacturer, it should substantially reduce noise and improve color and contrast. The camera has a very fast autofocus and image stabilization quality.
Separate buttons for quick launch no camera, but you can use the volume buttons. Camera application starts quickly and has the original interface. When you open the settings menu in the eyes dazzled by the amount of icons, but you quickly get used to them, and they seem very neat and organized. Number of settings inspires respect.
Front camera copes with video calls and self-portraits, for these tasks, it is well suited.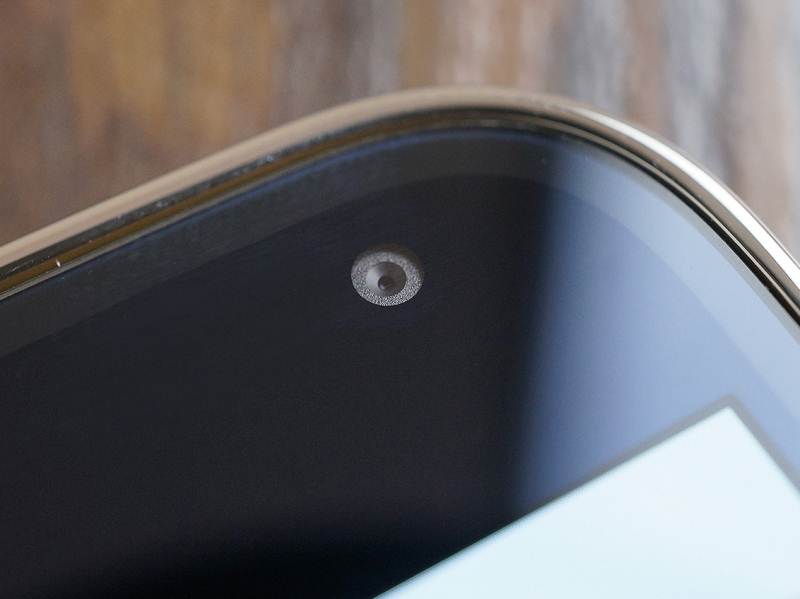 Module one of its main camera resolution promises good results. Increased resolution of 16 megapixels and use of new technology, coupled with image stabilization system allows you to make successful pictures virtually anytime and anywhere. Daytime pictures are of low noise, good sharpness and color accuracy, even in auto mode. Macro is also at altitude. At night, there are still difficulties, but if there is a small light source, the frame still get decent.
The camera features the ability to shoot UHD-video. However, not much point in this mode, no. And in the usual Full HD videos make good.
Camera Samsung Galaxy S5 – the evolution of the last flagship, it shows similar results with it. No revolution, but from an existing matrix specialists were able to squeeze Samsung, perhaps most.
Wireless interfaces Samsung Galaxy S5
The smartphone works on all GSM-bands + LTE. Signal is held firmly but there were some difficulties with the reception in a building with thick walls. The speaker volume allows easily communicate with someone in any conditions. The volume and quality of the underlying dynamics might be higher, but in most situations they have enough to spare.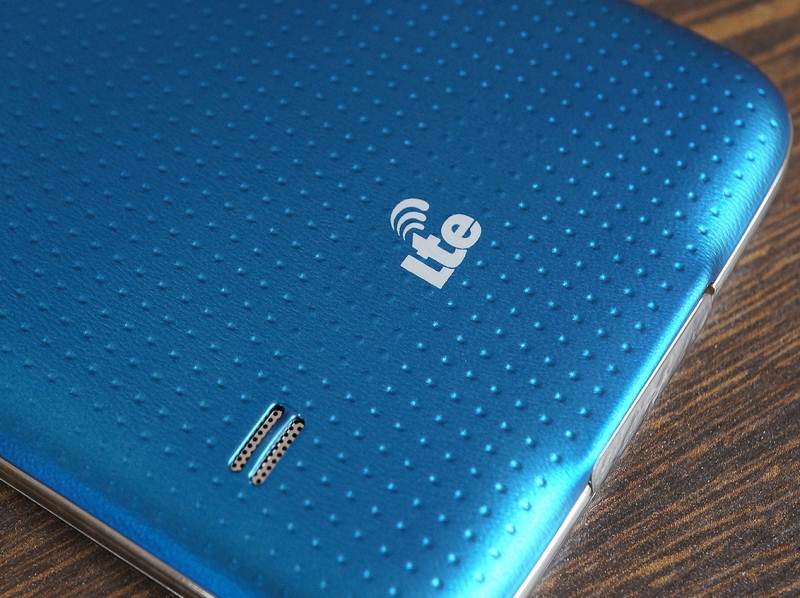 There is also Wi-Fi-enabled 802.11b, g, n, the function Wi-Fi Direct, Bluetooth 4.0 and support for NFC. Nothing to complain about, everything works.
Location in Google Maps is standard without difficulty, GPS catches satellites quickly and confidently keeps in touch with them.
Autonomy Samsung Galaxy S5
The smartphone Samsung Galaxy S5 is removable battery capacity of 2800 mAh. Do not forget about vysheuponyanuty ultra-saving mode.
In playback mode, 1080p video with maximum brightness and medium volume smartphone lasted nearly 13 hours.
Hour game Asphalt 8 with automatic brightness adjustment took a little more than 20% battery charge. Consequently, in the "hefty" smartphone games can work a little more than four hours.
In the read mode with low lights machine lasted almost 20 hours.
With an average daily load (15-20 minutes of talk time, half an hour of games, about 30 minutes in the net), the battery should last for two days. If you use ultra-saving mode, the result is significantly more, but use it only makes sense when it is not possible to charge the smartphone.
Results Samsung Galaxy S5
Objective shortcomings devaysa not, he and the flagship. Great display and camera, powerful processor, decent battery life and a variety of additional functions. But subjectively Samsung Galaxy S5 criticized by many. Someone in size, design for someone … However, in reality it is all vkusovschina. And if you like this phone, then, subject descended price tag, there is no reason to discourage him from buying . Flagship is, than to please the owner. Those who do not like it radically, too, should not be upset, this year the Korean flagship fully worthy competitors.
Pros Samsung Galaxy S5:
excellent performance;
bright and high-quality screen;
great camera;
good battery life.
Cons Samsung Galaxy S5:
average quality of the headphones and dynamics;
Housing material is probably not wear pampers.
Read another very interesting article about alternative energy of the Sun, water and air.