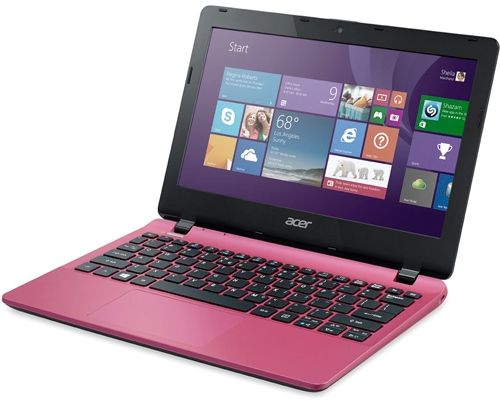 To ompaniya Acer year already produces a sufficient amount of low-end models. Among them there are laptops with different diagonal, design, functionality, but they all have an affordable price. Especially nice when instead of the classic features bright and original colors, as in this case, you are with laptop in hand will not go unnoticed and will be able to attract attention.
However, appearance is not the most important. For example, the level of performance depends on how quickly the laptop to cope with everyday tasks. That's just in the Acer Aspire E3-111, which will be discussed in this review, is not powerful enough stuffing. Rather, for office applications and web surfing it is enough, but for more complex calculations – alas. Although in this case it is to be expected, since we are dealing with a subnotebook, which works with Intel Celeron N2830, 2 GB of RAM and integrated graphics Intel HD Graphics (Bay Trail). But who knows, maybe, many users need just such unpretentious and not too productive laptop for daily work, which, despite widespread tablet PCs will still pretty popular.
Design – Acer Aspire E3-111
Initially, it seems that the Aspire E3 is made of metal, but in fact it uses plastic. It is mostly opaque, though there are also gloss on the display frame. However, this is unlikely to be able to attract as pink coloring, the predominant design. Most likely, it will remain on the ecstatic female half, preferring all bright and exciting.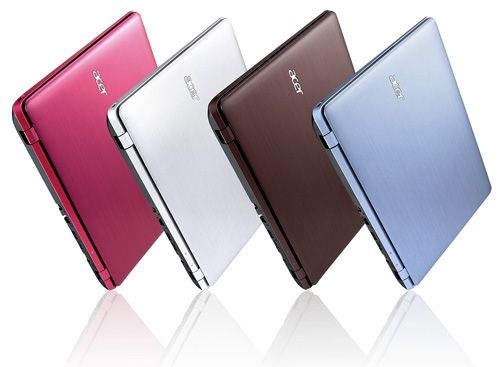 Interestingly, this is not the only color which is available Acer Aspire E3-111, for example, is blue, more modest silver or brown, which may be preferable and a strong half. Because of this color palette notebook looks really original.
Assembled laptop well, but there are places where the body a little pressed. This applies mainly to the work surface, especially near the touchpad. But in terms of clearance or clearance items to find flaws fail, all is arranged as necessary.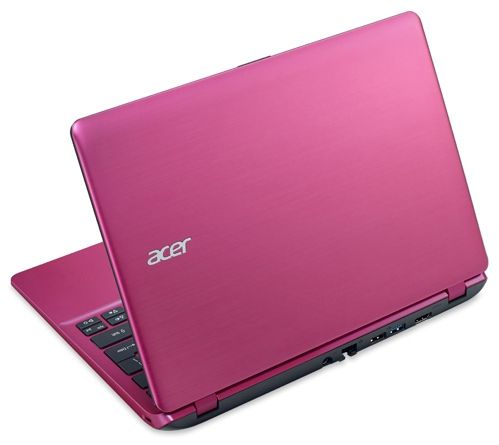 Incidentally, the small size of the notebook components 291h211h21 mm, only add weight in the eyes of potential users. Well, not to be worn in a purse once again gravity, producers were able to invest in a 1.29 kg.
Display, audio, web camera – Acer Aspire E3-111
The 11.6-inch laptop screen has a resolution of 1366×768 pixels and has a brightness of 220-230 cd / m 2. He also is the technology ComfyView, through which surface is less glare, which means that for a long time sitting at a screen users will be less straining your eyes. Compared with color and contrast, which does not exceed 200: 1, the brightness level is more than pleased, it will be enough, even if the device is used on the street. Of course, the touch screen in this configuration would be a significant advantage, but here everything is standard, no frills. Incidentally, the manufacturers limited standard TN-matrix, which is expected for a budget laptop. Therefore, you have to, anyway, to put up with a small inversion when changing angles.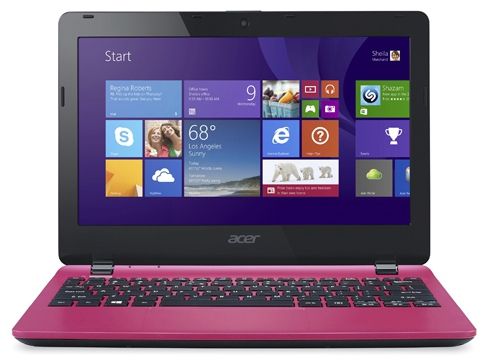 From stereo speakers Acer Aspire E3-111 nothing optimistic not wait. They sound softly and inexpressive, and the only audible treble. Overall, the headphones are connected to this case will be the only true one.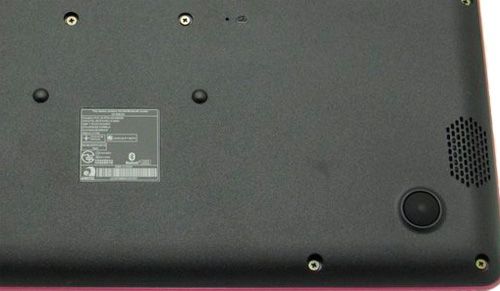 And here is a webcam with a resolution of 1 megapixel, though not too high quality, yet makes it easy to chat with friends using Skype.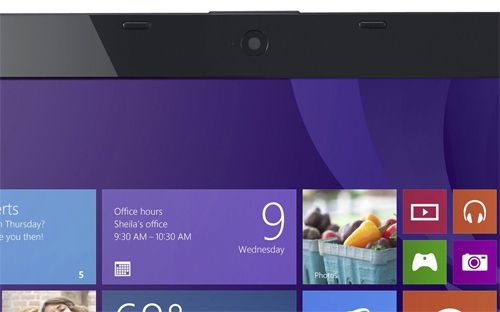 Keyboard and Touchpad – Acer Aspire E3-111
Island laptop keyboard will appeal to those who often picks up a text. It is equipped with a medium-sized keys that have a rough surface, pressed clearly, with good feedback, and while working hard not knock. Also convenient and standard mode, so no need to once again change their habits.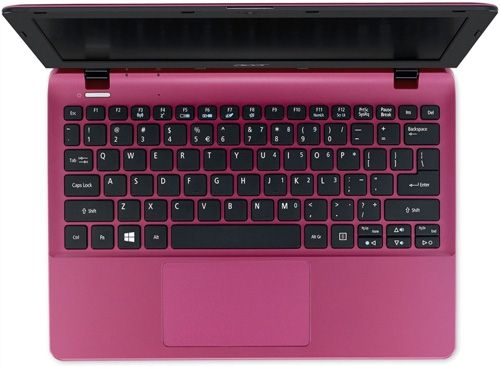 The touchpad in this laptop is designed in modern style besknopochnym. Also, it is smooth and quite stretched in width, on the surface it slides fingers during positioning, and lack of the area is not particularly felt. In addition, the touch area is pretty responsive, because of this there will be no delay in the work.
Performance – Acer Aspire E3-111
On a laptop Acer Aspire E3-111 NX.MNUER.005 preinstalled 64-bit operating system Microsoft Windows 8.1. At the same time, the stuffing are not enough powerful components such as a processor Intel Celeron N2830 clocked at 2.16 GHz and the second-level cache of 1 MB, integrated graphics, 2GB of RAM and a hard drive is not particularly capacious.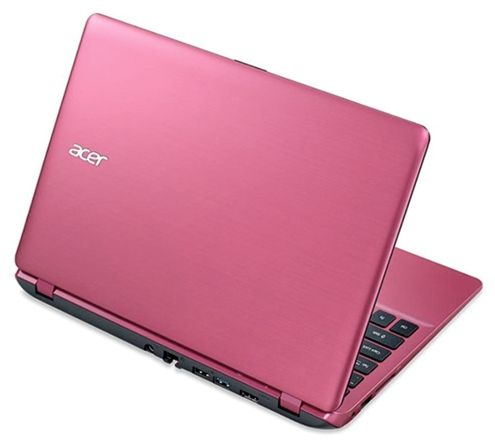 So, in order. The CPU is built on standards 22-nanometer process technology, has two processing cores, while at the same time can only handle a couple of threads, due to the lack of support for Hyper-Threading. By the way, the frequency of Celeron N2830 will remain unchanged, as well as the Turbo Boost is not. What really can be considered a plus, since it is low power consumption, which is less than 7.5 watts. In general, on a laptop with a processor should not expect to be addressed if the challenges. But while surfing the web, working with documents, video playback, if it is not of the highest quality, performance chip will suffice. In this case, it is unlikely you will notice that the device is working late.
At the same time, the temperature under load of the same processor can significantly increase, which is not the best way affect the speed of operation of the notebook. Appreciate that the system runs smoothly, partly due to lack of fan.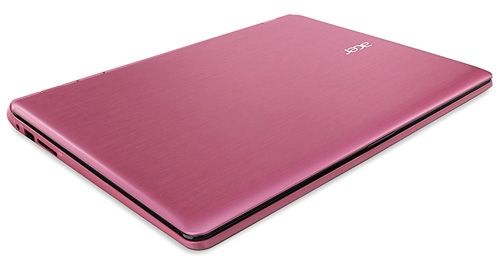 On the basis of the technical characteristics of a video card Intel HD Graphics (Bay Trail) , it supports DirectX 11 and has a total of four execution units. How, in fact, processor, built-in video card is not enough for many tasks, but only for the office or a series of multimedia. With modern games laptop Acer Aspire E3 will not be able to make friends, and undemanding old will be playing, putting a low setting.
Of course, not always be enough and 2 GB of RAM, and standing in a single slot. Ideally, it would be better to 4GB, so that during start-up and follow-up work with most modern applications are no delays. So, if you open the browser with 3-4 tabs, the slow response will have an effect. I should add that RAM is standard DDR3L-1333, its volume can be increased to a maximum of 8 GB. As for storage, the Acer Aspire E3 has a SATA hard drive of 320 GB and a rotational speed of 5400 rpm. It is unlikely that many users this will be enough. Unfortunately, in other trim HDD capacity will also remain unchanged.
Ports and Communications – Acer Aspire E3-111
Part of ports and connectors located behind the laptop. For example, here you can see the RJ-45, two USB 2.0 and 3.0, as well as HDMI. Very convenient that the socket for recharging is also located on the rear panel, as connected most of the time will not bother you.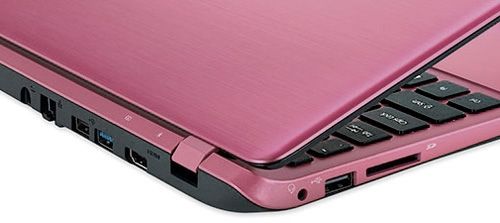 On the left there is another USB 2.0, card reader, reading formats SD / MMC, and a combined audio jack for headphones with a microphone. But right, surprisingly, almost empty, because there is only a slot for a Kensington lock. As you can see, the interface is not only the front face.
Speaking of wireless communications, the notebook has Bluetooth 4.0 and Wi-Fi standard 802.11b / g / n.
Battery – Acer Aspire E3-111
The device is equipped with a 3-cell lithium-ion battery capacity of 2640 mAh (30 Wh). According to the manufacturer it is discharged after 5 hours in balanced mode. In fact, in the Idle laptop will be able to spend more than seven hours when browsing the Internet – peter out after 4 hours, while the maximum load squeeze Acer Aspire E3-111 already one and a half hours. Of course, if not powerful enough stuffing would like to work longer, but the battery does not have a large capacity, is able to provide it.
Conclusion – Acer Aspire E3-111
Subnotebook Acer Aspire E3-111 – is the best option if you want to work or study. For trips it compact enough to not take up too much space in your bag; for a student audience laptop comfortable and virtually no noise, so you can concentrate on the lecture. Yes, filling devices are not enough stars in the sky, but at their level it is even nothing, can not only work, but also relax watching your favorite movies. The only thing that you have to put up with not high enough autonomy, low sound and sometimes body flex. If we talk about the price, which is around $ 340, it is not large enough to completely undermine your budget.
Read another very interesting article about alternative energy of the Sun, water and air.