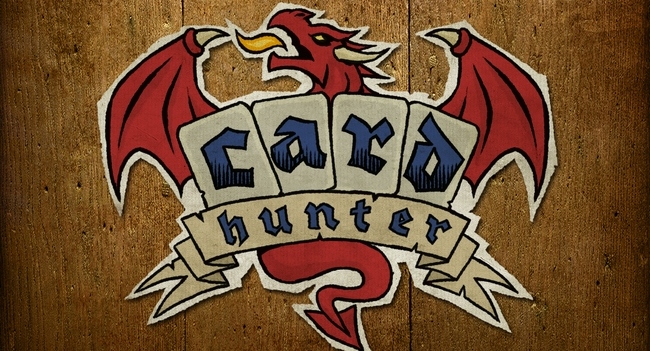 What genre the game can create a team of associates who worked previously at Irrational Games and who worked on projects such as BioShock, System Shock 2, Freedom Force, Thief and Flight Unlimited 2? That's right, Card table RPG, runs directly in the browser – Card Hunter. Very traditional, but very unusual and wildly contagious.
Classics – a cardboard box on the coffee table, flat figures of heroes on pedestals, mandatory Game Master, describing the place in a virtual dungeon and shifting figures of monsters, a set of cards of action at the hands of the players. Pizza, chips, drinks to taste. No girls – it's fun for real geeks. However, she will appear later, it is not surprising in the browser-based card game is amusing characters and even story telling about gikah who love board games.
First Card Hunter remarkably drawn. Figures and field really seem cut out of cardboard, ten-twelve-cubes and maps on the edges of the field – almost real. Great styling.
By and large, Card Hunter – is a modular tabletop role-playing game. Characters have the card features slots for armor, weapons, magic trinkets. Each has its own specialty – a warrior, mage, cleric. Turn-based battles are obtained very tactical, affects the outcome of the collision position of figures, the direction of their gaze, surface characteristics, barriers, etc. etc.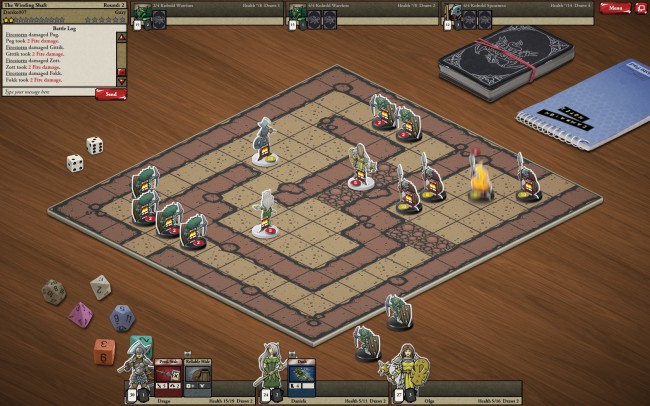 That's only for the actions of heroes, moves, attacks, the use of spells – answer card. Moreover, in contrast to the same Magic: The Gathering 're not going to play a deck of cards separate. Maps are "tied" to the subjects that you give the characters. By armor – three cards to each weapon – five or six a magical thing – another three or four to a hero's special abilities – and even etc. As a result of these items, boosters recruited deck of 30 cards, and more, which is used in combat.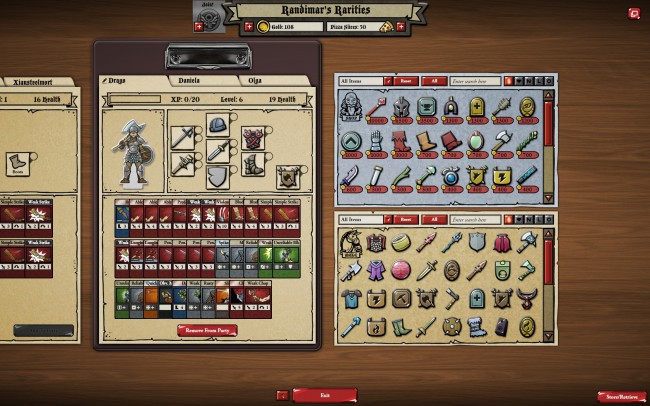 All very logical. On the sword "hanging" cards charge of slashing blows, blows to the movement and parry a spear – for stabbing at longer range on the mace – for crushing on the shield – blocks in Armor – reducing damage to the boots – a move on the rings and amulets – spells, etc. etc. Items are not just a lot, but a lot, across a variety of combinations. One can get a set of unique cards with great bonuses and maps with negative effects. It is necessary to balance.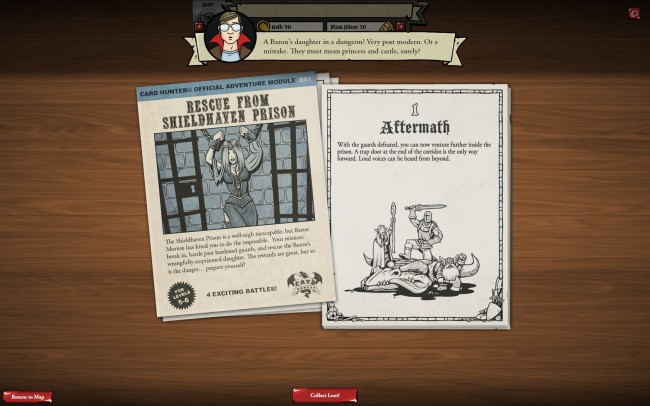 In this case, the higher levels of the items are beginning to demand the blue and gold tokens of energy, the number of which is limited. As a result, selection of equipment under different opponents very exciting experience. After all, the skeletons, for example, do not act thrusts, slime – crushing, trolls are protected from fire, etc. If you come across one module and the first, and, second, and third – will povertetsya.
Correctly picking up equipment can be assembled and interesting combo pack – a quick warrior swordsman, literally dancing around the enemy, the magician-Pyromancer, burning napalm, healer, able to act as a tank, etc.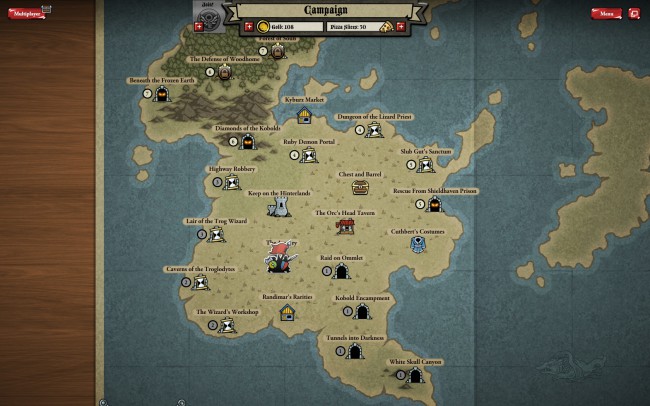 Actually modules-adventure – it's three to five connected by a single plot maps with opponents of one-and two types of boss at the end. At each level there are several such sets, adventure and a lot of them really. If prior to the tenth level of the dungeon will seem too easy – do not relax with a 12-13 level will start real hardcore. On the replay, shuffle the deck and heroic prevozmoganiem.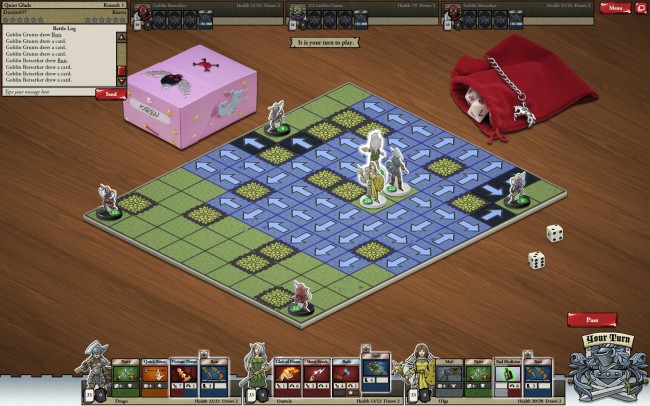 To bleed the heroes and get extra loot you can re-run old adventure. Jobs in the missions – to collect a certain number of victory points before your opponent. Most often, points are awarded for killing monsters, but sometimes it is necessary to keep a certain point or time to reach the goal. Playing fields in the Card Hunter is really interesting and varied.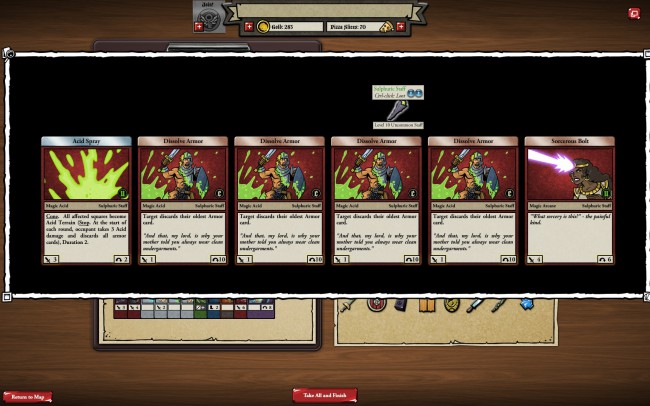 During the passage of the mission and the module you get a 2-4 subject / booster. If you use a club subscription – for them to add another item of high quality. Plus for the local currency, slices of pizza, you can buy an adventure with a guaranteed yield of unique items after passage, or additional non-standard figures of heroes. Here, perhaps, the whole monetization – gently and perfectly acceptable.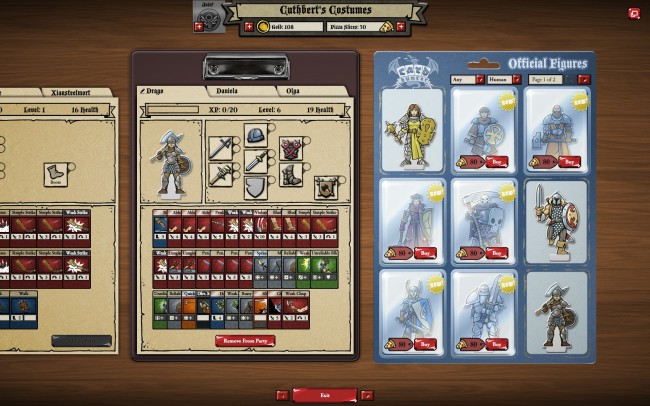 Besides story part in the game, and the multiplayer, in which the characters are given to you once the maximum level with all the open slots for items and tokens of energy. In online battles can podnabrat loot for single parts, but at a moderately active game items from you and so will be much more than slots. Multiplayer – one-on-one duel, and, as a rule, the task is not to kill everyone, and keep the point that makes the game tactically very interesting. Players online a lot, so there is always someone with combat.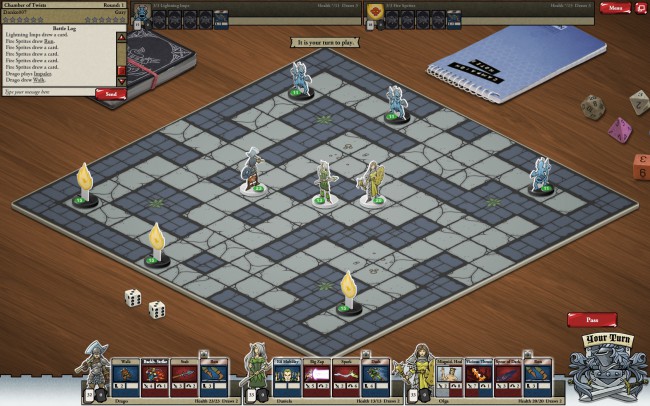 Card Hunter extremely addictive. In fact it is a mixture of card games and "bagel". The principle of "one more dungeon and go to sleep" works like a clock, the benefit of the mission, as opposed to the parties in the present nastolki, obtained short – 10-15 minutes. In general, the game level Card Hunter in reality would be very difficult, given the number of cards, dice and tokens, which would have to be used. And as the cost of the number of the card was pulled on the adventure 500-1000 dollars.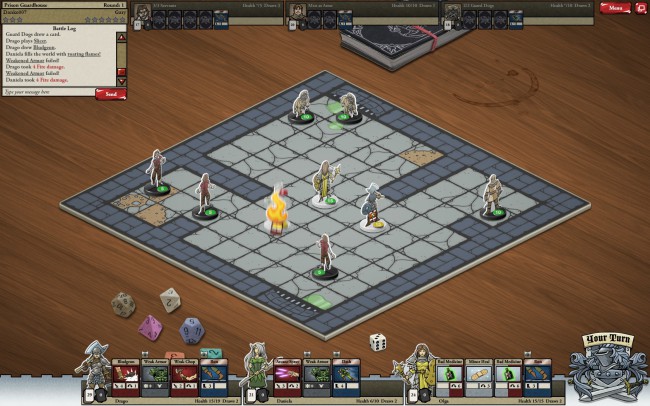 Perhaps in Card Hunter is only one drawback – the lack of a client for iOS and Android, because the game seems to be specially designed for tablets. Hopefully, the plans of developers mobile client comes first. Plus, it would be interesting to see the multiplayer cooperative missions and two by two. If you like board games, RPG and card strategy – do not miss Card Hunter.
Read another very interesting article about alternative energy of the Sun, water and air.