Looking at the small but heavy aluminum body with rough milling, four vertical indicators of inputs and large vents deliberately created a complete image of the product class "luxury". Even the volume control for the headphone amp amplifier is equipped with small growths. So what form immediately tells us: audio component difficult and requires the owner of a careful approach.
Feature of headphone amp Pathos Converto
I must say that if you prefer to connect the DAC to only desktop and laptop computers, you run the risk of literally missed many a deaf ear. Sound Converto in this case, and somewhat dry it slightly lacks clarity – so that we would recommend using a high-quality network player or CD-player.
In this case, the composition Highway Star Deep Purple's very demanding on an amplifier with headphone amp Beyerdynamic DT880 served detail, every nuance of vengeance as accurately as possible. Wide stereo image, you can only find fault localization tools: they are slightly smeared on the virtual stage. Nevertheless, the tonal balance is perceived as equal, and the drive passed in full.
If the speakers all questions to the stereo removed and maintains sound clarity and rhythm. We can not say that the bass much – but enough bass tight and very fast. Vocals clearly defined – so that in the recording of a live concert of Patricia Kaas Toute La Musique all perfectly audible tone of voice and emotional fulfillment rolls.
In classical music, such as "Romeo and Juliet" by Prokofiev, authentically represented the deepest bass (that's when he plays into the hands of restraint Converto), HF-friendly and transparent. DAC/headphone amp perfectly fulfills any volume differences and the dynamic range is very large. This study tracks so well that almost all tools without any problems are identified and distinguished.
Thus, despite the rather aggressive exterior, Pathos Converto gently and carefully brings to the listener the slightest nuances of the music, not allowing himself no gag. Yes, it is necessary to add the high-quality digital source to minimize possible jitter – but this investment will always pay off.
In detail of headphone amp Pathos Converto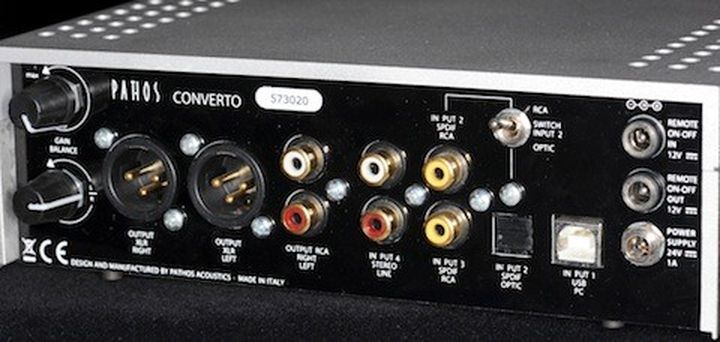 The DAC / headphone amp applied fully balanced circuit, and on the back there are not only plenty of inputs but also the balance control channels and the gain for the headphone output.
Inputs are selected button on the front panel, there is a very impressive and is accompanied by clicks of the relay. The absence of labels does not interfere – all the same switching occurs sequentially, but the vertical lights, illuminated in blue – a nice touch.
Price: $ 1820
Pros: Honest sound without embellishments
Cons: Expands only qualitative source
Verdict: If you are not sure about buying quality digital source, the rest – caring DAC / headphone amp
Source: pathosacoustics
Read another very interesting article about alternative energy of the Sun, water and air.