Music has become a matter of personal, and thus the traditional components that you previously shared with others, now collected in one box, which belongs only to you
Oppo company better known for its multi-functional Blu-ray-players, who at one time became a breakthrough: in addition to Blu-ray, they read all available media, including SACD and DVD-Audio, could play the files, and even disk images over the network. It is not surprising that the company drew attention to the rapidly growing segment of the headphones, releasing not only a specialized amplifier HA-1, but premium headphones PM-1.
Despite, in general, nekopeechnuyu price by today's standards HA-1 can not be attributed to the expensive devices – just look at the gorgeous and heavy body, available with an impressive list of features, and if you're lucky, then look under the cover, as you will inevitably come to the conclusion that for the money Oppo offers not that many, but a lot.
In addition to classic headphone amplifier with XLR and RCA-inputs at your disposal will be a DAC (on-chip ESS 9018) with coaxial, optical and USB-in (at the receiver XMOS), allows you to connect both classical analog and digital sources, as well as PC and listen high resolution files (including DSD-format data DoP). In addition, the device is equipped with a USB-connector on the front panel allows you to connect and play music with the products Apple. For completeness, happiness owners apple gadgets are not enough unless the AirPlay, but holders of advanced devices on Android, no doubt, appreciate Bluetooth-enabled codec AptX.
Front panel HA-1 adorns a huge graphical display that really want to touch, to get to a particular function. But no, he did not touch, and the menu selection or the desired input by rotating the multifunction knob to the left of it. This is contrary to modern ergonomic fashion, but, however, does not overshadow the work with Oppo: firstly, the device has a handy remote control with direct selection of inputs, and secondly, the big screen can accommodate not only beautiful screen saver in the form of spectrograms and dial indicators, but also to bring all the necessary information. This is the first USB-DAC on our memory, which shows not only a bit, but the number of bits of the incoming digital signal, which, in our opinion, is very important when working with a PC, and which can not wait to count anything.

The sound from the unit price is also ahead – feel free to use it with the most expensive headphones that you can afford. True, you must first find a suitable device for this class of power – believe me, when you connect to our Reference SACD-player Esoteric X-03, which costs about five times more expensive, feelings of inferiority does not arise. This applies particularly to the analog inputs, and the choice, RCA or XLR, depends on what you are using headphones. Balanced connection provides more details on the edges of the range and better dynamics, which is very evident in Tchaikovsky's Fourth Symphony, but with headphones Beyerdynamic T-1 (harsh in the performance of classical music), we chose to use the RCA-input, giving a more pleasant and focused on musical lines sound . No less impressive and DAC: When connecting to transport high-end "Cantata" Bach performed by RIAS-Kammerchor distinguishes the full, deep study, and only a slight simplification of timbres of voices and instruments indicates that the device is not in front of us from the High-End-category.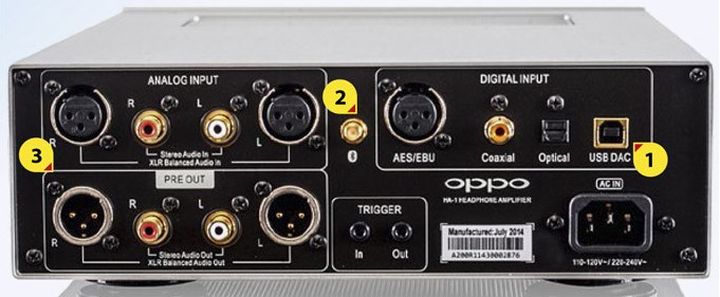 Realizing that based on Oppo can build a relatively affordable, but high-end system for listening to music from your PC, we had pinned hopes to USB, especially in light of the outstanding features of this digital giant as the Oppo. Alas, if the aid was not intended to fairly expensive USB-cable Black Rhodium Star ($ 230), the famous Scherzo of Tchaikovsky's Fourth Symphony (16 / 44.1) would pale, confused rhythmic and dynamic accents. Of course, the files of high resolution bit less critical to the quality of the connector, at least in relation to the rhythm of the sound. Still Daina Krall Temptation format 24/96 with our basic, but good enough Supra USB cable sounds somewhat simplistically-jerky, and the singer and musicians pull the party tired and ragged, as if at a concert in the country club. It is necessary to change the cable on the Black Rhodium or use cables with active power (Astintrew Concord) – and everything falls into place. Even DSD-recording of the concert Dave Brubeck varies greatly depending on the cable used. One conclusion: if you are going to use as the source computer, select the coolest USB-connector that you can afford.
Because of listening to music c portable devices originally special expectations we had, it is quite melodic and coherent execution of Jacques Loussier Chopin nocturnes stored on your iPod, worthy of respect. Of course, much depends on the quality of the original soundtrack – a beautiful, rich record Eternal collective Branford Marsalis is not able to kill even a basic codec Bluetooth.
And now the fun part. Let's take off the headphones and connect Oppo HA-1 to the power amplifier (or use balanced cables to a pair of studio monitors – not to lose the informational content, to which you are accustomed to with headphones). You'd be surprised how confident the device works as a preamplifier, even as part of the road system. In addition to the formal criteria of sound pleasing music, exciting filing records, whether for analog or digital inputs.
In detail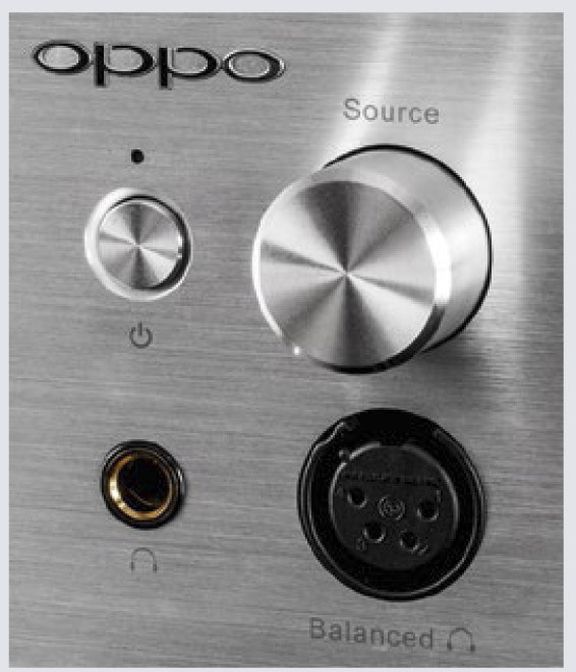 HA-1 is equipped with two outputs for headphones: 6.3 mm jack and XLR 4 pin. The latter provides the separation of earth conductor signals left and right channels, thereby greatly increasing the sound quality (especially noticeable in the transfer of the fine details of what we were able to assess the example of brand Oppo PM-1, equipped with two sets of wires). Unfortunately, this standard has not yet become widespread, but if your headphones to the replacement of the cable, we recommend you contact a specialized center of the cable, that you have made it to order.
In general, Oppo HA-1 – gentleman of many awards, a wonderful headphone amplifier with a very good DAC (albeit with a rather critical to the cable USB-in) and an excellent preamp. It can be used as a multifunctional center personal system comprising headphones not only, but also couple professional monitors.
Price: $ 1,550
Pros: The quality of manufacture; many functions and interfaces; great sound in the headphones, especially with the output XLR 4pin; works fine as a preamplifier
Cons: Sound from the USB-port can be a very decent and frankly poor – requires high-quality and expensive cable
Verdict: A wonderful version of a personal system with the ability to connect both the headphones and the active speaker
Read another very interesting article about alternative energy of the Sun, water and air.