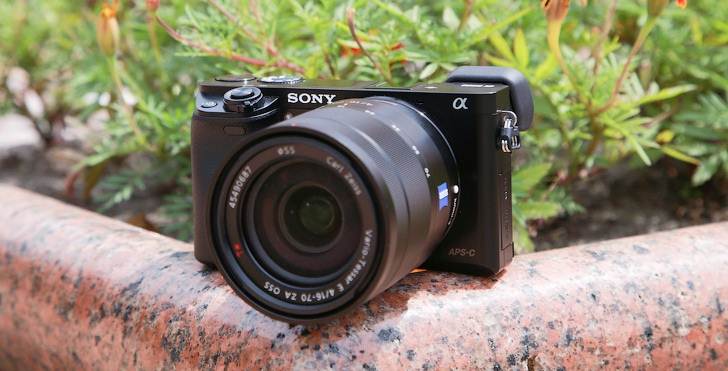 Company Sony – this is one of those nuggets and giants who turns releasing an enormous amount of products and thus make them qualitatively and well. Laptops Vaio, player Walkman, camera Alpha. Incidentally, the last steel and hi-end in Photo Industry Sony Alpha A6000, indirectly confirming it its name. Then he began to produce mirrorless cameras series NEX, and even the name hinted that before the "first" they still need to grow. And now it happened.
We have to test – system camera Sony Alpha A6000.
Design Sony Alpha A6000
This model was initially marketed as a replacement for more overage NEX-6 – we did review it here . Housing – expectedly strong and durable. Perhaps it would be worth much wonder if the products above the middle class were noticeable backlash and scratches with crunches.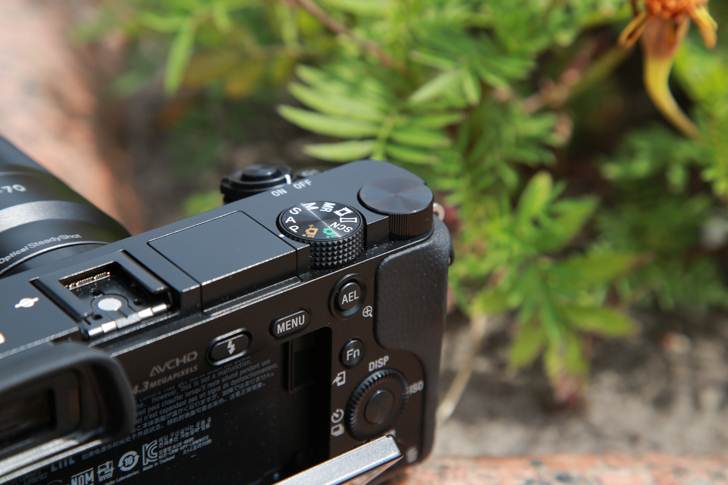 Ergonomics of the camera – a little better than in the predecessor. Even in large male hands device is normal, do not fall or slip out of burrow.
Location buttons – hardly changed in comparison with its predecessor.
On the front side of the device – nothing but serving rukoti keys and disconnect bayonet.
Top – the shutter button is flanked by a lever on / off function key. Under the thumb of his right hand – two drums of parameters. When this is the one responsible for changing the exact values, and the second – for changing shooting modes.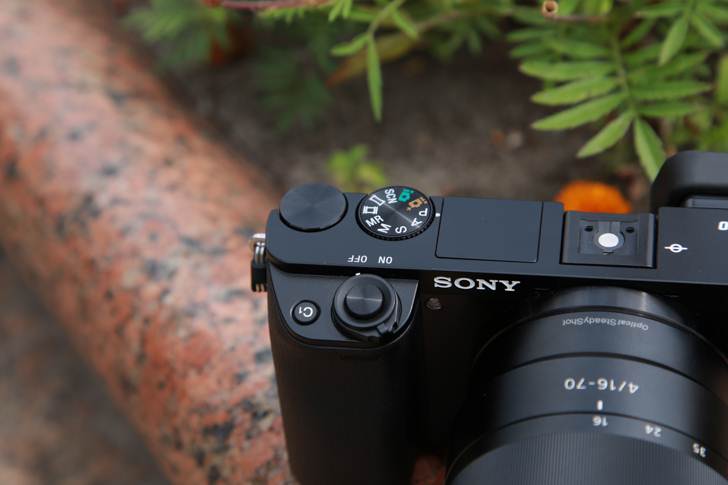 A little further – built-in flash and hidden hot shoe.
On the left side of the device, behind the plastic cover – just two connectors – Multi (for charging and accessory) and miniHDMI. Unfortunately, there is no port for an external microphone is not here.
The right side is empty, except for the inconvenient location of the start button recording. On it and you miss or push it completely.
On the bottom – tripod socket and the battery compartment, combined with a slot for memory cards.
Hatchback – most downloaded controls. Most of the device takes three-inch display. He non-touch, turning only one vertical axis and has a resolution of 640 x 480. Why not make at least 720 points, is not clear. Or touch control, which is currently not except in irons and vacuum cleaners. In addition, this display is the same as in its predecessor, NEX-6, which is not very good, as the new model should be still a little bit better.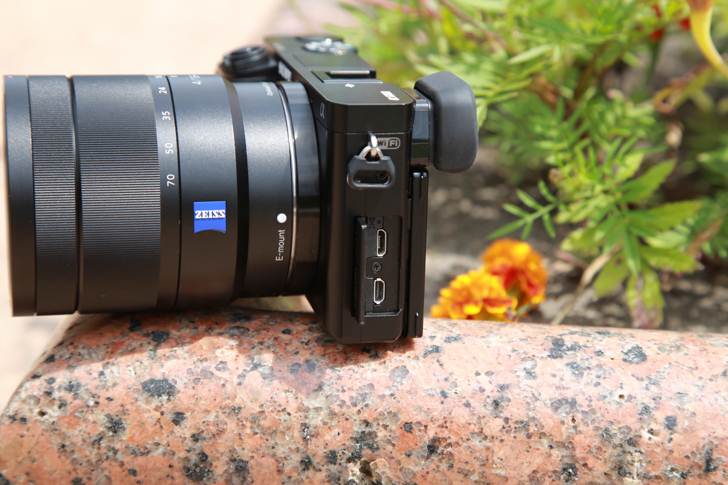 Viewfinder and does become worse – 800 x 600 pixels at 1024 x 768 in the old model. Increase fell from 0.73h to 0.7h. Why so? By the way, another wildly annoying thing became hypersensitive sensor that turns off the display when the obstacles at a distance of 3 centimeters.
Of physical buttons – opening button flash menu, AEL – on the top row. Space near the display is occupied by two softkeys, mouse viewing the footage and a five-way joystick-wheel.
Inside Sony Alpha A6000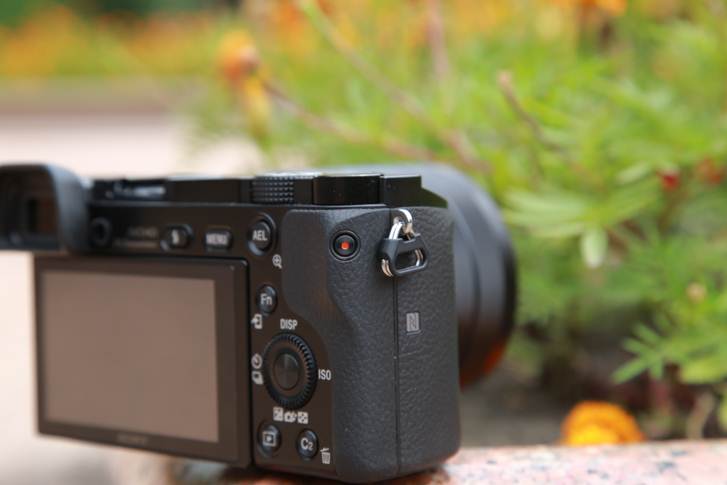 Installed inside the matrix format APC-S 24 MP. For adequate performance and noise reduction values ​​corresponds processor Bionz X, which is installed by default on all new products Sony. Such a binder with his head enough to no shortage of speed. Even when shooting series, which is 11 f / s and AF tracking, artificial intelligence chokes and does not think providing adequate recording speed. Buffer just enough for the eyes to all – it holds about 60 full-size Jpeg with AF tracking.
Matrix ensures accurate while keeping the details, but, of course, using quality optics. But to improve results is to pick the right color settings and white balance.
Dynamic range, as well as almost all the products Sony Alpha A6000, enough. For complex lighting scenes can enable HDR, which will automatically take three bracketed photos and connect to one properly researched in the highlights and shadows of the picture.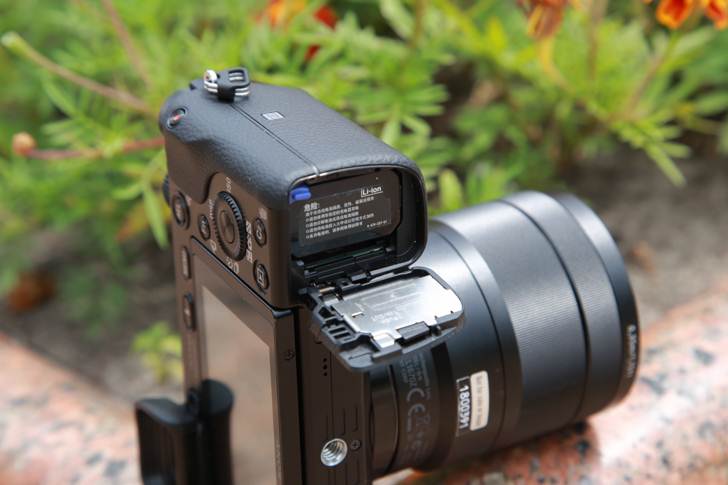 The speed numbers – from 100 to 25,600 ISO. When we carried out a test print images on different values, I did not expect from a camera of this class of workers across the entire range of values ​​of ISO. At the same time, you can print up to 3,200 A3 without additional processing by 6400 – requires basic handling. At 12800 for printing large format should think about more advanced retouching, but confidence is not worth more than the A4 print. 25600 – easily go for WEB, but more is better for printing A5 not use.
Autofocus Sony Alpha A6000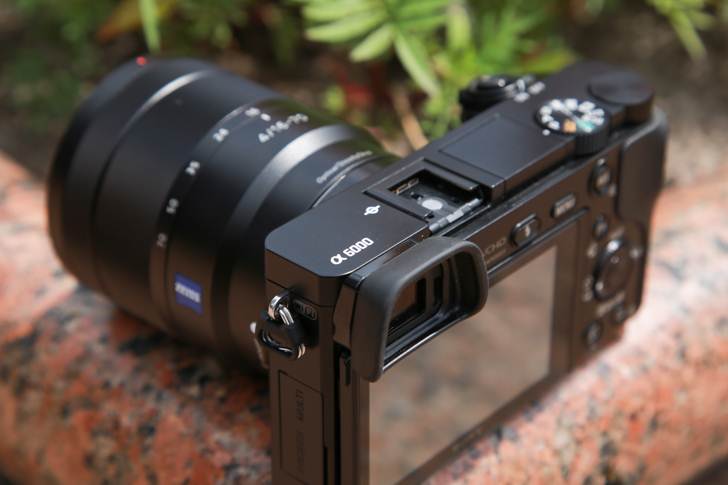 What causes delight, is a system of auto focus. 179 phase sensors cover 92% of the frame, as absent except on the extreme points of the corners. Strikingly high speed pickup, even in poor light conditions, about any false passages of speech does not even go.
Individual words and deserves tracking system. She clings tightly even fast-moving objects and very well watching them. By the way, is to say that the system auto focus works during video recording, but this – later.
Videography Sony Alpha A6000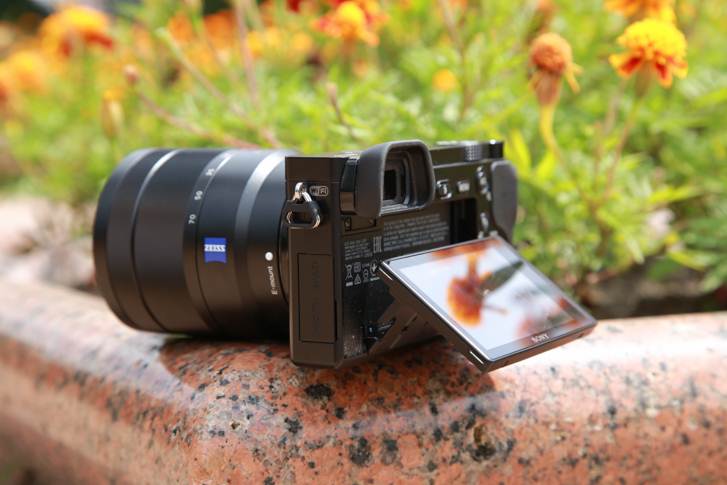 Record footage – standard 24/25/30/50/60r in FullHD AVCHD and MP4. Quality standard for most modern mirrorless cameras. But here's the correct and proper operation of the system AF during recording – is a definite plus. The sharpness and high speed perenavodki. At the same time still need to understand what you want to shoot, because some of the scenes is much easier to remove her hands in the mode of manual translation of focus.
After I took off the video on this mirrorless cameras, I had a strong desire to buy it for myself. Even though AVCHD, painting features a huge array here, especially when properly configured, color balance, contrast, and other things.
A huge advantage of steel, and include focus picking which facilitates the focus by simply focusing on the glowing edges. Showing zebra, which regularly reminds us that there is overexposure in the frame – another feature that allows you not to spoil the picture that you are not powerful enough sleep and did not notice the white cloth on polkadra sky.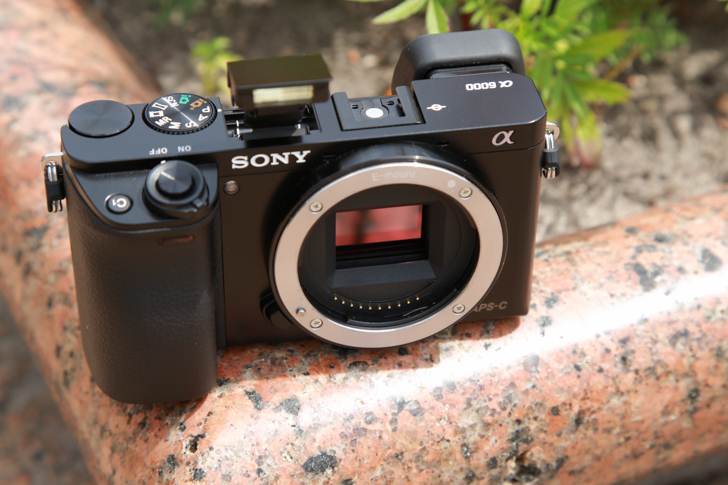 But two things seriously limit the use of the camera is professional. First – is the lack of an external microphone port under which it is often needed more often than specialized Zoom'y and his ilk. And the second one – it's incredibly uncomfortable button on record, which now and then you miss or do not push it until the end. Matter of habit, of course, but even during my testing, I could not get used fully.
Other things Sony Alpha A6000
Here, as in most products in 2014, there is Wi-Fi and NFC, which allows one-touch smartphone and connect through proprietary utility to use it as a remote control, changing all the important parameters, endorsing, shutter and so on.
Summary Sony Alpha A6000
The cost of such mirrorless cameras – $ 750. And it is not much, considering that there is good matrix, a fast processor, excellent ergonomics, awesome autofocus. Of course, it was not without a few annoying drawbacks absence type port for a microphone or uncomfortable button video recording, but overall it's a great machine, which is enough for most enthusiasts.
Read another very interesting article about alternative energy of the Sun, water and air.