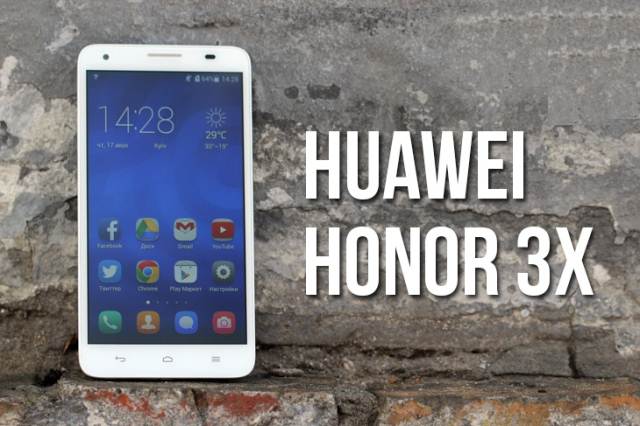 Huawei Honor 3, Huawei Honor 3C and finally, Huawei Honor 3X. Frankly, the ordinary boom difficult to understand all the intricacies of the model range of brands such as Huawei. And now I have listed only the most recent Honor-smartphones, while at Huawei also has a line of Ascend, which has dozens of vehicles. I think even within the Huawei do not fully understand the positioning of each device, so deal with Huawei Honor 3X we do. What kind of a beast, what he can do, and who can be useful at all?
First impressions and appearance – Huawei Honor 3X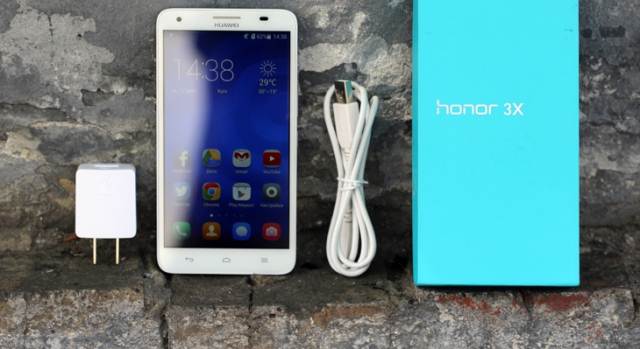 Huawei Honor 3X comes in a pretty box turquoise. After you open it on the eyes, of course, comes the unit itself. Also inside the box you will find a power adapter, headset and cable USB-MicroUSB – like all humans.
Honor 3X large. In his hand he is as a cover, and the diagonal of the display, he went near them – it is here for five and a half inches. Scary to think that a few years ago HTC HD2 c screen diagonal of 4.3 inches seemed thereby bubble. The use of a smartphone with one hand medium size does not cause any difficulties.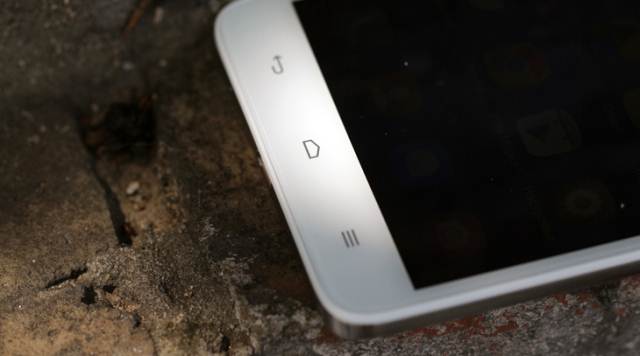 Gadget looks bad, even interesting. Front surface so happened almost completely covers the display, also where you will find the earpiece covered with metal bars, front-facing camera, light sensor, and three standard for Android-powered smartphone buttons: "Back", "Home" and "Menu". Lateral side of the device is framed plastic piping "under the metal" – it looks decent, I would like to believe that with time he will not wear.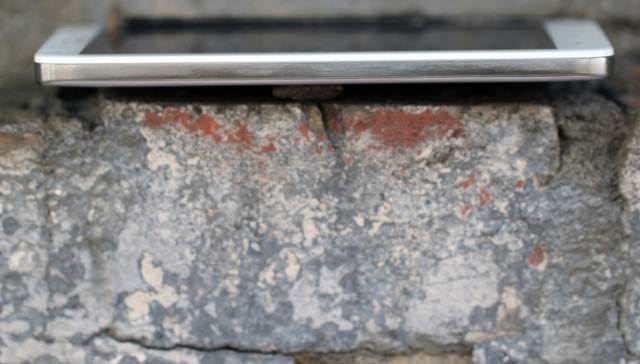 As for connectors and buttons, here, again, everything is fairly standard: on the top edge is 3.5 mm headphone jack on the bottom – MicroUSB jack, and a microphone on the left, you will not find anything, and the right manufacturer posted volume rocker and the power button. Last located slightly lower than usual. Apparently, this is done to a large smartphone was more convenient to use, but, not being used to the device, and then try to unlock it by pressing the volume down such cases.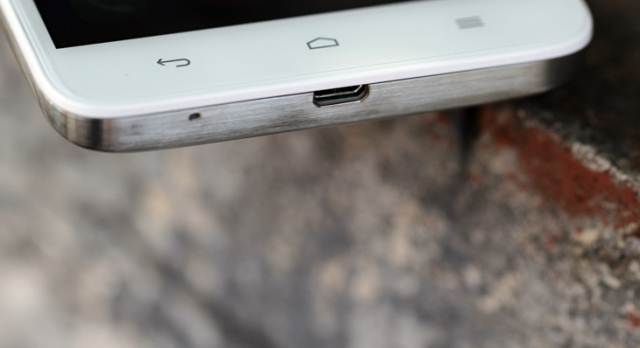 The rear panel is also made of plastic. On the cover, you can see a pattern of vertical stripes, it's all covered with clear varnish. On the white model fingerprints are almost invisible, I think that the black version is not all that simple. On the back side of the gadget located camera, flash, a second microphone for noise cancellation and a multimedia speaker.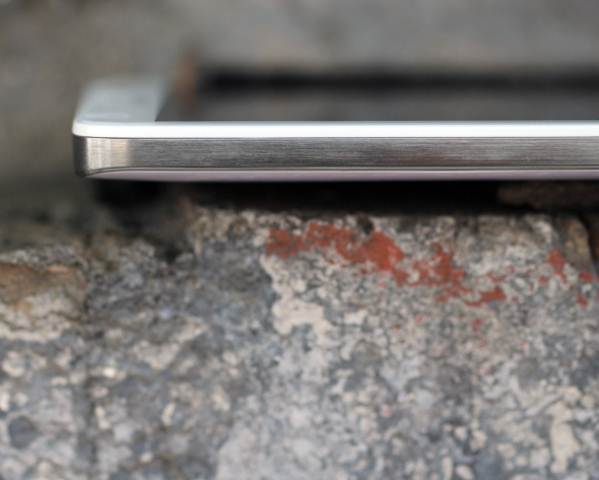 To assemble no questions asked – nothing and nowhere backlash, no creaks and rumbles, the test for "curl" smartphone went decently.
Display – Huawei Honor 3X
Screen – not the strength of the device. Still, at five and a half inches expect to see FullHD-resolution, immediately set matrix with a resolution of 1280 x 720 pixels. Pixel density respectively is 267 dpi – almost 300, but the difference is noticeable. The display is made by technology IPS. If your smartphone is pretty twist, you can catch him in the screen inversion of colors, but in general, the viewing angles are pretty good, to find fault with this parameter difficult. Stock brightness on a sunny day in short supply.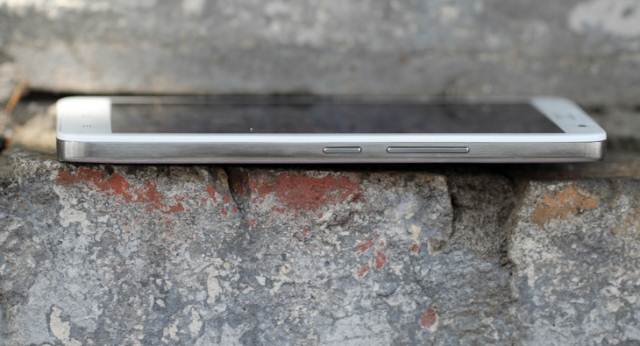 Manufacturer and some say obzorschiki simultaneous recognition of 10 touches of the screen, but I have not tried more than 9 test Honor 3X «feel» could not. It's not my fat / large / crooked fingers – even fifth pressing smartphone seen at a certain skill. In practice, we use a maximum of two-finger gestures – their gadget detects no problems, but sometimes there are weird "sticking" of the sensor, ie, it starts to give himself some kind of depression, which looks at least strange.
Camera – Huawei Honor 3X
Resolution main camera Huawei Honor 3X is 13 megapixels, aperture F2,2 – this sensor from Sony. But as we know, the sensor sensor strife, much depends on the software. Honor 3X produces images of average quality. Regard it as a normal shooting and HDR. Of interesting modes are the following: "Metering" – the camera focuses on a single point, and exposure to other exhibits; "Audio notes" – together with the frame record voice memos, and "Audio Monitoring" – shooting by voice command. Video is recorded at 1080p resolution at 30 f / s, but, again, the quality is average.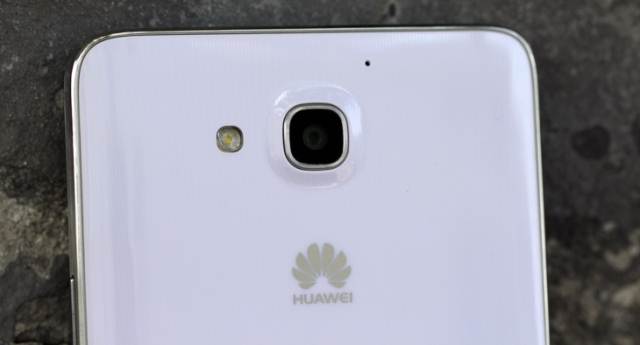 5 megapiskseley front camera downright designed for "sebyashechek." Then you and the mode of "Decoration" for automatic smearing pimples, and a timer to the owner of the smartphone managed to "inflate" the lips, and even a hint of what is necessary to look not on display, and over there, in the eye of the camera. With Skype, of course, no problem – the picture is great.
Hardware and software – Huawei Honor 3X
Processor Huawei Honor 3X – eight-Mediatek MTK6592, clocked at 1.7 GHz. Mediatek says it is the first truly eight cores, as eight cores running at the same time it all the time, no big.LITTLE and other intricacies here.
Responsible for the graphics quad graphics accelerator Mali-450 MP, clocked at 600 MHz. In sum, it turns out quite a productive combination. Huawei Honor 3X produces good results in the benchmarks, but the interface and the games do not have enough optimization. Not that they are somehow laggy or retarded, but the smoothness of Nexus-devices or the same Samsung Galaxy S5 out of the box here, and with iron, would be desirable.
Battery capacity – 3000 mAh, and this is more than enough. Yes, it is set to eight cores, but made it to 28-nm process technology, and the screen resolution of 1280 x 720 pixels also promotes greater autonomy indicator. In AnTuTu Battery Test smartphone gives a very decent 8480 parrots. From personal observations as to say that the whole day Honor 3X enough exactly will live it and the second, the third one will stand at a very moderate usage.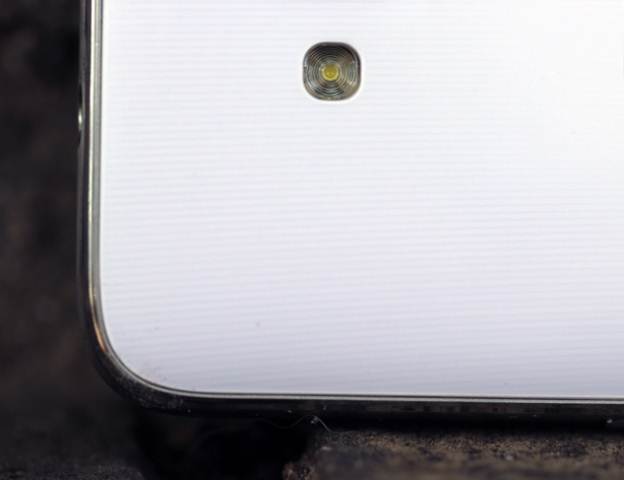 The smartphone supports two SIM-cards, with one of them is a standard size, and the second format MicroSIM. I do not think this will be a decisive factor when choosing a device, but it's definitely a nice bonus – after all, the second Sim may need as well as at home and abroad.
Works Huawei Honor 3X running far the freshest Android 4.2.2 Jelly Bean, with stretched over proprietary shell Emotion UI 2.0. Deep in our hearts for a long time geek wants any smartphone push of a button you can get rid of all Pribluda producer. "Naked" Android – and nothing else, but life is different. Something similar can be turned only with the flagship, which are available on the program Google Play Edition, the rest is to be content with all sorts of add-ons.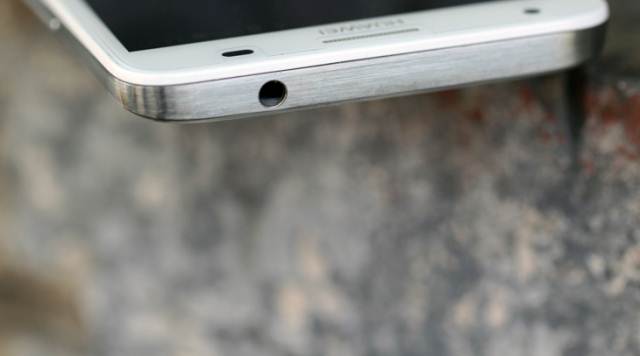 Emotion UI 2.0 frankly annoying. Strange icons, colors and animations make the interface of your smartphone some trinket. Surely girls are will appreciate the ability to change interface themes, to me this feature is useless. System applications are fully redrawn to match Emotion UI, see somewhere original Android unlikely.
But there is in this shell and something pleasant, namely pre-installed applications, at the sight of which does not leave the idea of ​​the similarity with the MIUI ROM. File manager, flashlight, system update, backup manager and collected a number, probably, all the features that are lacking in bare Android'e.
Pleasant settings, you can adjust the color temperature to note screen, advanced power saving mode, the mode of "Do Not Disturb", "Rules Manager", where you can select which data applications will have access, "Launch Manager" – Select the applications that are run when turn on the phone, and "Notification Manager" which allows you to control the notification of specific applications. Emotion UI also allows you to select and sort the switches that are available in the notification bar, and enable one-handed, which is undoubtedly important for such non-small devices. Also not to mention a useful function as a "Work gloves" – in Huawei Honor 3X this feature works fine.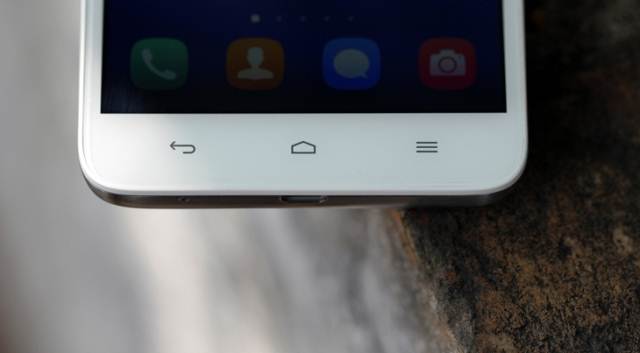 In Huawei Honor 3X technology is used high-quality audio DTS (Digital Theatre Systems). As with all such sound to DTS in Huawei Honor 3X I reacted with some skepticism, but in my humble ear Huawei sounded, though not much, but more interesting iPhone 4S, quite by chance happen to be available.
Conclusion – Huawei Honor 3X
Huawei Honor 3X cost is $ 515. It is a lot. And what do we get for this money? Dual-sim bowl with eight-processor, two gigabytes of RAM, IPS-display and 18-megapixel camera two. Seemingly full stuffing, but with some reservations: eight cores do not provide the performance flagship, IPS-display with a diagonal and asks permission FullHD, a good camera module does not guarantee great photos and videos. For the same money you can buy LG G Pro 2, and if to throw on top of another $ 50, you have enough on the Galaxy Note 3. Yes, these devices do not work with two SIM cards, but they do not have those and sores that afflict Huawei Honor 3X. The choice, as always, is yours.
Read another very interesting article about alternative energy of the Sun, water and air.