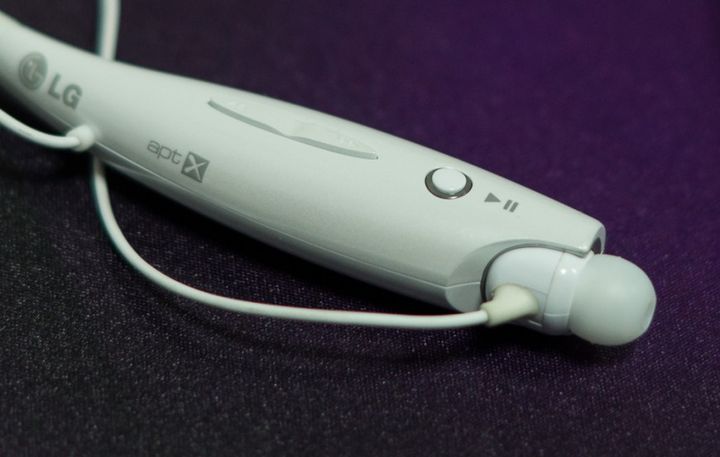 LG is a good judge of designer fashion. Why are only "floating" monitors the company and licked to shine smartphone LG G3. But the manufacturer did not stop there and also decided to experiment in the segment of Bluetooth-headset, releasing the device in the format … collar. Meet – LG Tone + HBS-730.
Packaging equipment LG Tone + HBS-730
Headphones come in a relatively compact original box. Inside we expect:
Headband headphones themselves
MicroUSB-USB cable
instructions
interchangeable attachments
Charging is done by classical microUSB-cable. Total available three pairs of interchangeable nozzles. I fit perfectly the smallest, they are perfectly penetrate into the ear canal and provide good insulation.
Design and Ergonomics LG Tone + HBS-730
Fairly new and unusual form factor headset initially surprising not only the owner – but also others, creating a rather strong WOW-effect. Every now and then everyone was asking, what is this miracle device. "Collar" – a very interesting and ergonomic solution (hereinafter referred to tell you why), but is not suitable for everyone.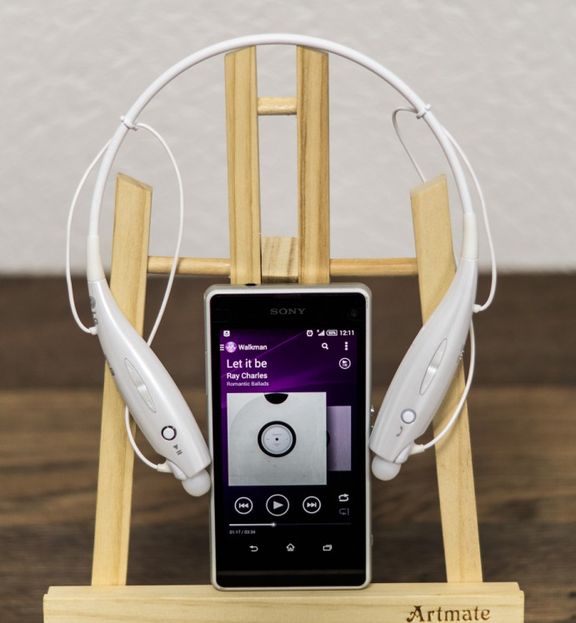 Arc on which are mounted droplets themselves, quite convenient. It is made of plastic, and the connecting member is made of a nice soft rubber. Due to this, if desired, the headband can be fashioned in any direction without affecting the structure.
On the left arc LG Tone + HBS-730 is a button receiving a call. Surrounds activity LED blue.
Nearby volume control buttons. On the outer side of the arc power supply is a two-position lever. On the inside is placed microUSB connector for charging. It is covered with a plug, so as not to stand out from the design and stay protected.
Arc on the right there was a place of multimedia Play / Pause button and a couple of buttons to switch tracks.
Headphones themselves are in the form of droplets (gags). They are located in special recesses in which are fixed by magnets. In the test sites for attachment were already slightly demagnetized because of what at the slightest impact headphones easily detached. Incidentally, in the left area of the magnetic hidden microphone.
The manufacturer positions LG Tone + HBS-730 as a solution for stylish young people and athletes. At the expense of the first, perhaps should decide individually to each, but the use of the sports I'll tell you in more detail. In addition to base exercises or while running the user will not feel any discomfort in the neck LG Tone + HBS-730 sit confidently, almost hanging out. The length of the wires themselves droplets can be adjusted by means of small clips.
The only unpleasant moment – during exercise at a press headphones still will subside due to design features. In this case, a more suitable option wired or a wireless sports and sharpened.
In winter headphones good acclimatized under a jacket, though, at first arc is still a little pressure on the neck, or need to get used to position it comfortably.
Summing up the ergonomics and design, it is worth noting that the LG Tone + HBS-730 has some features that you should consider the future of the buyer – the unusual shape of the arc and the risk of losing your headset while doing some specific exercises. Although the total weight of 32 grams, the arc is still substantially outweighs droplets themselves.
Wireless connection
Headphones work on the protocol Bluetooth 3.0 – a strange decision, because it was possible to use the new energy-saving technology, using the protocol of the fourth generation. Stability of the compound does not cause problems. Periodically (once a day) may occur as a subsidence of communication (sound starts to stutter a bit), but it goes pretty quickly. Perhaps the reason for that steel case my smartphone, a little shield signal. By the way, the headset supports simultaneous operation with two devices at once.
Yes, I can not but express its "PV" over forever blinking LED activity. If the day it is almost imperceptible, one night, while on his neck under his jacket, headset and tries to rouse others, illyuminiruya neck medium blue.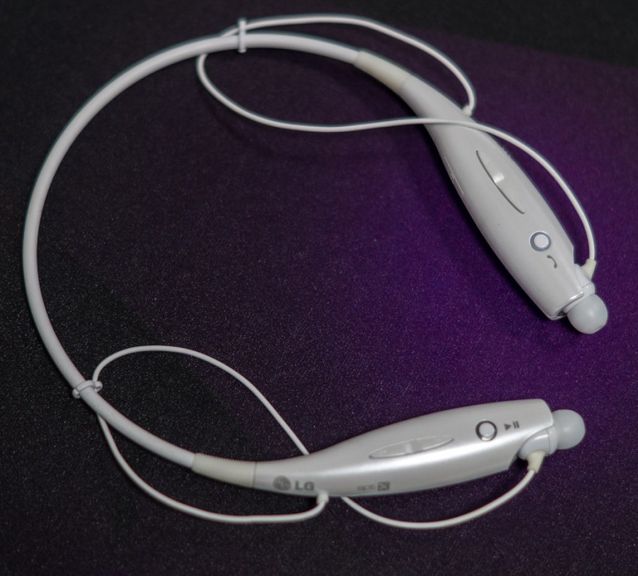 In headphones integrated voice assistant with a pretty sweet female voice, something reminded me of Cortana. In English, he tells about the status of the connection of incoming calls and change the volume level. Also have the opportunity to voice dial a number or contact name, but to get this feature to work properly I could not. The reason for that time-consuming procedure and frankly poor quality of speech recognition. For example, I want to call our employee. The procedure is as follows:
Press the call button on the headset hear: "Say call, followed by name or number"
Say "Call% username%"
Arrr …
I have a contact at each of two to five rooms, which creates some problems in the selection, and given the difficulties in recognizing, I would prefer to give up this idea at all. On the other hand, it's pretty experimental stuff, so I would not have entered into the shortcomings of such an incident.
Claimed range of headphone is 10 meters. In fact it is slightly higher, which is a good thing. You can cook soup in the kitchen to the music while the phone is resting on a charge in the bedroom.
The sound quality LG Tone + HBS-730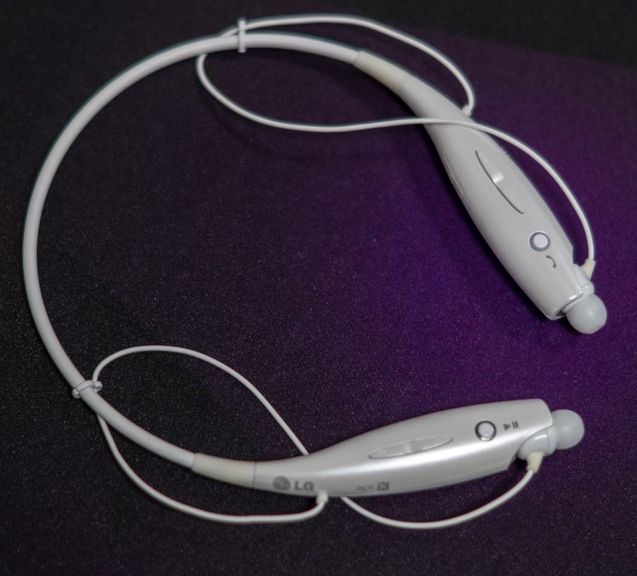 The headset shows a very unexpected results in the field of music playback. Firstly, it has a very impressive stock volume. Second, the droplets with the right tool lets you disable almost completely around the world, creating an excellent noise insulation even in public transport. Third, the sound quality and detail of the individual compositions are commendable. Originally headphones are well suited for listening to jazz and melodic rock. And if a little twist equalizer – LG Tone + HBS-730 are a good candidate for the role of the player's club music. Summarizing, we can say that the sound quality among wireless headsets LG Tone + HBS-730 definitely deserves the first place in its price category.
Microphone sensitivity is not bad, you can even successfully talk on the street. Present company denoising, which quite work out the money invested.
Autonomy LG Tone + HBS-730
Declared by the manufacturer figure autonomy of 15 hours of talk time, the battery capacity of 195 mAh, which is slightly less than that of Prestigio PBHS2, which we recently tested. On the other hand, I was able to confirm the result of 15 hours of listening to music on above average volume. So LG Tone + HBS-730 is enough for three or four days of use, if not uparyvatsya music for 7-10 hours.
To fully charge the headset you need a little more than 1.5 hours, which is the normal result. On the current charge level you reported assistant every time you turn. If you want to know how much is left in the battery current – you need to pinch and hold the volume down button. In the deficiencies we write what we are told is not the exact percentage of battery charge, only a conditional level – Low, Medium or High.
Findings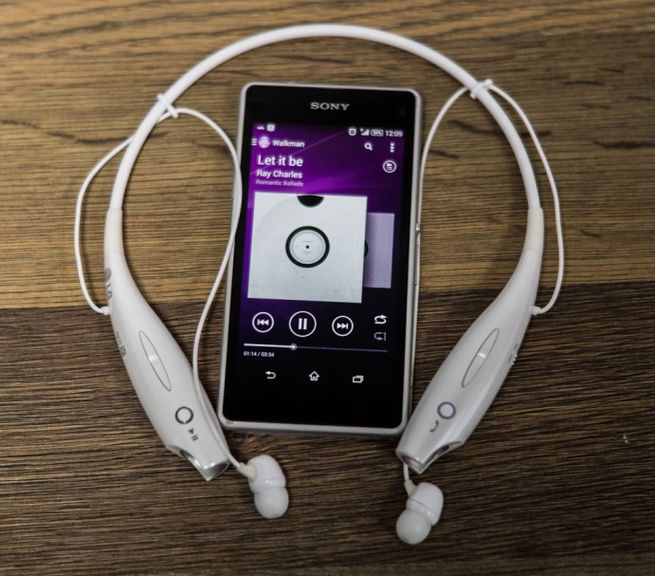 Thus, LG Tone + HBS-730 – it's quite extraordinary representative segment of wireless headphones. Subject has an original form factor, excellent sound quality and impressive autonomy. It is understood that the LG Tone + HBS-730 is not suitable for everyone, not least because of the price tag of almost 1,000 USD, but a representative of stylish young brave athlete or just find headphones.
Pros:
Ergonomic and stylish design
15 hours of battery
High speed charging
Excellent sound quality from the competition
Connection speed and stability
Cons:
high price
The design is not suitable for all
Voice Assistant requires completion
Read another very interesting article about alternative energy of the Sun, water and air.