Meizu MX6 hard reset is one of the few options that you can use if you forget unlock pattern or password on your smartphone.
Hard reset, which some people call factory reset or reset to factory settings, allows not only to remove lock pattern, and also to correct some software errors.
We will talk about two ways to make Meizu MX6 hard reset. One of them is performed through settings menu, and the second – through special mode.
Note: Hard reset clears the internal memory of smartphone, so you need to save important files on microSD memory card, computer or back up your data.
Meizu MX6 hard reset thorugh settings menu
Open Settings menu.
Click on the icon "About phone" in the left menu.
Next, select "Storage".
Click on "Factory Data Reset".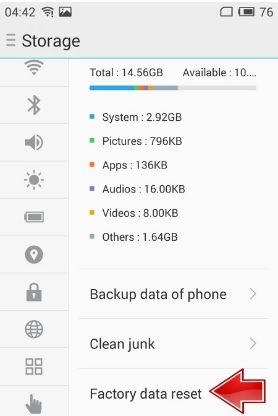 Thus, you can make Meizu MX6 hard reset, if you want to clear the internal memory of device or fix some errors.
Meizu MX6 hard reset through recovery mode
But if you forget the unlock pattern, then the first method is not suitable. Use this method to perform Meizu MX6 hard reset.
Turn off your smartphone. Count to 5 seconds in your head.
Then find two buttons on your phone: Power and Volume Up. Press and hold them.
When you see Meizu inscription, you may release buttons.
Then you will see menu with two options. Remove the check mark next to «System upgrade», and put it next to «Clear data». Press «Start».
The hard reset process started. You have to wait for its completion.
Note: If, after you have clicked on the button «Start» and window appears for entering the password, then you need to enter unlock pattern to start hard reset.
If you do not remember your unlock pattern, enter the wrong password 15 times (5 attempts for three times), then the smartphone will ask for the password from Flyme account. Enter it, and your smartphone will be reseted to factory settings.
If you do not remember your password from Flyme account, then you must install new firmware.
Read another very interesting article about alternative energy of the Sun, water and air.