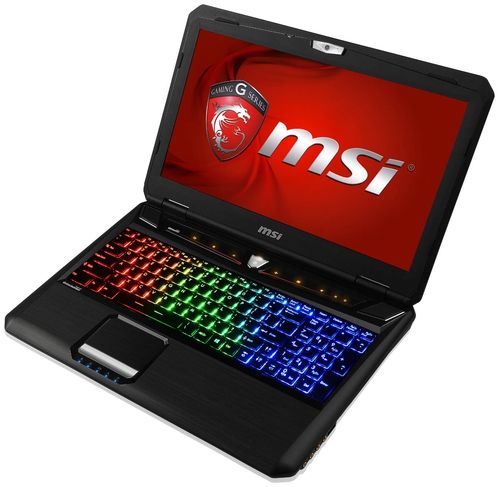 Market gaming notebooks at the moment is probably experiencing its best times, as there is no longer that catastrophic productivity gap between laptops and desktops, and with each new generation of mobile accessories difference becomes smaller and smaller. And as the market gaming gadget is very diverse, and that the competition is getting serious. But success here can be achieved in two ways – a decrease in the prices of their products and by means of any interesting technical solutions. In the Taiwanese company MSI decided to go to these two paths simultaneously. They have created a laptop in the price range up to $ 1,500, which has a powerful gaming graphics card NVIDIA GeForce GTX 880M and a 15.6-inch display with a resolution of 2880×1620 pixels. In theory, everything looks more than fine, but really?
Scope of delivery
Unlike conventional laptop, MSI GT60 2PE Dominator 3K Edition comes in a sort of a suitcase, which has two dimensions joined together boxes from under the laptop. This package is very roomy device, a 180-watt power supply, 9-cell battery and a standard set of documentation. But then there are also the components that you will not find in other supplied example, corporate mouse pad from MSI, the mouse itself from SteelSeries, the headphones also from SteelSeries, a backpack, and what is most surprising – printing, which is made in the form of a company logo MSI.
Design
Externally, no differences MSI GT60 2PE Dominator 3K Edition from the normal version with more modest display no. It's all the same recognizable corporate identity MSI, in which the broken lines are combined with refined curves. Body does not look boring, you can even say that the abundance of various design elements exceeds the limit. The most notable of these is the MSI logo on top of the MSI GT60 2PE Dominator 3K Edition.
Laptop itself top cover except the sides of small strips, made of aluminum, which gives it rigidity. But the rest of the laptop plastic, however, are quite high-quality plastic and pleasant to the touch. Almost all of the surface of the substrate except for the keyboard and the area around the touch multimedia keys, dull.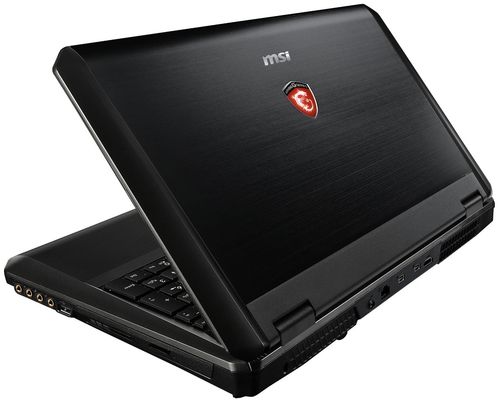 Bottom of the notebook carved all kinds of slots, which are visible through the cooling system. In the corners there are four rubber feet lifts the laptop above the surface, so that there could come the air. So do not keep this device on the bed or on your lap. There is also a quick access to internal components through a large removable cover. In the upper right corner on the bottom is the battery compartment with two locking tabs.
Judging by the size, MSI GT60 2PE Dominator 3K Edition – notebook old school, massive and heavy, it does not go to any comparison with the newfangled ASUS GX500 or Razer Blade. However, its size 395x267x55 mm in place allow efficient cooling system, which is necessary as the air is so powerful devices. Laptop Weight 3.6 kg makes it rather a desktop replacement rather than a complete mobile solution. However, everything is relative, and in the market, there are 17-inch monsters under the weight of 5 kg.
Display, sound and webcam
The main feature of this model is, of course, display. Its dimensions are no different from most modern laptops, only 15.6 inches, but the resolution is really unique – 2880×1620 pixels. No, of course, at the moment this is not the only model on the market with such a resolution, but most of them are either premium ultrabook or very expensive multimedia devices. In our case, we are dealing with a fairly affordable by the standards of gaming devices, laptops that with such a high resolution capable of fully operate thanks to a powerful stuffing, but move on to the characteristics of the display itself.
Matrix is powered by technology IPS, that segment of the game is quite rare. Viewing angles thanks to this type of matrix is very good. You can also select and brightness and contrast, however, the last parameter MSI GT60 2PE Dominator 3K Edition is not a leader in its segment. But the color gamut is large enough and close to the ideal performance. By the way glossy coating matrix, which, on the one hand, provides a more pleasant appearance image, and on the other – causes discomfort while working at a laptop in a bright and sunny weather.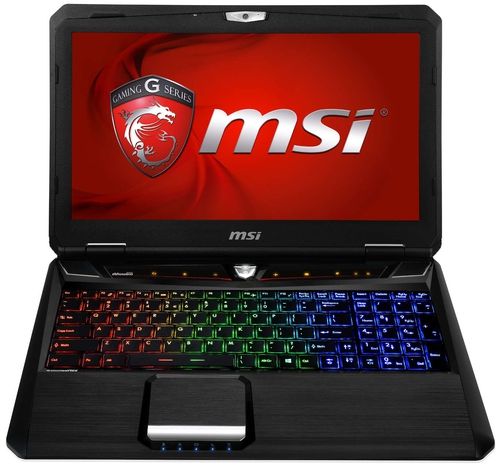 MSI GT60 2PE Dominator 3K Edition is not only a high-quality display with high resolution, but also really cool acoustics, which consists of two large speakers located above the keyboard on the corners, and a subwoofer, which is on the bottom. Acoustics, by the way, from Dynaudio, as with most laptops from MSI. It sounds just fine, distinctly hear all frequencies without any distortion, and stock volume enough even in noisy rooms. This sound system is perfect for background music games and for watching movies or listening to music.
Webcam in this laptop is no different from webcams in conventional laptops, except that you can pay attention to her appearance. Its resolution is 1.3 MP, this is enough for video calls, and to take a photo in a hurry, if there is no other more suitable for this device.
Keyboard and Touchpad
Island keyboard MSI GT60 2PE Dominator 3K Edition was developed in close collaboration with companies SteelSeries. It has a familiar layout, which MSI is hardly changes, which, however, can not but rejoice buyers MSI, since it is thoroughly planned. A nice bonus will be a separate numeric keypad, which many may be needed. The buttons are rectangular and are arranged at an average distance from each other. Their progress can not be called a very large, which is typical gaming keyboard SteelSeries. Another worth noting the location of the buttons Windows, for those who are not familiar with the keyboard laptop MSI, will be a surprise to see it not in its accustomed place near the left [Alt], and on the opposite side – near the right. This is done to ensure that during the game you do not accidentally press it.
The great advantage of this model are the individual media keys, which are located above the main keyboard. They touch, and activate the following functions: program Cyber Link power DVD, technology Cooller Boost, keyboard backlight, switching on and off Airplane Mode, turn off the display and call System Control Manager. In the middle of the multimedia panel has an impressive size of the keys on your notebook. It is worth noting that it glows with white light when activated built-in video card, and orange – when discrete.

If we talk about color keyboard effects in more detail, then, of course, it is worth noting the keyboard backlight and the software that manages it. As to the first, here we are dealing with three-zone LED backlight, which can glow in different colors. But combine and create a unique designer lighting, you can use software called MSI Keyboard LED Manager. With this utility is defined as the color of a certain area, and the mode of illumination, among the latter, for example, has an undulating or decaying mode.
The touchpad MSI GT60 2PE Dominator 3K Edition can not be called great, besides the recess in which it is located, additionally consumes valuable space. But it is quite exact positioning and multi-touch gestures (scrolling, zooming, rotation). Itself is made of a metal surface on which the fingers glide very well. Below the touch zone is the key-rocker, which are hidden under the mouse button.
Performance
Laptop in complete MSI GT60 2PE-1019RU comes with the operating system Windows 8.1 (64-bit). Processor Intel Core i7-4710MQ provides very high performance, which is peculiar to the road game model. Four cores can simultaneously handle up to eight data streams through technology Hyper-Threading. The base clock speed of 2.5 GHz can be increased up to 3.5 GHz with Turbo Boost. Cache in the third level is 6 MB and TDP stands at 47 watts.
Built-in video card Intel HD Graphics 4600 has 20 shaders and frequency of 400-1150 MHz. Compared to other integrated solutions it is quite productive and can even cope with modern games at low settings. But for games in this laptop provides a powerful discrete graphics card NVIDIA GeForce GTX 880M. SMX eight shader units in total have 1536 shaders. You can also highlight the presence of a large amount of video memory standard GDDR5 of 8 GB and a memory bus width of 256 bits.
But the specifications do not provide such a complete picture as gaming tests that gamers "say" a lot more. It is worth noting that all of the following games have been launched with a resolution of 1920×1080 pixels and a maximum possible settings for these games. The most recent games that were released at the end of 2014, such as Far Cry 4 and Assassin's Creed Unity shown results in 40 and 24 fps respectively. Call of Duty: Advanced Warfare was quite playable with 40 fps, and another popular shooter Battlefield 4 went with 45 fps. As for a "light" games such as Fifa 15 and F1 2014, they showed more than 100 frames per second.
MSI GT60 2PE Dominator 3K Edition has 8 GB of RAM standard DDR3, which is clocked at 1600 MHz. For those who have 8 GB of RAM is not enough, it is possible to increase with additional strips of memory. Just under the memory has four slots. As for the maximum supported RAM, here we are talking about 32 GB.
Also in our equipment installed hard drive with 1TB 7200 rev / min, which is pretty good. However, if we compare the performance of the drive with the SSD, here the difference is quite noticeable. But the hard disk drive allows you to reduce the total cost of the laptop and store large amounts of information, whether it is a collection of games and multimedia library.
Ports and Communications
And as always MSI did not cheated my laptop set of different communications, and strength is not only their number, but also strategically placed. So on the left side found a place commonly used USB 3.0 ports in the amount of three pieces, among which together also a card reader. It is worth noting that these ports are connected to the device will not interfere with your work, if you use an external mouse, with the exception of only the left-hander. Closer to the rear face located impressive size ventilation grille.
The right side is replete with a large number of audio ports, they are here as many as four pieces, among them one headphone output, one microphone input, line-out and line-in. In addition, here you can find the optical drive DVD ± RW (DL) and port USB 2.0.

Less used and overall connectors are located on the back edge of the notebook. Here you will find: a connector for charging network RJ-45 port, two video outputs Mini-DisplayPort, and HDMI. Closer to the side edge of the hole can be seen Kensington.
The front of the laptop ports and connectors can not boast.
Wireless technology provides network adapter Killer Doubleshot, which includes modules Wi-Fi 802.11 b / g / n and Bluetooth 4.0.
Battery
Battery life for a gaming notebook is not critically important indicator, since because of its high performance, they can not long "live" without outlet. However, the 9-cell lithium-ion battery capacity of 7800 mAh can still provide owner MSI GT60 2PE Dominator 3K Edition opportunity to view the film for nearly 5 hours. As for the more energy-consuming game mode, then there is the battery life is reduced to almost one and a half hours. Laptop charging quite large in size power supply capacity of 180 watts.
Conclusion
MSI GT60 2PE Dominator 3K Edition, without a doubt, a very interesting and worth a laptop. Because of its size and high performance it can be used not only as a classical gaming laptop but also as a replacement for the home PC. The design of this laptop is quite original, however, call it a modern hard because MSI is conducting a restyling of this series for a long time. The autonomy of the notebook in the game mode is not impressive, but this "disease" most gaming models. While watching the video it can hold up to 5 hours. But what no claims can not be, because it is the quality of the display and speakers, they work out at 100%.
Still, the main question: "Do I really need a high resolution gaming laptop?" – Remains open. From a marketing point of view, of course, MSI GT60 2PE Dominator 3K Edition will attract attention, but in fact, even such as a graphics card NVIDIA GeForce GTX 880M is not able to provide a comfortable game with a resolution of 2880×1620 pixels at high settings. To you, and we only recall that the price of this equipment is about $ 1,150.
Read another very interesting article about alternative energy of the Sun, water and air.