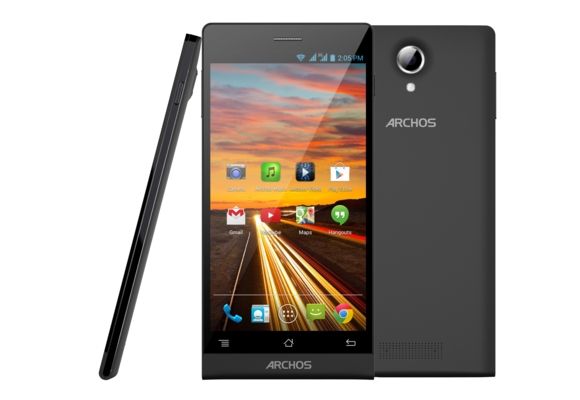 Last time I talked about Archos within articles on IFA2014. Then I was upset that the company is announcing about 50 models, with none of them are really interesting. In December, the company announced its official entry into the Russian market and showed a number of devices that they plan to sell us. Because of these devices did not differ from that Archos has demonstrated to IFA2014, I did not write a separate article about this, but it took a couple of vehicles to the test, specifically asked to choose the most interesting models.
Appearance, materials, controls, assembly – Archos Oxygen 50c
Although the French brand declares that he is engaged in the design of its models, in fact it is almost negligible. Before us is an ordinary candy bar faceless, released details of the note except that nice matte plastic back cover so more acute angles of the housing.
On the front side there is a five-inch display, above it there is a front camera, mesh earpiece and proximity sensor, and under it – a block of soft keys "Home", "Menu" and "Back". The distance between the keys is quite large, so using them is not very convenient.
On the left side you can see the volume rocker and the right – the power button. Both keys are very prominent, they are easy to find. By pressing and no complaints: a short course and a click. I can find fault except to the location of the power button, my thumb until it unfortunately falls short.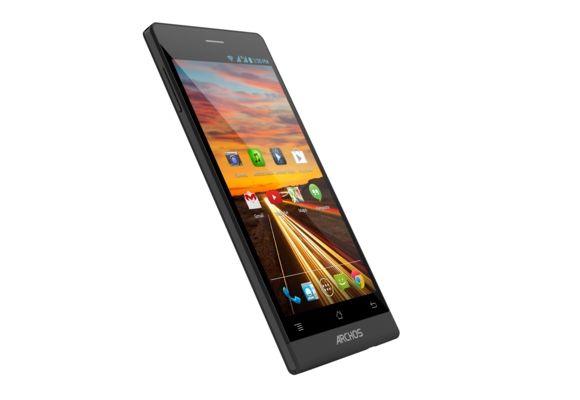 Top there is a 3.5mm jack for headphones and an optional microphone, and bottom – microUSB port with the opening of the main microphone.
The back cover is removable, hidden beneath the slots for two SIM-cards (one size SIM, the second – microSIM) and a slot for memory cards microSD.
To assemble no major complaints, the device perfectly assembled, there is no backlash and clearances.
In comparison with the HTC One M8 and Apple iPhone 6
The device is quite thin, it is nice to hold in your hand, this parameter it outperforms many of its competitors. Weight is on the same model at this other smartphones segment.
Because of the sharp edges Area smartphone bites you in the palm, which is not very good.
Automatic brightness adjustment Present
Support "multitouch" There is, up to five simultaneous touches
Screen here, shall we say, mediocre. Yes, it is HD-resolution and IPS-matrix, but not oleophobic coating, automatic brightness control does not work well, the level of maximum brightness is low, and the minimum threshold, on the contrary, very high. The screen is almost completely blind.
The display in this device is inferior to the same Acer Liquid Jade, and even more so, Lenovo Vibe X. Yes, even at 5 ZenFone screen better.
Operating system Archos Oxygen 50c
The model runs Android 4.2.2 Jelly Bean with several proprietary applications, such as, Archos Video. Talk about the shell is nothing special, it is a typical "clean» Android with additions from MediaTek. So I finished writing this paragraph, and on a smartphone just "flew" upgrade to Android 4.4.2 KitKat, which, I admit, I was pretty surprised. Well, we write software support in the pros Archos. Incidentally, this is indeed the case, as I recall, their plates at one time received the update to Android 4.0 were among the first.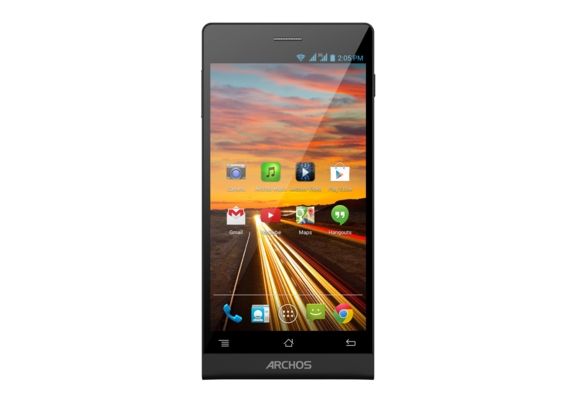 The presence of a memory card is present, there is a "hot swap"
Powerful MediaTek chipset gives this unit the ability to run most productive games with maximum graphics and settings can be enabled storage "cache" memory card.
For daily also no major complaints, desktops thumbed through smartly (especially after upgrading to 4.4.2), the browser is fast. Podtuplival sometimes unless Swype.
Battery Type Removable, rechargeable lithium-ion Archos Oxygen 50c
Hours of viewing HD-video at maximum brightness (airplane mode) 5:00
Hours of reading at 30% brightness (airplane mode) 10.5 hours
Battery capacity is relatively small, which, of course, minus the model. With an average use of the device barely survive till the evening, the increased use of discharges it even faster. However, the flip side of a small thickness.
Camera Archos Oxygen 50c
It uses two cameras, the main 8 megapixel and 2-megapixel front on. Tell them nothing special, mediocre image quality, while reducing lighting it deteriorates even further. Video unit writes in the FHD with stereo sound.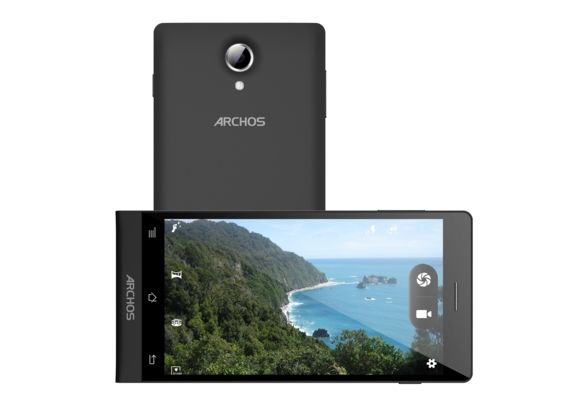 The device can work with two SIM-cards, but the radio is one, so when calling from one card to the other is not available.
Another feature of the model – support for dual-band Wi-Fi, which is absolutely not typical for such low-end models.
And finally, I can not mention the good work of GPS-module, given that this is a chipset MediaTek. Satellites are pretty fast for ten seconds.
Conclusion Archos Oxygen 50c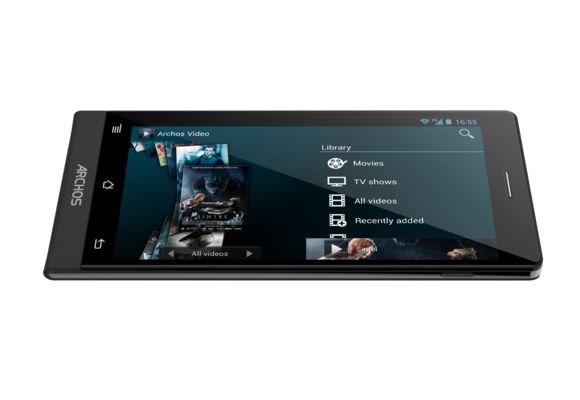 The quality of voice transmission no claims, you and your partner each other perfectly hear.
For the money you get thin and light smartphone with support for two SIM-cards, a weak battery, eight-processor and Android 4.4.2.
Read another very interesting article about alternative energy of the Sun, water and air.