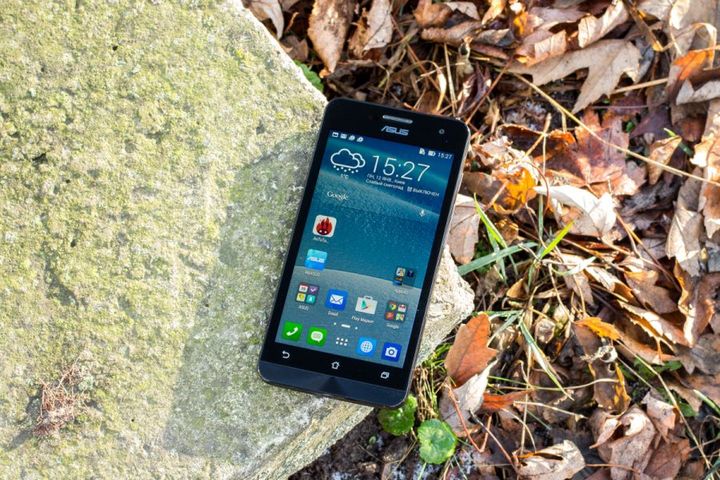 Ambitious ASUS representative in the smartphone segment with a price tag of up to $ 350. In the test apparatus 5-inch IPS-display, 4-core Snapdragon 400, 2 GB of RAM and a sleek design that will suit both students and respectable businessman. Very good job and engineers over the camera device. Well, that in the end it turned out – later in the review.
Options
The package includes ZenFone 5 cable microUSB-USB, adapter charger, warranty card, user manual, headset with up to three sets of interchangeable ear cushions.
I note that the headset is not only good for the sound quality, but also for convenience – fixed securely in the ear. With their help, you can answer calls by pressing the button with the logo of ASUS, and used as a microphone.
Design and functional elements
The design of the smartphone I bribed the seamless design of its body – the back panel, blending smoothly into the marginalia. Yes, this design concept in general, is not new, but no less relevant – to look and feel solid and durable gadget. Build the machine at a height – nothing wobbles and no backlash, no squeaks.
In addition, due to the convex shape of the rear cover, as well as "tenacious" matte soft-touch plastic, from which it is made, ZenFone 5 fits comfortably in your hand, do not strive to slip out of it.
On the whole, despite the rather large sum of dimensions (72.8×148.19 x 10.34 mm), the hero of the review looks stylish and neat and, moreover, good manageable with one hand. And therefore, I think, will look equally good in a female hand, and in the male, as in the service of strict businessman, and the disposal of a carefree teenager.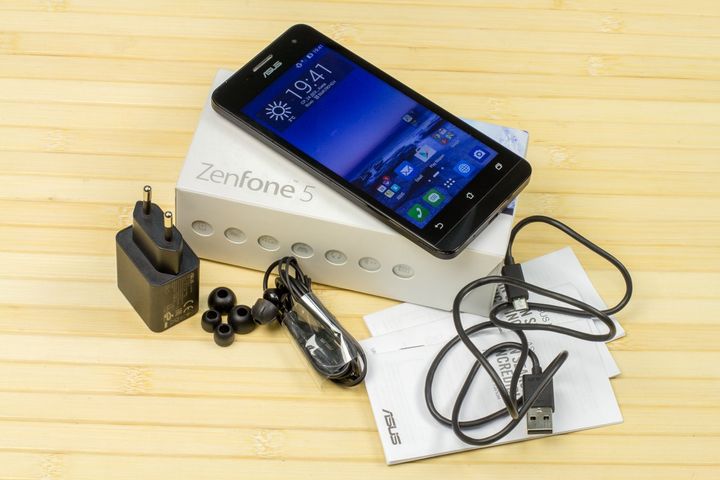 Moreover, in addition to classic black it is available even in white, red, purple and gold. I suppose that the last four colors will be less prone to collecting fingerprints than the black model being tested.
From the original design decisions in the case ZenFone 5 can distinguish metal insert under the front panel with a radial grinding. In the same style, by the way, made the power button and volume rocker on the right "marginalia".
The space between the screen and the insertion of the metal is given by touch controls. They are deprived of illumination, which is somewhat difficult to work with a smartphone in the dark, but over time you can get used.
Over the 5-inch display housed eye front camera 2 megapixel resolution, LED-indicator, on / off which can be in the settings menu to the left earpiece, light sensor and proximity.
Microphone and microUSB port manufacturer introduced a lower end and a 3.5mm audio output and microphone for noise reduction on top.
Left lateral face a remarkable clearance to remove the cover of the battery pack, hides a slot for microSD-card and sim card format micro. Thus he "fuel" element, unfortunately, get and replace will not work.
On the rear panel everything is pretty traditional – eye of the camera, she is 8MP, LED-flash, the manufacturer's logo and display multimedia speaker. "Window" camera with internal metal frame slightly recessed into the body, so that it will be difficult to scratch.
Display
At the heart of IPS-matrix display with wide angles, good color and brightness stock, enough for comfortable work with your smartphone in bright sunlight.
With a 5-inch diagonal screen resolution – 1280x720tochek. Density of 294 pixels per inch – which is enough to get a clear picture, with no visible pixelation.
The level of the display backlight can be adjusted either manually or automatically. Not without its corporate applications ASUS Splendid, allowing in its sole discretion to adjust the screen color, brightness and saturation, as well as the use colorful mode Vivid Mode. And provided "reading mode", reducing eye strain due to mitigation of colors.
Capacitive sensor layer handles up to 10 simultaneous touches. Its sensitivity is high, besides it can be also improved by activating a control setting in gloves Glove Touch, users will appreciate that in the cold season.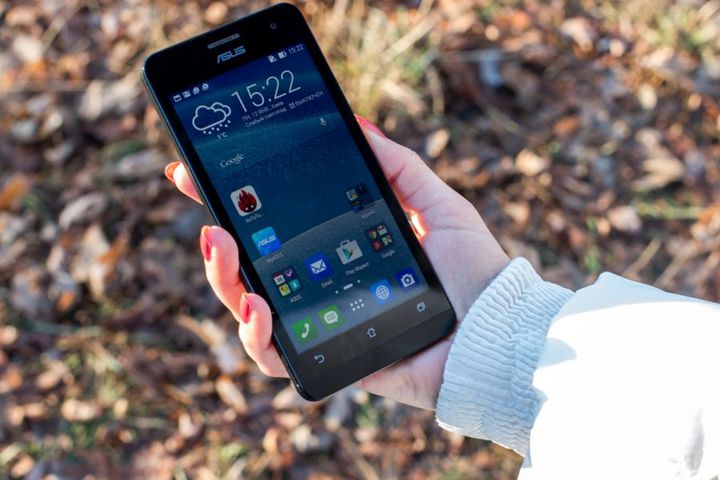 From scratches and bumps display ZenFone 5 protects the glass Gorilla Glass 3 with excellent oleophobic coating – finger wonderful slides on a surface that does not require constant rubbing and barely a smudge.
Memory
Built-in Memory "on board" Smartphone 16 GB of them available to the user a little more than 11 GB.
You can expand it by inserting a microSD card maximum capacity of up to 64GB, by connecting USB-OTG-adapter or USB stick using the 5th free gigabytes of cloud storage WebStorage.
Features and performance
The tested model ZenFone 5 built on a single platform Qualcomm Snapdragon 400 MSM8926, which in addition to the built-in modem that supports 2G, 3G and LTE networks, includes a 4-core CPU ARM Cortex-A7, the clock frequency of 1.2 GHz, and graphics Adreno 305. The user is also 2 GB of RAM.
However, in the Ukrainian market LTE-model ZenFone 5 is also available in a version with 1 GB of RAM and ROM, and 8/32 GB. Present and cheaper smartphone without modification support 4G, with two slots for SIM-cards and chips from Intel – models with indices A501CG and A502CG.
According to the results of the benchmark test AnTuTu ZenFone 5 was in the middle of the results list, earning slightly more than 18 thousand "marks". But in practice, it is easy to cope with everyday tasks, no problem to run the game from the category of racing Asphalt 8 and 3D-runner Minion Rush, plays Full HD-video.
Wireless modules and interfaces
The device received a standard set of wireless interfaces: Wi-Fi 802.11 b / g / n technology Wi-Fi Direct, Bluetooth 4.0, GPS with support for A-GPS, and GLONASS.
The device supports standard wireless multimedia signal Miracast, which allows you to display an image from your smartphone to a compatible display on Wi-Fi. Available as a digital media server Digital Media Server.
Battery
In optimized mode, provided by proprietary power-saving function Power Management, with an average level of the backlight and the active Wi-Fi-connected battery capacity of 2110 mAh smartphone holds a charge for a long time.
For example, I can have enough to see 3-hour movie in Full HD-resolution, 3 hours surfing the Internet, hour game in 3D-runner Minion Rush, plus 30% charge left for calls and music. I.e. – an average of about 7 hours.
The user can also activate the power saving mode, use the custom or completely disable the power saving mode, but in this case is far from the wall is better not to leave.
Camera
The smartphone is equipped with two cameras – 8MP main technology PixelMaster, providing resizing the image sensor pixels to increase the sensitivity by 400%, and a 2 megapixel front.
Last is good for video calls and shoots video in resolution HD.
The main photomodule supplemented LED-flash, auto focus when photographing and manual video recording. Maximum resolution clips – Full HD.
Camera smartphone pleasing a huge number of settings and shooting modes – provided the burst mode Turbo, face detection and blur the focus, the ability to remove unwanted objects from the frame, the whole arsenal of color filters and effects, and even image stabilization system.
The latter is available in movie mode, however, only when shooting in HD-resolution.
Overall ZenFone 5 decently shoots near and in good light, but in low amount of noise increases. In the automatic mode is not without erroneous white balance settings, ISO, and exposure.
Dynamics
The reception and earpiece smartphone no complaints did not cause – the interlocutor can hear clearly.
Volume multimedia speaker average or slightly above average, so that in a very noisy environment is highly likely to miss an incoming call.
Uses a proprietary audio technology SonicMaster, which slightly improves the sound quality, but with the help of the program AudioWizard can customize the sound depending on the usage scenario.
Competitors
As it turned out, ZenFone 5 in the market for similar parameters and price list for smartphones by A-brands are not many competitors.
4 core, 1.2 GHz, Qualcomm Snapdragon MSM8926 400 4 core, 1.2 GHz, Qualcomm Snapdragon MSM8226 400 4 core, 1.3 GHz, MediaTek MT6582 4 core, 1.2 GHz, Qualcomm Snapdragon 8226 400 4 core, 1.2 GHz, Qualcomm Snapdragon MSM8916 410
ASUS ZenFone 5 is running an operating system Android 4.4.2 KitKat wrapper with firm ZenUI. According to recent data, update the model to "candy" version of Android in April.
Among the preset programs on the gadget was broad set of applications from Google: Maps, Browser Chrome, Mail, Gmail, Play Music Services, Play Games, Play Press, Play Books and Play Movies, messenger Hangouts, Google+ social network and the customer popular video service YouTube.
Not without its proprietary utilities. In a separate folder under the name «ZenLink» collected: Party Link to quickly share photos, Share Link to transfer files via Bluetooth, Remote Link, turns your smartphone into a remote control the PC and PC Link for managing smartphone directly from your PC.
One of the interesting applications in the folder «ASUS» user will find SuperNote to create handwritten notes, cloud storage WebStorage, and organizer, reminder Do It Later, which allows you to better plan the time to conduct a lot of things at once and bind them to the account Google.
Separately, I note utility ASUS What's Next, which recall the events in the calendar, notes, or the weather. By the way, the one who chooses ZenFone 5 as their first smartphone, will be easily handled thanks to him here provided a simplified interface mode «Easy».
Findings

Well, ASUS ZenFone 5 left me with quite a good impression, especially in terms of functionality and performance. Quality assembly, excellent display with wide viewing angles, good main camera plus a stylish look and a variety of color variations available – all this gives reason to believe that their money is definitely worth it.
Yes, the battery life is average, and the speaker does not possess the power of sound, however, and the price tag for the A-brand smartphone. In addition, if you want you can get and a cheaper version of this device with a processor Intel.
Read another very interesting article about alternative energy of the Sun, water and air.