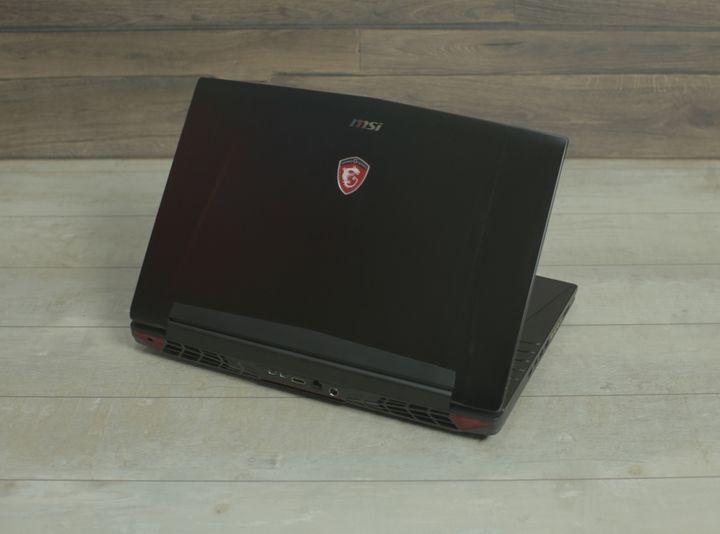 MSI has worked well in the Ukrainian market of laptops. The model number of the company are available as low cost solutions for the home and office, and productive machine for the discerning gamer. By our hands got it last option. GT72 2PE Dominator Pro – the top-end laptop that can compete with your desktop PC in the fight for the title of the main gaming device in the house. How good he is and what he can offer demanding players, see below.
Appearance, buttons, connectors
GT72 2PE Dominator Pro comes in a large cardboard box in black. Unfortunately, despite its size, only find itself inside the laptop, power adapter and a set of documents. The notebook battery is 3.78 kg, which is a good indicator for gaming device. The closest competitors weigh more than four pounds.
Laptop case is made of matte black plastic, and the top cover is covered with one piece of aluminum. On the bottom there is a massive cover vent holes that resemble icon Decepticons from the movie about Transformers. The front face is exempt from the terminal to flaunt her only two LEDs that indicate the work of the laptop.
On the left and right edges are six ports USB 3.0, audio outputs with gold-plated, card reader and Blu-Ray-drive. On the back of the displayed power connector, two mini-DisplayPort, one HDMI, RJ45 port with support for Gigabit LAN and connector under lock Kensington. The presence of three video outputs allow overlaid monitors from head to toe and observe what is happening at once on four screens. Players in Dota 2, World of Warcraft or ArmA 3 will appreciate this opportunity appreciated.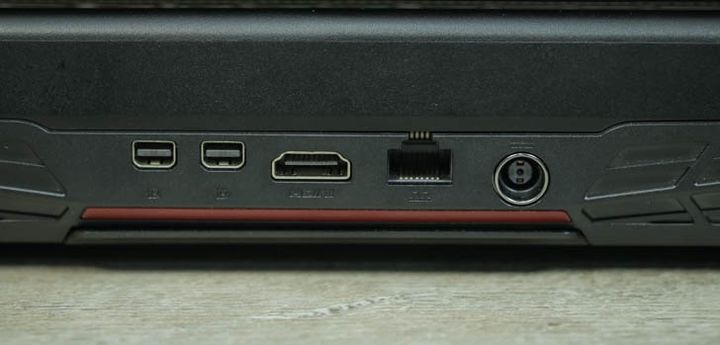 Open the lid – and we were met by full-size keyboard and large touchpad Steelseries with two mechanical keys. The keypad buttons are made of soft-touch plastic, slightly rough. They are easy to press, no rumble and not stagger, for maximum comfort while playing. In addition, the keyboard supports up to ten simultaneous keystrokes and technology SteelSeries Engine allows you to remap any key or burn it to a macro. With the help of this useful feature can be a good idea to cheat in online fighting game, or MMORPG.
Issues are only arrows, recessed in the numeric keypad. Because of this design are frequent false press, and blindly find them quite problematic.
In a separate unit handed five buttons: power button, switch between integrated and discrete graphics, fan control, power button Xsplit Gamecaster – applications for streaming and recording gaming sessions, and most importantly – a key that changes the color of the keyboard backlight. You can use it to turn gloomy GT72 2PE Dominator Pro in geek Christmas decoration (festival still coming!). And with such a backlight can become his board on any LAN party.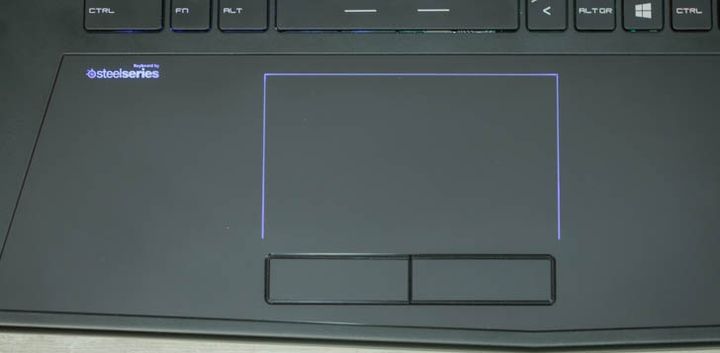 Stylish appearance spoil speaker holes above the keyboard that looks sloppy and visually reduce the price of the laptop, as well as very easily soiled surfaces that collect fingerprints and dust. To maintain the device in the proper form will have to carry around with a cloth for wiping.
Display
In GT72 2PE Dominator Pro mounted display 17.3 "matrix TN + Film, anti-reflective coating and a resolution FullHD. To top gaming devaysa is not quite solid, I would certainly see 4K-matrix, but the manufacturer decided otherwise. However, this is not a critical issue, the display has good viewing angles and color distortions are observed only in the case if you are heavily tilted screen.
Above the display is the camera lens that can shoot video in 1080p. It is suitable for the streams on Twitch games and video conferencing. The frame around the screen is quite wide, but in general it does not prevent a comfortable work or play.
Sound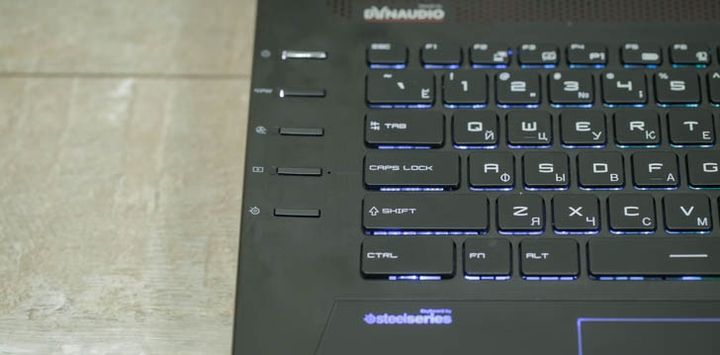 GT72 2PE Dominator Pro provides a very decent sound and has a good stock volume. All thanks to the two speakers and a subwoofer from Dynaudio. Also, the laptop boasts three separate amplifiers for speakers, headphones and the subwoofer. All this in conjunction with the technology Creative Sound Blaster Cinema 2 and Audio Boost 2 allows you to enjoy high-quality sound in your favorite games and movies. Lack of high and low frequencies are not observed.
Hardware and Performance
In MSI decided not to be greedy and equipped GT72 2PE Dominator Pro iron, which is enough for the eye to run any modern game at maximum graphics settings. On board we have the fourth-generation processor Intel Core i7-4710HQ with a base frequency of 2.5 GHz, which can reach 3.5 GHz mode Turbo Boost, and 32 GB of RAM from Kingston. The video card in our sample – NVIDIA GeForce GTX 980M with 8 GB of memory (also available models with NVIDIA GeForce GTX 880M with the ability to upgrade to a more powerful graphics). Disk subsystem consists of four general M.2 SSD 512 GB, united in a RAID 0 array, and the hard drive 1 TB HGST. In the synthetic tests showed CrystalDiskMark laptop reading speed 1464 MB / sec, which is impressive.
But it's all dry figures, the main thing for a gaming notebook – the real gaming performance. And with that, GT72 2PE Dominator Pro all right. For the test were selected Metro: Last Light Redux, Far Cry 4 and Battlefield 4. We also checked notebook on synthetic benchmarks: 3DMark and Unigine Valley 1.0.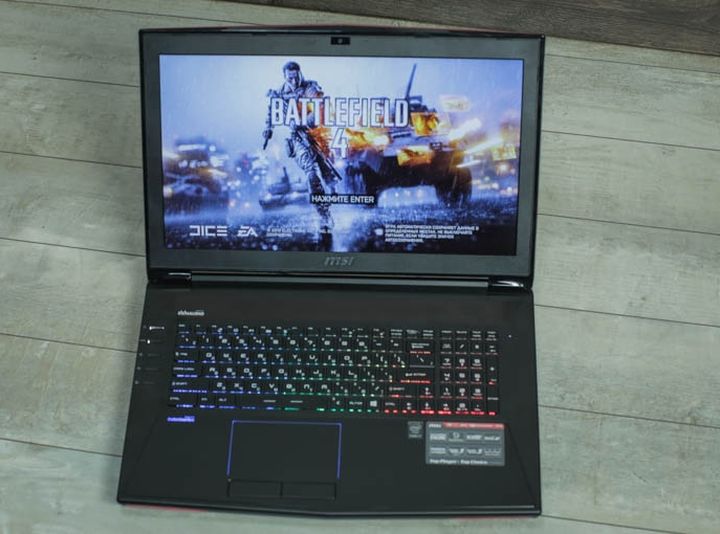 All games run smoothly, without sagging, a slight drop in fps is observed only in very complex scenes like explosions. In synthetic tests GT72 2PE Dominator Pro feels not so sure, at some point there is a strong slowdown pictures. But for this kind of test is the norm, does not change the fact – after all, we do not play in 3DMark.
By the way, the laptop support JavaScript MSI Shift, which allows you to control the clock speed of the processor and graphics card, as well as their temperature and fan speed. Total available three profiles MSI Shift: Green, Comfort and Sport. "Green" profile helps reduce noise and "sport" would achieve maximum performance in high-end games. However, to keep silence in this mode, the laptop is no longer able to. And if this capacity is not enough, that is unlikely to come to the aid Hybrid Power. This technology allows you to combine the power adapter and built-in battery, which gives a small performance gain.
Read another very interesting article about alternative energy of the Sun, water and air.