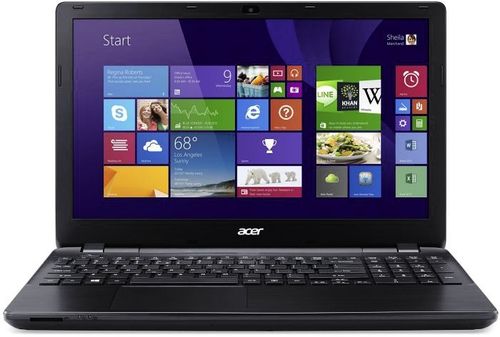 Beginning with the Acer Aspire V5 we have encountered many times before, but the representative of the line Acer Aspire E5 we have for the first time. Just wanted to note that this laptop is quite a compromise solution, and combines the features of multimedia and low-end models. Looking ahead we can say that from multimediynika he got a good and productive stuffing, and from the state employee – body materials and display. This results in a fairly decent multimedia notebook at an affordable price. But are all so nice and smooth in this device, whether it has pitfalls that during the operation will prove a negative – are the main questions that you will find the answers in this review.
Design – Acer Aspire E5-571G
The notebook looks quite slim and stylish, and in some detail is similar to a ruler Aspire V5, but in our case here uses inexpensive materials. Thanks to the successful design and small thickness of the cover Acer Aspire E5-571G outwardly appears compact. The entire laptop is painted black, which, combined with a matte surface makes it practical gadget for every day.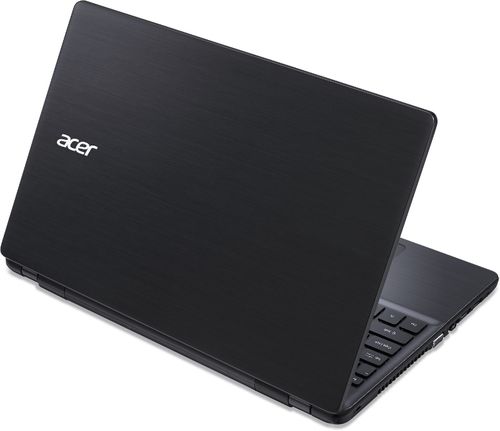 Acer Aspire E5-571G body is made of plastic. The top cover and an internal working surface matte and very practical, and the bottom is a rough and tough. In general, the laptop built pretty good, but in some places it frankly lacks rigidity, for example, the top cover can "play" at the opening. At the bottom of the notebook and the keyboard can also be seen small deflections.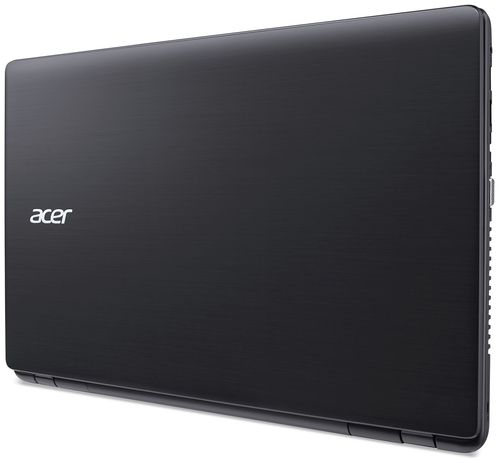 The bottom of the Acer Aspire E5-571G whole, and unlike many other models, it has compartments for easy access to internal components. This means that the drive to replace or upgrade the RAM you have to parse all the entire bottom of the laptop, a large number of pre-unscrewing screws. But a separate compartment on the bottom is still there – it is a lithium-polymer battery. Also here there are small ventilation holes are located on the perimeter of the rubber feet.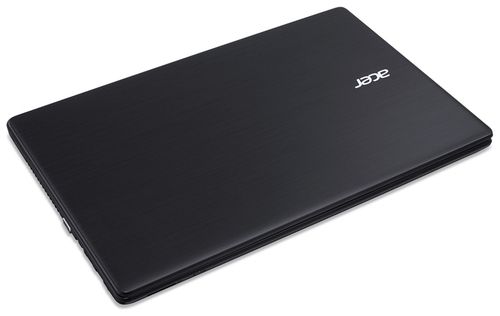 Although the laptop and looks compact, but in numbers it is no different from the majority of the 15.6-inch models and has the following dimensions: width – 382 mm Depth – 256 mm, height – 30 mm. In terms of weight Acer Aspire E5-571G altogether superior to many of my classmates, as its weight is 2.5 kg.
Display – Acer Aspire E5-571G
Equipping Acer Aspire E5-571G decent filling the producers decided to save on a good display. And it's not only in the resolution of 1366×768 pixels, but also the poor quality of the used TN-matrix. The screen brightness is not very high, and the contrast is low at all. Colour rendition is lame, so use this laptop for graphics and image processing, we do not recommend. At the exit you run the risk of not what you expect. The viewing angles are also not console, the colors begin to fade even at the slightest deviation from the ideal position.
I would also like to note the glossy finish of the display, it would seem, is not a very important factor, but in the bright sunny weather, it can get you a lot of trouble permanent glare and reflections.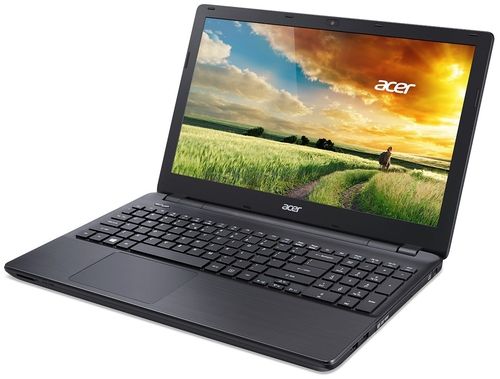 As for music playback, this notebook is equipped with two speakers, which are located on the bottom. It is worth noting that the quality is pretty average, but instead hear a wheeze bass. For audiophiles, they obviously do not fit, but for watching movies or playing games with them enough head.
Videoconferencing or communication through programs such as Skype in the laptop provides a webcam with a resolution of 1 megapixel. But the presence of the camera in the laptop is no surprise, therefore, it is worth noting only that with their duties, it does well, but for no longer capable of.

Keyboard and Touchpad – Acer Aspire E5-571G
In recent years, the island keyboard became mandatory attribute of a modern laptop, and in fact before it was rare. Acer Aspire E5-571G also trying to keep up with fashion trends, so the keyboard is equipped with this type. It is complemented by a full-size and nampadom. Here are just a dial unit turned too petite. Also there is no backlit keyboard and some multimedia keys, but in general, the keyboard is to be commended, because the keys are pressed gently and smoothly.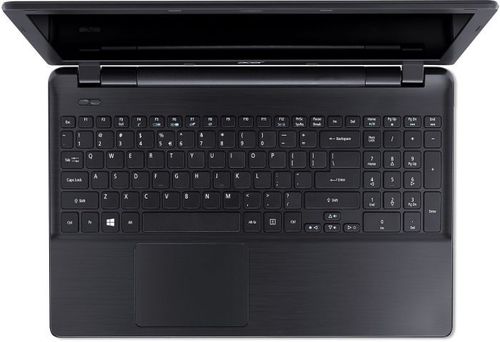 Acer Aspire E5-571G also has a great touchpad. It has a nice texture to the touch and quite large. Also, the touch surface copes with multi-touch gestures. Also, there is no dedicated physical buttons, they are hidden under its surface.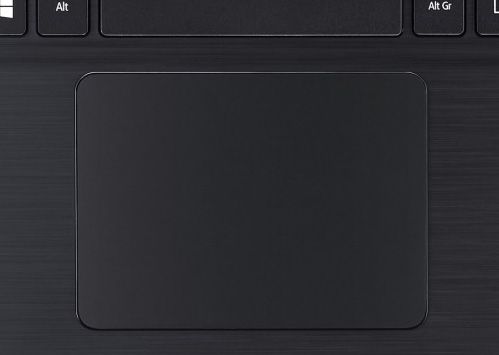 Performance – Acer Aspire E5-571G
Acer Aspire E5-571G-56B5 is running a preinstalled operating system Windows 8.1 (64bit). Also, it is equipped with dual-core processor Intel Core i5-4210U , clocked at 1.7 GHz. It has 3 MB cache level 3, supports Hyper-Threading Technology and Turbo Boost, by which two cores can handle up to four simultaneous data streams, and the base clock frequency can be increased up to 2.7 GHz.
Integrated graphics Intel HD Graphics 4400 is suitable for less demanding tasks, and will also help prolong the laptop battery life. But a discrete graphics card NVIDIA GeForce GT 840M is the main feature of Acer Aspire E5-571G, thanks to her this laptop can be called universal or gaming. EtotGPU is one of the first graphics solutions based on the new architecture from the Maxwell company NVIDIA. Among the technical characteristics include 384 shader units clocked at 1029 MHz and 2 GB of memory standard, DDR3.
Since we have carried this laptop to its line of low-cost gaming devices, you should estimate its power directly to the games. One of the newest racing games GRID: Autosport on high settings showed the result in 37 fps, but that's a different game in the same genre of Need for Speed: Rivals – only 24 fps. I am glad that this notebook is also coped well with several popular shooters, including: Battlefield 4 and Call of Duty: Ghosts. Both were running at high settings, and the first to show 29 fps, and the second – 22 fps. And finally, we assessed how comfortable will play Assassin's Creed IV: Black Flag, it is worth noting that this game on high settings was unplayable due to the 16 fps, but at lower settings to medium, it increased and laptop became stable issue 31 fps.
As the drive here used a time-tested option – hard disk of 500 GB and a rotational speed of 5400 rev / min. Special claims to him no, but he is much inferior speed solid state drives. So if you have the desire and money to spare, we advise you to install a small SSD-drive as a cache.
The owners of Acer Aspire E5-571G will also 6GB of RAM for this model is enough. All in all, you can install up to 16 GB of RAM, but due to lack of quick access to internal components, this procedure is somewhat more complicated.
Ports and Communications – Acer Aspire E5-571G
With regard to communication facilities, a laptop in this respect shows itself quite modest. Set of ports in general standard, but there is one problem – for 2014 only having a single port USB 3.0 standard looks like something strange.
Location of interfaces on the left side of the following: first, there are two USB 2.0, then the optical drive DVD Super Multi with Tray-loading, and has him power supply connector.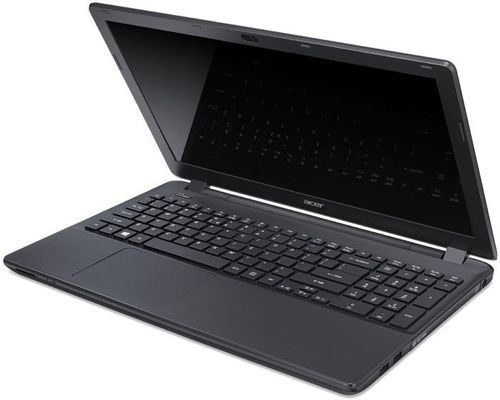 On the right side the situation is better, then you can see the video outputs HDMI and VGA, the only USB 3.0, LAN port LAN, combo audio jack, and a Kensington lock.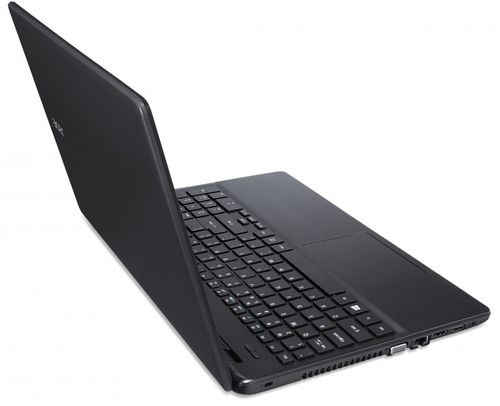 Card reader and a set of indicators, as well as many other laptops, is on the front edge. In general, the location of all the elements on the faces of thoughtful and very comfortable. But I repeat – only gripe is the presence of only a single USB port standard 3.0.
Wireless communication standard – Wi-Fi 802.11 b / g / n and Bluetooth 4.0. Although the time has come to provide laptops Wi-Fi 802.11ac.
Battery – Acer Aspire E5-571G
For autonomous operation in the laptop meets the inline 6-cell lithium-ion battery capacity of 4700 mAh. The battery is removable, it allows you to quickly and easily replace it. Charging a laptop using the power supply capacity of 40 watts.
As for battery life, the Acer Aspire E5-571G can work without charging a little more than five hours of web surfing and two hours at full load. Regarding the latter, it is a pretty good indicator, given the fact that the laptop is equipped with a fairly powerful graphics card.
Conclusion – Acer Aspire E5-571G
Acer Aspire E5-571G – laptop for those who do not "bother" about the appearance of your device, but pays more attention to its functionality. So, for example, Acer Aspire E5-571G a discrete graphics card NVIDIA GeForce GT 840M processor and Intel Core i5-4210U, which provide very good performance in daily tasks, as well as in heavy applications and games. Also performed well controls – the touchpad and the island keyboard, using them to work for a laptop is a pleasure.
But in the "victim" performance was given by the display and the body, it is on these two components and saved in this notebook. We can not say that they are very bad, just the display is made in the budget technology TN, which affects the quality, and the body is made entirely of plastic, which is not very strong. Also have a claim to a set of ports, but the problem is being addressed with the help of adapters and USB-hubs.
In general, despite its versatility, this notebook is rather peculiar, as its main feature – a powerful graphics card, which is used in an entry-level gaming solution. The rest of the Acer Aspire E5-571G – normal budget laptop, with its own characteristics and weaknesses. So if you want a relatively inexpensive ($ 720) and productive laptop for gaming, then this is your choice.
Read another very interesting article about alternative energy of the Sun, water and air.