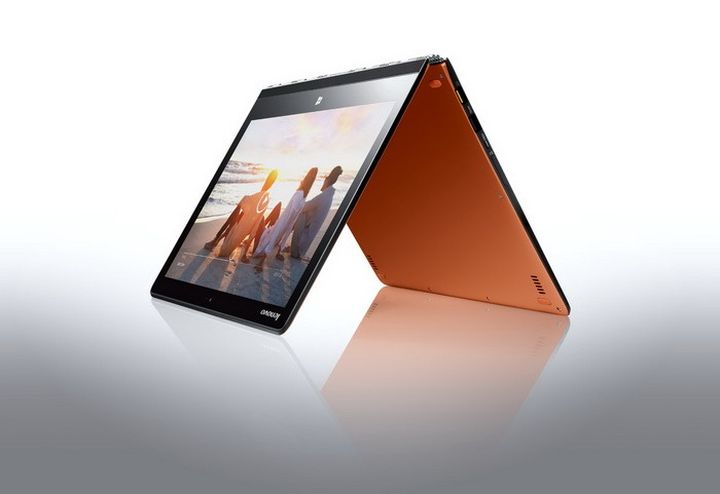 When the first ultrabooks, like the company competed with each other – who more accurately copy the MacBook Air and plucked on the lawsuit from Apple. Copying subjected not only exterior, but filling. Putting a number of motherboards, they could be confused and, if not for the characteristic color of the PCB in the "MacBooks." But despite the obvious similarities, Apple stoically silent. Which is quite thick hinted at the existence of agreements with Intel, which released the first generation MacBook Air a special version of the Core 2, and invested heavily in the creation of energy-efficient Ultra Mobile platform. By all indications, Apple agreed that part of the operating time will be available to other manufacturers in exchange for a two-year right of first night.
Some manufacturers and still inspired lines Air, but the majority still goes its own way. Lenovo Yoga Pro 3 – a sample of original solutions, combining unusual and complicated for mass production form factor with high consumer qualities of the traditional notebook mode. Plus, at the time of the announcement in October 2014, it was the first commercial product on the platform Intel Core M. I have long waited for Yoga Pro 3 will begin officially on sale in Russia, but so far his only carry small online shops. Therefore, this text has been prepared on samples from very-very first batch, with the US and the lack of a fork Cyrillic keyboard. Looking ahead to say that no major flaws found in it was not possible, although in the course of production in construction can be made small improvements.
The main intrigue of this model – Processor Intel Core M 5Y70 with a base frequency of 1.1 GHz and the ability to accelerate under load up to 2.6 GHz. And all this within the framework of the thermal package (TDP) 4.5 watts. For comparison, the ultra version Core i5 Haswell family have TDP not less than 15 watts. It would be a miracle if these parameters processor Core M would have a similar or even better performance, but no. In the vast majority of problems Core M is 15-20% slower than the Core i5 family Haswell, and only in some games going with him on a par, with improved graphics core.
But should not get upset. Headroom is sufficient for most non-gaming tasks. And even if you're used to a lot of tabs open in the browser and keep open some "heavy" applications processor handle. I, at least, there was no sense of inhibition works even in comparison with the ultrabook on the Core i7. But modern production technologies (14 nm) and a compact heat package should, according to the promises of Intel, providing an impressive battery life.
Is it really? Yes and no. If you compare the 3 Yoga Yoga 2 Pro and Pro (Intel Core M 5Y70 and Core i5-4200U respectively), both of them have worked for about the same – about 5 hours (it is, of course, full use, and not just standing with the included screen) . But Yoga Pro 3 much less capacious battery (44 Wh to 54 Wh the old "yoga"). So, whether the battery of the same capacity, Yoga 3 Pro worked would be about an hour longer. And then a half. Leave the conscience of engineers and marketers desire to make Lenovo ultrabook as thin as possible. Weight 1.2 kg, the thickness of 12.8 mm – this is certainly impressive. But while maintaining weight Yoga 2 Pro (1.4 kg) could provide autonomy in the area of 8-9 hours, and the risk of overstrained back the user would still be very low … In short, the usual Coulda woulda. Judging by the persistence with which the design technique is brought to a thickness of a razor blade, most of us still willing to pay for these experiments. And if there is demand – will offer. By the way, if you take a Yoga Pro 3 for one of the corners, the rest of the body visibly droop. No, it does not affect the structural strength and durability, but the spectacle of fun.
One of the main chips Core M called to work without active cooling. But Yoga 3 Pro cooler is. Small and so quiet that I did not hear it at first, but – there. Works about 70% of the time, paused at very very low load. Probably be slightly thicker body, could be limited to the average size of the radiator, but elegant "Yoga" just is not got the last.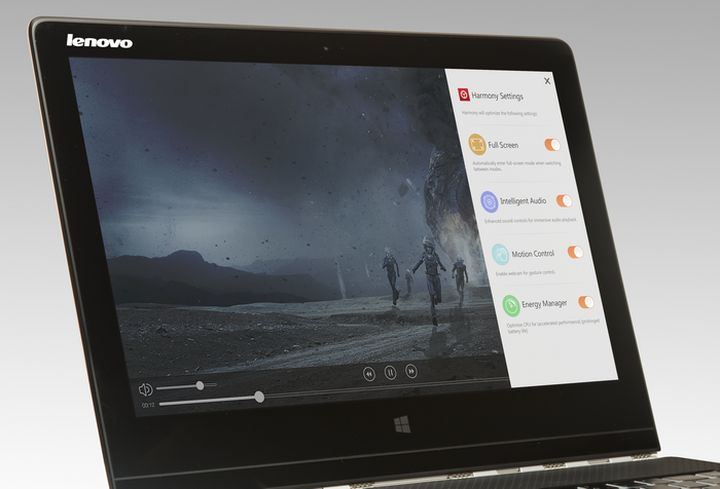 13.3 inch matrix with a resolution 3200h1800 seem migrated to the ultrabook from the previous model. Really, what better good? Used IPS-screen with fair color and brightness solid margin. One can find fault only to non-uniform illumination, visible on a dark background, but it may well be a feature of a particular instance. And you do not notice during everyday use. From a purely technical point there is no reason to complex on the background of "makbukov" screens Retina, but we must understand that a lot depends on application developers. If they attended to support 3200h1800, everything will be nice and clear. If not, in the best case would be slightly blurred image, and at worst – not completely fit in the window. In Windows 8.1 and Windows 10 particularly scaling mechanisms have improved markedly, and do not be surprised if your favorite application would be unworthy of the screen Yoga 3 Pro.
Clarify just in case that the screen is touch-sensitive, work out to 10 clicks at the same time. So with the diagonal of the Ultrabook gets more full plate on Windows 8. As far as, of course, can be a full-fledged tablet on Windows 8.
Top and bottom ultrabook made of aluminum, and it is nice (or not, depending on weather) cools bare feet. Made of aluminum and the hinges upon which the screen cover can be opened 180 degrees, turning in ultrabuk large tablet. Between the actual loops detected braided steel elements resembling metal watch bracelets. Composition looks good, but the decorative details noticeable rattle, causing no association with luxury watch brands and a grandfather's "Rocket". However, I am against "Missiles" nothing. And against the "Glory" too.
The surface around the keyboard is covered with plastic pretending rubber. On the new machine looks and feels great, but in the course of intensive use can slightly scuff watched this many times. On the keyboard itself is nothing bad I can not say. Fingers go to, how to, print-friendly. There are lights. However, it does not have gradations of brightness, only "off – does not burn," but the level of well-exposed, it lacks in all light conditions.
In thin body lives a surprisingly loud sound, branded JBL Audio. Sami speakers look quite usual for this class of devices, but they too did not save, and the bulk provided by software algorithms. Of course, on the Hi-Fi system all this does not pull, but the sound stands out against the brothers. Particularly impressive heard a variety of effects in movies, the stereo is really impressive.
I still pleased that Lenovo did not produce ultrabook version with 4 gigabytes of memory and SSD 128 GB. Sense from a weakness anyway. Minimum configuration – is 8 GB of RAM and 256 GB SSD. The latter can take a more capacious 512 GB. Plus it is installed in a standard connector, so if after some time in the sale of low-cost model will terabyte – also can be supplied. Although, of course, in the context of the bends of the ruble "inexpensive SSD» sounds like a mockery. But memory is soldered to the motherboard and the upgrade can not be. Involuntarily wistfully remember the first Lenovo Yoga, where he was a regular slot for memory, and two (!) Slots for SSD. Unfortunately, such a luxury is now found only in very very expensive business models.

When to look into the case, it seems that all the space is occupied by the battery. He is really huge in size, but it is "compensated" by several millimeters thick. Electronics every year more and more similar to the counterparts in smartphones and tablets. Takes place very little, but, unfortunately, and repair to be less and less. Only the replacement of large nodes. Yes, you can replace the SSD adapter Wi-Fi, the latter, production Broadcom, just very good. With my router is connected to the speed of 866 Mbit / s and keeps you connected flawlessly. I hope that in the coming Russian model with support for 802.11ac, and not obsolete 802.11n.
Taking into account the thickness of Yoga Pro 3, for a large number of connectors is simply no room. However, at our disposal two port USB 3.0 (one can charge other devices when ultrabook is off), one USB 2.0, cleverly combined with a connector for charging, card reader, micro-HDMI and headphone jack.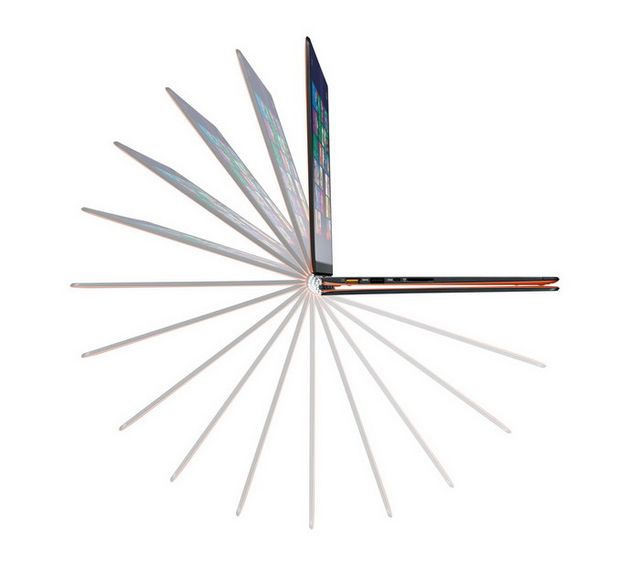 Also there was a place two microphones that provides high-quality voice communications even in noisy environments. In these smartphones have long been no surprise (and expensive Lumia three pieces inserted), but ultrabook – not bad.
And very pleased charge. First, cool union USB ports and power – I had never seen such. Quite a saving of space on board. Secondly, the charger itself looks pretty well and does not look like a standard eldu in which it is necessary to insert a thick cable that came to us from the distant past of the computer. I really was afraid that Apple has some kind of patent on normal-looking chargers. But no.
In total Lenovo Yoga Pro 3
The first time took the Lenovo Yoga Pro 3 in hand, he seemed somehow hlipkovatym. I'm used to a more brutal mobile computers – Lenovo ThinkPad, Acer TravelMate, MacBook Pro, finally. And then something thin, light … not serious.
But when the system settled down and began to use the house for work and watching movies, the attitude has changed. Yes, the machine is light and thin (easily lost among the papers and books on the table), but quite durable. The details do not fall off, scratches do not appear out of nowhere. At the same time, despite the benchmarks, responsiveness higher than the ThinkPad X1 Carbon on Core i5 4th generation. May effect larger cache (4MB instead of 3).
Balanced machine. Everything in it somehow in the mind, within reason. Personally, I would have wanted him to only battery life is not less than ten hours to, as is the case with the "MacBook" do not pay attention to the level of charge during the day. But given the compact and powerful charger, and can live with guaranteed five hours.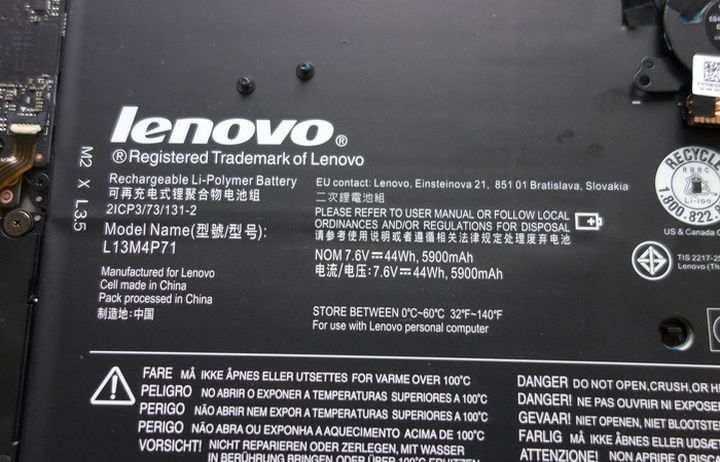 By the way, ultrabook was even and not very expensive. In the US, it costs $ 1,300 for the basic configuration (8/256 GB), and a top, with Windows 8.1 Pro and SSD 512 GB, will cost only $ 80 more expensive. To these figures we must add sales tax (about a hundred dollars), but still on the background of colleagues with similar characteristics is obtained humanely.
Assure employees of the branches of IT-companies are grieving with you about the skyrocketing prices, but there are no miracles. And even if someone starts selling equipment at a loss for her to come and instantly begin to arrive from neighboring countries, and the feast is over quickly. Just now have a much more serious about buying, wondering – what will happen to them is not even a year later, and after two or three.
By the way, before the official retail is likely gets Yoga Pro 3 with more powerful processor Core M-5Y71, who can overclock itself to the frequency of 2.9 GHz, with a slightly accelerated graphics core. Plus it, unlike 5Y70, more flexible adjustment of power consumption. At least in the States all the offers already on it, and on the website Intel 5Y70 listed as no longer available.
I sincerely wish that your financial opportunities matched to the needs of even our amazing time.
Read another very interesting article about alternative energy of the Sun, water and air.