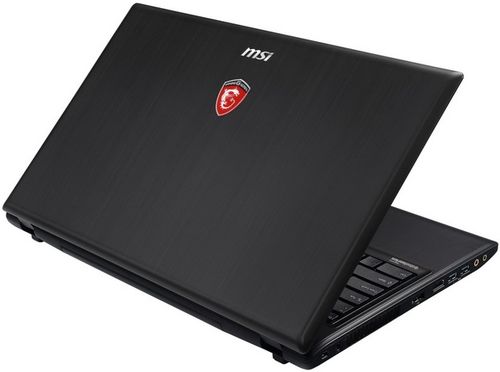 MSI has always been famous for its gaming notebooks. Often, these are expensive and powerful equipment characterized by a large size and eye-catching design. But the hero of our today's review is somewhat out of the usual framework of gaming devices. Firstly, it has a fairly accessible, by the standards of gaming gadgets, cost, and secondly, he looks nothing like their counterparts around the game shop. MSI GP60 2PE Leopard, namely it will be discussed today, is more like a multimedia notebook, but the MSI has positioned it as a gaming notebook entry level. Incidentally it is worth noting that this is the second generation of this laptop series, the first was called MSI GP60. As for consoles 2PE, it is the second generation, as its own name Leopard laptop was due to the new policy of the company, according to which each series now has its own unique name. Differences in generations are not very many, the most significant of them – replacing the discrete NVIDIA GeForce 740M card on NVIDIA GeForce 840M, as well as adding another port USB 2.0.
Design – MSI GP60 2PE Leopard
MSI GP60 2PE Leopard looks reserved and laconic, however, as most of the multimedia models, but the resemblance to gaming notebooks – is minimal. All major surfaces are painted black and have a texture that resembles brushed aluminum. If we compare the second generation of this laptop with its predecessor, the significant differences in the design is no, unless the lid other than the name of MSI are now more beautiful and logo of their game series.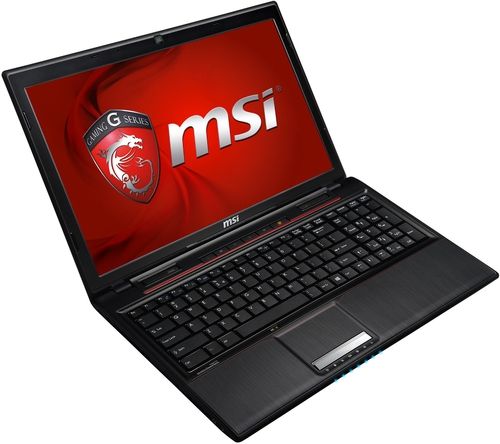 If the laptop is externally similar to aluminum, then in fact it turned out to be completely plastic. Fortunately this plastic has good strength and is a pleasant tactile feel. From decorative elements include a company logo and MSI game series on the upper cover notebook and dark red strips arranged below multimedia keys and the keyboard.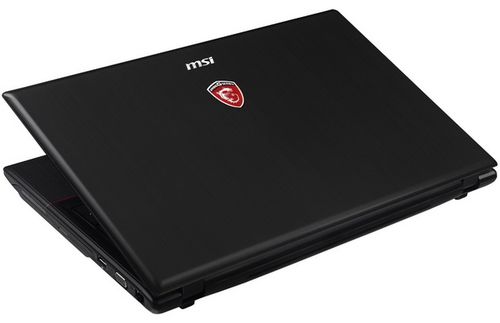 The bottom of the laptop, as well as the rest of the body is made of plastic, but here it is more rude. And if the quality of the materials developers have not given much importance, the functionality of the bottom of the laptop, they worked out well. You can find a large number of vents, battery compartment, two speakers, rubber feet, but most importantly – there is provided a compartment for easy access to internal components. But opening it, you'll wonder even more, since in addition to access the RAM, hard drive and wireless network module, you will also be able to clean the ventilation system and replace the thermal paste.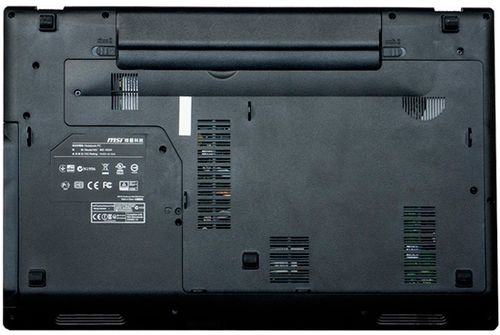 The notebook looks pretty massive, as evidenced by his size – 383x269x38 mm. For the 15.6-inch model modern thickness of 38 mm is quite a lot, but if we compare these figures with the full-fledged gaming notebooks, it is not all that bad. As for weight, then he is close to most of the multimedia models – 2.4 kg. Laptop assembled enough quality, deflections may be visible only on the cover. As for ease of use, the absence of an abundance of gloss to avoid rapid contamination laptop only exception is the UI board.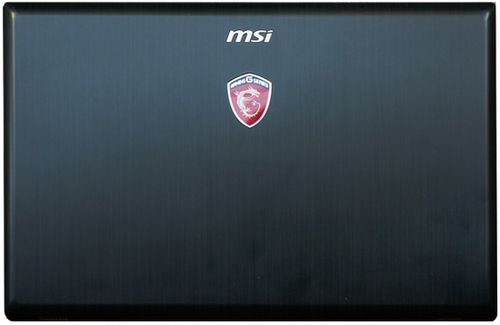 Display and sound webcam – MSI GP60 2PE Leopard
Display size MSI GP60 2PE Leopard is 15.6 inches and a resolution of 1366×768 pixels, which ultimately provides a reasonable pixel density. True, there is another version with Full HD, but it is more expensive, and also in demanding games to play with such a resolution at high settings will be uncomfortable due to the fact that the card will not cope.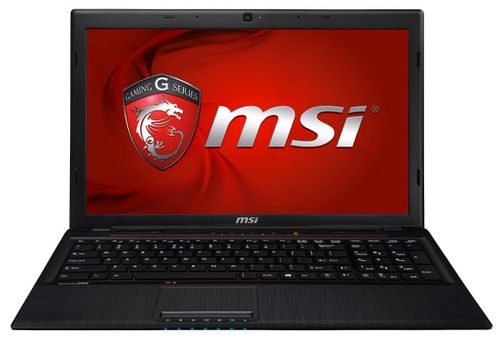 Matrix is ​​technology TN, so you should not expect here the ideal viewing angles, but for their level, they are not bad enough. As for the quality of the display, it gives a complete game model, but at the same time is on par with most multimedia laptops. By the way this display has one significant advantage – the matte finish. Thanks to him, you can not be afraid of glare and reflections in bright and sunny weather, which can prevent in the midst of battle.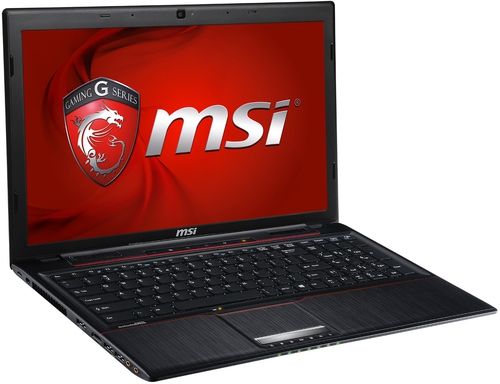 The notebook comes from four speakers, two of which are located above the keyboard, and two more – at the bottom, which creates an additional amount of sound. But, despite the presence of such a large number of sound sources, the sound of a special quality does not stand out, since the laptop's hardware can not fully give out the bass of the small diameter speakers. So he is trying to artificially raise the low frequencies, but at the same time begin to suffer medium and high, and as a result created is not the most pleasant picture. Available Technology Creative Sound Blaster Cinema can improve the sound, but the changes are not as noticeable as I'd like. But in fairness it should be noted that if the quality music that fits the laptop is not the best way, to play the sound in the games, he is much more pleasant.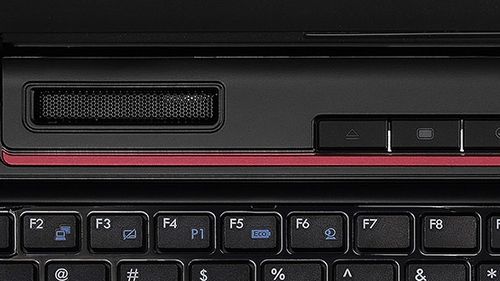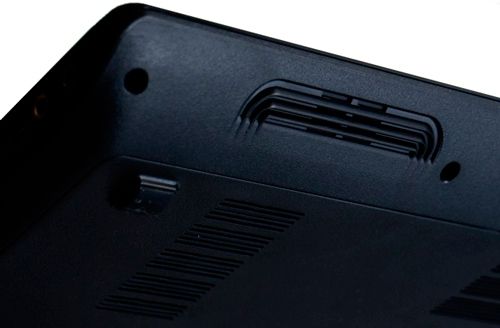 Webcam resolution of 1.3 megapixels is capable of providing high-quality video conference, but no more.

Keyboard and Touchpad – MSI GP60 2PE Leopard
MSI GP60 2PE Leopard is equipped with a fairly comfortable and sophisticated SteelSeries keyboard Chiclet. A similar keyboard stands virtually all game models of MSI, even in those who belong to the premium segment, so that in this respect, our hero was lucky. You can note the use of a separate numeric keypad, which adds the functionality of this laptop, but the overall picture slightly spoils glossy foil keypad, which is in the process of operation will be highly contaminated.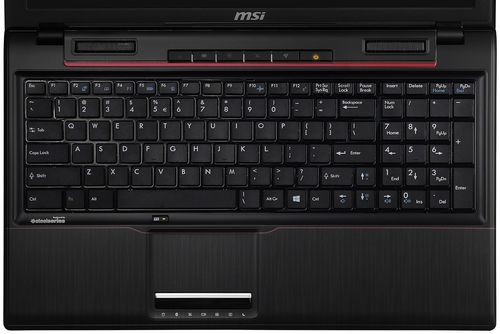 The keys have a rectangular shape and the average speed. Their dimensions are sufficient to not hurt the recruitment of neighboring keys, but it is worth noting that the right [Shift] and [Ctrl] were slightly pressed down because of the switch unit. The latter, by the way, "get lost" in an array of adjacent keys, and find it to be quite difficult for gamers that big minus. The disadvantages of this keyboard also include the lack of backlight.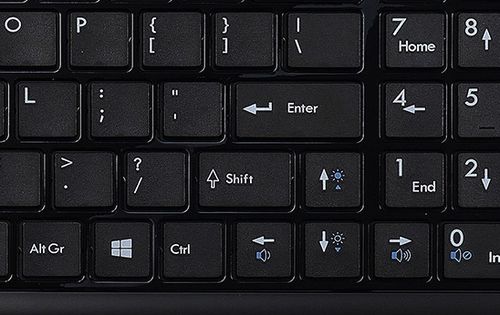 Laptops MSI has always been famous for having separate multimedia keys that extend the functionality of the laptop and helps the owner to quickly configure the gadget for yourself. Fortunately MSI GP60 2PE Leopard is no exception and has in its arsenal just six individual buttons (not media), which are located on top of the main keyboard between the speakers. Among them there are: The button to open the optical drive, turn off the display button, the button Cooler Boost, key management of wireless networks, programmable button to launch applications (games), as well as a button on your notebook. We should also mention the option Cooler Boost, which when the cooling system laptop runs at maximum speed.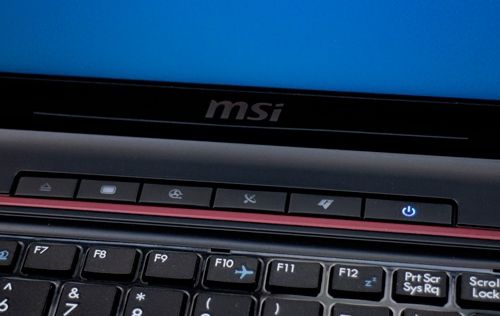 As for the touchpad, it does not impresses with its size and functionality. Most likely, it was conceived as a replacement body control in emergency situations, such as when the mouse batteries sit as as the main governing body it is extremely inconvenient. The main drawback of the touchpad are its small size, which "eats" rocker hiding mouse button. This rocker glossy and executed in silver, which is not much in harmony with the overall design of the notebook. By the way, above the touchpad in the left corner, there is a mute button, so when you play you do not accidentally touch it.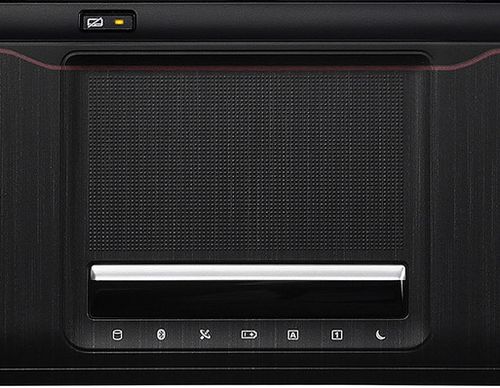 Performance – MSI GP60 2PE Leopard
Our grade MSI GP60 2PE Leopard has good performance stuffing a processor Intel Core i7-4700HQ and graphics card NVIDIA GeForce 840M , which is perfect for most tasks. Laptop works on the basis of the operating system Windows 8.1 64-bit.
As is well known in the gaming laptop video card is important, however, by a powerful processor and it is not necessary to give up. In this case, set the quad-core Intel Core i7-4700HQ. This CPU is made at rates 22-nm process technology and is built on the architecture Haswell. Its four cores can process up to eight data streams through technology Hyper-Threading. Each core has a base clock speed of 2.4 GHz, dynamically increasing to 3.2 GHz with four simultaneously active nuclei. All this is possible with the technology Turbo Boost .. Also worth noting is the cache in the third level of 6 MB. All these features allow the processor to handle even the most complex tasks.
Using the integrated graphics Intel HD Graphics 4600 will be beneficial when the notebook will not need high performance, and will not be near the outlet. In this case, the voracity diskretki play not on hand autonomy. For the rest, it is, of course, plays a large backlog NVIDIA GeForce 840M. However, if we compare the Intel HD Graphics 4600 integrated with other solutions, it has good performance due to 20 shaders and Turbo Boost. A discrete closest rival is the AMD Radeon HD 7650M.
In turn, a discrete graphics card NVIDIA GeForce 840M, which largely makes this gaming laptop has sufficient performance for most modern games. It has 384 shaders, which operate at a frequency of 1029 MHz, and 2 GB of memory standard, DDR3. Memory bus width is 64 bits, which can be a "narrow" place in this video card. But in spite of that, NVIDIA GeForce 840M can handle games such as Battlefield 4 and Batman: Arkham Origins on high settings with 30 fps in both cases. In Assassin's Creed IV: Black Flag on high settings will not be very comfortable to play, but on average at 30-34 fps you can get from playing a real treat. Call of Duty: Ghosts and Need for Speed: Rivals at medium settings show 38 fps and 30 fps, respectively.
In MSI GP60 2PE Leopard also has 8 GB of memory standard, DDR3, which operates at a frequency of 1600 MHz. It is represented by a single bar, but only the laptop memory slots for two, so that the maximum amount of RAM for this laptop is 16 GB. However, the available 8 GB for games and any application to be missed with his head.
Compared with the rest of the laptop, the drive looks quite modest. Hard drive though and has a volume of 1000 GB, which is sufficient for modern games, so the storage media, but in terms of performance it leaves much to be desired, because the rotation speed it is 5400 rev / min. But you can also install SSD drive via the mSATA, which will significantly improve the performance of the laptop, especially the OS boot.
Ports and Communications – MSI GP60 2PE Leopard
Set of ports on the MSI GP60 2PE Leopard us was a disappointment, especially the fact that it does not differ from the public sector, not to mention the absence of such connectors as Thunderbolt or Mini-DisplayPort.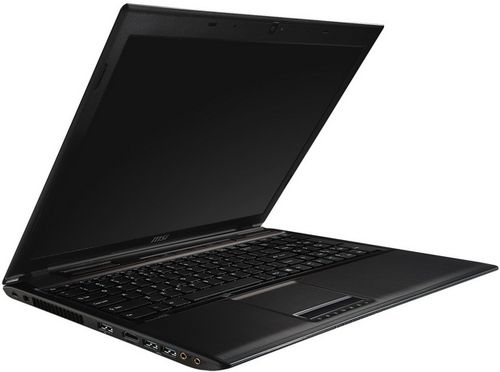 So, on the left side are two ports USB 3.0, one USB 2.0, HMDI, microphone input and headphone output, as well as the power supply connector, Kensington lock and a large ventilation grille. It is worth noting that the bulk of port is closer to the front edge, and the distance between them is minimal, which can create problems when connecting marker connectors.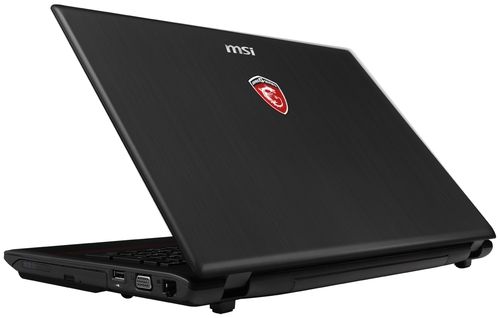 On the right side connectors are located at greater distances from each other, but they are there only three network port RJ-45 (LAN), USB 2.0 with charging function video and VGA. Everything else takes place the optical drive DVD Super Multi.
The rear face is occupied battery and the hinges upon which the display is attached, so it is impossible to place the communication here. But on the front face of the card reader and sheltered for seven indicators, basically they show the status of the laptop, its wireless network and hard disk.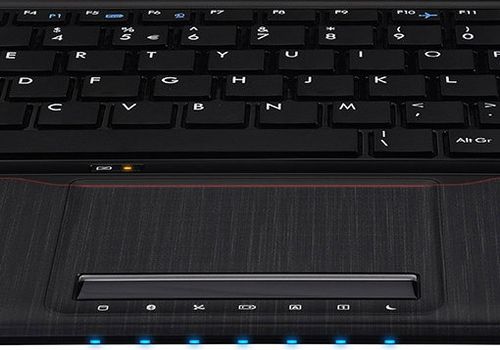 Wireless communications are presented here in the form of Wi-Fi 802.11 b / g / n and Bluetooth 4.0. But there is also a version with a more modern standard Wi-Fi 802.11ac.
Battery – MSI GP60 2PE Leopard
The notebook is equipped with a 6-cell lithium-ion battery capacity of 4400 mAh (49 Wh). Charging it using the power supply 120 W, which has a rather big size, so that the weight of the laptop, you can add almost half a kilogram.
As for battery life, we can say that it is higher than that of full-fledged gaming monsters, but slightly inferior to the multimedia model. This fact could not be more accurately reflects the very essence of MSI GP60 2PE Leopard, which is a kind of symbiosis and universal gaming laptop. If we talk about concrete results, we have six and a half hours in idle and just over an hour at full load.
Conclusion – MSI GP60 2PE Leopard
To summarize we can say that MSI GP60 2PE Leopard multimediynik more than a gaming laptop. This is indicated by its appearance, and a set of ports and mediocre display, as well as other less important components. However, the focus on gaming says a powerful quad-core Intel Core i7-4700HQ and top-end multimedia video card NVIDIA GeForce 840M, which provide high fps at medium and high settings, even in today's most demanding games. In general, MSI GP60 2PE Leopard is an entry-level gaming laptop, and no matter how desirable, MSI make it a game, yet he's just a powerful multimedia notebook price of $ 950.
Read another very interesting article about alternative energy of the Sun, water and air.