Definitely soon the fashion for laptops will not pass. The success of these devices is not so much their popularity but in practicality and mobility. This gadget can be used as a super-power for office tasks, be stylish and practical at the same time, have a small 13-inch or 17-inch form factor, in a word, all possible variations of a huge amount.
A special role in this abundance allocated budget sector, the most numerous and, therefore, popular among the modern users. Ideally, everyone wants to buy a cheap device, with capacious storage and a good display, ability to "pull" the problem of a different orientation. However, to comply with most of the criteria, the manufacturer still obliged to sacrifice something, for example, the same filling or screen design. But what if the ASUS X553MA – this is an exception, and its internal content harmonizes with the outside cut? Let's find out!
Design
ASUS X553MA
As the gadget ASUS X553MA has turned the budget, it is quite natural that his body is completely plastic. However, it leaves a good impression, a feeling of cheapness and low-quality finish does not arise. The manufacturer offers to buy one of four colors ASUS X553MA: white (White), black (Black), pink (Passion Pink) and violet (Lavender Purple), and we, in turn, decided not to change the classic and selected packaging exemplary black.

Beauty is in the details ASUS X553MA, so let's see how this state of affairs with our laptop. His cover is characteristic minimalism, because, except for a small mirrored logo on it is nothing else. Incidentally, the surface of the panel has an interesting pattern that resembles a series of ZENBOOK: the same concentric circles extending from the center and the beautiful Lambent in daylight.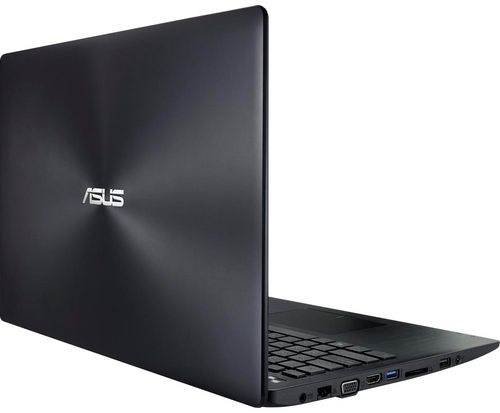 Inside devices are simple but tasteful. The upper part is connected with the lower hinge. The screen of ASUS X553MA is surrounded by a not too wide plastic frame, which is willing to collect fingerprints. On the bottom, you can see the verge of another logo, brand name, and on top – a small peephole webcam. At first glance it seems an ergonomic keyboard is very comfortable to use. Below it is placed a medium-sized touchpad.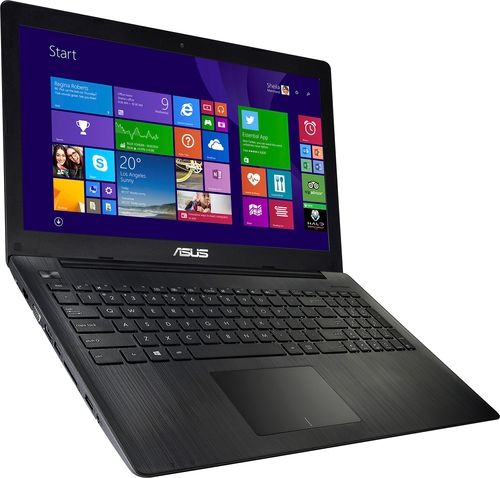 ASUS X553MA turned out not the most subtle, as evidenced by the presence of the optical drive and the size of the laptop – 280x252x25 mm. But we pleased weight – 2.2 kg, so the laptop ASUS X553MA can take with you, without fear of its excessive severity. Incidentally, we note and build quality, which also no complaints, because the body of the gadget does not bend, do not play, in a word, no way gives it a budget "companion."
Display, sound, and webcam 
ASUS X553MA
Unfortunately, in terms of the characteristics of the screen, the model has not made much of an impression on us. Its diagonal of 15.6 inches, the resolution is quite low by today's standards – 1366×768 pixels. In addition to the TN-matrix of the wide viewing angle you can only dream of, while the horizontal visibility is better than vertically. In general, of course, things are not as bad as it might seem at first glance. If you've worked in the past with similar displays, the difference for the worse, you may not even notice. By the way, due to the glossy surface to work with a laptop outdoors, especially in sunny weather, it will be difficult, will prevent glare and annoying.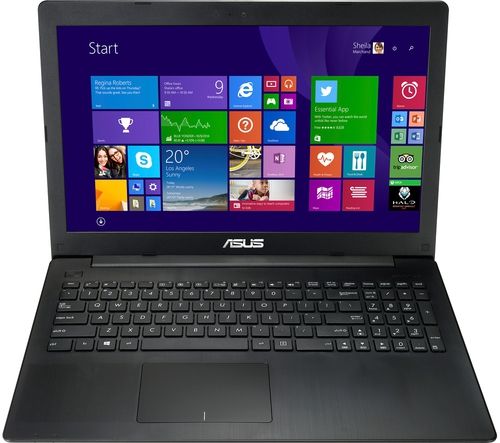 Here are some figures: Compliance sRGB scheme is equal to 61%, the black level of 0.57 cd / m2 and contrast ratio – 416: 1. The indicator brightness ASUS X553MA is average, that is, the screen, of course, stars from the sky is not enough, but also to call him very much, too bad we can not. Color reproduction is limping a bit though the picture lacks richness and saturation.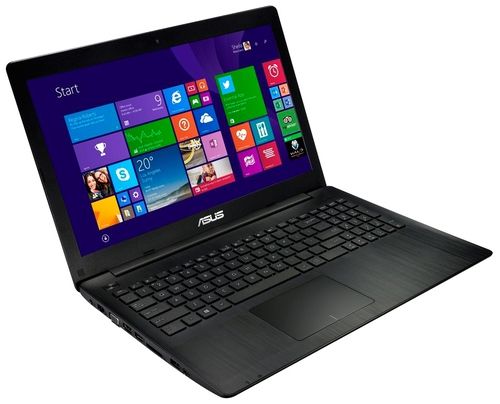 In order to ensure a high level of sound devices, engineers have implemented it technology SonicMaster. However, even that is not possible to make a multimedia notebook "giant." It is unlikely that the consumer expects such happiness in such a democratic price. Two speakers located on the front slant notebook, very good job with their responsibilities: the output sound, though not very loud, but at the maximum it is not distorted. Of course, there are problems with the bass, but the situation could improve somewhat, just by connecting to the gadget headphones. This, incidentally, saves in the case, if the room where you are watching a movie or listening to music too loud.
The webcam ASUS X553MA quite typical resolution – 0.3 megapixels. It allows you to chat on Skype and quite clearly see the face of the interlocutor in the process. Of course, in a dark room the visibility deteriorates, but this quality – a lot of most built-in laptop cameras.
Keyboard and Touchpad 
ASUS X553MA
ASUS X553MA has a keyboard island type with the separate numeric keypad and a standard layout. It is difficult not to notice a very dense arrangement of keys, because of what between them is not very much space. Marking buttons are done in white, key travel is short, the return – is not very expressive, so to the press on a keyboard need to be accustomed.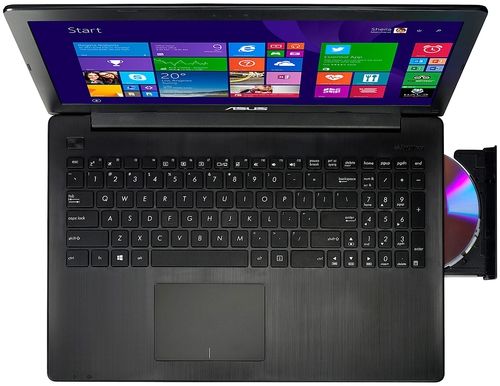 Laptop Keyboard ASUS X553MA be called unremarkable: the characteristics and appearance, it is absolutely typical of the inexpensive segment. Keys, including commonly used, do not attract attention. For example, [Enter] single-row, beneath it there is the small size of the button [Shift]. Another [Shift], left, looks much more, almost caught up with her size [CapsLock] and [Tab]. A switch unit does not take up much space, its buttons are small, rectangular shape. Above the keyboard, in the upper corner, it was seen power button of the laptop. It is an oblong, easy groped blindly.
Perhaps, it may be called front position, that, in principle, only the user's hand. The manipulator is very sensitive, it promptly responds to all commands, executing them without delay. The touchpad supports various multi-touch gestures, providing a high-quality navigation in the operating system Windows 8. These include the standard: scrolling, zooming, etc. EXPRESS physical keys in touchpad is not. A user to clearly understand where the built-in buttons, engineers noted its lower part of the vertical strip the of the separator.
Performance 
ASUS X553MA
ASUS X553MA (90NB04X6-M18820) operates on 64-bit operating system Windows 8.1. As for the filling, then this configuration pending quad-core Intel Pentium N3540. Its nominal frequency of 2.16 GHz is able to rise to 2.66 GHz, and the multi-threading technology Hyper-Threading, unfortunately, is not available. The chip is made on 22nm process technology, a 2 MB cache level 2, consumes only 7.5 watts of power.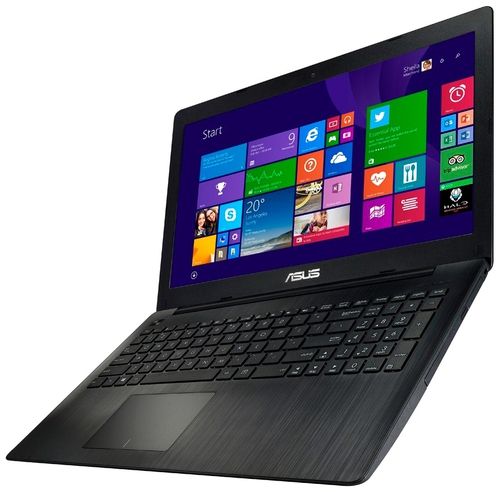 Another important element of the filling – the graphics processor. In our laptop, it is Intel HD Graphics (Bay Trail), the clock frequency range from 311 to 792 MHz. The graphics support DirectX 11.0, Shader 5.0, and coupled to the processor, it is perfect for everyday tasks, and less likely to play. Discrete graphics card in a laptop is not available.
RAM in the device – 4 GB DDR3-1600 MHz standard out of a possible 8 GB. To store all sorts of information provided hard disk capacity of 750 GB and a rotational speed of 5400 rpm. Moreover, you can make free use of storage ASUS WebStorage, proposed by series notebook X.
Ports and Communications 
ASUS X553MA
Things interfaces in the gadget things well: all you need is, however, little ports USB. See for yourself: on the left side placed USB 3.0 and USB 2.0, HDMI video output and VGA, the network RJ-45 connector, card reader 2-in-1 (SD / SDHC) and a combined audio jack.

The right side has only the optical drive DVD-RW and a slot for a Kensington lock.

Behind and no interface is provided. As you can see, all the major ports and connectors are brought to the left end, and for them there is clearly too small, and the user is likely to be uncomfortable.
With wireless communications is simple: in the laptop has only Wi-Fi 802.11 b / g / n and Bluetooth 4.0.
Battery 
ASUS X553MA
The ASUS X553MA set 2-cell lithium-ion battery capacity of 2500 mAh (30 Wh). It would seem that such a battery is unlikely to be able to show good results.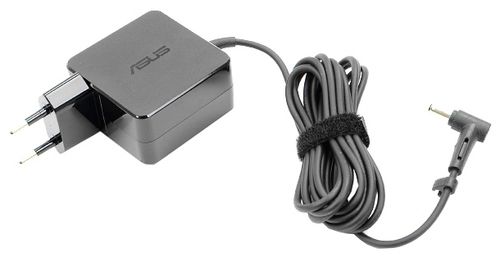 However, if we consider energy-efficient filling and a very high-resolution display, naturally receive good standalone figures. So, when the gadget is not particularly load, carrying on it the most unpretentious tasks such as paperwork, then he can work out the whole day. But in the high load device would have to be recharged in 4 hours with a little.
Conclusion 
ASUS X553MA
Well, well, it's time to appreciate the possibilities of laptop ASUS X553MA. First, note that the device is positioned as appropriate for the tasks of the initial level. That is, the gadget is ideal for use at home as well as office work.
The laptop is finely tailored appearance: the concentric pattern on the lid, he recalled his kinsman, native "aristocratic" line ZENBOOK. The 15.6-inch display has a TN-HD-resolution and a glossy finish, in short, a complete set of "state employee". The keyboard likely will not please everyone, yet some of its features will have to adapt. The hardware part is designed for simple office and multimedia applications. However, this factor to any claims by the user should not be, after all, so it is clear that the low-cost laptop priority can not the be high-performance machine. The results of battery life we like, but the interface is somehow crudely arranged, and USB ports absolutely enough. However, do not rush to give up on ASUS X553MA, because its cost (about $ 380) a very conducive to shopping. As you can see, the indicators of price and quality in this laptop complement each other.
Source: Asus
Read another very interesting article about alternative energy of the Sun, water and air.