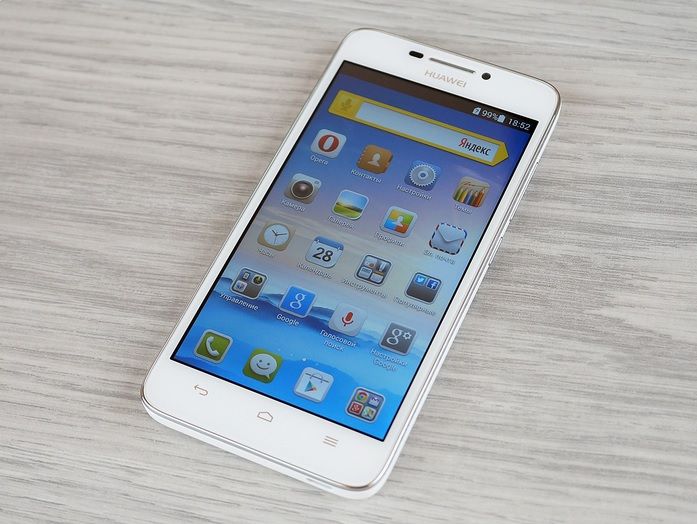 Not so long ago, started selling budget news from Huawei with decent but not stunning performance – Huawei Ascend G630. At this point, according to the statistics, his average price is $220. Configuration news raises the question, but it is needed here atypical for the budget segment processor from Qualcomm? Response – a review.
Appearance and ergonomics – Huawei Ascend G630
Novelty looks typical for Huawei: plastic casing, the front panel is framed kaёmkoy painted under the metal.
Around the display you will notice a thin black framed, which visually enlarges the screen lightly. The very front panel is covered by glass. Above the display is the front camera lens, the earpiece grille and logo Huawei.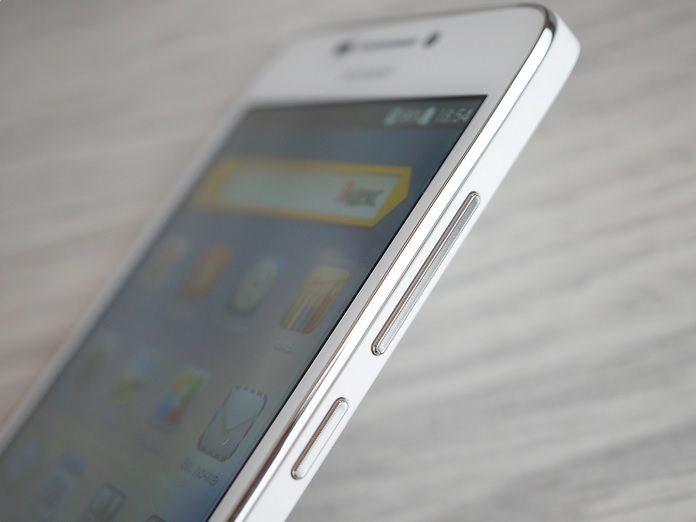 In the lower part of the front panel handed silver touch buttons "Menu", "Back" and "Home" are not equipped with lights, but, nevertheless, clearly distinguishable on a white background.
External dimensions of the five-inch smartphone small: 71.7 x 14 3 x 7.8 mm and 165 grams.
The smartphone is sold also in the black color version, in addition to which we received for test white.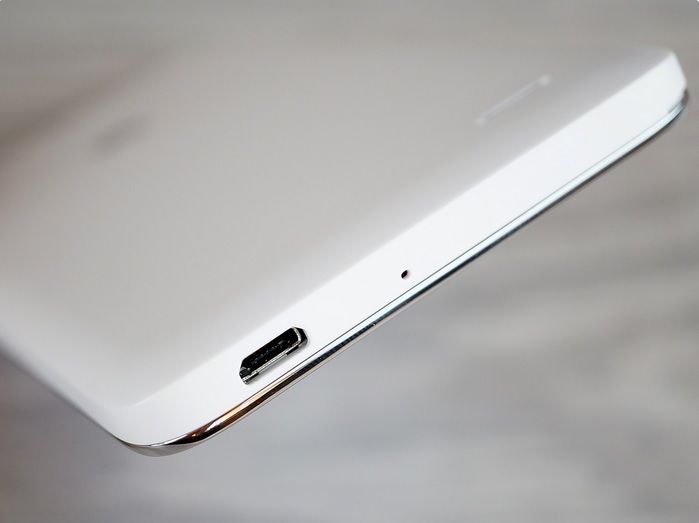 To remove the back cover, it is necessary to pick up in a groove in the lower left corner; make it simple enough. Under the hood there are two slots microSIM, microSD slot and non-removable battery.
Buttons to change the volume and on / off switch, made of metal, brought to the right side plate of the device.
At the bottom there is a hole microphone jack and micro-USB, on the top – a 3.5 mm plug. The left side of the smartphone yet.
In terms of convenience, nothing to complain about, except, perhaps, light rough plastic back cover, which regularly collects fingerprints and other dirt. Have to go with the gadget carefully and clean it often.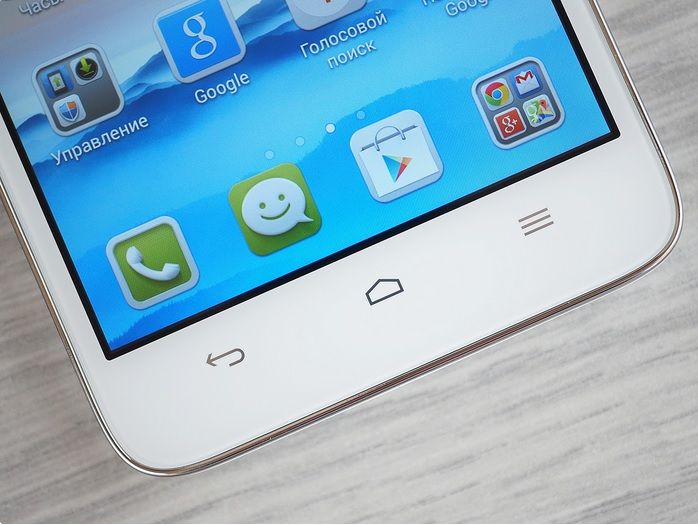 But in hand plastic non-slip, keep handy gadget. Fluff smartphone will not name, but heavy too.
Assembled Huawei Acsend G630 perfectly. And in terms of ergonomics apparatus is out best: nothing else, all of the controls in place, use your smartphone comfortable and enjoyable.
Interface – Huawei Ascend G630
The device is running Android OS version 4.3 with proprietary shell manufacturer. The main difference from the "bare" Android is the rejection of the application menu – will put to desktops that can be interchanged, move, delete. To commit all these actions have to do "pinch" fingers on the home screen.
There are some beautiful branded themes, changing not only the colors, but most of the icons and other interface elements.
Interesting opportunity to choose the so-called simple style desktop screen at which disappears familiar grid of icons, and the interface takes a minimalist tiled view. In this case we have three desktops with multi-colored icons, tiles, which lead to the dialer, SMS, contacts, camera settings, FM-radio – there is only what is necessary. But the choice is not limited, you can add here any other application.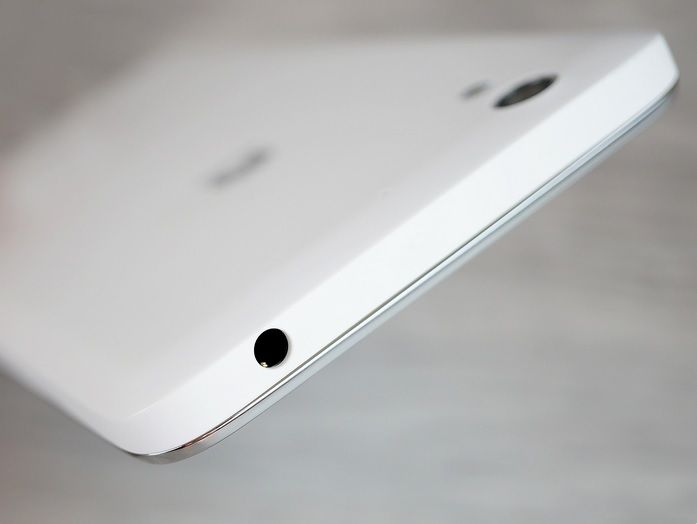 A set of pre-installed applications is wide enough. In addition to the standard Google-services there is a lot of useful utilities like flashlight and voice recorder, as well as clients Twitter and Facebook.
From the first second use pay attention to the great performance of the system, which instantly responds to user actions and is not inclined to reverie. Well conceived appearance of the shell is also pleasing to the eye – in this respect, Huawei, as usual, well done.
Display – Huawei Ascend G630
Huawei Ascend G630 received a five-inch IPS-display resolution 720h1280 points, pixel density in this case was 293 ppi.
Screen made a good impression. No claims neither definition nor of color reproduction. Due to the oleophobic coating display hardly soiled. Sensitivity is great, there are no false positives.
The only "but" – it's brightness: if for a comfortable room with a stock of her missing, then the bright sun still is not enough. The level can be adjusted manually, or you can leave it to the discretion of the smartphone and not to miscalculate – light sensor is working correctly.
The viewing angles are quite good, there are only small color distortion by tilting the gadget more than 45 degrees. In general, all figures are average, but if you judge the general impression of the screen, then it is rather positive.
The device is in the – Huawei Ascend G630
Huawei Ascend got a quad-core processor Qualcomm MSM8212 1.2 GHz and Adreno 302 graphics accelerator.
The gadget has a 1 GB RAM and 4 GB of internal memory, which, of course, is not enough – it will not turn at the same time to set more than two "heavy" games. So we'll have to dodge with a memory card and root-rights.
During the game, often heated right side of the body, but with the smoothness of the animation playback okay: Minion Rush went surprisingly smoothly, the smart phone to slow down only in the most difficult moments. Asphalt and 8 Dead Trigger 2 worked with slight braking. On a simple game like Angry Birds in general can not speak, they go without any hitches.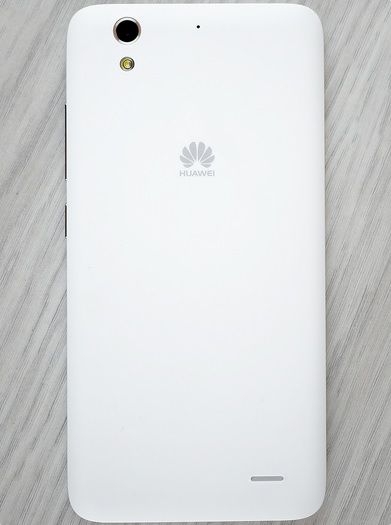 The device has a very loud external speaker. The sound is not the best quality, but the volume canceled. This is especially appreciated by those who are often in noisy environments – in the case of Huawei Ascend G630 can miss a call unless specifically.
Performance in social networks, browser and other applications, staff is good. Nothing is off, the tabs are loaded and scaled quickly, videos up to 1080p played smoothly. In general, this smartphone will not irritate the slowness and appreciate stability.
In AnTuTu device scored 15,909 points in the benchmark Ice Storm showed the following results: 4106 test Ice Storm, 2202 in Ice Storm Extreme and 3746 in Ice Storm Unlimited.
Luggage – Huawei Ascend G630
The smartphone is equipped with a main camera resolution of 8 megapixels and the front – 1 megapixel. There is a built-in flash and autofocus.
In addition to the "gentlemanly" preset changes like ISO, white balance, the application allows shooting touch or activate its voice, fastens to snapshots GPS-tag and is able to remove the timer. Works it is not that slow, but sometimes suffers thoughtfulness.
In general, a good camera, the pictures do not suffer from strong noise or errors in color reproduction, especially when shooting on a sunny day. Photos are bright, not overexposed enough clear (not always, but more on that later).
Problems occur when shooting with a short focal length. Autofocus works reluctantly and out of place, not wanting to "catch" the desired object.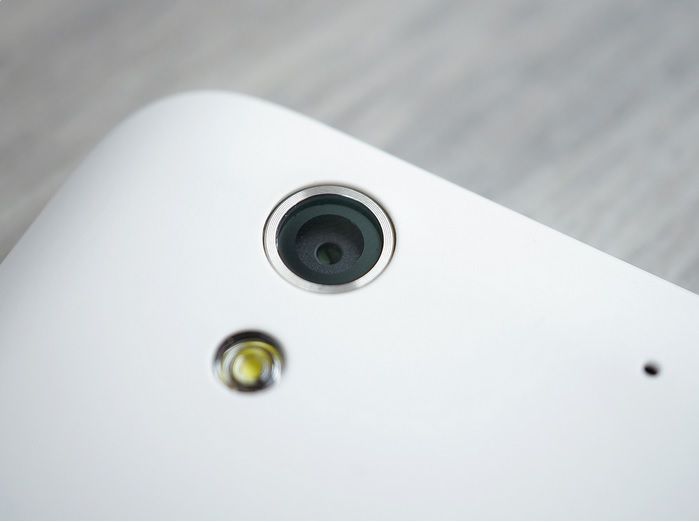 In this case, the author did a few takes, Tapan several times on the screen, but the camera is still not able to focus on the desired object.
The camera has an obvious problem with shooting under artificial lighting. In such circumstances, it is much less stable than in the daylight: lubricates the pictures and is not focused properly.
You can make a beautiful panorama.
Verdict: The camera has proved excellent in shooting in bright light at long and medium distances. But near and artificial light should not expect the same good results.
Also, the camera takes very decent videos. However, a modest amount of internal storage does not allow to do it too often – when buying a smartphone is better to buy a memory card and toward him. Saved video format MP4.
Interface front-facing camera allows you to take the self so that the eyes were directed exactly at the camera. To do this, in the upper right corner there is a window that says "See here," and to the same image is displayed with the matrix.
Wireless interfaces – Huawei Ascend G630
Huawei Ascend G630 supports two cards microSIM, And 3G is only supported in one, the other understands only 2G. Cellular communication works fine, as well as other wireless interfaces – Wi-Fi and Bluetooth.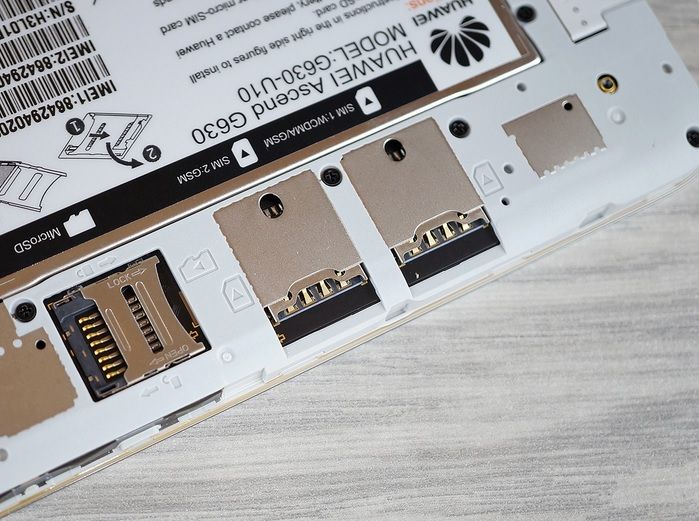 The smartphone has FM-radio. Range chastot 87,5 – 108.0 MHz, as the antenna is a full-time headset.
GPS support is provided standard integrated into the chipset module, everything works quickly and accurately.
Autonomy – Huawei Ascend G630
Novelty was the battery capacity 2000 mAh. According to the manufacturer, smartphone lives about 10 hours of talk time and up to 600 hours of standby time. In principle, these figures correspond to the actual situation. Autonomy devaysa normal, but not a record, by the evening it remains stable with 30-40% of the charge, so that the socket it needs every day. With continuous video playback at maximum brightness gadget worked for about 4 hours.
In the settings you can select one of three power saving modes while immediately indicates the approximate time of the gadget in a particular mode. If you want to stretch to the maximum charge, you should set the power-saving mode, which limits the speed of the processor and generally restricts all actions that can spend an extra interest. For everyday use, the developers recommend "smart" mode, assuming tuning CPU and network.
Results of Huawei Ascend G630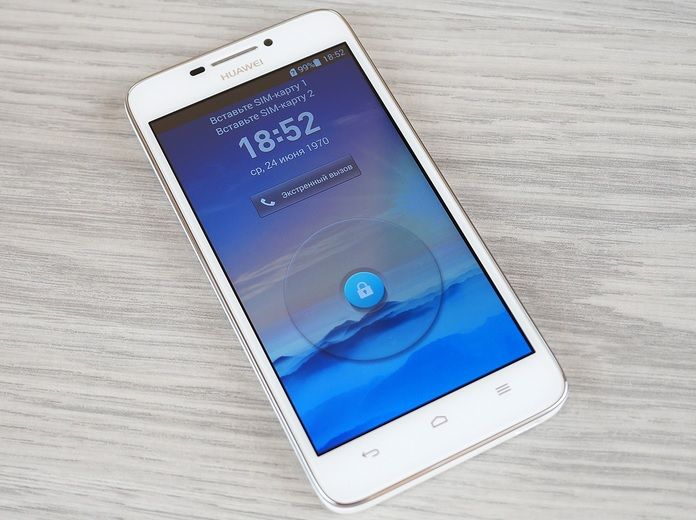 At Huawei Ascend G630 receive a good quality Solid gadget. No champion performance, but works fine in almost all usage scenarios. Someone probably will not like undistinguished autonomy and a small amount of internal memory, but the smart money is completely fulfills good performance, user-friendly interface and a decent camera.
Pros Huawei Ascend G630:
good camera;
good performance;
convenient firmware.
Cons Huawei Ascend G630:
a small amount of internal memory;
display brightness is not enough;
autofocus does not always work.
Read another very interesting article about alternative energy of the Sun, water and air.