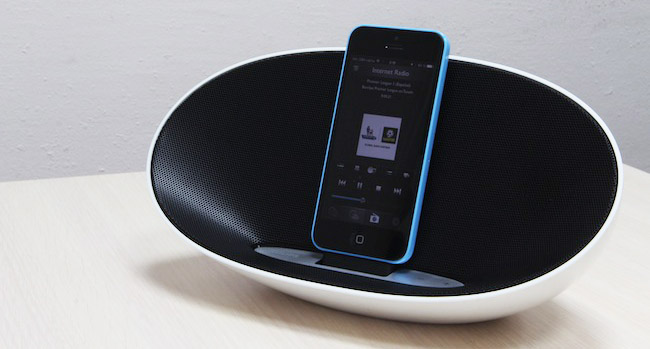 On duty, do I have to change a favorite JBL Radial with the acoustics of other manufacturers. However, a "donut" from JBL has long been out of date, since it has no Lightning-connector, so you need to think about replacing. Very useful in our office was speaker dock for the new Apple devices from the company Philips DS3400.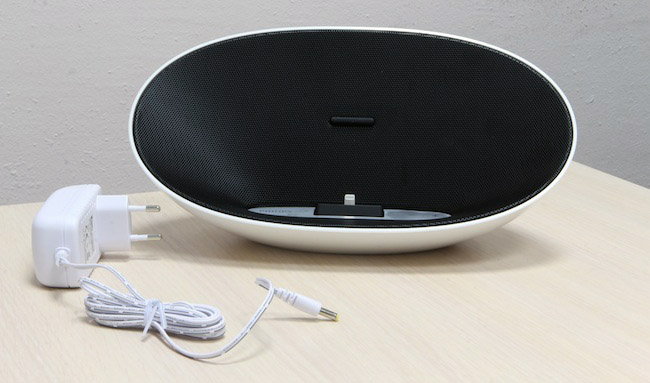 First, let's determine what we will need a docking station, and all the more acoustic. Docking Station – a device in which you set your smartphone to charge. Phone does not rub on the table, does not scratch by vibration and the cat becomes more difficult to lose, even though this possibility is not ruled out, I would become. Speaker docking station, in addition to the battery charge function smartphone, and even knows how to play music, in the case of Philips loud and in general a good idea. It turns out that we are killing two birds with one stone – we charge your smartphone and listen to music. 
It would be better to say that still suffer not two, but three hare. At Philips DS3400 on the bottom of the case there is a compartment for 4 x AA batteries, so the speaker can be used outdoors. Claimed battery life according to the manufacturer is 8 hours, but we must understand that as a lot depends on the quality of the batteries.
In addition, the back of the case there is no audio jack for connecting devices-Lightning – players, Android-smartphone and other equipment. Possibility to connect your favorite MP3-player, too, never hurts, but it is clear that in this case neither of which charge the device out of the question. Also located behind the connector for connecting the power adapter and Mini USB.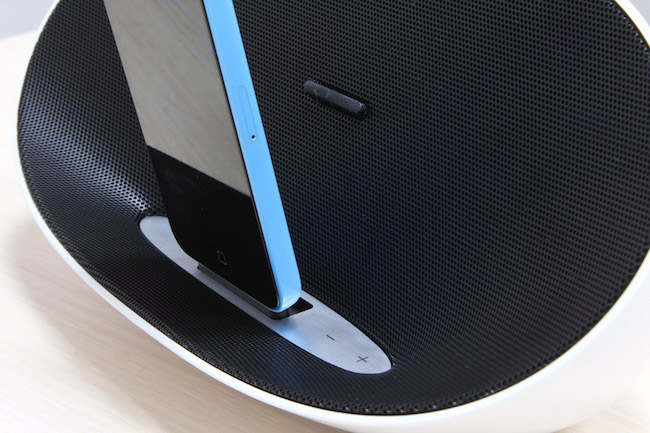 The very same body is made of white plastic with a glossy finish, no sharp angles, and generally looks like a half a chicken egg. Occupies the entire front of black mesh, revealing the dynamics of 2 to 5 watts each, for a total get 10 watts RMS audio output. Also, the right of the Lightning-connector are two mechanical buttons to change the volume with light, and on the upper part of the body is a button switch. For such a modest size (350 x 140 x 186 mm) DS3400 sounds incredibly deep voice. Low frequencies are quite noticeable and collected. No less a surprise for me was the fact that this baby is very "loud-mouthed" – in a single office docking station from Philips was able to demonstrate its power, so that in a few seconds colleagues gently hinted that it would be nice to listen to James Cotton lower volume levels.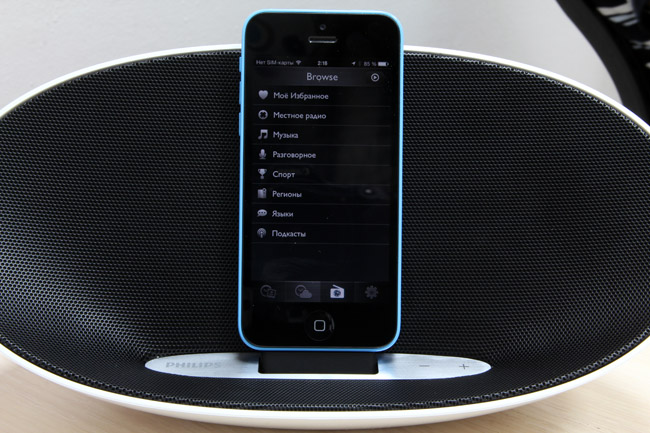 Do not forget that the App Store is available free-rich application ClockStudio. Besides the fact that it can be configured to display a slide show of your photos, it has a service integration with online radio TuneIn. Therefore, if all the music on your iPhone you've already listened to or just do not want to look for something specific, you can always rely on the radio – a selection of different radio stations, and trends in the application is enormous.
Average price dock Philips 3400 in the domestic online stores is 4 and a half thousand. What is the result buyer will get for the money? First, the stylish dock for charging your iPhone. Second, a portable sound system to which you can connect the device not only Apple, but also from other manufacturers. Third, a stylish accessory for the home.
Read another very interesting article about alternative energy of the Sun, water and air.