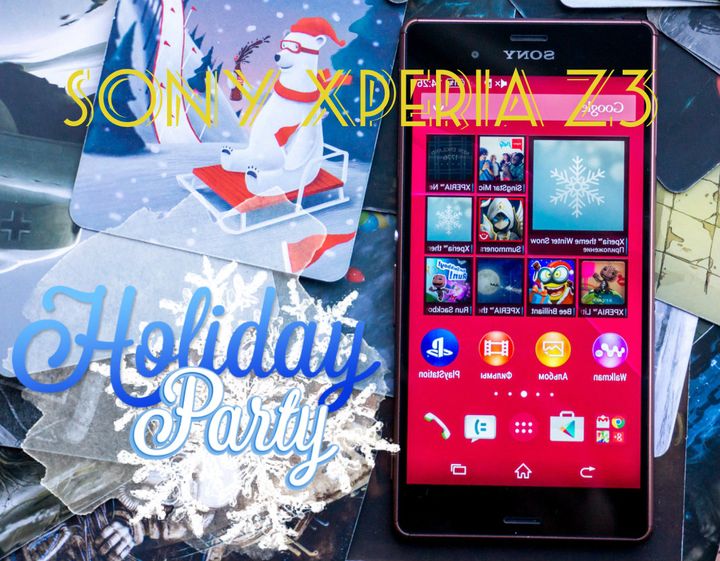 Every company dreams of how to catch up and overtake Apple. While all around it seems that most unwell Samsung, I ask you to pay attention to Sony. Still, they produce flagships twice a year. Release them some good, interesting, stuffed with all the innovations in the world. But does that make them mainstream?
Sony has its own special audience. As I see it, these are people who want to get a good smartphone (because Japanese quality not spend on drink) with protection against water and dust and full stuffing inside. Even more than complete, with all the chips at all. If you are the owner of the smartphone Sony, accomplish your goal in the comments why this brand. There was a certain Z2 number of problems, but Sasha Lyapota he decided that he believes it is finally a leader with a capital F, and let us all want it. Still, the company decided that they have something to correct, and correct it within six months. And what do we see as a result? Sony Xperia Z3 – very, very good smartphone!
Design and ergonomics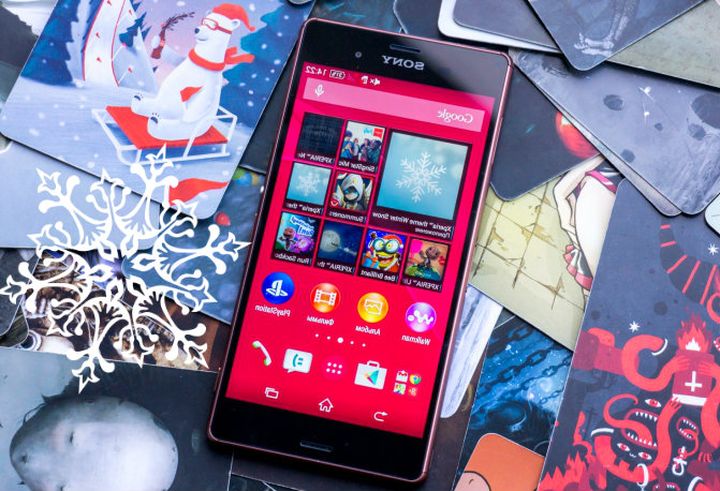 I can not say that since Z2 all changed dramatically and redrew the unit, no. Almost everything remains in place. The main control buttons – on the right side. Under the cap – a slot for microSD up to 128 GB and nano-SIM. The power button is located just above the middle, it is ribbed and comfortable. Volume key she can not become – short and below the usual convenient location. The same camera button located logical – near the bottom of the bottom of the housing. Two-position: polnazhatiya – aim, all press – IPT from photogun. Udobnenko.
On the left side are strategically important connectors. Under the cap – for microUSB, without plugs – for docking station, at the bottom – holes for the laces. Not like the past (one on the side, the other on the bottom), and all here on the side. For the lower bound is empty. And on top – mic and 3.5mm audiodzhek.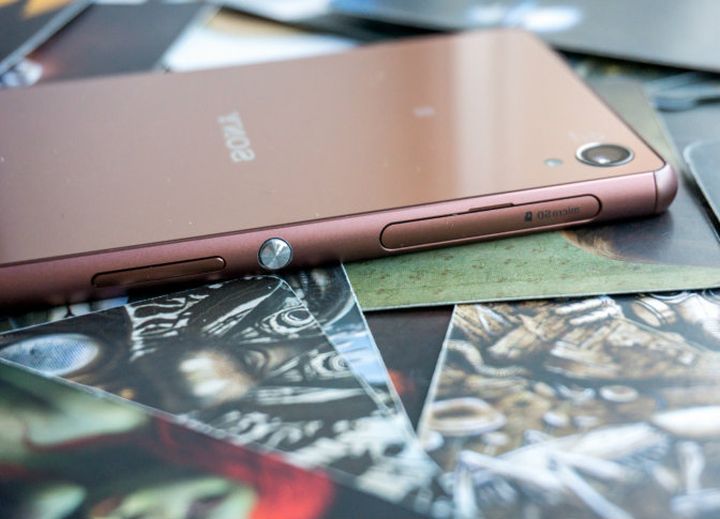 About themselves ends have to say a few words – they are not solid. Edge made of metal, and area – from plastic. It's smart for less damage in case of damage (fall, for example).

The front and rear of the device is covered with glass DragonTrail, which is not very different from Gorilla Glass 2, but obviously not level 4 gorillas. Pleasant to the touch, but Mark. 20.7 MP camera hidden in a corner, under it – the flash icon NFC, which is such a useful, that it only applied to the wounds, the logo on the back and all the Xperia the entire lower back.
All under the glass front, the virtual control buttons, eat part of the display, the speakers are located on the chin and forehead.

I think that this smartphone is one of the most beautiful. With its own parameters 146 x 72 x 7,3 mm and a weight of 152 grams, firstly, it seems very easy, and secondly, it is very compact. Rounded corners, nice build, strength is not comparable with the previous instance – immediately noticeable progress, with premium housing units and have hitherto not had any problems, and in this color looks gorgeous and all. And there are mint! About black and white uninteresting talk. In his hand is very nice. But be warned – slippery. Just like the last iPhone. But in contrast to the same iPhone, if you drop the device into the toilet, he will be saved. If you do not forget to close all caps.
Protection
In previous releases, the device was protected under the standard IP58. It is the protection of fresh water. Now, however, Z3 pathos maybe more, because the protection then gather up to IP65 / 68, that is, from water and dust. All thanks to a change in the rubber spacers on the stub. Even manufacturers have removed Elementary microphone from the lower end and hid it in the bottom of the speaker grille. So now they have a protective membrane. Unfortunately, dip it in morko failed, but after a basin of water dynamics does not fade away.
Can still be noted plastic corners as one way to protect your product. This does not mean that now you can throw in every possible way. But with the fall of the repair cost notably cheaper.
Display
Dizzy! Once razblokiruesh smartphone, you look at it – and you can not tear myself away. Because so many colors! To blame technology Triluminos, which is RGB-coverage is better than that of LCD screens. So it or not, but the colors are smart and can drive a muddles you depressed. On the screen, everything looks much richer than in life. So that's that menus are likely to come in handy if you have an eye stoned.
5.2-inch screen resolution of 1920 was 1,080 points, is 423 ppi. The image looks good, the pixels in any case does not fall apart and look organically. Angles image has virtually no inversion, except that black, but it's a sore subject IPS-LCDs. The maximum angles are great, and it pleases. Still like the stock brightness on overcast winter he is not exactly bad for brightness in a sunny summer day, I can not vouch.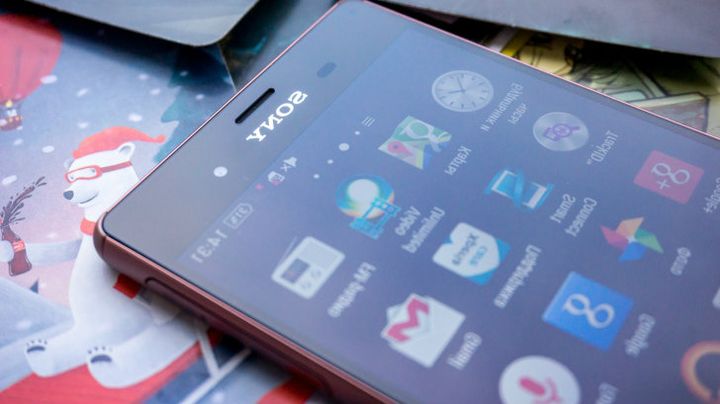 Front – this DragonTrail, during the tests are not scratched. Unfortunately, it is notable collects fingerprints, despite the oleophobic coating. But in general, the display is obtained only pleasant experience. Especially if you're a fan perekontrastov or want all the captured moments of life looked the most vivid and juicy.
Camera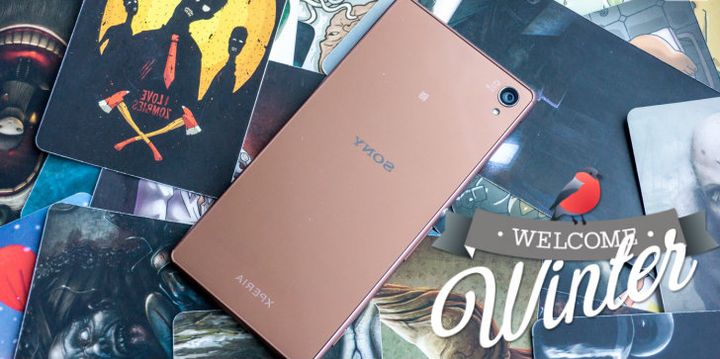 Every time I rejoice when the phone has a separate button start the camera. For Sony Xperia Z3 is especially important, because with it you can swim and do great underwater shots. The screen responds to the chaotic motion of the waves, so it can be capricious. But the button works perfectly: Half – focus, pressing – shooting. Only now the camera starts with a resolution of 8 MP. And even if you put two cameras shooting mode, it is still automatic mode. Softinushka oh-ho-ho …
As for the camera itself kamechstva, the bulk was kind of like a 20.7 megapixel with autofocus sensor 1 / 2.3 and module EXMOR RS. The photo is widescreen, but the aspect ratio can choose at will. The resulting images look better than the reality. They are very much saturated obtained. But the front camera of 2.2 MP received. Relatively good results. I liked it and saw the self, and blozhek in which case you can take pictures. If you are from those of bloggers.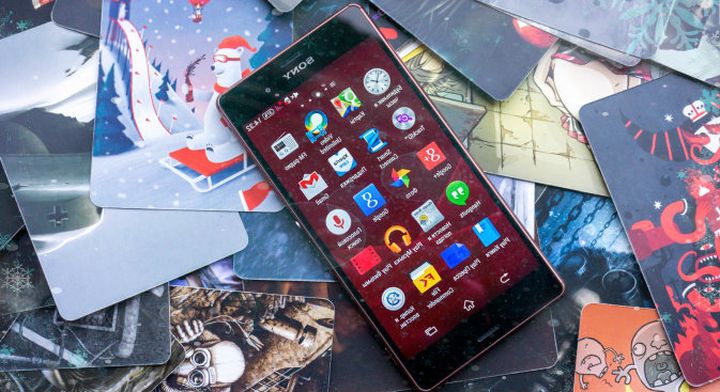 Readers of my twitter knowledgeable about my copy. There is nothing to hide. I had a copy of semplovy smartphone, so if skonekchivanii it with a computer (any) all photos disbanded. From constant Z3 users about such problems did not hear.
At Sony, as always, cool things with the camera software – it has a lot of shooting modes. From cartoon examples that you've seen in the gallery, to blur the background. Multicamera, recording with a person 4K video and timeshift, where you can adjust the time and the length of delay. In short, a whole bunch of cool – Customizable indefinitely. However in some modes of the machine can overheat. Sony Xperia Z3
Technical characteristics
Can not say that here Sony Z3 predecessor tears as tuzik radiators. It was constructed on the basis of Snapdragon 801, but a slightly different modification than Z2. That is, was MSM8974AB, but became MSM8974AS, increasing processor frequency is 2.3 GHz to 2.5 GHz. In real everyday use is generally never seen. But, nevertheless, 3 GB of RAM and a good iron coupled with Adreno 330 graphics provide a smooth picture, allow you to play all the latest games at good quality, and the interface is not Freeze. Synthetic tests also give good results.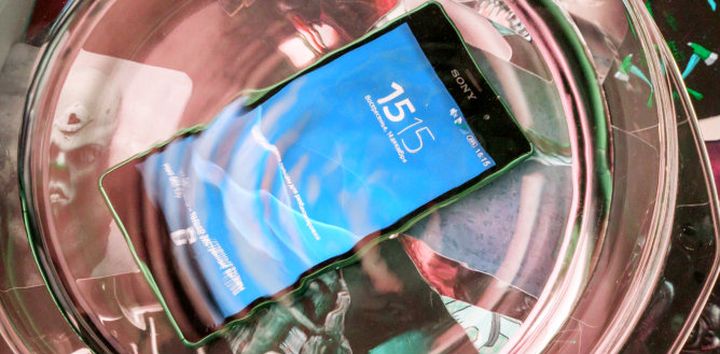 Memory device 16 GB, but you can already ustavnovit microSD up to 128 GB. To have never in my life did not dump into storage. But with the move of internal memory will be available a little less than 12 GB.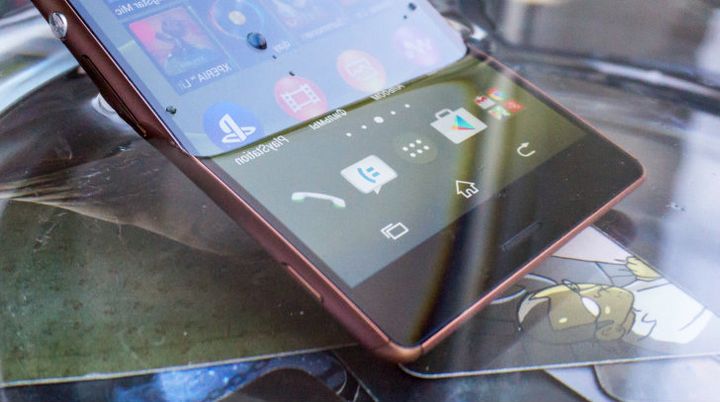 It seems that the device can live forever in standby mode. Battery capacity 3100 mAh made, and if we take as a whole, I galvanized his time in two days, once spent three days. It's a given instant messenger, email, social networks and video, there were no calls and messages. I think the result is excellent. But if you're expecting a fantasy that the manufacturer promises, Sori, the miracle did not happen.
The hardware part
Works Sony Z3 running Android 4.4, which as a gopher – you did not see, and it is. Because superimposed on top of a proprietary firmware from Sony. The developers thought and decided to lay down and not put, business attire in the form in which they like, and not that which many users are asking, with tears in his eyes convinced: "We have bought your phone, but the shell, well, she is! … «い い え, 決 し て» -, responded to Sony, which means "No, never," and added 7 themes with stripes plus store applications such as what's New and Sony Select, which pulls all sorts of "interesting" things from the convenience store, Lifelog so you do not have to buy the tracker activity, personal press box called Socialife, Video Unlimited with kinoshki, TrackID TV, which listens to your TV and says what program you are watching! Surely not understand its significance, because I do not use TV. But I do know that the creator of short clips each day will make of your self filmets.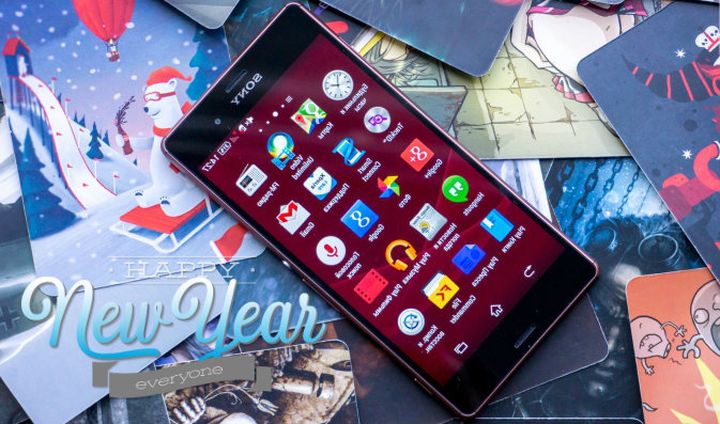 From what is really good and important and, – a simple screen mode, the same tile interface which is handy if you are buying your smartphone poorly sighted or not very well-versed in the technique of relatives or friends. Even a huge font is. Or here is the ability to remove viewed notice – very convenient. Pulled back the curtain and looked – and they are all gone without unnecessary movements. Control mode with gloves. And if juzat his bare hands, then you understand before touching, be careful. Answering machine. No voice mail and answering machine. A welcoming speech funny, a short beep and stuff. Compatibility mode with a hearing aid. Really intelligent backlight mode.
At the same time I did not have hangups or podlagivany system. It works perfectly and smoothly. But lacks the firmware greater ease, and that's too much overloaded system.
Output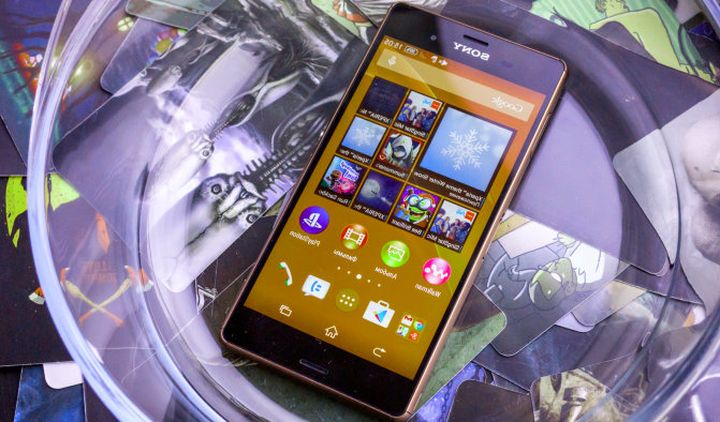 Sony Xperia Z3 (despite the fact that I hated him terribly during the test) – a very good smartphone. I hated semplovy instance memory like a goldfish, and end users such problems do not arise. He is so good, this phone that I even want to recommend it to you. This is an expensive thing that looks great inside and crammed to capacity with all sorts of favors. I'm sure if you decide to pay for this device is about $ 530-570 (only the normal rate, do not take it now!), You will never regret it. (At the time of video recording the price was a little higher), especially if you have long wanted to get acquainted with their smartphones. From the fact that not enough Z3 as flagship – only fingerprint sensor, and with brute force than you already understand (firmware). The rest of it is really very cool.
Read another very interesting article about alternative energy of the Sun, water and air.