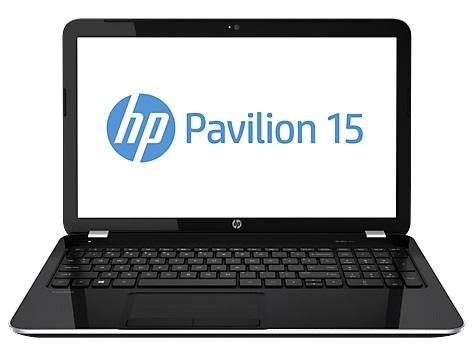 HP Pavilion 15-e000 – a modern multimedia notebook, built on a processor Intel Core i5 3 generations. This laptop is designed for a wide range of customers: it can run as games and multimedia files, and operating programs. In addition, it has a neutral design that will suit both men and women.
Design
HP Pavilion 15-e000 looks pretty simple. However, his appearance is not too severe, as in many office laptops. Conversely, in its design combines two colors, which makes it a dull appearance.
Laptop lid has a textured silver lining, making it not only looks stylish, but also pleasant to the touch. In the center of the lid is a large logo of HP, which is perhaps the only decoration of the exterior of the laptop.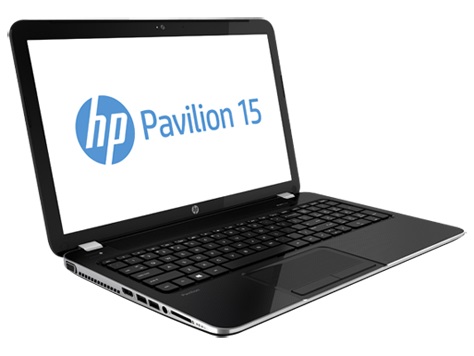 Inside the laptop is in black. This solution combines well with the interior design and gives the device a modern look. Also, note that the edges of the operating panel finished with a thin chrome strip. Such a solution common to many devices HP, and HP Pavilion 15-e000 is no exception.
Input Devices
HP Pavilion 15-e000 is the most common keyboard, similar to those which many manufacturers equip their multimedia laptops. The layout HP Pavilion 15-e000 has a numeric block, the presence of which is very important for a 15-inch universal laptop. The keys of our computer have a middle course and playful tactile fidbek, so working with text in 15-e000 is very convenient. The keys here are island-style layout and a standard keyboard.
Touchpad HP Pavilion 15-e000 is a bit too old for physical keys. However, some multimedia laptops have touchpads set with the keys, so you can not say that this is an outdated solution. Covering the touchpad has a rather high sensitivity. It also provides good accuracy input and navigation.
Screen
Like many multimedia laptops, HP Pavilion 15-e000 has a pretty simple screen. At 15.6 inches diagonally its resolution is only 1366×768 pixels. For everyday use, this indicator would be sufficient, but if you work with images and videos, it is better to look for models with a high-quality display. Display HP Pavilion 15-e000 has a good brightness and contrast and color reproduction medium. Viewing angles it is not too wide, but again, for everyday use, this will not be very noticeable. For games and video screen HP Pavilion 15-e000 is fine. It is also suitable for text, spreadsheets and presentations.
 
Performance
As we said earlier, HP Pavilion 15-e000 has an onboard Intel Core i5 processor 3 generations, namely the dual-core i5-3230M processor with a clock frequency of 2.6 GHz. In addition, our laptop has a good graphics card AMD Radeon HD 8670M with 1 GB of internal memory. This, of course, is not powerful card nVidia GeForce GTX, but to launch new games on minimum settings that will be enough. In addition, HP Pavilion 15-e000 is equipped with a hard drive capacity of 750 GB and 6 GB of RAM.
With so our computer hardware can provide quick work in all office applications, and is well suited for web browsing, watching videos and even to run the games.
Interfaces
HP Pavilion 15-e000 has a fairly simple set of interfaces, which is required to run a minimum of ports. This is a two-port USB 3.0, one USB 2.0, DisplayPort video outputs or HDMI, Internet RJ-45 connector, optical drive, a combined 3.5 mm audiodzhek slot card reader and a connector for the AC adapter.
Output
HP Pavilion 15-e000 – a multimedia laptop with a relatively high productivity, which is perfect for performing everyday household tasks and office applications. In addition HP Pavilion 15-e000 can run video games and some demanding applications. At the same time it is sold at quite sane amount, so if you need a home laptop with a good price / quality ratio, you'll like the HP Pavilion 15-e000.
Read another very interesting article about alternative energy of the Sun, water and air.