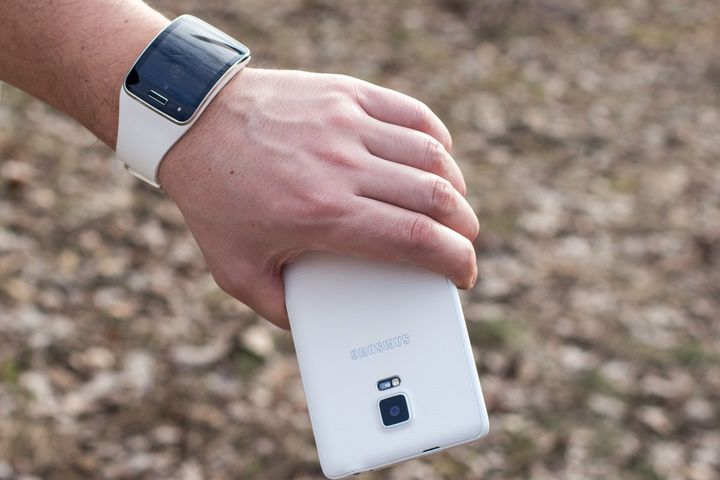 Even after the official presentation of the second smartphone by Samsung with a curved display – model Galaxy S6 Edge, we are willing to share their experiences of working with such a screen on Phablet Galaxy Note Edge. The latter came to us for a test in a couple of hours with a smart Gear S, which greatly embellished and transformed the process of operation of the tube. Read more in the review.
Sensors – Samsung Galaxy Note Edge
Accelerometer, barometer, fingerprint sensor, gyroscope, a geomagnetic sensor, gesture recognition, Hall sensor, heart rate sensor, proximity sensor, light sensor, UV sensor accelerometer, barometer, gyroscope, geomagnetic sensor, heart rate monitor, light sensor, UV sensor
Both devices are presented in this review are unique. Samsung Galaxy Note Edge – this is a smartphone with a screen diagonal of 5.6 inches which the right side of the display has a slight bend width of 160 pixels. Gear S – is a smart watch with a curved 2-inch screen and a host of useful functions, which we discuss below.
Let's start with yet more smartphones. Immediately recall that detailed test hardware and ideologically similar, but not as pathos Note 4, we have already done and repeat capabilities will not. Talk about exceptional detail unique to Galaxy Note Edge.
Be overlooked or confused banal test smartphone with other devices simply impossible. On the one hand – on the left, the tube quite common. On the other – right original. It is with this end designers and engineers of Samsung extended bright and contrast display with 2560 x 1440 resolution (Quad HD) has 160 pixels, but at an angle. Thus obtaining an asymmetrical design, and, therefore, different forms of the metal rim that goes around the loop. For the record, I note that the screen is covered with glass Corning Gorilla Glass 3 and the density of pixels per inch of his unprecedented for many 525.
In my opinion, in this unique handset has become not so much smoothly pull-down display how much functionality that the Samsung offered him withdraw. The user can use it to display the icons of frequently used applications, system information, weather, or virtually any other data. Socket is configured in the corresponding menu. Is a function of strip-loading third-party developers.
More than a week of testing showed that the transfer of standard labels from the bottom of the standard for Android screen on the side panel simplifies orientation in the tube. In this case, the bottom of the screen displayed links to the applications menu and calls. And if you're working with a program and you receive a call, then it is possible to instantly answer directly from the sub-screen without stopping to surf the web or work with your calendar or notes. As fast you can read and an SMS-message, turn on the flashlight, voice recorder, open the virtual ruler or timer.
In the "curved screen," I also interested in the section "Night Watch". After the activation, white font in your specified period of time on the curved part of the display shows the clock and temperature. It turns out sort of a night prompter.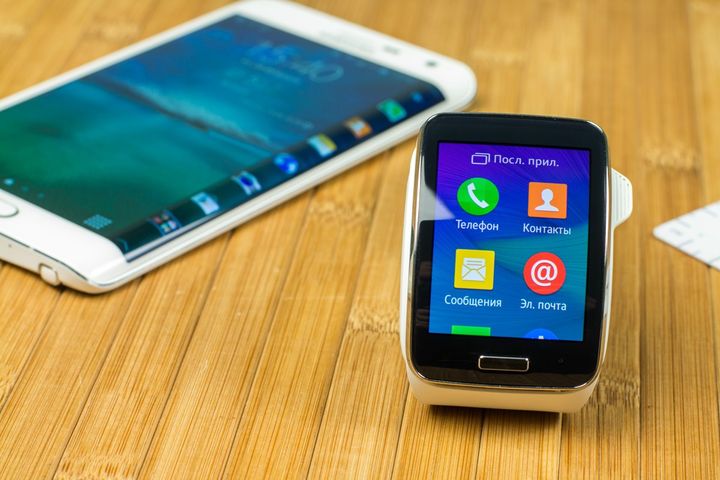 Another couple of useful upgrades, improved compared with Note 4 and those that I certainly said – work with S Pen stylus mode and two active windows. In the video footage, we have seen innovations in more detail. And if briefly, the improved features handwriting and the ability to customize the transition between work and windows when operating in "Napoleon."
And finally, the important, but not as unique opportunities tube. Inside the case under the removable battery housed hardware stuffing, based on a 4-core Qualcomm Snapdragon processor 805 at 2.7 GHz, Adreno 420 graphics chip and 3GB RAM. Thanks to them, a smartphone copes with the most productive games and applications, and easily loses 4K videos. For the latter, you will need a third-party player.
Internal memory of 32 GB will not last long, especially since it is available to the user from a total of 24 GB. Expand the storage can be due to memory cards up to 128 GB or via USB-OTG interface.
In this case, the speaker Galaxy Note Edge plays the sound clean and loud, and the stock battery will be enough for 12 hours of watching Full HD movies or 2 days of work with a tube with an average load. Here is just a maximum brightness of the screen it is worth set at 60-70%, and not very often use the camera flash. In the extreme case, by the way, and provides power saving mode.
Also pleased that through the use of Samsung Galaxy Note Edge Technology Adaptive Fast Charging & Qualcomm Quick Charge 2.0 can activate rapid charging and charge the phone by 50% in just 30 minutes. One clarification – this is only possible through the charger supplied.
The user has access to the battery. It is located under the back cover, the texture is very similar to the skin and pearlescent. There also was a place for a slot microSIM-cards and memory cards. Remove the insert and the last not turn off the machine.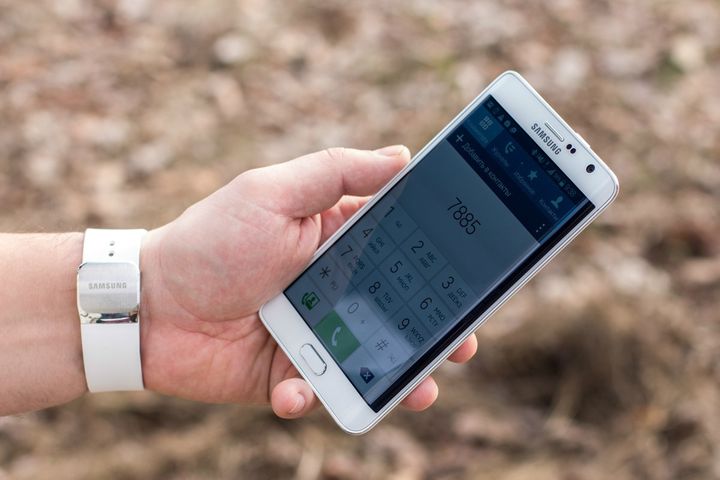 It is worth saying that the speaker put to the back of the body, and microphones, of which there are three, scattered on the sides. In addition, the lower edge placed microUSB connector, and the top 3.5 mm audio jack and an infrared port for controlling consumer electronics.
Placed on the back of the flash, the camera unit, and a fingerprint scanner. If you compare it to the one we saw on the Galaxy S5, it is now "overgrown" additional functionality and is able to change the level of UV radiation and oxygen levels in the blood.
Separately, I note the quality of photos and videos of the main 16 megapixels. camera. This smartphone uses a matrix EXMOR RS is Sony with integrated optical stabilization. Sample photos in the gallery below.
The front camera of 3.7 megapixels. will be sufficient in order to ensure a decent quality video calls. It allows you to capture video even in QHD-resolution. Yet Full HD at this resolution seemed more acceptable ratio "weight roller" / "quality". In addition, the user is a feature panoramic self.
Pros:
Unique design;
5.6 inch QHD-display;
Loud and clear dynamics;
Excellent autonomy; powerful "iron" and high performance;
Capabilities of the camera;
Superior One S Pen functionality mode and two windows.
Cons:
The power button on the top.
Smart Clock Gear S became the first product in its class, which received a quality curved display. When you dress them on hand, you feel comfort and elaborate forms, which follows the curve of the hand. Housing material plastic strap – silicone. Selection and installation length of the last takes a couple of seconds. On the test we got to the device in white, the market is also an option available in black.
At the bottom of the clock provided pad for the charger, sensor control of heart rate and a slot for cards nanoSIM under tight cap.
On top of a metal frame isolated large 2-inch display hours. Frame above and below the screen are impressive, but when the last lights, there is a feeling that this is how it should be. In fact, the watch itself is not small, but rather thin. On every hand, they look different and important role is played by the style of dress, which gives preference to the user.
Pressing the button below the display causes the clock face. At its discretion, you can select analog or digital presentation of information that will be complemented by active labels. By clicking on the temperature or number with the number of missed messages you will transfer to the appropriate sub-menu.
It is important to note that the software component platform allows you to upload new dials and collapsible construction itself. The housing is separated from the strap without much effort, but it is held firmly.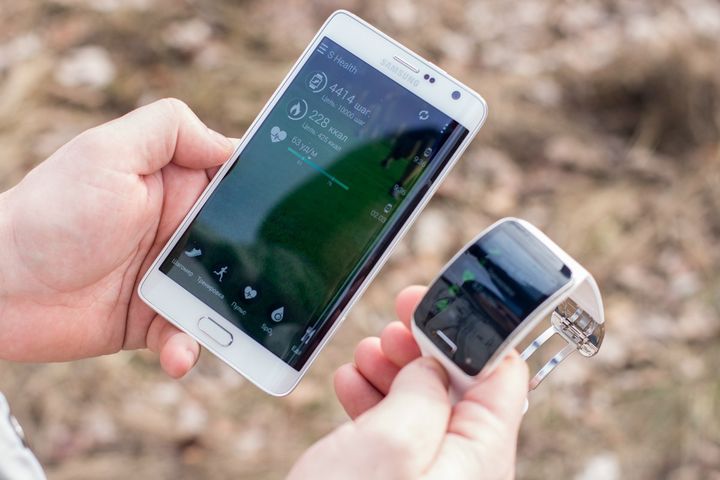 Just to see the time, built-in accelerometer and gyroscope device to help identify the moment when you raises his hand and includes a display for 7 seconds. Convenient, but does not always work.
Getting the smart hours carousing especially nowhere, but at the same time has everything you need.
1. Reading the messages received via SMS, email, Google+ and other mesentery, and control calls.
2. Quick Contacts.
3. Parameter menu with shortcuts.
4. Weather widget.
5. Remote control of multimedia content downloaded to your smartphone.
6. S Health – setting and viewing of sensor data: statistics pedometers and the parameters of your sleep, control of heart rate and the intensity of ultraviolet radiation, as well as work in training mode.
7. Reading news feed.
8. Calendar of events and schedule.
9. Navigator, Alarms, and Gallery.
In my opinion, this is more than enough. Nice work with the interface, it is easy and intuitive. If you drag the bottom-up – open the main menu. Reverse movement translates into one action back. Basic settings and download new applications through the application Gear Manager on a smartphone.
An important advantage of the test is Device Features a large number of supported wireless modules and interfaces. Gear S – is a complete phone from which you can call and write text messages. In the hours can be recorded asset support 3G, Wi-Fi, and Bluetooth. If the need for an active sim card is not present, it can be disabled and thus reduce battery consumption. Built-in vibration, by the way, you will never miss an important contact, even at the most inopportune moment – the program has a function template response by SMS. But the protection against water and dust IP67 class allows you to not only wash your hands in this watch, but even swim.
Samsung Gear S is not deprived and function S Voice, however, above the company still needs to work – not always, you can understand each other correctly.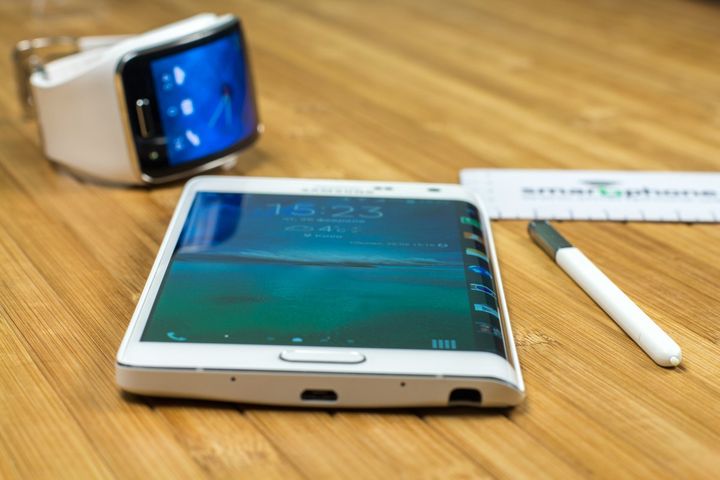 If we talk about autonomy, the built-in clock battery 300 mAh me enough for two days. Is charged to 100%, it is just over 3 hours via a special base. Last also acts as an external battery, the capacity is 350 mAh.
Pros:
A full-fledged smartphone with the ability to send text messages;
A plurality of sensors accounting exercise and health monitoring;
A sufficient number of applications, including games;
Cons:
Support for a limited number of devices;
Absence of the chamber;
Findings
Summing up the two-week operation Note Edge and Gear S, with confidence I can say only one thing – technology is changing and improving, and bold experiments companies, including Samsung, make our lives more interesting and brighter.
Both devices are attractive in appearance, technology and software are perfect and far ahead of its competitors operating time. Of course, they are expensive, but their total value is between USD 1,100 In my opinion, 50% of this amount you pay for housing and hardware stuffing. Another half – for the impressions that you experience, with such a technologically advanced product.
Source: Samsung
Read another very interesting article about alternative energy of the Sun, water and air.