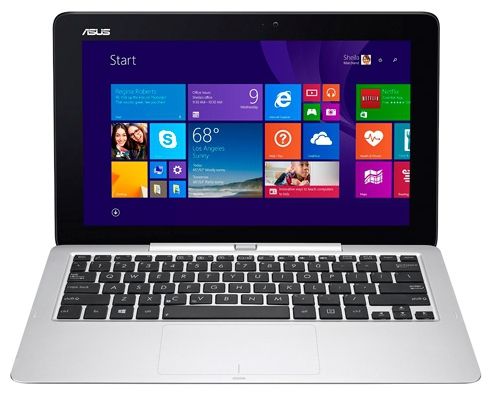 Unit 2-in-1 – no longer a gimmick, but rather familiar to many attribute comfort. Advantages of such gadgets are undeniable, due to their versatility, they are used as both a laptop and as a tablet. However, along with advantages there are in such models and pitfalls. In particular, manufacturers usually only think about the appearance of such devices without worrying too much about the filling. So often in the Transformers can be observed poor quality screen, weak filling, etc.
New on the basis of modern Windows 8.1 was presented at Computex 2014. It must be noted that their appearance is quite much like the predecessors of this series, so striking differences in this aspect should not wait.
Design – ASUS Transformer Book T200TA
The blue colors of the shell immediately attracts attention. No wonder, because usually it is limited to the standard black, silver, and, at best, white, and sometimes, as an alternative, suggested other options. In the case of the ASUS Transformer Book T200TA there is also a bright red coloring, but to us such a model is not likely to come.
Transformer material – plastic. Although metal and looks presentable, but the device would be even harder, and yet its weight and so can not be called a small record: 1.5 kg. By the way, thin gadget also does not look, and it is not surprising when it is not quite modest dimensions: 305h200h26 mm assembled. If we consider the individual parts, then its dimensions are 305h194h12 mm and weighs 780 grams. The cover is not too Mark, prints collects within reason, and get rid of them is easy. In the middle of the tablet is the logo ASUS, slightly above – eye of the camera.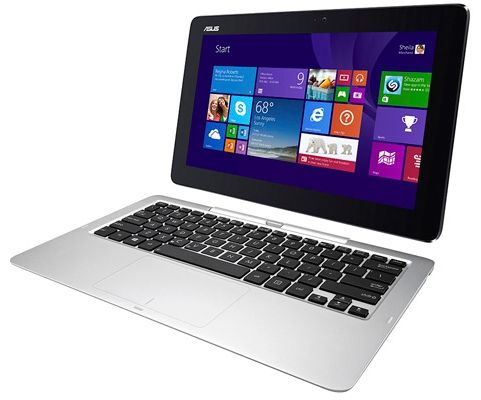 11.6-inch screen is limited to a fairly wide black frame in the upper left corner where you can see the logo of another, and the center – front webcam. Podladonnaya surface, in contrast, received a silver color, and keyboard buttons – black. This contrast looks very advantageous, and comfortable for printing this option is more appropriate. By the way, the interfaces are evenly distributed on the lateral faces of the tablet as well as the docking station.
A few words, I would say about securing the top and bottom of the transformer. It's no secret that each manufactured hybrid device manufacturer is trying to equip some interesting mechanism that would not remain unnoticed among fans of such gadgets. In this case, do not find fault with what: loop connecting the tablet with dock steel, robust and reliable. Joining is carried out by means of a magnetic groove, and therefore part of the user are required minimal effort. When you need to remove the top from the bottom, simply press the release button, located in the middle of the loop. Manufacturer very interesting deal with the problem that frequently occurs in transformers, when the upper part is heavier than the bottom, and there was a preponderance – engineers inserted into the front of the dock weights. Perhaps it would be nice if other manufacturers have adopted a similar idea.
The bottom is also plastic, but, in contrast to the blue cover, it's black. On its perimeter settled four rubberized feet, thanks to which the unit on slippery surfaces behave confidently and does not slip. On the bottom there is a small compartment under the cover that hides the hard disk, if necessary, it can be replaced on the SSD or larger disk.
Overall, the assembly is not in doubt, no squeaks, no backlash, nor any alarming sounds. Transformer design looks sturdy and made with high quality.
Display, sound and webcam
The screen is 11.6 inches gadget produces mixed feelings. In terms of resolution he disappointed, because it is only 1366×768 pixels and, compared with many competitive models – is very small. The current standard can be considered a Full HD, but not HD. However, the brightness and contrast even very good – the maximum brightness is 285 cd / m2, contrast ratio – 710: 1. Likewise, things with viewing angles – the device uses a matrix IPS, which provides good visibility from any angle. But the colors are somewhat naughty, colors on the screen will appear colorful and bright, but actually not quite true. By the way, the screen is glossy, so the use of Transformer Book T200TA outside in sunny weather would not be a good idea.
Display in the Transformers, of course, touch. It supports up to 10 simultaneous touches and have no complaints. The sensor works quickly and work with the device – a pleasure.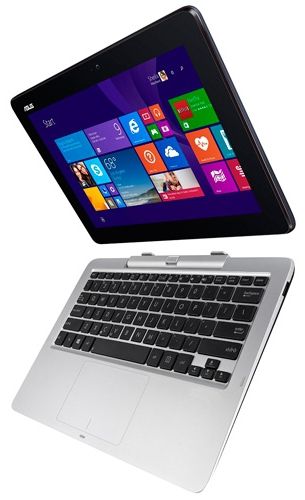 Location speakers – very strange. No, if you use the gadget as a laptop, then no complaints, but they appear when ekspluatiruesh T200TA as a tablet. Two speakers are located on the lid just in those places where the user keeps his hands in landscape orientation. The sound quality is not impressive bass non-existent, the volume level is low, even the maximum. Yeah, without connecting an external headset as headphones are definitely not enough.
Resolution front web camera is a 2 megapixel, rear – 5 megapixel. Of course, expect something incredible from them is not necessary, but, in principle, both cameras have proved to be far from the worst. By front can communicate on the Internet, video conferencing, and the rear camera is capable to take pictures of normal quality and even self. Here are just a scourge of both cameras is a huge amount of noise in low light.
Keyboard and Touchpad
The keyboard looks quite comfortable. Square black keys are surrounded by a plastic substrate, which serves as a good tool for quality work. The buttons are large enough, and due to the fact that the keyboard island type, between them there is plenty of space. This suggests that the risk of inadvertently catch the surrounding keys – is minimal. Digital block is missing, and it's not surprising, since such a luxury is not peculiar to compact devices. Marking is made in white color on the Latin and Cyrillic – it is not very convenient, but you can get used.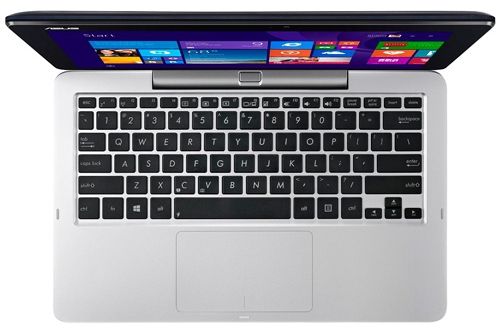 On the positive side stand the popular print button [Enter], [Shift], [CapsLock], etc. – They are elongated and very comfortable. A switch block, in turn, is small in size, but for fans of mobile technology this trend is nothing new for a long time. Some disappointment awaits those who like or need to print in dark conditions – no backlit keyboard, and typing will be in touch. Key travel – the average, during the work, they do not produce much noise.
The touchpad can boast of large dimensions that the user only on hand. Tactile though he is smooth, but it's easy groped through clear boundaries. The response of the sensor paddle fast, which is very pleasing, and indeed, a pleasure to work with him. Physical keys, but there are conventional separator in the middle of the bottom. There is support for multi-touch gestures, including zoom, dragging, different gestures with one, two and three fingers.
Performance
Hybrid ASUS Transformer Book T200TA (90NB06I4-M01320) works on the operating system Windows 8.1 64-bit. This operating system is perfectly suited for use with touch gadgets, among its features can be identified interesting interface and software, is not characteristic of other operating systems. For example, the panel Charms, called the right side of the screen; function Snap, which allows you to work simultaneously with two applications, switching between them and others.
The role assigned quad processor Intel Atom Z3795. This SoC is able to overclock the core from 1590 MHz to 2390 MHz, has 2 MB of cache level 2 and executed on 22 nm process technology. In addition, the chip is very energy efficient – its maximum TDP of less than 4 watts. It is noteworthy that there is one complete set with the processor Intel Atom Z3775, user therefore has a choice.
Integrated graphics Intel HD Graphics (Bay Trail) is clocked at 778 MHz, with the support Turbo Boost, while its minimum clock speed of 311 MHz is only. This video card supports DirectX 11.0 and Shader 5.0, as well as codecs such as MPEG2, VP8, MVC and others.
In terms of gaming performance Transformers especially nothing to boast. Some modern games can not run at all if would be too demanding for this gadget. But, in general, if you play in a more simple and early toys, special problems should arise. For example, Dota 2 at native resolution and medium settings go with 20-22 fps, game Sims 4 with the same parameters show about 8-10 frames per second.
It also has a 4 GB RAM standard DDR3-1600 MHz. For storing data on a built-in eMMC 32GB and 500GB HDD. By the way, the hard drive is in the docking station, and built-in memory – in the plate.
Ports and Communications
As we mentioned above, the interfaces are evenly distributed on the plate and on the dock. On the left side of the dock has a USB 3.0 port and a network RJ-45 connector, the tablet – Port Micro-HDMI, Micro-USB, card reader 3-in-1 (microSD / microSDHC / microSDXC), combo audio jack, volume rocker button and Windows.
On the right side there is only one port USB 2.0, and the keyboard.
But in front of the plate you can see the power button, and next to it – the battery charge indicator that changes color from white to orange when the battery drops below 95%. No rear ports and connectors are not provided.
The lower part of the tablet is equipped with holes for mounting, and dock connector.
Wireless interfaces presented Wi-Fi 802.11 a / b / g / n and Bluetooth 4.0.
Battery
Capacity lithium-polymer battery is 4840 mAh transformer (38 Wh). In idle mode the device will work for about 7 hours, and in the Web surfing – not more than 5 hours in the same time gadget discharged when playing high-quality video. In general, the results are quite good, but not very demonstrative.
Conclusion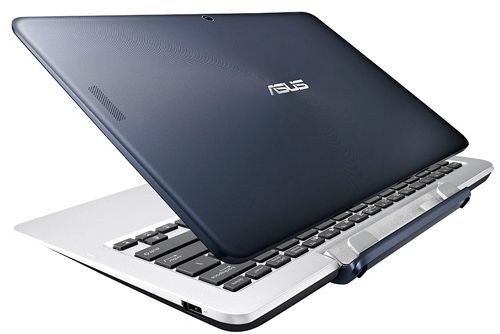 ASUS Transformer Book T200TA – rather ambiguous product, because, like it or not, it is still more than the creation of marketing than actually required device. Besides being able to be transformed, he has nothing else to impress the buyer. Display resolution is not the most impressive and essentially loses other competitive models. Toppings are not the ultimate dream and able to cope with everyday tasks only, no more. The model is heavy and depressing dimensions and capacity of the battery is not even enough for a whole working day.
Given the cost of the gadget, which is about $ 750 for the complete set described, perhaps it makes sense to buy a full laptop, or choose a higher quality tablet, depending on the priorities that you set for the device.
Read another very interesting article about alternative energy of the Sun, water and air.