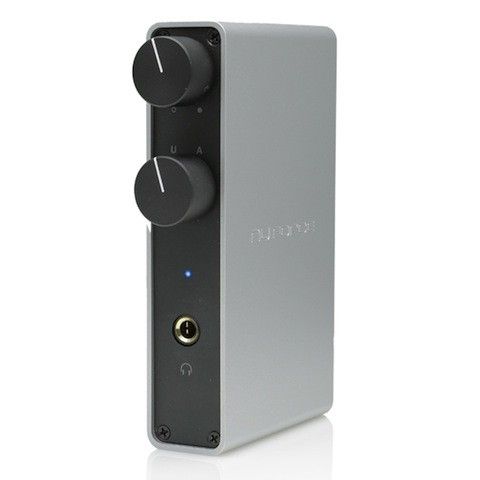 All around us is changing so fast, that sooner or later there is a problem of lack of a link to the system components. For example, you want to buy headphones that are now producing many Hi-Fi-company, but your system does not yield to them (and it happens), or it is not very good. Or maybe you want to listen to music on your PC, not only in the headphones, but also through the speakers, and in both cases with good sound quality.
These and other cases are offered a wide range of portable or small-sized products having inherently analog converter. This segment applies NuForce Icon DAC.
On the front panel – the volume knob and select inputs
This small device (H × W × D: 15 × 2,5 × 11 cm) connected to the mains via the supplied power supply and can be mounted vertically on a stand or just lie on your side. Icon DAC has stereo inputs – RCA and 3.5 mm – as well as USB-port type B and outputs: analog and digital coaxial RCA.
Still have a 6.3-mm headphone output; its gain stage is powerful enough to work with 600-ohm models. Asynchronous USB-port accepts files with sample rates up to 24 bit / 96 kHz and DSD-streams being downloaded to the PC corresponding driver and the only compatible player. It also supports OTG-technology for smartphones running Android.

Sound Icon DAC with headphone output has high brightness, it is necessary to consider in the selection of the components of the audio section. But with the PC and Hi-Fi-system this DAC exhibits a more balanced character. CD-copy of the album Love by The Beatles played vigorously, rhythmically, in detail; music scene spacious, well-placed elements compositions on it. Recognizable vocals, lively and emotional.
Even better things with HD-audio – the sound is quite noticeable is more refined and smoother. "Symphonic Dances" Rachmaninov format 24/96 executed on a large scale, with the depth of the melodic lines and votes tools sharp and mobile RF and weighty bass.
NuForce Icon DAC – a versatile device with the sound quality, it is consistent with its price category, however, to enter the headphones have a claim.
Price: $ 550
Pros: A set of connections; function preamplifier; quality sound by USB; support for HD-Audio; dimensions
Cons: Brightens the sound from the headphone output, especially when connecting analog source
Verdict: magic wand that will increase the versatility of your Hi-Fi-system
Source: Nuforce
Read another very interesting article about alternative energy of the Sun, water and air.