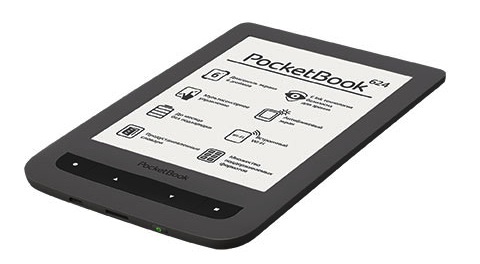 The company announced RocketVook reader e-ink PocketBook 624 , which first used the new technology Film Touch. The company PocketBook is the first in the world to have put into their serial devices E Ink multi-touch capacitive screen with this technology . Film Touch technology feature is the use of very thin plastic film having a thickness of only 0.2 mm , which is comparable with the thickness of 2 sheets of standard A4 paper.
Film Touch film is applied over the main screen reader that allows you to optimize the optical properties of the screen, as well as to minimize its weight and thickness. By using this technology, the weight reader decreased by 12% ( about 24 gr.) Compared with similar devices with touch screen glass , which is an essential parameter for the device which has a long time to keep one hand on weight . Furthermore, the film Film Touch minimal impact on the optical properties of the main screen , so the contrast and white are almost the same as without the sensor layer .
New Reader PocketBook 624 is equipped with a 6-inch E Ink Pearl display, 1GHz processor , 4 GB of internal memory and a slot for a micro SD memory card support up to 32 GB. A powerful processor and increased RAM size provide even smoother and faster response flipping through any application.
Reader PocketBook 624 has a modern user interface and multi-sensory , as well as turning the hardware buttons , which provides the most comfortable to work with the device.
Built-in Wi-Fi is useful not only for reading, but also for the use of the Internet or communicate and discuss books in the social service ReadRate.
Preset & Service Dropbox PocketBook 624 will allow users to instantly synchronize content to your device over the air , just copy it to a folder on your PC . After that, the content will be automatically uploaded to the server Dropbox, and then synchronized with the device via Wi-Fi.
Home sales in Russia PocketBook 624 is planned for the second half of October. The price will be announced later .
Read another very interesting article about alternative energy of the Sun, water and air.