The company belongs to the giant Yurbuds HARMAN, but little known in our area. It is not surprising, since the young brand, the official supplies to began only in early 2015. But the runners may have noticed stands with sports headphones Yurbuds, for example, Run Expo. It turned out pretty interesting solutions, which should be paid attention to. Began our acquaintance, we decided with the most available new sports headphones 2015 Yurbuds Focus 100.
Contents of delivery
Recently, I began to pay attention to a sport like a triathlon, in particular, have a very impressive athletes who challenge themselves and overcome just incredible burden on competition Ironman. The packaging flaunts the inscription "IRONMAN SERIES", looks promising.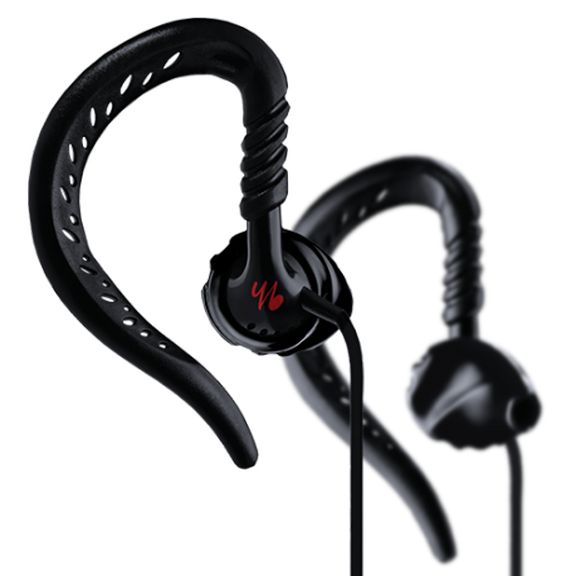 Inside, in addition to the headphones themselves, it is a booklet. In one of them clearly shows how fixed headphones. If the ear pads do not fit you, the manufacturer will send a free appropriate or even another model. It is worth noting that all the headphones in a series of Focus are identical, the difference is that the older model (Focus 200, 300, 400) have magnet for fixing headphones, remote control, additional ear cushions and sport case.
Appearance, quality of materials
New sports headphones 2015 Yurbuds Focus really looks in sports. In the style of headphones, such as BTE, design notes last seen running shoes Saucony.
All materials, except the bowls, have prehensile rubberized coating. The model the ears looks good, especially in his element – at playing in the gym or for a jog.
The materials have no complaints, all from high-quality plastic, the only drawback is the coating lip, which clings to everything, and after 15 minutes of new headphones turn into a dust collector.
Cable average thickness strong does not inspire confidence, as it is strong only time will tell. Plug an unusual – L-shaped with a slightly rounded shape and gold.
Ergonomics, positioning
First and foremost, sports headphones have perfectly recorded and do not cause discomfort during exercise. The situation is out of duality, I explain why. From the first time, almost anyone will be hard to correctly insert the headset and make removable BTE. For such purposes, there is even a training video and manual included, but a lot depends on the individual anatomy of the ear. The first few times I stood for 5 minutes and could not find a suitable position, only then you understand the specifics of inserting a rubber ear pads and getting better.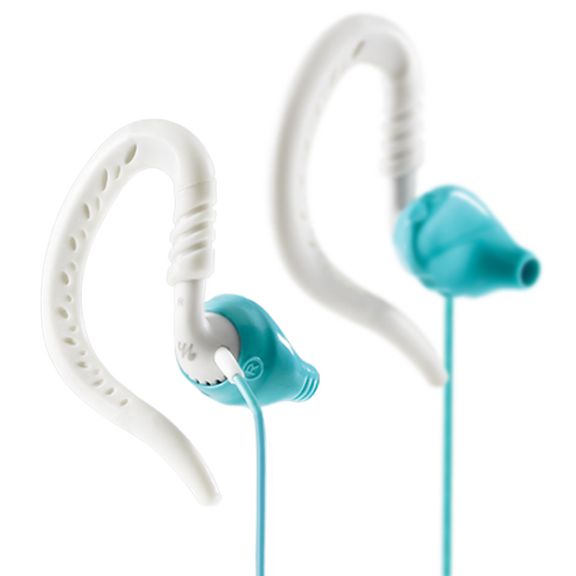 By form factor headphones are just inserts and not the channel as it might seem on the photographs. Ear pads are removed, it can be worn as usual "droplets" BTE is also removable (attached the plastic tabs), but only suggest headphones fit with BTE.
It uses a proprietary operating time Twistlock Technology, which allows you to not fear for what headphones fall out during transportation. Recently Implemented by relief "cutter" in the ear cups that stick into your ear. Here and opens the second side of the coin – the ears start to hurt after 15-20 minutes of music. There are unpleasant sensations as in the inner part of the ear and in the places of contact BTE. It turns out that you can easily run, jump, do get, squat – headphones at the same time will tenaciously hold on, but will be delayed onset muscle soreness and ears.
This individual can not say that everyone will feel uncomfortable, but I got just such a situation. Perhaps the extra ear pads in the older models this situation is corrected. The undoubted advantage is water repellent, which does not allow swimming in the headphones, but provides full performance in the rain.
Sounding
Inserts have inserts – the very nature of headphones is not able to provide high-quality sound. New sports headphones 2015 – Yurbuds Focus 100 is exactly the same situation, but sound pretty good, for a similar form factor, comparable to recently the monitored "drops" from Xiaomi. Surprised overall lightness, study and bass instruments, which is rare in such models. Now I am pleased with such artists as Everything, Florance and the Machine and Adam Lambert with the new album – that's just for such music Focus 100 is ideal. We can say that sports are optimal sound, because when you run a 10-km mark and you drained the second liter of sweat, not looking in the tracks of detail and need just a rhythm drive. With the problem in the headphones handle 5 points.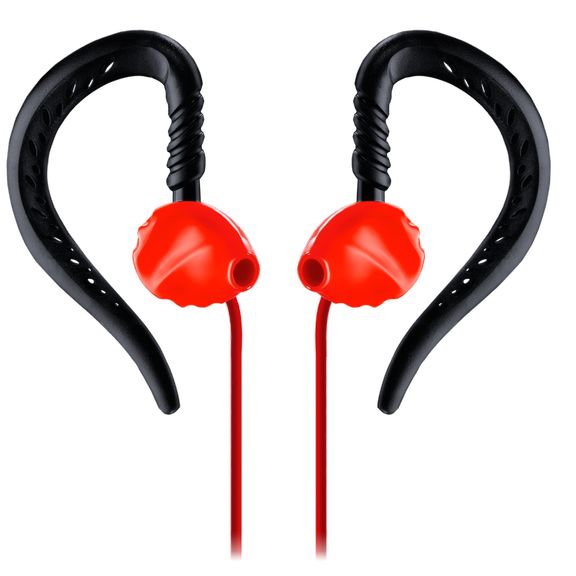 Despite the minimal resistance and high sensitivity headphones requires a fairly powerful source for high volume. Even Samsung Galaxy S6 Edge was unable to bring the volume up to those limits, when it becomes already "too" – in general, the stock is not. On FiiO X3 2nd Gen such problems not observed with enough volume and margin, but that's the level of portable Hi-Fi player.
Soundproofing
For the first time, I see that written on the box that the headphones allow you to hear what is happening around. That is a manufacturer directly answers the question of insulation – it is almost not.
But do not be indignant, as good audibility environment fits perfectly into the concept of sports headphones. After all, if, say, jogging in the city, not wishing to be acoustically cut off from the world, because you can create an unpleasant situation to themselves and others.
Results – New sports headphones 2015
Sports is popular, it's a trend, people tend to look like roast and healthy. This buzzing. I am glad also that come to our market, companies such as Yurbuds. Focus series is a worthy solution for athletes, but still at an attractive price – the most unpretentious new sports headphones 2015 Focus 100 without expanded configuration will cost only $ 20. But consider fixing BTE themselves embouchure requires getting used to, and perhaps even individual anatomical incompatibilities – definitely try on before buying headphones.
Liked:
+ Sound, given the form factor
+ The appearance and quality of materials
+ Price
+ Moisture
I did not like:
– The specific form of ear cushions
Source: yurbuds
Read another very interesting article about alternative energy of the Sun, water and air.