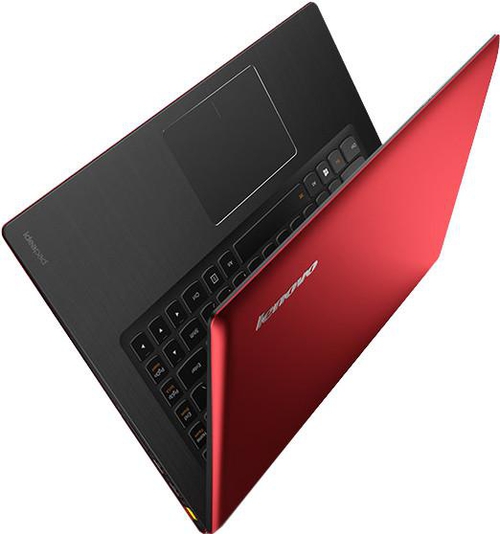 Initially class ultrabook concept was far from accessibility and represented the culmination of engineering, as the vertex in the tree development of mobile devices. But over time, the company began to market Ultrabooks several price categories, including available or you can even say low-end models of ultra-thin devices. One such gadget was Lenovo IdeaPad U410, the progenitor of our today's hero, but time does not stand still, and in particular this applies to technical stuffing. Thus, at the time of the update utility was a question of changing the appearance of the "apple" design Lenovo IdeaPad U410 is gone, and the case became even thinner and more compact. As a result, Lenovo IdeaPad U430p got modern filling and stylish body.
Technical characteristics Lenovo Ideapad U430P
Processor: Intel Core i3-4010U 1700 MHz
Memory: 4 GB 1600 MHz LPDDR3
Storage: 128 GB SSD
Display: 14 "1920×1080 Full HD LED, matt
Video: Intel HD Graphics 4400, NVIDIA GeForce GT 730M 2GB DDR3
Wireless: Wi-Fi 802.11 b / g / n, Bluetooth 4.0 + HS
Audio: 2 speakers
Interfaces: 2xUSB 2.0, USB 3.0, HDMI, RJ-45, card reader, combo audio jack
Extras: 1.3-megapixel webcam
Battery: 4-cell Li-Polymer 7100 mAh
Dimensions, weight: 334x223x18 mm, 1.7 kg
Operating system: Windows 8 (64-bit)
Options: Lenovo IdeaPad U430p (59404396)
Design Lenovo Ideapad U430P
Ultrabook looks expensive and stylish, all in the best traditions of this segment. The entire body is made of aluminum, which provides Lenovo IdeaPad U430p decent strength, but at the same time and adds extra weight. Body lines look very harmoniously and thought, notably the bevelled edges tops and bottoms ultrabook, thanks to this IdeaPad U430p looks even thinner.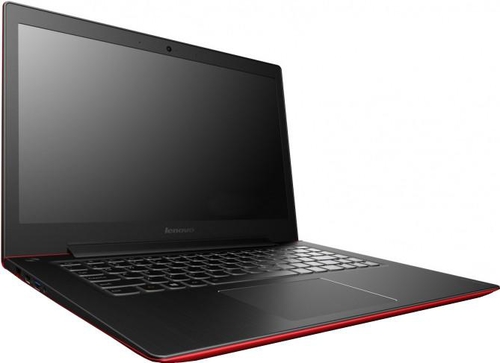 Important role in the design color scheme Ultrabook regains its top cover and bottom painted red, and the other elements, including a keyboard with black podladonnoy surface. Thus, Lenovo IdeaPad U430p looks more original from the competition, although there is a model and gray design.
Bottom ultrabook manufactured from a single piece of aluminum that looks very similar to ASUS ZENBOOK. On it there are numerically small lattice cooling system slots for speakers and four rubber feet at the corners. To remove the bottom will have to unscrew the 12 screws. But after removing the cover, we gain access to all internal components, including the battery, memory, storage, processor and a discrete graphics card, and a wireless communication module.
Lenovo IdeaPad U430p has dimensions of 334x223x18 mm and weighs 1.7 kg, even for a 14-inch notebook is excellent performance. For comparison, Acer Aspire V5-472G has dimensions of 340x240x23 mm and weighs about 2 kg. But the 13.3-inch ASUS ZENBOOK UX32LN, review, we did not so long ago, boasts a housing with dimensions 326h227h11-16 mm and weighing only 1.4 kg. So everything is relative.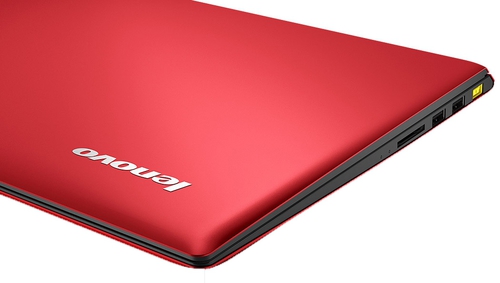 Display, audio and webcam Lenovo Ideapad U430P
The display is 14 inches. Recently, this size is gaining popularity and is becoming very common among many classes of laptops. Resolution is 1920×1080 pixels, which for 14 inch ultimate dream. But there is also a version with a more modest resolution of 1366×768 pixels.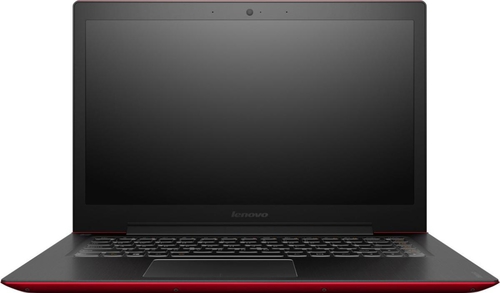 Another plus in his piggy bank Lenovo IdeaPad U430p can put in a matte finish display, although the brightness of the displayed image is not as high as in the glossy. But in the sunny weather, the display will remain readable. As for image quality, the maximum brightness claimed for this model is 250 cd/m2 – quite good, but to the level of the same ZENBOOK'ov he obviously does not hold. Color, contrast and viewing angles can be called average. Overall display Lenovo IdeaPad U430p makes a good impression on the background of most of today's models, but recognized leaders such as ASUS ZENBOOK, he loses.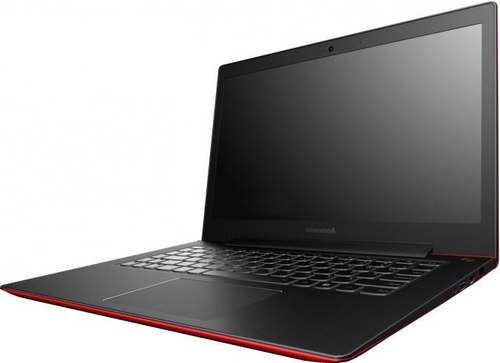 Loudspeakers are located at the bottom of the tapered portions which are directed towards the lateral edges. As for their sound, they reproduce well the mids, but compete with multimedia ultrabook models this can not, since at low frequencies observed failure. By the way, the volume of Lenovo IdeaPad U430p also pretty decent.
Resolution built-in webcam is 1.3 megapixel, it works in tandem with two directional microphones, and together they provide good conditions for videoconferencing.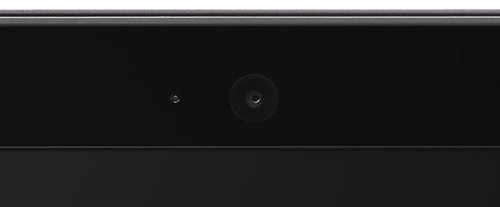 Keyboard and Touchpad Lenovo Ideapad U430P
Some models of Lenovo, or to be more precise, the line IdeaPad, equipped with an island keyboard, which even has its own name – AccuType. It differs in that its keys are pressed gently, without any extraneous noise, creating a good tactile feel. It is suitable for both large set of texts, and for everyday work. By the way the keyboard itself is slightly recessed relative podladonnoy surface and has a good supply of stiffness, even when strong pressure it does not bend.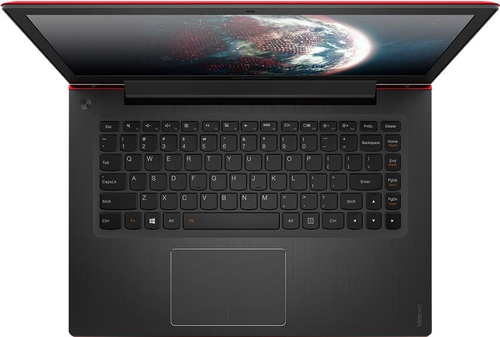 Key labeling in Cyrillic and Latin made in white and perfectly readable on a black background. The keys have a rectangular shape with a rounded bottom side, that is the hallmark AccuType. Keyboard unit lacks separate digital and multimedia keys, but allowing such items as, for example, switch block is not narrow size distribution. The only criticism is the key [Enter] and [Backspace], which turned out too short, but eventually you get used to them.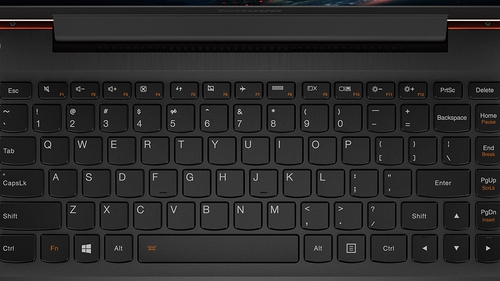 We would like to mention the keyboard backlight, it is not just perfectly perform its purely practical tasks, but also looks great. White light piercing through labeling and the keys themselves, repeating their intricate contour the bottom, it looks all just amazing. By the way, the backlight using a combination [Fn] + [space].
Touchpad Lenovo IdeaPad U430p is mid-sized and situated almost in the center podladonnoy surface. Its matte finish is pleasant to the touch, however, the positioning can not be called very precise and perfect. Separate mouse buttons is not here, they are hidden under the surface of the common touch, by the way, to make a "click" you need to make a lot of effort.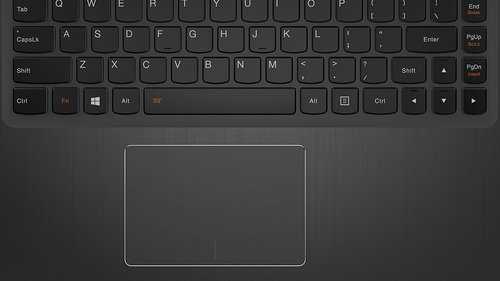 Performance Lenovo Ideapad U430P
Our grade Lenovo IdeaPad U430p (59404396) comes with the operating system Windows 8 (64-bit). As for the filling, it is the average option processor Intel Core i3-4010U and discrete graphics NVIDIA GeForce GT 730M. But let's start with all the same CPU. Intel Core i3-4010U – is a low-voltage dual-core processor for ultrabooks. It is based on the Haswell architecture and supports Hyper-Threading, which allows you to handle up to four simultaneous data streams, but Turbo Boost support is not provided, so the base frequency of 1.7 GHz is both the maximum. Among other features include the cache in the third level of 3 MB.
The processor has integrated graphics Intel HD Graphics 4400, but its capabilities are rather modest and suitable only for a limited range of tasks. As for the more demanding applications, such as games, for these purposes is provided a discrete graphics card NVIDIA GeForce GT 730M. Among its features include the 2 GB of memory standard, DDR3, two shader units for every 192 shaders and 128-bit memory bus. All this makes the NVIDIA GeForce GT 730M graphics card is quite attractive middle segment, in addition to support DirectX 11.1.
If we have recently often faced with models of laptops that had soldered memory, the Lenovo IdeaPad U430p from this idea was abandoned. Then there is the classic, though only one slot for memory standard LPDDR3, which can be installed plank memory size or 4 or 8 GB. In our case it is 4 GB running at 1600 MHz.
Choosing storage for Lenovo IdeaPad U430p very diverse, ranging from budget-friendly option with a hard drive 1 TB and finishing fast SSD up to 256GB. Also, there are models with hybrid drives, where a small amount of SSD used as a cache. In our configuration, we have SSD 128GB – not very much space, but a very high speed.
Ports and Communications Lenovo Ideapad U430P
In such thin and ultraportable devices like ultrabooks, it is difficult to find a place to accommodate the large number of interfaces, there was no such in our test model. On the right side there is a card reader, two ports USB 2.0, power connector (by the way, very unusual shape), and two indicators of the notebook. Misunderstanding is the use of standard USB 2.0, although it's time to replace them with more modern standard 3.0 ports.

On the left side, things are not better, here you can find combo audio jack, LAN port RJ-45, HDMI video output port and USB 3.0. As you can see, there's no optical drive, which is physically nowhere rasmestit. Could not find a place in this "company" and the good old video VGA. Incidentally this is the same faces and button Lenovo OneKey Recovery, which together with special software allows you to backup and restore your system.

The rear and front side left without any elements that could be attributed to the communications, but in vain, because many users are accustomed to the location of the indicators is on the front edge devices.
For wireless communication module corresponds to a compound comprising a Wi-Fi 802.11 b / g / n and Bluetooth 4.0 + HS. It is worth noting that the latest communication standard Wi-Fi 802.11 ac, until he reached the gadgets from Lenovo.
Battery Lenovo Ideapad U430P
4-cell lithium-polymer battery built-in Lenovo IdeaPad U430p has a capacity of 7100 mAh, this is a serious argument in favor of continuous operation without recharging. So, for example, the Acer Aspire V5-472PG this figure is almost twice less – only 3650 mAh. In practice, we have as many as 14 hours in idle mode, 6 hours of battery life while surfing the web, and almost 2 hours at maximum load. Thus, this model can be recommended for people who are often traveling and trips.
Conclusion Lenovo Ideapad U430P
Lenovo IdeaPad U430p – very solid and high-quality ultrabook, which has a pretty good performance and multimedia capabilities, while quite adequate for the price. Among the main advantages can distinguish a good display, though he is not a reference, but for the price it is more than good. As always on top and controls, including the familiar keyboard AccuType. Ultrabook design simple and stylish at the same time, such a device safely advise both students and administrators. Build quality and strength of the body do not cause any complaints.
The only weak point of this device can be called a modest set of ports, yet one port USB 3.0 standard today is not enough. But all in all Lenovo IdeaPad U430p be a great choice for those who want to become the owner of a modern ultrabook, but does not want to pay any money for the space extra bells and whistles. By the way the price of our complete set for just under $ 800, but at your disposal will be Full HD-display and SSD-drive.
Read another very interesting article about alternative energy of the Sun, water and air.