What new laptop Lenovo 2015 models only with the number 5070, we have not considered. We had IdeaPad B5070, Z5070, and Y5070. As you know these laptops belong to different series: the budget, gaming, and multimedia. Of course, each of them is interesting in its own way, so could not help but leave its mark. For example, Lenovo IdeaPad Y5070 liked the game and a little bit aggressive design and high computing power. At the same time, entry-level pleased IdeaPad Z5070 Full HD-display with a diagonal of 15.6 inches. Now came the turn of Lenovo IdeaPad G5070, which is positioned as a manufacturer of the device for daily use. It is unlikely that he will bring ovation compared to other models, however, you never know, maybe he will be the new laptop Lenovo 2015, which you always dreamed.
Design
The notebook attracts texture, which adorns the cover and even bottom. Another pattern that simulates the polishing can be seen on the working surface. This makes the plastic with the classic black coloring is quite attractive and not so monotonous.
The bottom of the notebook is divided into two compartments. Under a hidden memory modules, as well as HDD, another is for the battery. To perform an upgrade, you will need to unscrew some screws. In addition, at the bottom there is a long ventilation grille resistant rubberized feet, sliders for fixing and removal of the battery, and two stereo speakers.
Notebook size 384x265x25 mm and weight of 2.5 kg allow to bring the device to any trip. Thus, new laptop Lenovo 2015 model IdeaPad G5070 can be your faithful companion.
Display, sound, webcam
The new laptop Lenovo 2015 is equipped with a display diagonal of 15.6 inches and a resolution of 1366×768 pixels. The screen is a budget that is suitable for office use. The brightness level of the display is small, the contrast rather low, but this is enough to work in the room. Does that have to adapt to the mirror surface and unstable viewing angles.
Above the display is the built-in webcam with a resolution of 0.3 megapixels. This is very little, to do the normal pictures, but the video will be enough.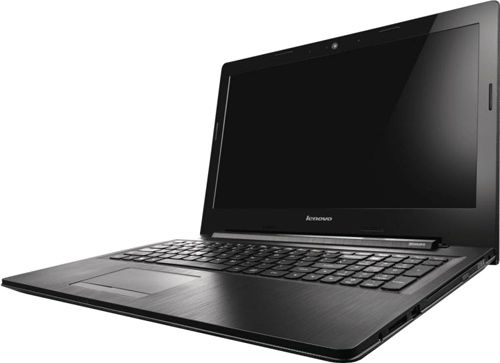 To achieve the normal sound on a new laptop Lenovo 2015, you can thank the support Dolby Advanced Audio. The sound comes through two stereo speakers, it is relatively loud but most monotonous. Of course, you can listen to music or watch the video, but to good music center Lenovo IdeaPad G5070 far.
Keyboard and Touchpad
Those planning to gain often texts, keyboard AccuType will be most welcome. It is an island, with a standard layout and a separate number pad. It's advantages are obvious: fast input of numeric data, printing, minimizes erroneous hits. Dimensions and those thought, keys are average, slightly concave and rounded for convenience. Marking them two-tone and different is good.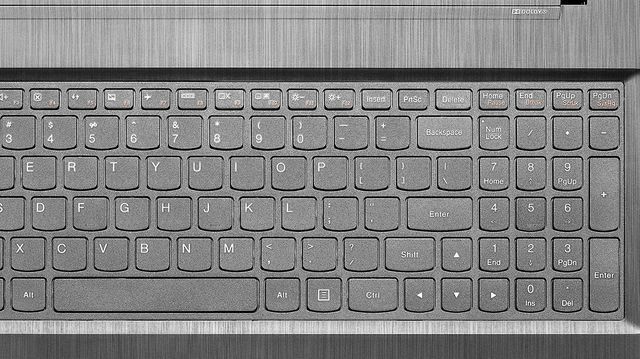 The touchpad on new laptop Lenovo 2015 is not centered area and slightly off to the left. The touchpad area is medium in size, it is rough and has a normal sensitivity. It can rotate images, change their scale, as well as perform the usual scrolling. If we talk about the environment, Windows 8.1, you can switch between open programs, or, for example, calling, where necessary, the miracle of the panel buttons. Classic style design includes a touch pad two mechanical keys, which are functionally identical to the mouse buttons.
Performance
New laptop Lenovo 2015 model IdeaPad G5070 59420862 working on a preset 64-bit Windows 8.1 and has on-board processor generation Haswell – Intel Core i3-4030U. This dual-core chip, built on 22-nm technology. It works with a frequency of 1.9 GHz, and can simultaneously process up to four data streams. In addition, the processor has a cache in the third level of 3 MB and low power consumption is 15 watts. In general, the performance of this CPU is enough for simple calculations, but if you need the power in full, pay attention to the top-end configuration with a processor Intel Core i7.
The Core i3-4030U integrated graphics Intel HD Graphics 4400, which makes it simple to handle graphics tasks. The card supports DirectX 11.1 and OpenGL 4.3, good encodes and decodes video. However, its performance for games a little, so it is advisable to take advantage of graphics AMD Radeon R5 M230, further envisaged in the stuffing. It is possible to switch with support for Enduro. This discrete video accelerator relates to the budget class and has its own memory capacity of 2 GB. With Radeon R5 M230 will play passable various games, for example, published no later than 2014 Tomb Raider or FIFA 14. It will have to set the medium or low settings and possibly reduce the display resolution to 1024×768 pixels.
In addition to the CPU and GPU, in filling in part of the RAM 4 GB and 500 GB hard drive. RAM is standard DDR3L and bus speed of 1600 MHz. Furthermore, this capacity can be increased up to 16 GB. As for the hard drive, it runs at a speed of 5400 rev / min and provide enough space for the storage of documents and media files. Incidentally, in this configuration using only HDD, while others can see the hybrid drive.
Ports and Communications
The right edge of the new laptop Lenovo 2015 model IdeaPad G5070 fill the following interfaces: USB 2.0, card reader SD / MMC, combined mic and headphone jacks, and a Kensington lock slot. The main place is occupied by the optical drive DVD ± RW Double Layer.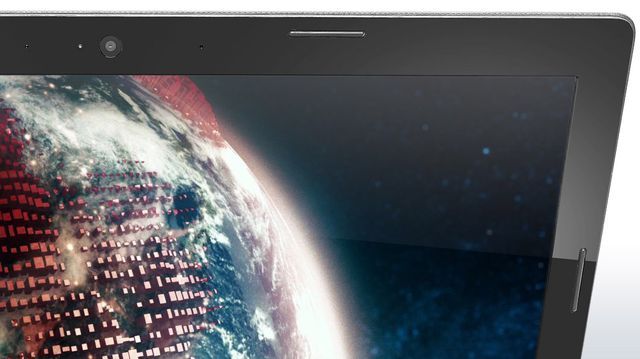 The left side provides two standard USB 2.0 and 3.0, as well as a video output VGA, LAN port, and HDMI. At the end is a connector for charging and ventilation grille, which eliminates warm air.
As for the back and front end, they are free from connectors.
Wireless communications Lenovo G5070 are: Wi-Fi 802.11 b / g / n and Bluetooth 4.0.
Battery
The laptop is a 4-cell lithium-ion battery, whose capacity is 2200 mAh. It is able to provide a duration of 5 hours.
Verdict – new laptop Lenovo 2015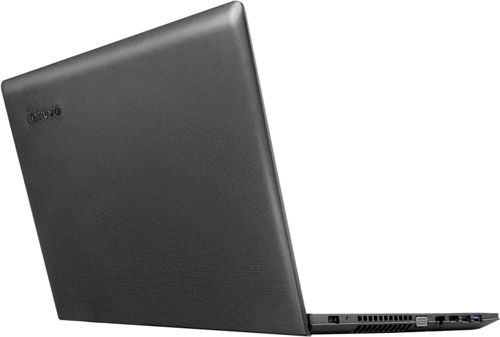 New laptop Lenovo 2015 is another conventional device in a long line, which is suitable for a little of everything. That office tasks, and activities in the form of movies. Perhaps the principal that is commendable, it is branded keyboard AccuType, the presence of two graphics cards, albeit not very productive, attractive appearance, diluted textured. The rest is simple: the budget TN-display, a standard set of ports, modern, but not powerful enough stuffing webcam with a low resolution of 0.3 megapixels. The price Lenovo IdeaPad G5070 up to $ 500 is not too high, but the competition can be found a notebook for daily tasks and cheaper.
Source: Lenovo
Read another very interesting article about alternative energy of the Sun, water and air.