At the first meeting with compact disc player Audio Research CD6 struck us two things. First, we were surprised that the company, whose name is so closely associated with the tube technology (even in its digital products), in this case, rejected them. Fans lamps recommend contacting the more ambitious model CD9.
Feature of compact disc player Audio Research CD6
Secondly, the presence of the digital inputs has forced us to think about the future of specialized compact disc player class High End. Few manufacturers are not concerned about the possibility of connecting them to other digital sources so that they will be in demand when the discs themselves come completely out of use.
For those who are familiar with the company's products, there are no special surprises. Audio Research is one of the pillars of the High End, its enviable reputation to create a model, a top priority in the design of which was the sound quality. After 40 successful years, the company does not intend to change its approach, and compact disc player CD6 – confirmation.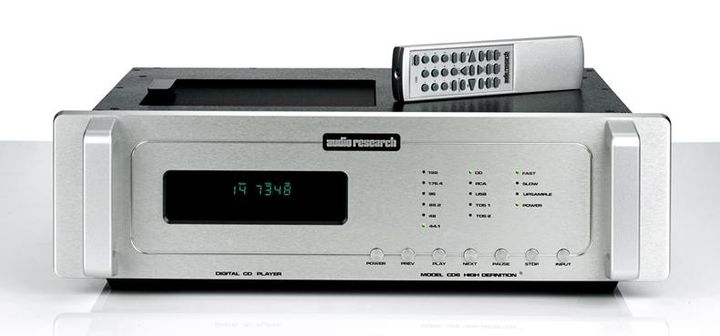 The workmanship is excellent; body seem designed for decades of service. However, we are not convinced of the need to be placed on display bolt heads on the entire surface; perhaps this is a manifestation of the approach Audio Research "working tool is not a luxury", but why are they not at least equal? We counted three kinds of screws, and a lack of coordination causes a feeling of artisanal crafts. We were also amused by the inscription «Digital compact disc player» (digital compact disc player) on the front panel – as if there are others.
The tray on the top panel; there was very little, and it's a shame: this configuration eliminates the need for travelers subject tray and motor.
Pushing the lid on the top panel, you will see the compact disc player – transport Philips Pro2. Hold the temptation to poke a finger in the laser – it is too fragile – and do not forget to replace the magnetic disk, otherwise the machine will not operate.
The buttons on the front panel are not very logical; We had to read the labels each time, memorize them and failed, even after a couple of weeks of testing compact disc player CD6. As a result, we often use a conventional remote control – unlike the previous plastic models of this time it is packaged in a metal case. The layout is well thought-out and finishing without any frills.
On the back panel – Four digital inputs: USB, coaxial and optical couple. All of them accept files up to 24 bit / 192 kHz. To use the USB-port, you need to download the appropriate driver. A pair of digital outputs – AES / EBU and coaxial BNC – even more useful to owners of high-quality compact disc player / DAC, as well as those who are going to produce a digital signal processing. It also has the usual assortment of balanced and unbalanced analog connectors.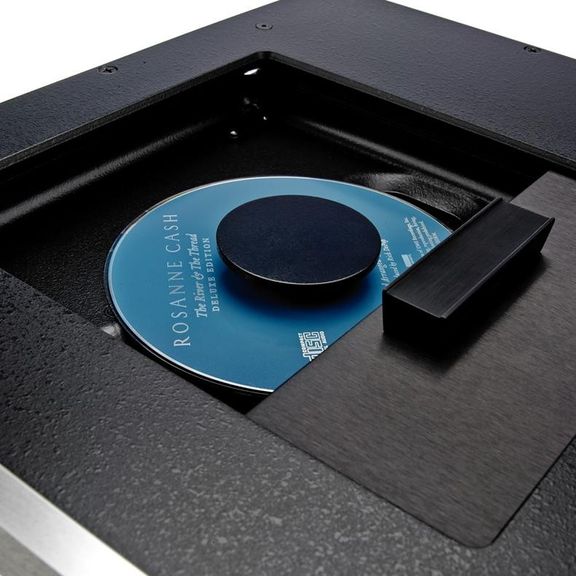 Digital Home motherboard is mounted near the rear panel to reduce the signal path, and away from the analog loop – to reduce interference. USB-port serves a separate fee from the side.
When creating compact disc player CD6 consider the experience of the development of an even more ambitious digital models – such as CD9 compact disc player and DAC Reference; Like them, CD6 applied to four 24-bit DAC in each channel and two clock pulse generator, one of them corresponds to the frequency of 44.1, 88.2 and 176.4 kHz, the second – 48, 96, 192 kHz. This provides the most accurate digital clock, and as a result, higher-quality sound.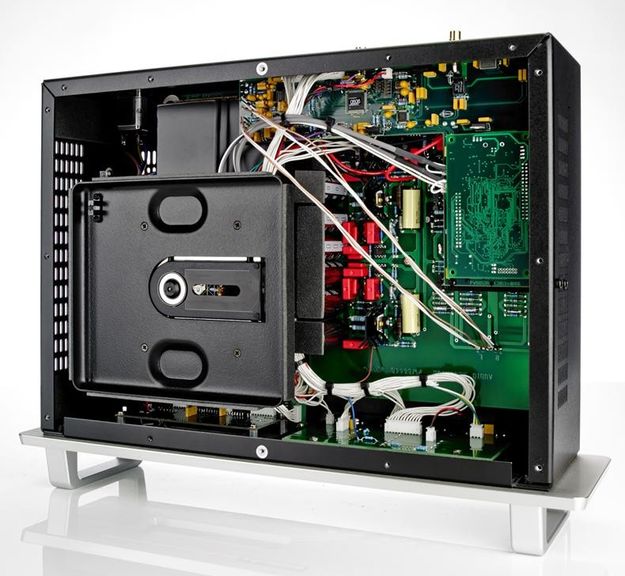 CD6 is equipped with only two filters – "fast" and "slow"; if you like to tinker with the settings, you can increase the sampling frequency of the input signal. When playing back CD, coaxial and optical input can be brought to 176.4, or 192 kHz, depending on the original; USB interface, these figures are lower – 88.2 or 96 kHz.
When tested with the reference amplifier Bryston BP26 / 4BSST2 and AC ATC SCM 50 us more like "slow" filter function is disabled resampling. Perhaps you will sound better with different combinations of settings.
It is necessary to put the compact disc player and CD6 instantly captivates remarkably natural sound, full of details and nuances. Meticulous dynamics CD6 in the performance of "Romeo and Juliet" by Tchaikovsky struck us in the heart. It has a large music scene with the exact location of tools and physically perceptible depth. High-detailed provides a richness of timbre and texture of each instrument.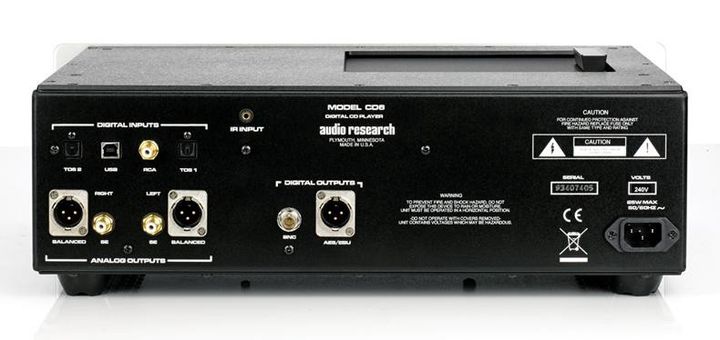 The especially impressive scale of sound, when required by the music, and excellent dynamics at any volume, inherent only to the most powerful model. The player Audio Research peculiar enviable composure; even in the most intense moments of the game it does not lose its naturalness. We like it a smooth tonal balance and fair treatment to all the tools. Few Hi-Fi-capable components are put on the forefront of the music, not its sound character. New compact disc player CD6 – the very rare case.
In Into My Arms Nick Cave, we are particularly impressed by the submission of his cracked voice. The sound is all that we like: the natural heat, density, and excellent micro drivers. CD6 shows a master class by expanding the harmonic piano beautifully written out of the layers.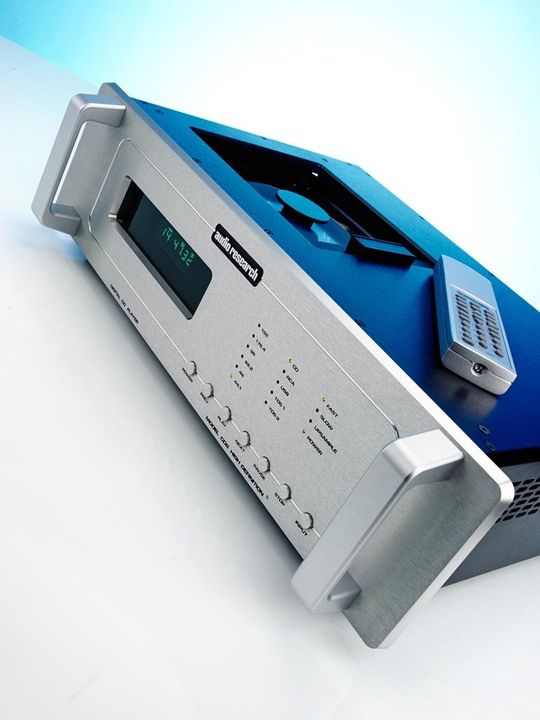 Digital inputs have pleased no less; pleasant impression created Plays compact disc player, reinforced song files group Rolling Stones (Gimme Shelter in the format of 24-bit / 88.2 kHz) and Michael Jackson (Billie Jean, 24 / 176.4). They fully befitting inherent vigor; despite the sophistication of nature, CD6 able, if necessary, issue a powerful drive and open aggression. It is not often we can hear such a perfect sound.
If you are looking for an integrated compact disc player high-end, look for CD6. His sound – one of the best in this price range, and those who are a little CD-drive, a great handy built-in compact disc player / DAC. This is a great component of any system of High-End-class.
Price – compact disc player: $ 13,550
Rating – compact disc player: 5
PROS – compact disc player: Wonderful midrange; enormity; Strong dynamics; good in the role of the compact disc player / DAC; workmanship
CONS – compact disc player: Decorating is not perfect; not the most stylish remote control
VERDICT – compact disc player: A great option for those who want a high-quality compact disc player
Source: audioresearch
Read another very interesting article about alternative energy of the Sun, water and air.