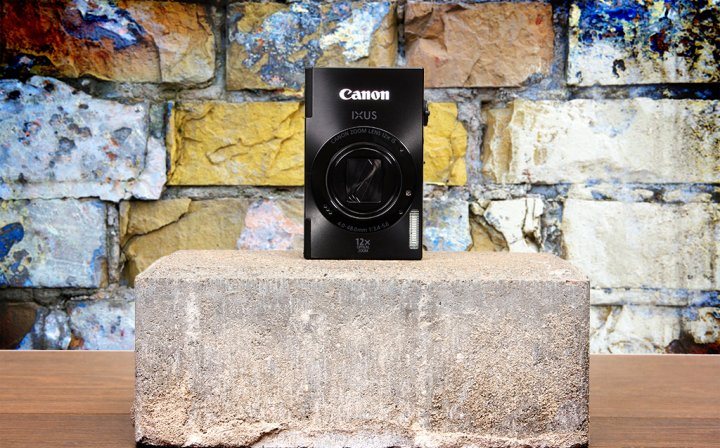 Most cameras from Canon IXUS series of different thin shell with smooth features. However, the appearance IXUS 500 HS and IXUS 510 HS does not fit into the overall design concept of the series – these cameras are strict and elegant. In addition to the original appearance of the unit also got a good performance 10-megapixel sensor and a lens with a 12x optical zoom. The IXUS 510 HS also equipped with a Wi-Fi module for wireless transmission of data and a large touch screen. With these cameras, you can take beautiful photos and live video in Full HD, with absolutely no need to think about the settings – Automatic smart recognizes up to 58 scenes for all occasions.
Design
500 HS and 510 HS dressed in a metal enclosure and feature great build quality. Thanks to a completely flat faces, they look stylish and technologically, little resembling the usual "bar of soap".

A camera with such a design is not very reliable in the hand due to the lack of stops, the small area of ​​grip and quite slippery surface. But such models are extremely compact and have no protruding parts in the transport position.
Stereo speaker hole and focus on the chrome ring of the lens. With them, the neighborhood is AF assist lamp. In the right corner there was a place for the built-in flash.
The top panel lined up three buttons: shutter with the lever with the zoom power up, viewing pictures. IXUS 500 is also equipped with a mechanical switch shooting modes, while the IXUS 510 HS is the indicator of Wi-Fi.
The main difference between the tested model was the display. We IXUS 500 HS regular 3-inch screen with a resolution of 461,000 pixels and an aspect ratio of 4:3. To the right of the screen there is an additional control unit, which consists of 7 buttons, responsible for video recording, exposure, focus modes, flash, display information on the screen, the activation of additional features and menu. The four central buttons are also used to navigate.
IXUS 510 HS also received a touch screen measuring 3.2 inches with the same resolution and 16:9 aspect ratio. Given the small size of buttons 500 HS, 510-I clearly ahead on ease of operation, but loses in efficiency due to not very sensitive resistive sensor.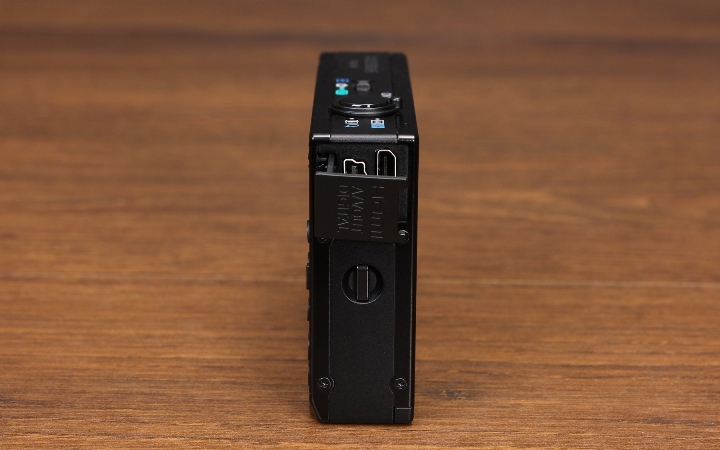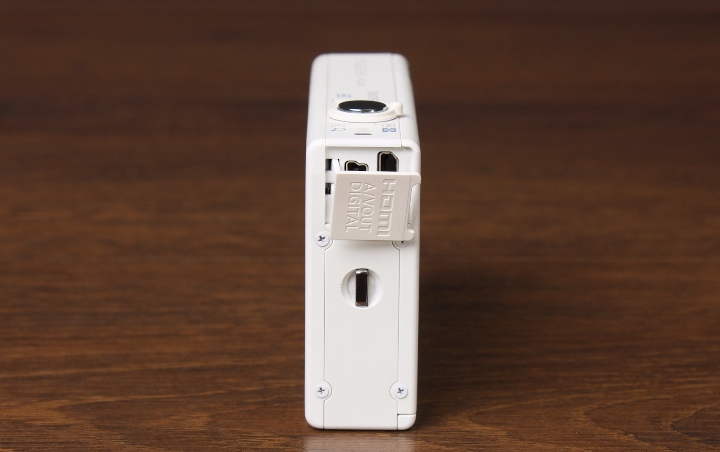 Under the hood is the right side, there are two interface combined with a mini-USB jack A / V and mini-HDMI.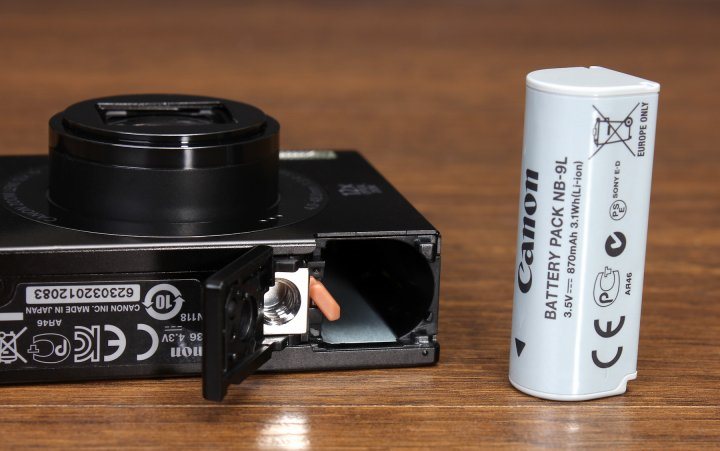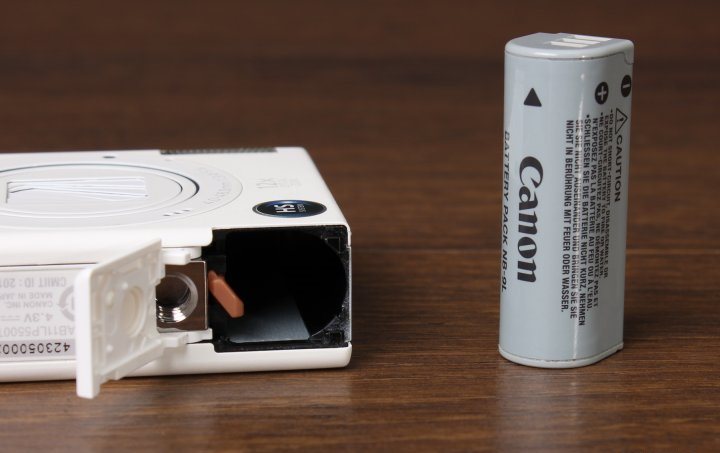 Placed on the bottom tripod thread, a slot for microSD memory card and battery compartment. As the battery is used lithium-ion battery capacity of 870 mAh. The batteries last for about 250 shots for the 500 HS, and 200 to 510 HS. Overall, this is a low figure, but for regular shooting in the city that is enough.
Menu
Interfaces on the camera is also different. Menu IXUS 500 HS features traditional push-compact Canon – simple and clear.
Touch interface IXUS 500 HS is also not extremely difficult, but it is not intuitive name. For example, to get to the menu, you must first call up the input settings using the virtual button FUNC.
However, given that both cameras shoot in automatic mode, browse the menu will not so often.
Lens
Despite its small size, the camera shows excellent functionality. First of all, thanks to a powerful 12x lens, which allows to capture distant objects close-up. Once upon a time this approach could boast only cumbersome "psevdozerkalki", but now these cameras little competition among equals in size and price devices
The viewing angle is wide angle is not the largest among compact cameras (equivalent focal length is 28 mm), but it will not prevent you to shoot beautiful landscapes, architecture, or other types of large-scale scenes.
Intellectual stabilization function copes with unwanted shaking that allows you to make sharp photos with it at maximum zoom.
Automatic mode
The cameras have two basic modes for recording: software and manual. To test was mainly used the second mode, which requires minimal user skills. Indeed, in most cases, automatic correctly selects one of 58 scene programs laid down depending on the scene.
Both devices are quickly and fairly accurately identify the key the shot and focus on them before pressing the shutter, and this can be both faces of the people, and completely static objects.
For dynamic scenes provided an interesting mode of "tracking". This feature allows you to choose an object to focus on that will not go away from the zone of sharpness, even while on the move. Also, "tracking" helps to keep the focus at the desired point as you move the camera itself. The touch screen 510 HS to work with this feature is much more convenient because the focus point is given by one touch.
Program mode
In this mode, you can not only find the right theatrical program, but also use a variety of digital effects.
Especially for fans of reportage includes an option for high-speed shooting up to 6.8 frames / sec (up to 6.1 shots / sec at 510 HS). Series is not limited by the number of frames, but the pictures will be recorded with a resolution of 2.5 megapixels. The shooting speed at full resolution of less than a frame per second.
Continuous shooting speed
Panorama mode (available only for the 500 HS) is implemented quite difficult – you need to take some pictures so that their edges slightly overlapping. Then, the resulting images "stitched" into one by using the bundled software PhotoStitch. In contrast to the "simple" panoramas made ​​devices from other manufacturers, images IXUS 500 HS will be of higher quality.
Also, these cameras have a variety of digital effects that will give your photos more colorful, dramatic, or just make them funny.
IXUS 500 HS – one of the most affordable on the market for cameras with video recording in Full HD. The rollers are clear and smooth, especially if you shoot in moderate light.
The video quality is identical to the 510 HS 500-th model, but thanks to the big screen the process of shooting became more convenient, since the video display without bars.
With the regime "Movie Digest" you can easily remove the video of the day spent just shooting pictures. Before each shot, the camera automatically takes a very brief video clip. Then all removed per day clips are combined into a single file. Note: The function "compilation video" significantly reduces the battery life of the device.
Rapid shooting mode allows you to record video at 120 and 240 frames / s with a resolution of 640×480 and 320×240 pixels respectively. However, the quality of these videos is low.
Built in the IXUS 510 HS Wi-Fi adapter lets you copy images to your mobile device or PC. To synchronize the software installation is required: CameraWindow (for Android) or ImageBrowser EX (for Windows / Mac OS). You can also transfer pictures to another camera with support for Wi-Fi.

Findings
If we do not take into account ergonomics, IXUS 500 HS and IXUS 510 HS – excellent functional camera for everyday use.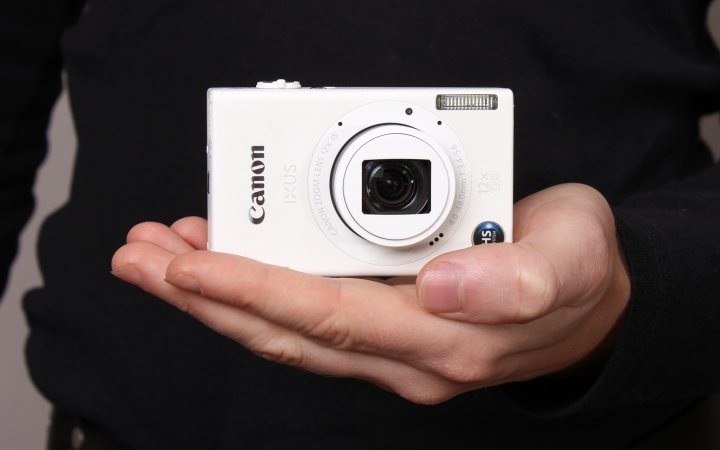 Despite the relatively low cost, the 500 HS has the inherent advantages of the more expensive devices – 12 x optical zoom and the ability to record video in Full HD. And its simplicity will appeal to those who want to do high-quality images, without going into details.
For the IXUS 510 HS will have to pay a bit more, but instead to those already listed advantages you get even and comfortable touch screen and will be able to transfer pictures without pesky wires.
Read another very interesting article about alternative energy of the Sun, water and air.