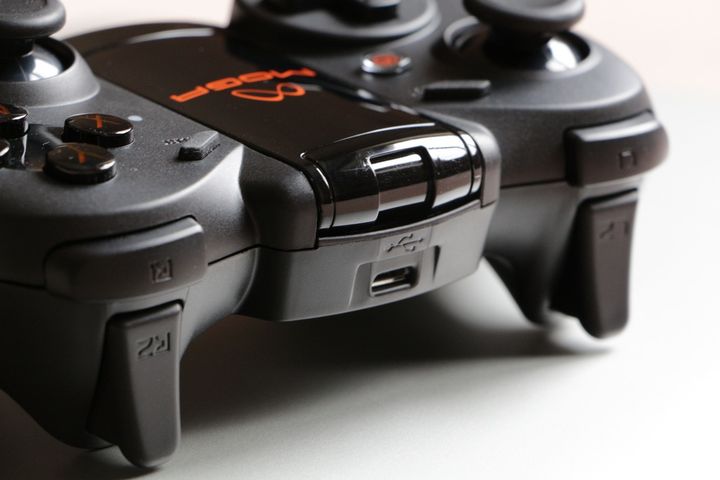 Almost all of us love the game. Someone plays them with your friends on the football pitch , someone sitting at a computer , some impressively collapse on the couch in front of a huge " plasma" with a gamepad in your hands, and some of us prefer to play on mobile phones. It just so happened that they (games ) are now becoming more and more difficult , prettier graphics , and on their part they are small , with small steps closer to what is now offering "adult" platform. There is only one "but" – management, smartphone screen is not for any genre, not to mention about its management, overall usability.
The decision , however , is, for Android there are third-party programs to connect gamepads on PlayStation 3 and XBOX 360 ( and some manufacturers , such as Samsung, embed their support at the driver level and the operating system ) via Bluetooth or USB OTG- cable. This way , alas, brings some problems , among which are often volatile relationship and that much soul twist , it rarely works . The second solution to the problem – a specialized third-party gamepads , one of which is the hero of our today's review MOGA Pro, second in a row "smart" game pad from this company.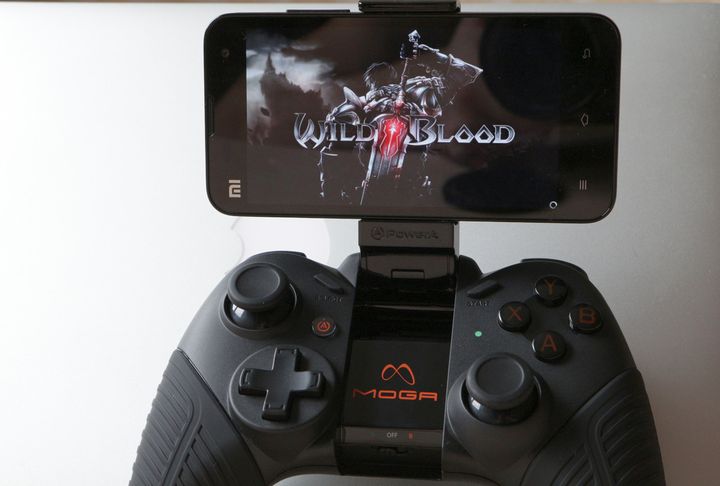 In the box , in addition to the device itself , you can find another USB- cable is required to recharge the gamepad (about two hours, and the time – more than a week with daily use over a hundred , a hundred and twenty minutes ) , stand to place it on mobile devices, not can fit in the MOGA, and a number of papers, among which there is a coupon for a free installation shooter NOVA 3 .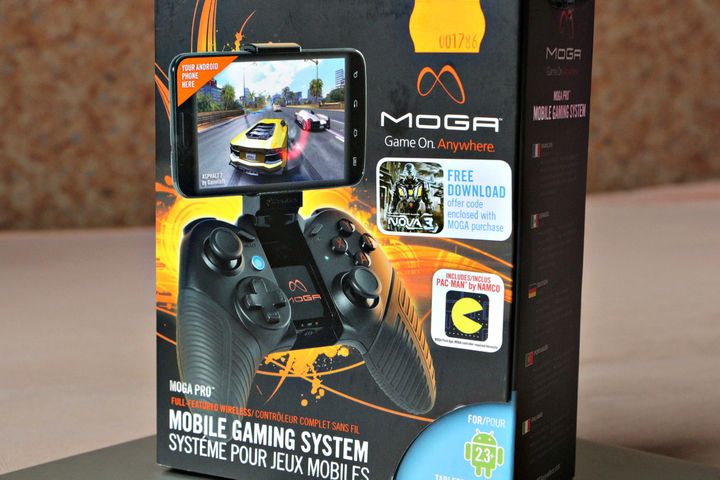 Dimensions of the stand tightly regulated , making it suitable for even the most minor phones , let alone the tablets: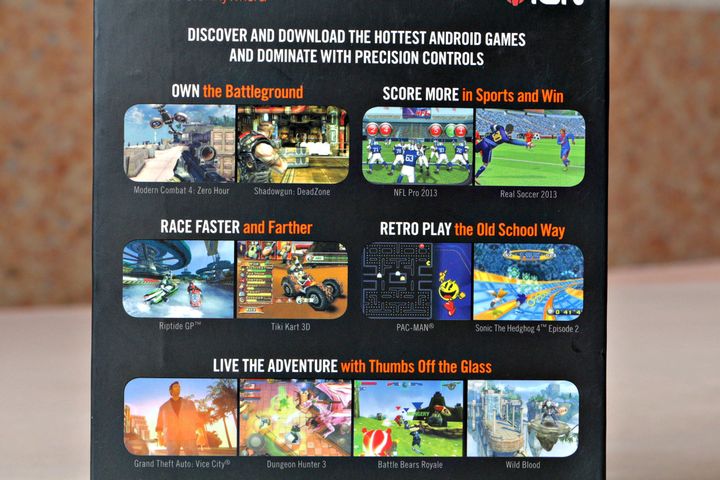 This time, the appearance of MOGA Pro and layout controls repeats those in dzhoypade from XBOX 360 , which is good , because to get used to something new is needed. The handles are contoured and rubberized texture that improves grip and prevents sweating hands.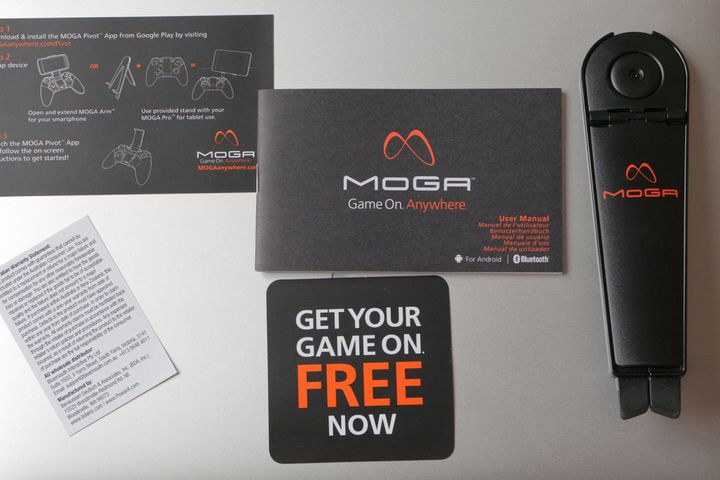 Familiar " bumpers " and the analog " triggers " are also present , as in the " ancestor " , the local press L2 and R2 – Analog :
If you prefer to play in the dark , and game pads themselves new to you , it will be useful highlight action button with the key located on the bottom of the unit.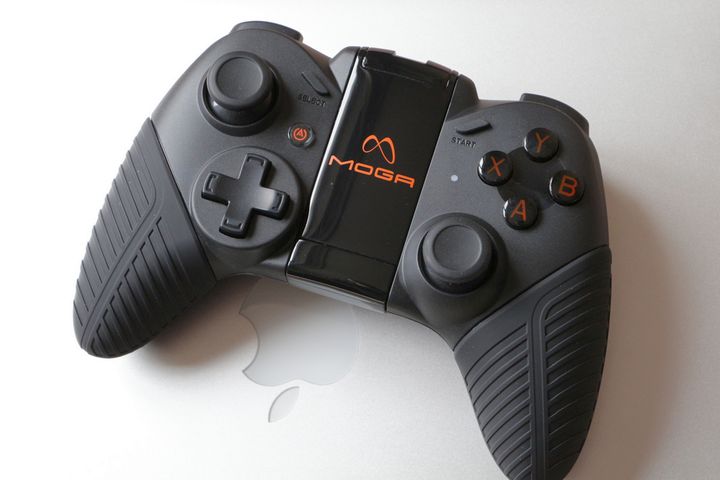 The main feature of this device , however , is a folding plastic fasteners , telescopic stand , where you can put your smartphone (with a width of up to 82 mm ), which is firmly held down by adhesive rubberized surface on the top and bottom. Top, by the way, has a slightly curved shape that allows you to safely put any device inside the fixture, not worrying about the fact that you press a key (in my case – supply) on the side . This design also has two positions – upright and tilted (the latter the most suitable for the game) .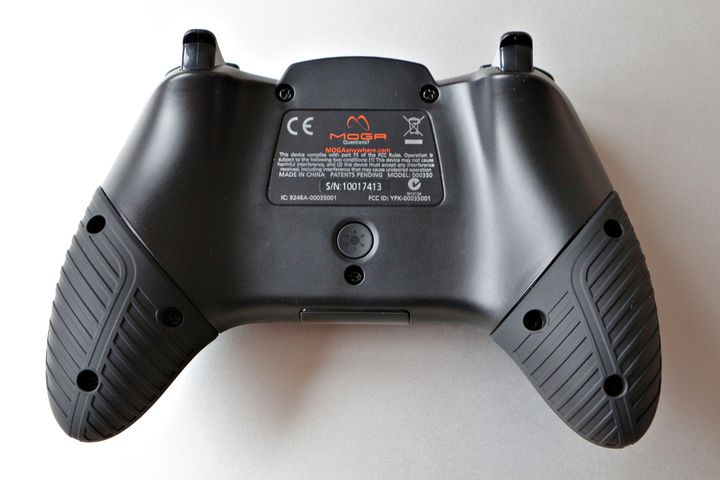 Connect with your smartphone or tablet is easy, just download a proprietary program MOGA Pivot from an online store Google Play ( after all the settings will be prompted to download the free game PAC-MAN) and move the slider on the controller to position «A» ( there is also the «B» designed to address the problems of compatibility with older games ) . Run the installed program , and then turn on the Bluetooth device automatically interfaced themselves somewhere for 15 seconds.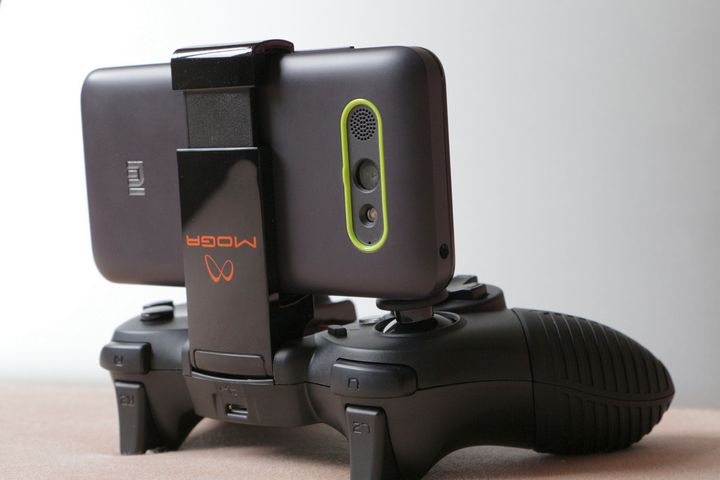 Navigation is a proprietary application with the display of your device , and directly MOGA Pro ( the latter is more convenient ) . In it you can find the list of already -installed games , games that support work with the D-pad and a very very small next game is fully optimized for working with MOGA. In the presence of sorting by genre, alphabetically, and other parameters.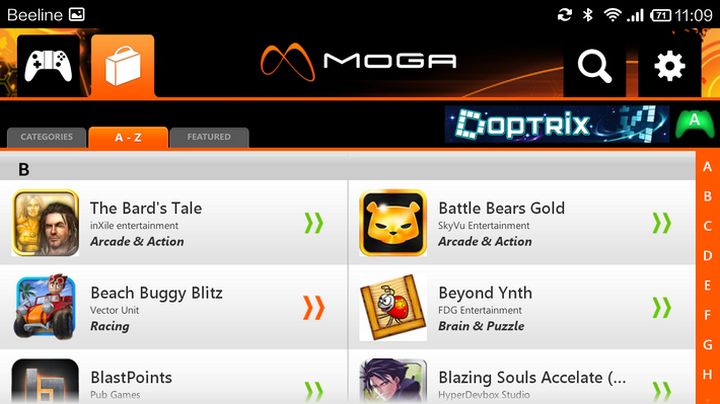 And here there is a basic question: "How do I play? '. Will give all – played well , but not all games have full functionality is available ( for example, in the newly-minted Asphalt 8 : Airborne very essence of the existence of the analog stick nullified because they work and are recognized only in two positions , and in the same Asphalt 7 all excellent) . Having run a number of items, for myself, I found that the first " win" all kinds of FPS and other 3D-project (Modern Combat 3/4 , NOVA 3 , Dead Trigget, Shadowgun, GTA series and Max Payne; them, no doubt greatly more ), then – Platform ( say, a new Reaper), and only the third in a row are a "race ." The main problem of the past , as I said earlier – compatibility , such as Real Racing 3 does not work with the D-pad and it does not recognize .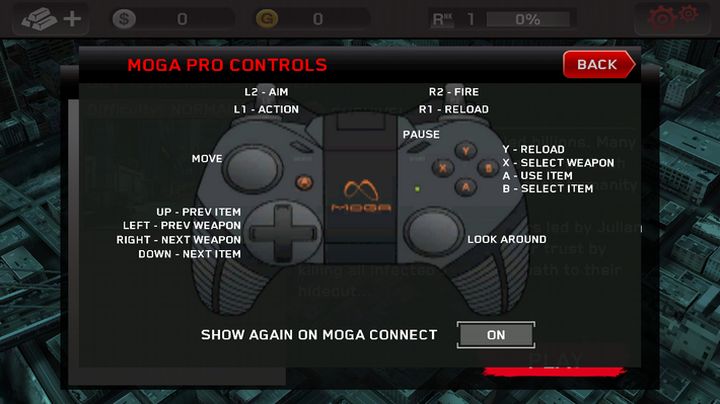 Another disadvantage , in addition to compatibility with games is the fact that the control by the mobile device using a gamepad is not possible, hateful fiscal NVIDIA SHIELD will not work. Otherwise , if you really love to play " complicated" game , I can safely recommend to the acquisition of MOGA Pro, especially because of its relatively low cost , only $ 50 . For the pleasure is definitely worth paying.
Read another very interesting article about alternative energy of the Sun, water and air.