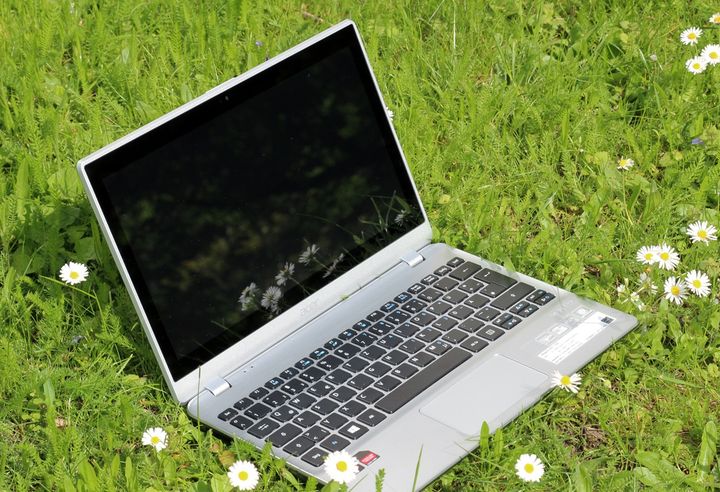 Speak and write , say , tablets and netbooks already killed actively replacing laptops. This is partly true . For those who need a portable device for surfing the Internet , watching movies and occasionally for correspondence , would be enough besklaviaturnika touch with a large screen . But still there is a sufficiently large category of people who need to bring something more comfortable than a touch-screen display , an input device . Affordable Acer Aspire V5-122P – sort of a modern alternative to the tablet . And netbook . In the sense that this is a small laptop , read – subnotebook with a touch screen that runs on a hybrid processor is referred to as APU. Hybridity lies in its combination of graphic and CPU in a single chip. Applied in the Acer Aspire V5-122P CPU is not a quick, taking up positions with the performance gap between Intel Atom and the Intel Core i3. But consumes little precious energy.
Design and build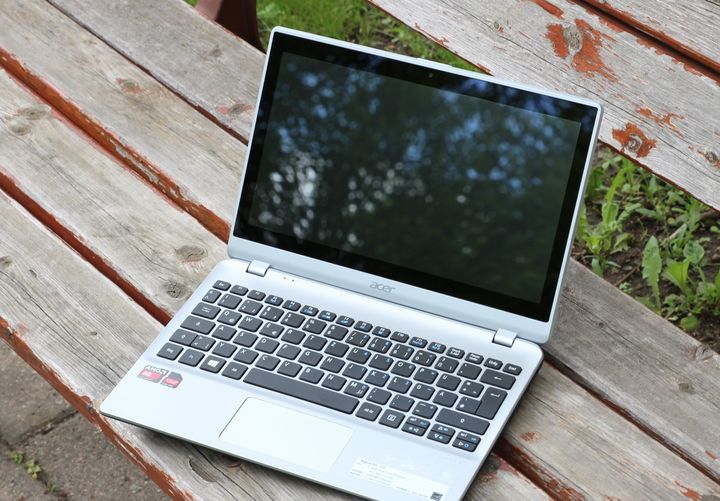 It is not chic jewelery ultrabooks , but overly simple netbooks past years here and does not smell. Housing Aspire V5 neat and handsome . Thickness of about 22 millimeters like and not a little to the 11- inch laptop in 2013, but puffy and thick it does not appear . And all because the correct form, bottom and lid – flat . The base is made of plastic. It can see the vent, rubber feet and two speakers , more precisely, the speaker mesh . The bottom can be removed by unscrewing the screws on the perimeter, without this procedure from the laptop does not take forth .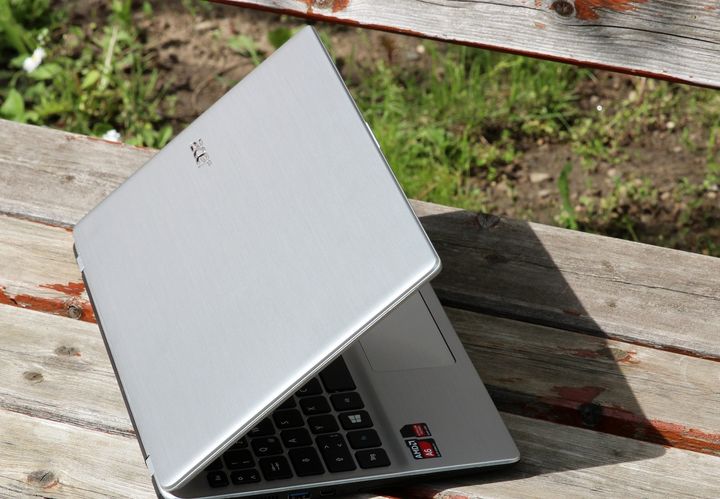 Cover blue color is very similar to the brushed aluminum , but in fact , it is plastic . However, very nice and pleasant to the haptics . Externally, the device is more suitable for girls and children , so the compactness and lightness, it is especially important. Options laptop 289h206h21.6 millimeters and weighs 1.4 pounds , which is allows you to wear it with no problems , though modern 11-inch Ultrabooks mostly easier.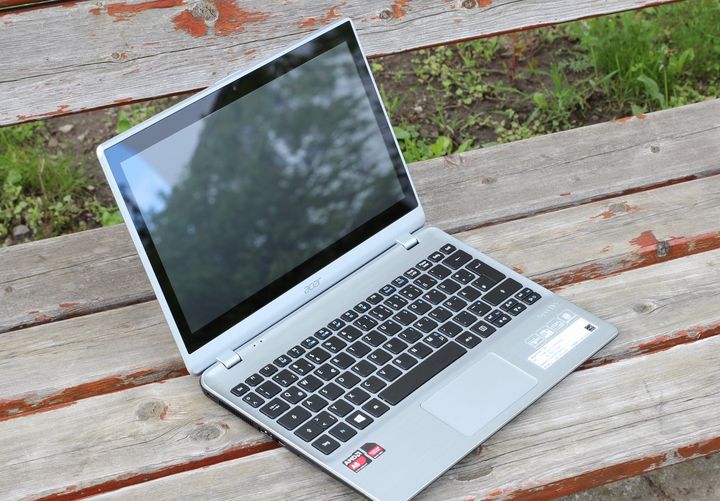 Compiled Aspire V5 good parts fit together. The cover bends , but the stock of decent stiffness . Laptop halves fastened to each other two joints , strong , but not too stiff. The opening angle – wide , wide enough to work by placing the device on your lap.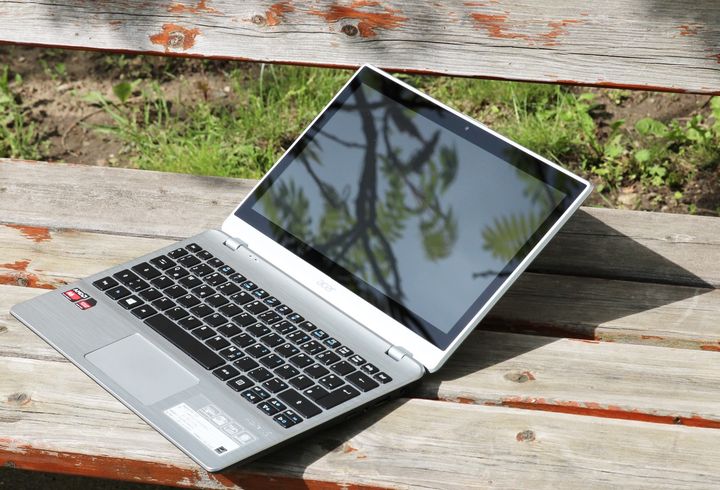 One is struck by a very thin bezel around the screen , making V5 design to order more modern than most of its competitors.
Ports and connectors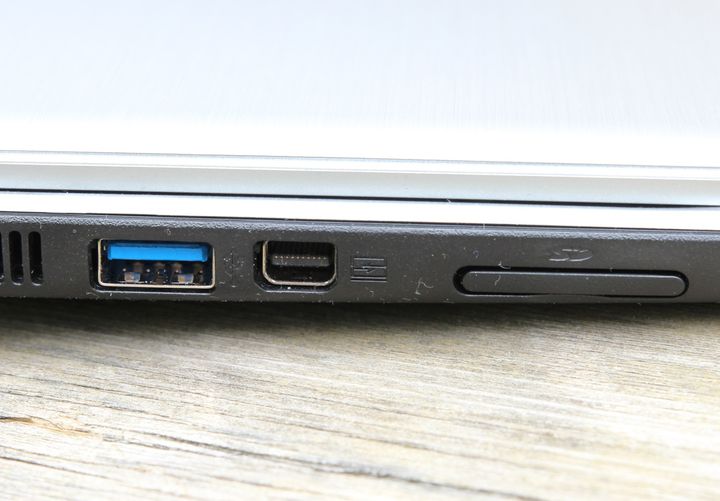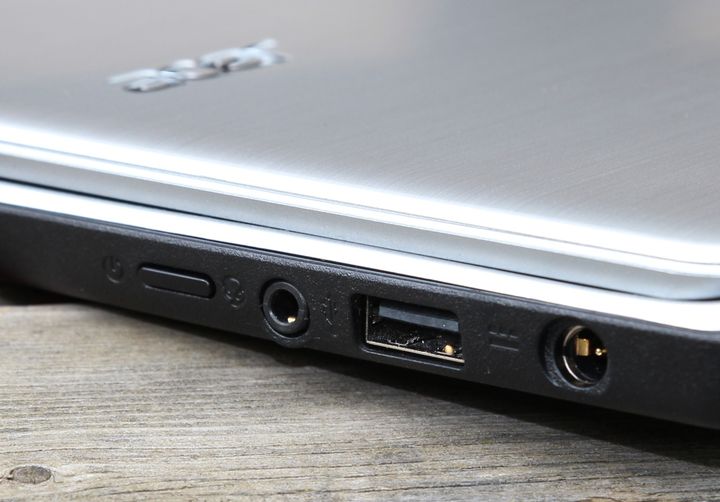 The right side is quite close to each other are located charging socket , USB 2.0, audiodzhek and the power button , the size and performance resembled those in smartphones. Thick headphone cord and thick as USB-modem may well not fit in neighboring nests at the same time , however, such a combination is rare.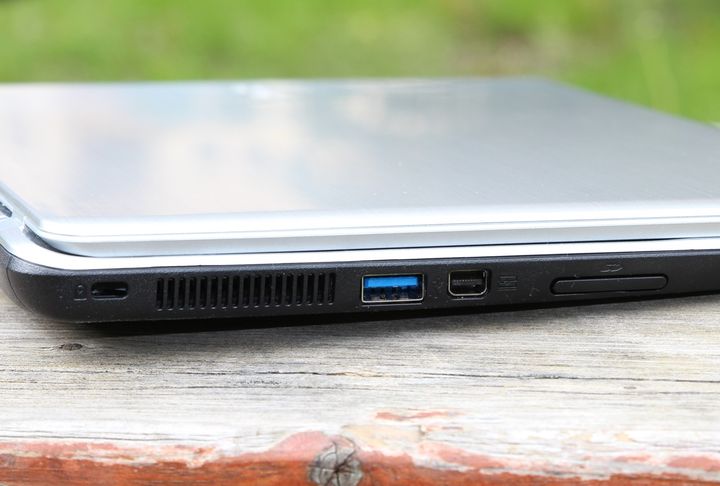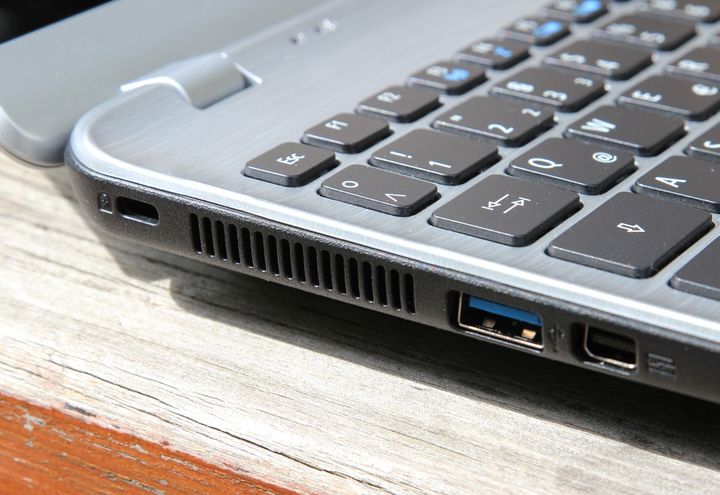 Left has USB 3.0, Multi Card Readers , mini DisplayPort and grille . Location of the ports can not be described in any particular uncomfortable or vice versa. Normal, normal. Yes, included is an adapter with a mini DisplayPort to VGA, so connect an old monitor or projector is not difficult.
Display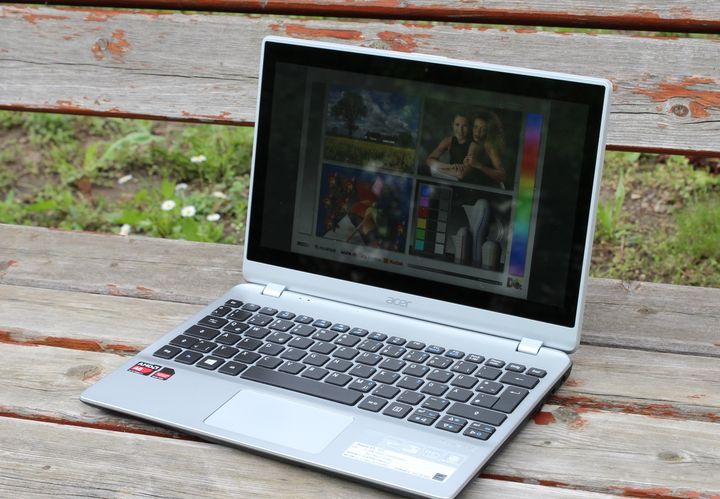 Display, bordered by a thin frame , perhaps, the strongest part of the unit. Made by technology IPS, it features a wide viewing angle , and , despite the low resolution ( 1366×768 pixels ) , the picture looks quite smooth and pleasant to the eye. Such a resolution in 11 -inch screen , in my opinion , allows users to operate with all sorts of atavistic (from the point of view of sensor devices ) Windows- interface elements , such as small crosses , window frames and others.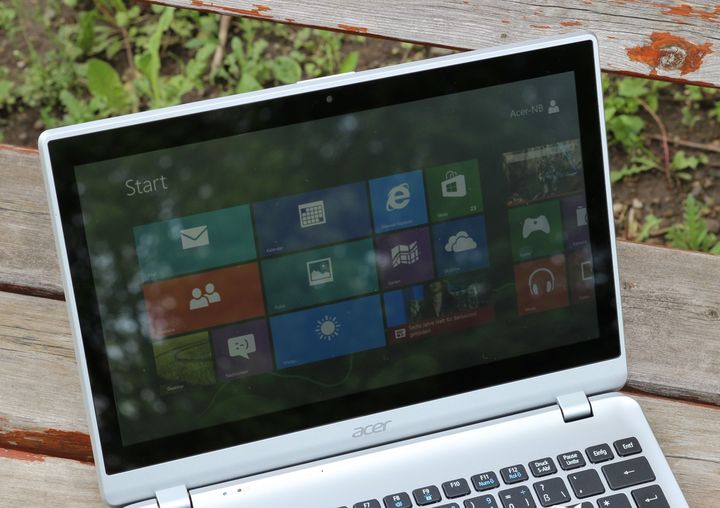 The glossy surface is naturally somewhat hampered when working outdoors on a lovely day . But the brightness is sufficient to consider in such an environment image .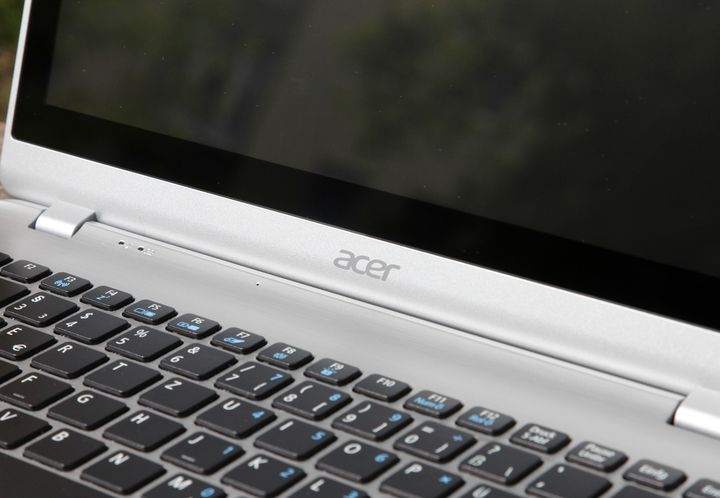 However it is better to move to Tenek , then do not be a problem . Contrast the laptop at the secondary level , the colors – nice , deep picture , good black color. As an input device display also proved to be good. It is sensitive to touch with your fingers, understands up to 10 simultaneous touches . In general , Windows 8 touch screen device I would not make a shortcoming all convenient. Just get used to .
Keyboard and Touchpad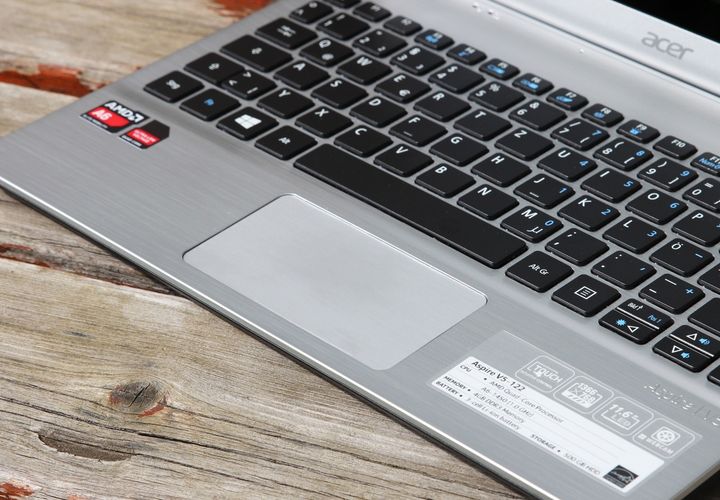 Keyboard island type made ​​of lightweight plastic rough . Yes , the keys are large enough for you – quiet, move them short. However , I can not say that it is completely good. Move them sticky . The keys are already very tight in places adjacent to each other , literally hanging , the layout on the left side failed .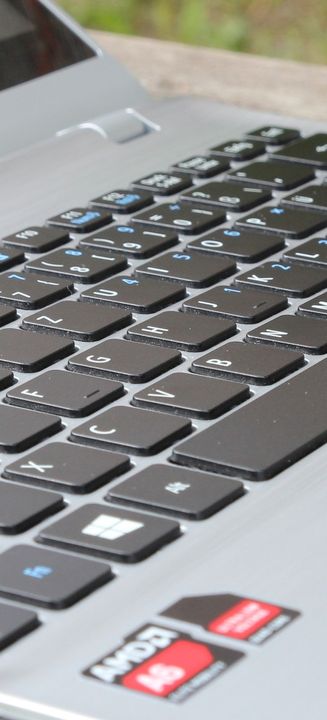 So , I did not like the traditional dial Acer unit with six tiny buttons, Toul each other like frozen kittens . Many users do little Enter, visually integrated with the "/".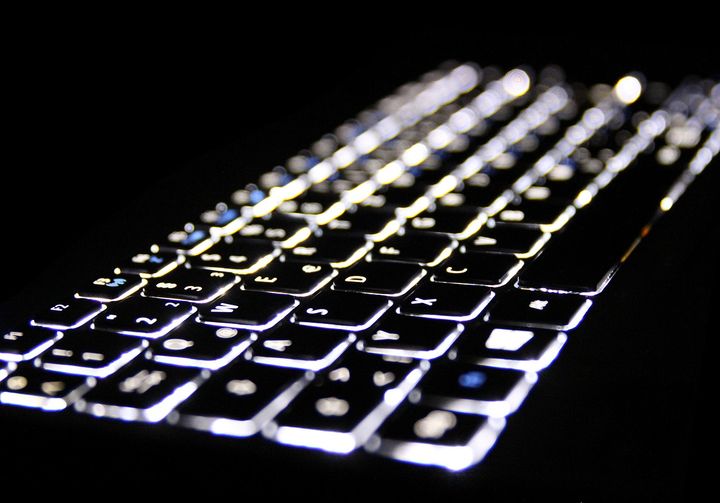 However, quite a full-fledged keyboard , and the text I type on it, already accustomed to , without much effort. The touchpad is small , but for a 11-inch chassis – at the time . Smooth , pleasant to the haptics , he razpoznaet multitouch gestures , including trehpaltsevy . Checked, he copes with them successfully . And its only drawback – the lack of differentiation of the left and right mouse buttons. In order not to make a mistake , you get used to reluctantly use the touch surface on the edges.
The system and performance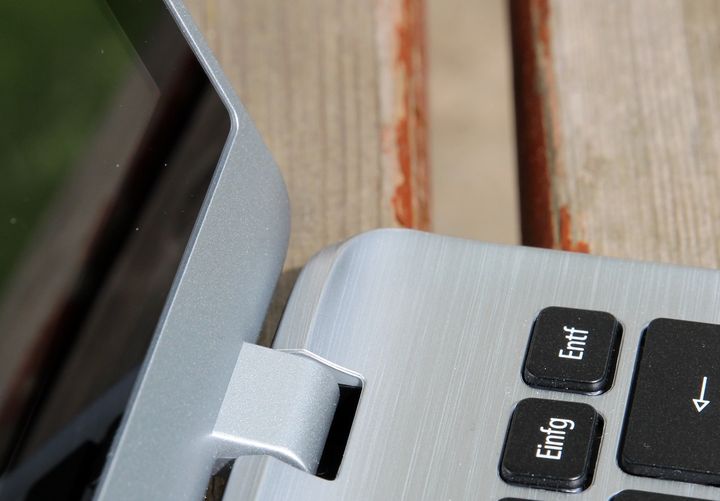 Basis subnotebook – presented in the summer of APU AMD Jaguar A6- 1450 . It is a line of low-voltage processors , known under the code name Temash and in fact is the successor of " netbuchnyh " systems AMD Zacate and Ontario. Although the presentation of these processors such comparisons avoided , preferring to face off capabilities with competitors. That is, with a competitor . As planned by AMD, new Temash occupy a niche between the Intel Atom and Core i3. A6- 1450 has as many as four cores and four threads . A lot , but remember , the clock frequency is something quite low : 1 gigahertz. Because of this processor works more slowly , losing , say, a low-voltage Core i3-3217U, standing at the ASUS VivoBook S200. But the consumption of energy it , in theory, makes all : 8 W , which is twice less than in the same Core i3-3217U. Integrated graphics card AMD Radeon HD 8250 – a typical entry-level solution , and is not intended to launch tazhelyh games. But in casual games or quests or old games – you can play well . But no more , and the confirmation of the test results : P533 in 3DMark11 and P1558 in 3DMark Vantage.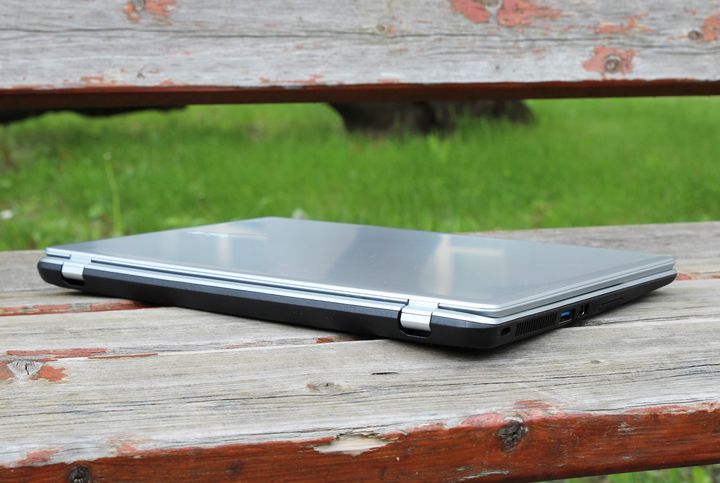 The system is enhanced by a 4 gigabytes of RAM and a 500 GB drive is working , according to PCMark, medium , at 1366 points. Finally, according to the estimate of Windows 8 the weakest unit is expected, the graphics . In general , a laptop with simple tasks to cope . It is possible to watch a movie or surf the Internet. But for those who love the game, it will not be interesting .
Endurance, noise , heat
Frankly, from the energy-saving platform Temash I waited longer battery life . In the read mode is turned off WiFi, the minimum screen brightness laptop lasted only 5:00 42 minutes. In normal operating mode (half brightness, browsing , typing, music) – less than four hours under heavy load – 1 hour 39 minutes. According to these indicators competing ASUS VivoBook S200vyigryvaet the hero of the review. Thus, in operation it was held for about seven hours. But Acer V5 is quite cold . Heating is felt only in the middle of the bottom under heavy load . The noise in a quiet room at night during the test run will be heard , but only at full load. A no-load you will hear the noise only if you put your ear to the bottom of the unit .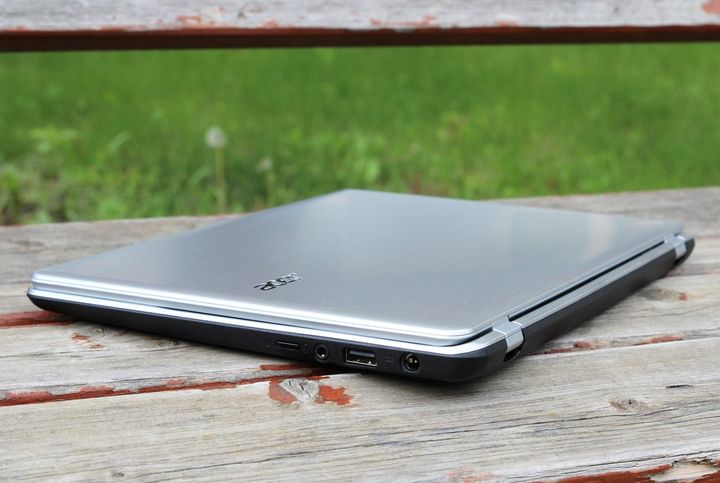 Sound
Sound is the most common , the stereo is enough to fill the sound of a quiet room is medium sized. But somewhere in the cafe , and even more so , on the train , it is better to use headphones (however, in such places is always better to use headphones ) . Sound ploskovaty , as usual , stripped bass , but overall acceptable : the average here is quite clear , pleasant high . Talk on Skype would be nice, but you can watch a film .
Competitors
Most natural competitors notebook – representatives lineup ASUS VivoBook, like ASUS VivoBook S200. Competitor somewhat faster with Windows 8 has more connectors , but it is worse screen, easier design. Such a thin frame he certainly is not. And yet, just the other day was announced at IFA 10 – inch touch subnotebook ASUS ASUS X102BA, also made ​​on the platform Temash. But it still must wait.
The bottom line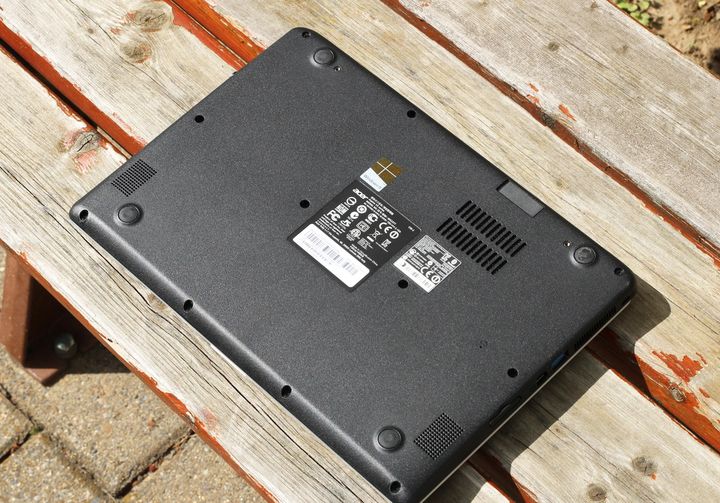 In all respects in front of us – a real modern subnotebook direct descendant of netbooks. Only by today's standards , he is dressed in little more than a presentable suit and a touch screen . If you need a low-cost laptop , light and cute enough , but the performance is not important – it's possible it's your choice . In fact, everything in it is good for the money , and if I have something and truly upset , because it is low battery life. There are, of course, the possibility that our test battery podubita elementary idle for a long time , but I was in this little hard to believe .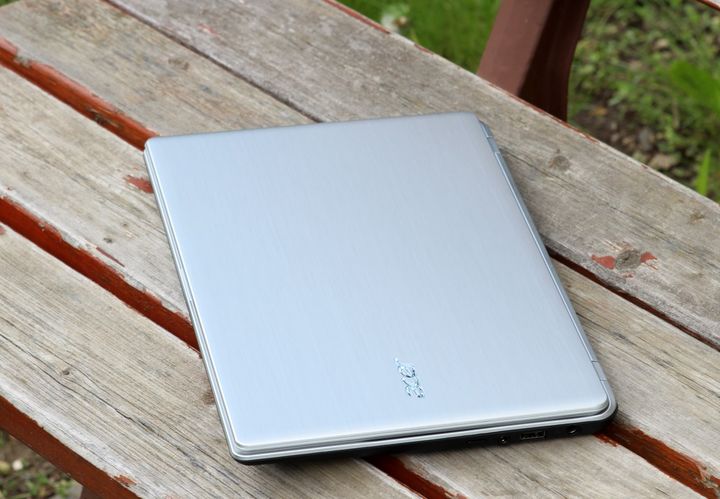 I think this laptop is perfect little girls (well, teenagers , too) : he is very cute in appearance, a pale pale blue (surely there and pink version ) , with a thin frame beautiful , inexpensive, and not heavy . Girls are rarely productive in the game. Well, for a long time and is unlikely to happen in places far away from electricity.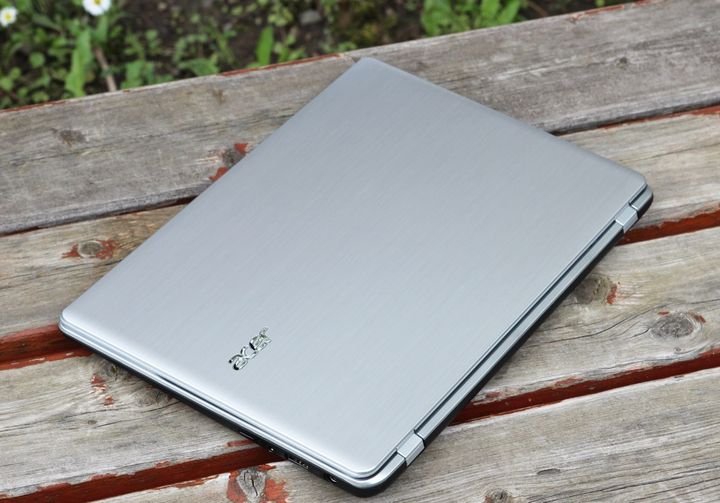 4 Reasons to Buy Acer Aspire V5-122P:
Good design ;

Robust housing ;

nice screen : IPS, touch , thin frame ;

reasonable price (about $ 560 ) .
2 reasons not to buy Acer Aspire V5-122P:
It is not enough for a long battery life ;

low productivity.
Read another very interesting article about alternative energy of the Sun, water and air.