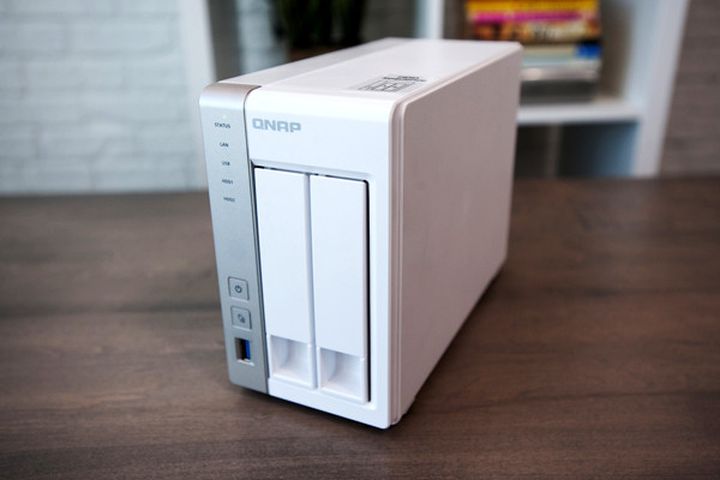 A faster processor significantly improves the performance of NAS devices in the management of files. Chip Intel Celeron J1800 with a clock speed of 2.4 GHz, installed in the model QNAP TS-251 with two-bay, and allows for other useful features, including video transcoding on the fly and the ability to run virtual machines. On a NAS device with Atom processor is not even worth trying to solve the problems of this kind. However, to run the application Virtualization Station, managing virtual machines, you will need at least 2 GB of RAM, and the currently available models cost $ 499. Comes with a memory capacity of only 1 GB.
The main value in the model QNAP TS-251 is what is inside her modest housing.
Given this price – cheaper for the company QNAP, but expensive for everyone else, including equipment Synology – it is not surprising that the main body manufacturer decided to save. Silver and white plastic TS-251 look cheap, while there are no compartments device locks. Fortunately, in this economy and ends (with the exception of only 1 GB of RAM). You get a two-port Gigabit Ethernet, HDMI port for connection of a display, two USB 2.0 ports and two ports USB 3.0. USB 3.0 port on the front panel is used to quickly copy the contents of the device to be connected via USB, on the internal drives.
Support is implemented virtual machines is significantly better than on the fly transcoding. Handed down to us by QNAP device (which was installed 4GB of memory) demonstrated excellent performance, managing while recording 10 GB of files and folders to ensure an average speed of 53 MB / s. Reading speed in this case amounted to 33.5 MB / s. One large file size of 10 GB was recorded at a rate of 105 MB / s. Of course, performance is very important, but it should be noted that in the world there are a lot of fast devices, which are much cheaper. The main advantage of QNAP products are considered to be the operating system and a set of software functions that would otherwise not be called as phenomenal. Complete windowed graphical user interface is implemented in HTML format and displayed in a browser environment. For those who have not seen it yet, be sure to watch the video posted on the website QNAP.
Naturally, it supports all the traditional network interfaces and access protocols (FTP, Telnet, SSH, etc.), multiplayer mode, the ability to share resources, quotas – in short, everything that is present in any device NAS. Implemented as a hosting server and centralized service functions: support for Web server and e-mail, content management, video surveillance, BitTorrent and other means of loading, XBMC playback of multimedia content on the connected display, streaming DLNA and iTunes, as well as the ability to save backups in the cloud.
There are also many other things, but among the latest additions in the first place should be allocated on the fly transcoding video and offline, as well as the ability to run virtual machines. The function of conversion, while in the current beta version is implemented fairly easy, but when working with mobile applications in real time much success in trying to get me to use it and failed.
In transmit to us QNAP device is a pair of 3-terabyte drives Seagate. But the mechanism that would allow these disks to fix inside the body, we have not discovered.
In general, you need to upload files to TS-251, make sure that the functions of multimedia information processing and conversion are activated, and using application QNAP Qfile (exists in versions for Android, iOS and Windows Phone), try to play the files on a portable device . At PC and Mac has its own codecs and transcoding is not required. Unfortunately, the application for Windows Phone, we did not work at all, and Android application failed to reproduce the files recorded in the format of the operating system.
Proceed to practice
Recoding files in streaming mode with video playback on mobile devices, we have carried out only at low resolution (480p or less) and not always successful. On the other hand, direct streaming DLNA worked perfectly (thanks to the wide choice of very functional player for all platforms). Recoding offline in MP4 format also performed very well. If you often have to deal with the video really makes sense to assign all tasks transcoding device NAS. It allows you to create files with a resolution of 240p, 320p, 480p, 720p and 1080p (as well as any combination thereof). Determine the maximum resolution, processed in streaming mode without delay, it should stop. Model TS-251 also supports Plex and AirPlay.
Do you want to perform on a NAS device applications that are not supported by him? Take advantage of QNAP Virtualization Station and run programs on a virtual machine.
With the launch of the virtual machines fared much better than transcoding on the fly. Software QNAP Virtualization Station is very similar to VMware and VirtualBox, except for the fact that its management is performed remotely via a web browser. I have most of the virtual machines is presented in the format of VirtualBox, and Virtualization Station supports only OVA / OVF (open virtual format) and QVM, so the virtual machine of Windows 7 had to be created from scratch.
During testing of Windows 7 virtual machine copes with consoles HTML5 and Java, although not as fast as the machine that is running on the local PC. However, to access the virtual machine anywhere in the world (provided that the remote access to the TS-251 you have) and know that any stored data will be safe in your home, is really impressive. Furthermore, the model TS-251 consumes considerably less power than most of the PC.
QNAP offers several free apps Android and iOS, including convenient remote control.
As already mentioned above, the TS-251 cost $ 499. In the standard package has only 1 GB of RAM, and that to start Virtualization Station is not enough. Modernization will require removing the case (at first, remove wheels) and remove the drive bay, so that technophobia it better not to engage in, and wait for the soon release with 4 GB of RAM for 559 dollars.
Another pitfall associated with the license to use the camera: Surveillance Station comes with two licenses, and Surveillance Station Pro with only one. Therefore, large-scale video surveillance system without having to purchase additional licenses you will not succeed, and each of them is worth $ 55. In fairness, it should be recognized that such a practice in the QNAP is not alone: Synology and EMC / Iomega adhere to the same policy. In any case, you are interested in studying the functional description, it is necessary to carefully read the fine print.
Is it worth buying?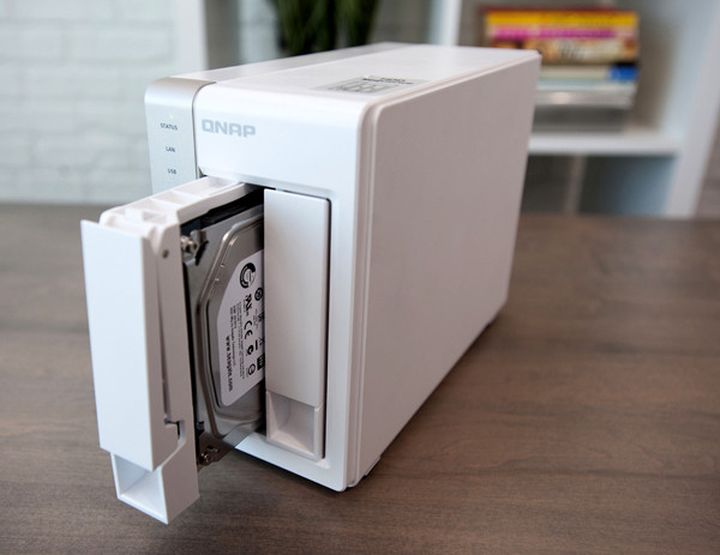 Model TS-251 is one of the functional devices and fast NAS. It costs quite expensive, and for the efficient use of its capabilities in full is required to increase the RAM, but you can place on the device website and e-mail, control cameras, play multimedia content streaming and solve many other problems. Very valuable asset for those who need all those features.
If you are satisfied with a simple network storage that supports streaming, on sale there are many cheaper alternatives.
QNAP TurboNAS TS-251
Pluses:
rich functionality of the software;
the proposed equipment can take the place of multiple devices.
Disadvantages:
There is no locking mechanism compartments with disk drives;
opportunities for virtual machines need to increase the amount of RAM;
A new function on the fly transcoding video may not work well.
Findings
Model TS-251 – one of the most functional and versatile devices, NAS, equipped with two compartments, in its price range. But it is worth it quite expensive, and the implementation of mobile multimedia functions leaves much to be desired.
Read another very interesting article about alternative energy of the Sun, water and air.