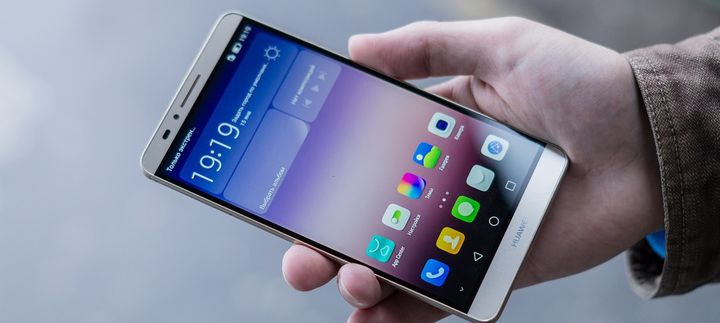 Three years ago, smart phones, Huawei generated little interest from consumers, a year ago, the brand name was already many at the hearing, and now I'm ready to responsibly shout: "Shut up and take my money!" At the sight of the hero of this review – Huawei Mate7.
Packaging equipment
Despite the fact that on the official website of the gadget complete declared delicious gag with noise reduction and fit (hopefully) sound quality in our box were unpretentious plastic tabs. However, I hope you've managed to get themselves worthy of the unit for listening to your favorite tracks.
ViP-map for China provides enhanced package of service and support, as well as a bag of yuan to buy applications. But we have to activate it will not work.
Corporate Case is made of pleasant material and is equipped with slits for the important controls. Features include a window and programmatic support from the smartphone. Opening and closing the lid cover activates and locks the screen, and in the window displayed or beautiful screen with a clock and notifications screen or control the player. Moreover, we can safely talk on the smartphone without opening the lid cover at all. All elements of the management of talk time will appear on the screen in this same window. Case is a very interesting and thoughtful. The cover can be folded to 180 degrees.
Design and Ergonomics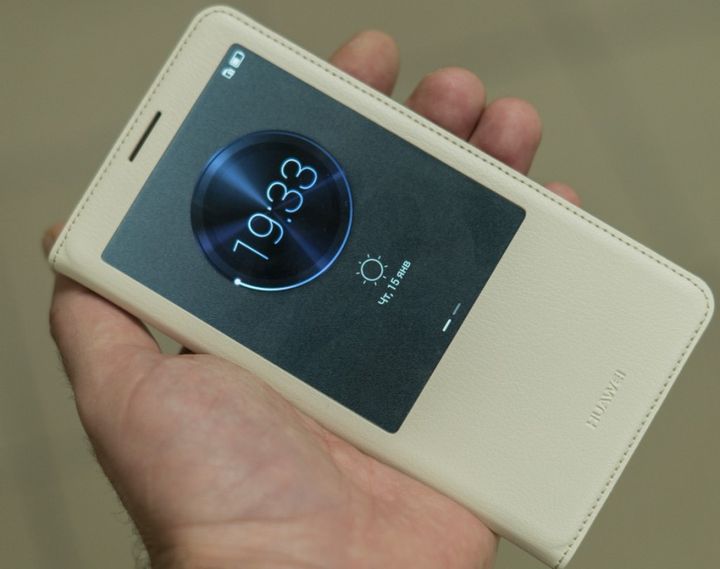 "The compact 6-inch smartphone" – sounds a bit strange, is not it? But it's already 2015, the year, and we will take it for granted. In practice, the company's engineers to fit in a slim, stylish metal body not only a decent size screen, but almost top-end filling. Thanks to their efforts, Huawei Mate7 proportions comparable rather with 5.5 inch competitors, which will undoubtedly be written in the pros. Side frames around the screen virtually no chin and nadborodok also have minimum dimensions. By the way, about the competitors:
As you can see, our hero sets itself apart from the rest of the minimum (if we forget about the apple smartphone at diagonally) thick, and the mass is justified culprit unprecedented autonomy, but more on that later.
According to tradition, on the screen there is a peephole front camera, sensors and LED notification. Chin free from mineral bodies, it flaunts the logo maker.
On the right side are buttons for volume and power button / lock. The buttons have a short stroke, not loose, but the buttons are too easy, that creates some inconvenience. The left side of a pair of trays that can be drawn using the included clip. In one of the SIM-card format micro, but the second deserves attention. It can be inserted or a memory card or a second sim card format nano – the solution is very interesting and innovative.
At the rear, under the eye camera is a fingerprint scanner. Such an arrangement scanner was Phablet HTC One Max. (though he worked there as a bad th) at the bottom, as usual – a hole for multimedia speaker.
The quality of the materials used – excellent. Housing smartphone 95% consists of a pleasant and durable metal that is sufficiently resistant to external influences. The build quality – excellent, no squeaks or backlash was found. The construction is solid, not folding smartphone for battery replacement or other details, users should contact the service center.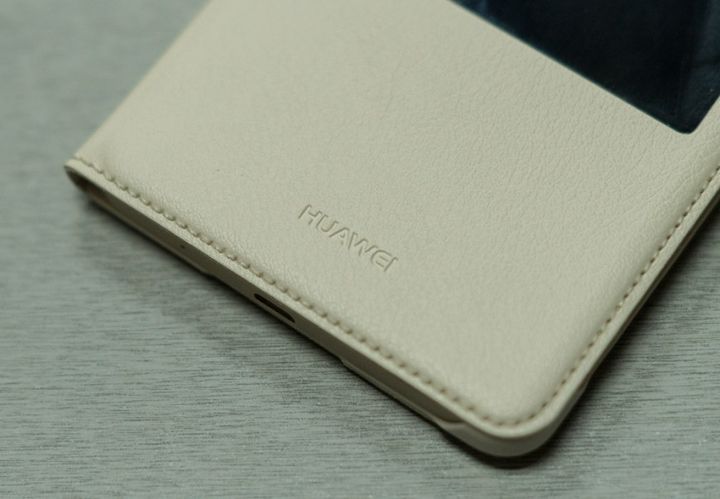 Did the manufacturer to design a compact six-inch Phablet? – More likely than not – get the hand to use this miracle with one hand easy, aided software chips. Another issue is that in terms of the perception of stigma disown shovels Huawei Mate7 can not.
Huawei Mate7 will be available in white (Moonlight silver) and black (Obsidian black) colors with 2 GB of RAM and 16 GB of internal. Device to support the work of two SIM-cards in bronze color (Amber gold) with 3 GB of RAM and 32 GB of internal Ukrainian market will come to a little later.
Display Huawei Mate7 occupies 83% of the front panel, it does not excite the imagination of performance, because in some flagship resolution and pixel density is much higher, but at 100% fulfills its task. IPS matrix of Japan Display Inc. demonstrates impeccable color and has an impressive stock of brightness for all occasions. Automatic adjustment takes place locally and continuously. Read something before going to bed Huawei Mate7 can comfortably, absolutely, as work on the street. In our sample showed one dead pixel, advise you to pay attention to this point when buying.
Camera
The smartphone is set sensor from Sony fourth generation. Software component looks nice and concise, shooting settings menu is simple and intuitive.
Front module bit is not justified. In pursuit of compensation for low-light or trying to make the results of crash, software algorithms strongly mangle photo, abounding shumodava and color correction. But such a thing is very handy during the night video.
The main module makes great shots in bright and pretty good in low. The lens is equipped with a diaphragm F2.0, ISO settings range from 50 to 3200. Starting the camera focusing and shooting takes place almost instantaneously, which is characteristic not everyone flagship smartphone. The flash works well, helping out in the dark, but refuses to work, if the charge is less than ten percent of the smartphone. Here's a shot with lots of detail, made in complete darkness using flash.
So we come to the most interesting part – iron stuffing. There is talk about anything, but start with the versions available in the market. Let me remind you that the market has a version of Huawei Mate7 with two gigabytes of RAM and 16 constant. Advanced version, which came to us in the review, has on board 3 GB of RAM and 32 GB of internal storage. Phablet controlled by a proprietary chip Hisilicon Kirin 925, which operates as a 4 + 4 + 1. The first four – the productive core Cortex-A15, the second – cold core Cortex-A7 for undemanding tasks. Ninth kernel is designed to provide a constant readout of the sensor device, it has a very low power consumption. Similar technology we've seen in the face of the coprocessor integrated into the Apple iPhone. Hisilicon Kirin 925, along with graphics Mali-T628 MP4 is suitable for all applications. Of the toys I had to play World of Tanks Blitz, where the hero of our review did not hardly began following a comfortable 30 frames per second. In many VIDEOTEST Phablet confidently holds all 60 frames.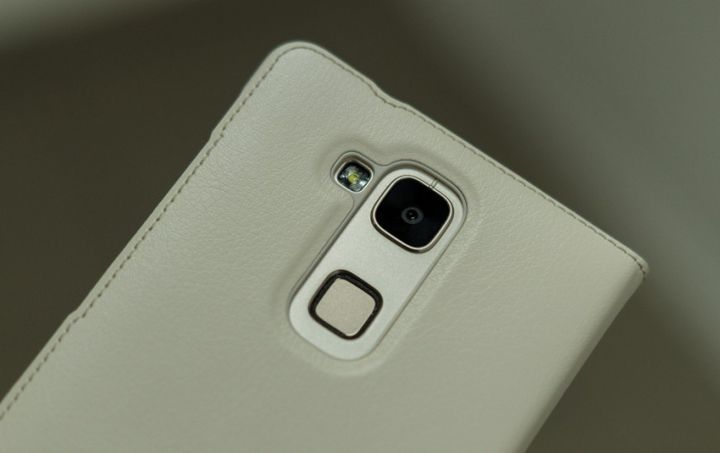 According to the results of benchmarks, Huawei Mate7 slightly inferior competitors, but in practice it works very quickly and smoothly. Like filling more than enough for the next few years.
Separately, talk about the scanner fingers. In this regard, the smartphone deserves the highest praise. To get started, the user needs to provide samples of finger pairs and come up with a backup PIN.
The recognition quality is at high level, and optionally applying finger entirely – sensor also responds to the individual parts. For all time operation only a few times I was faced with the fact that the sensor does not respond the first time. Location sensor is also quite thoughtful, index fingers without any problems quite live up to the place of contact.
Software Platform
The smartphone runs on shell EmotionUI third edition, version of OS – Android 4.4. Overview envelope clearly requires a separate post that I, in general, did not so long ago:
The new version has brought even more tweaks and improvements. Let me note the most, in my opinion, interesting and meaningful.
Phone Manager – a software package that is responsible for ensuring that the user was good in every sense. As soon as any application takes liberties like pile push-notification or increased battery consumption, work in the background or encroachment into place in the startup list – a smart phone to quickly notify you and offer solutions to the problem. The magic word – "Optimize" – will accompany you everywhere. In one click, the user can free up more memory by removing debris of various sizes, with a wave of the hand cleaned RAM and disconnected applications that devour battery. In general, EmotionUI makes smartphones Huawei phones such things for blondes, in the best sense of the word. The system will take care of the user, minimizing its movements.
For external beauty meets the manager. In it there is plenty of skin for every taste and color. Elements of different topics can be combined.
Very useful and interesting feature is to provide an updated shell search engine, which is pretty darn similar to Spotlight, used in apple production. Called it swipe down on the desktop. Universal search engine finds matches across the device, whether a piece of SMS-correspondence or name of the picture in the gallery. Also, using the search is very convenient to search for the desired contact, if there is an urgent need to call.
In addition to the internal search, it is possible to draw network sources and corny google necessary information directly from the same search engine and without much fuss.
For dessert – a Huawei Mate7 integrated pedometer, the basis for which is just a couple of paragraphs above mentioned ninth processor core. Counting steps reasonably accurate, roughly on par with the pedometer Moves. There are no outstanding options and additional chips associated with pedometer yet, but I am sure that soon he will acquire additional capabilities.
Sound
Huawei Mate7 has a fairly loud speaker, to miss an incoming call is problematic. And I really relished branded ringtones, using the apparatus, first drew attention to the fact that the standard ringing tone sufficiently developed for each incoming call is akin to small concerts.
For high-quality sound in the headphones is responsible separate musical chip TenSilica DSP. Also there is a software technology DTS, which can be activated in the settings, or in the music player. Last pretty good, have an online component, which will be more useful to the eastern countries. But there was no equalizer, for this purpose will have to use a third-party solution.
Autonomy
Remember when I said that the weight is justified culprit unprecedented autonomy? The hour has come to reveal the card. The company's engineers have proved that the thickness of the device – not an obstacle to a good battery. In the slim and compact fit Phablet manufacturer battery capacity 4100 (!) MAh. Similar capacity envy of many plates.
According to the manufacturer, the battery Phablet and energy-saving processor provides about 10 hours of screen in a constant load, about 50 hours in total, about 60 hours of music playback and 9 hours of Internet surfing. In practice, I was able to get twelve (!) Hours of screen on which all the friends gasped geeks mainly in video playback with audio output to the headphones.
Screen brightness and volume were on average. Very few smartphones and tablets boast similar. In my memory, only Apple iPad first generation was able to twist the same amount of time video.
The smartphone has three proprietary power saving modes – normal, intelligent and ultra-energy saving. In Ultra, as you might guess, most otklyuchaetsya communications for the benefit of extending battery life.
Findings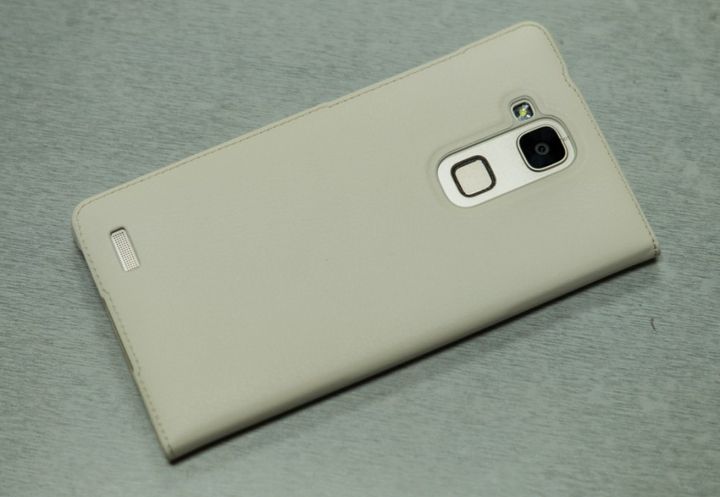 Huawei Mate7 will be commercially available in early January 2015. Now the smartphone is already available for 400$ in online shops (cost version with 2 GB of RAM). For my money this is a very interesting proposal. Phablet very well balanced and in many ways (autonomy, software tokens, sound quality, fingerprint) essentially bypasses the competition, which is what popular flagships. If a little dreaming, Wishlist, you can add support for stylus and transfer of the speakers on the front panel. Prospective buyers I would advise not to splurge on a bronze version – more RAM will not be superfluous, but double the amount of built-in storage allows you to use an additional slot for the second SIM-card.
Pros Huawei Mate7:
rich equipment
Nice design and good for Phablet, ergonomics
The quality of materials and workmanship
Shooting speed camera
Prospective hardware stuffing
Implementation of the scanner prints
Elegant multifunctional shell
record autonomy
Cons Huawei Mate7:
Read another very interesting article about alternative energy of the Sun, water and air.