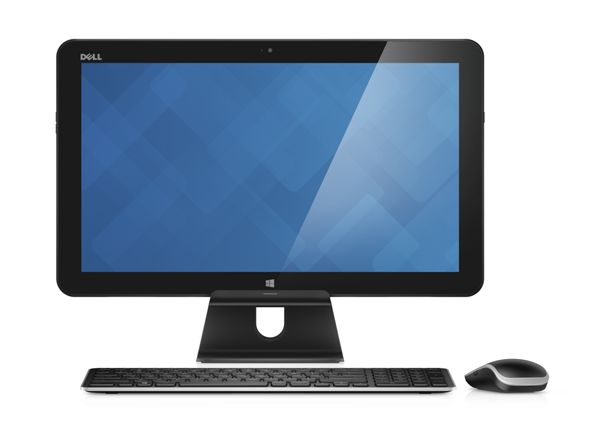 Large hybrids tablets with a monoblock recently become increasingly common, and the model Dell XPS 18 should be referred to the elite of this class. Weight and dimensions of the computer makes it easy to move it within the home. It features a gorgeous touch screen with a screen diagonal of 18.4 inches and comes with a charging cradle, from which it receives energy in stationary mode.
But no matter how I liked XPS 18 model, absolutely perfect it can not be named. The configuration, which I prefer – with the fastest processor Intel Core i74510U, 8 GB of memory type DDR3L / 1600 and high-speed solid state drive 256 GB – costs money: $ 1,500., To be exact. Dell is offering three less expensive models (with the same display, but less powerful processor, less memory and a mechanical hard drive, and in one case without charging cradle), but I am sure that impression of them will be different.
Disappointing and the fact that none of the four models no input HDMI (respectively, you can not use them as a display for the game console or set-top box), and none of them support the cable connection to the network. The computer on which I stopped my attention, is equipped with integrated Wi-Fi-adapter 2×2 Intel Dual Band Wireless-AC 7260. With regard to the XPS 18 speakers, nothing good about them, I can not say (but more on that later).
Dell XPS 18 comes with very good wireless keyboard and wireless mouse excellent (but the mouse itself off after a few hours of downtime).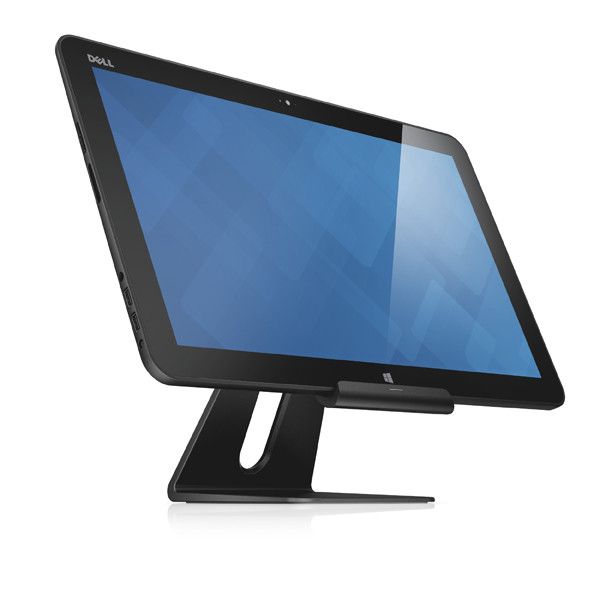 By now you probably already look at the four-star rating, and think about what I mean? Do not worry. Just wanted to immediately throw all negative. In general, XPS 18 is for me a typical midsize hybrid tablet with a monoblock.
Massive stand allows you to change the angles of the screen, so that you will be comfortable to look at him as sitting at a desk or standing. Necessary to achieve a snug fit electrical contacts, charge the battery, and I must admit that I every time have to make some effort before mechanical latch works properly. Check the result helps LED that lights up when the correct position finally found.
The tablet can be charged without the charging cradle. When buying XPS 18 I certainly would buy another power adapter, because every time to unravel the intricacies of wires and disconnect it from the stand is not too convenient. If this article will be read by engineers Dell, I would like to ask them to add to the next slot and Ethernet. Support for 802.11ac – certainly good, but the cable connection will always run faster. An Ethernet jack input and HDMI (I can not fail to mention again about sore) led me into a state of complete relaxation.
Disconnecting the display from the stand, you can use it as a regular tablet (the screen with an aluminum base and a magnesium frame weighs a little more than 2 kg). And if you bend a pair of legs from behind and put them on the screen, the computer turns into a candy bar. You can put a display on the table and play games together. And lifting the screen so that it rests on top of his feet part, you will add to it almost horizontal, but still inclined position. The strong folding legs Dell sells low-end model without charging cradle.
To use the XPS 18 in desktop mode, carry a charging cradle is not necessary.
XPS 18 managed on battery pretty impressive for 3 hours and 37 minutes. This is enough for watching movies and even gaming session. Note that in the testing process, we tried to give a large enough load, so you Battery life may vary. In Dell's claim that if you leave a light sensor on, computer on battery power for more than 5 hours. We runtime tests disabled it, fixing brightness of 200 candelas per square meter.
WVA display with a diagonal of 18.4 inches looks great and provides excellent viewing angles. Fast and accurate response at a high level, including in the performance of gestures scaling. Movies look very good, especially when playing with a hard disk or a connected storage, but the translation of YouTube videos over Wi-Fi leads to delays. Perhaps this issue can be solved by using a router 802.11ac (I tested the computer in the office, where there was only access point 802.11n).
Faint sound
Ultra-slim screen design (its thickness is only 1.8 cm) leaves very little space speakers, and the sound of the tablet, it is as thin as himself. When listening to a cover version of the song «Heroes» David Bowie, Peter Gabriel performed (she entered the album «Scratch My Back»), open bass strings sounded like a cello, violin and cello reminded. Gabriel's voice seemed to be emasculated and was filled with unpleasant hiss.
The speakers are located in the left and right ends of the display, but the sound penetrates through the rear grille. If you want to hear good sound, use headphones or connect external powered speakers.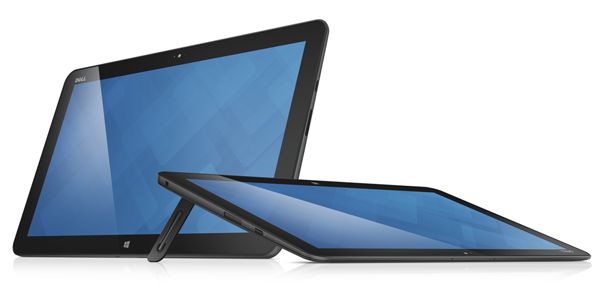 The model allows to play some games, not very high requirements to the equipment (such as BioShock Infinite), subject to reduce the screen resolution and reduce the image quality. Fans of the most modern computer games do not like it, but Dell's an audience and do not count. This machine is designed for families who want to install a PC for gaming and entertainment in the kitchen (in the office, living room or bedroom) and be able to quickly move it to another room (with keyboard, mouse and power supply or not).
Expensive? Yes, if you want to get the best possible configuration. Whether or not the computer that money? undoubtedly
Dell XPS 18
Pluses:
Disadvantages:
lack of HDMI inputs and cable interface Ethernet;
to "wake up" mouse, you need to press.
Findings
XPS 18 – expensive model (in the chosen configuration), but this is the best laptop mid-size candy bar that I have ever seen.
Read another very interesting article about alternative energy of the Sun, water and air.