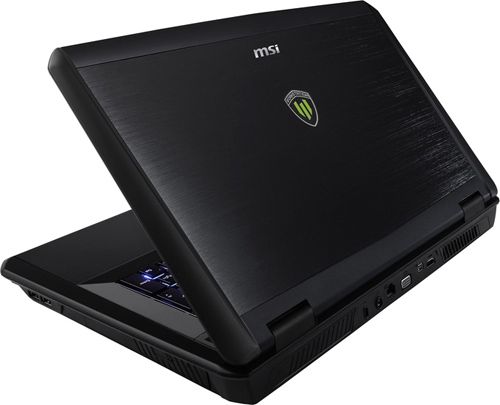 Employees of large corporations, everyone who works with major programs, most will not consider buying a business notebook, and workstation. The advantages of such a device are much more because it is set professional graphics, and functionality of this laptop is much higher.
At the annual exhibition Computex, 2014 MSI among the novelties introduced workstations. With gaming, notebooks have a surprising similarity and a significant difference except in the presence of a professional card. In this review, we consider the MSI WT70 and try to understand how broad capabilities and performance of such devices. Will he be successful an acquisition and whether it cost about $ 3,500?
Design – MSI WT70
Monolithic and massive body workstation MSI WT70 all kind inspires confidence. Not surprisingly, he has the size and weight 428h288h55 mm 3.9 kg because often these devices are on the desk in the office or at home and perform complex professional tasks.
Laptop lid on all sides has wide inserts may not be any such clearance will be to your liking. But like a combination of a conventional zone with a matte surface and areas with polished aluminum. It can be seen in the final logo workstation from MSI, partly resembling icon gaming lineup. However, the design of the laptop and without it is very similar to MSI GT70 series of gaming devices.
If you look at the interior, then it is possible to see the same dark coloring as the outside, however, supplemented by a large number of decorative elements. In particular, the original features and touchpad area web camera lens. Attracts the attention of special panel keys in the keyboard area.
The bottom of the workstation is made of plastic, there is a sufficient number of events. In addition, the bottom panel of the subwoofer is provided, the latch to remove the battery, and a slider to lock it.
Display, sound, webcam
The workstation is equipped with a 17.3-inch screen. Its resolution is 1920×1080 pixels, which is optimal for working with professional and other applications. However, if the font is too small for you, you can always increase. Incidentally, the matte surface of the display, it is not to be glare and reflections.
Screen Features nice feast. The brightness level of 300 cd / m2, contrast is high – 650: 1. Visibility of the screen is not ideal, but overall not bad. Image begins to lose color saturation, brightness only when disclosure laptop over 100 degrees. At the same time, the horizontal viewing angles are more stable.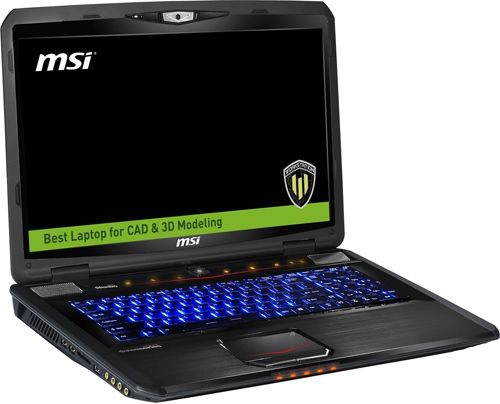 Laptop speakers represented by two Hi-Fi-speakers Dynaudio capacity of 2 watts and a subwoofer. The first placed above the keyboard while the subwoofer – on the bottom. Collaborate with support Audio Boost gives excellent results: the sound is not only loud and clear, but also perfectly balanced. Is that at the maximum sound occasionally making strange noises.
Webcam in the laptop has a resolution of 1.3 megapixels. That's enough to communicate with colleagues or friends in Skype.
Keyboard and Touchpad
In a workstation installed keyboard SteelSeries. It provides highlighting in different colors, as well as programming to highlight certain areas. Sam island keyboard unit, consists of large and well-labeled keys. Among them, there is not one that would have been greatly reduced and brings discomfort to the work.
The only thing that does not block pointer submitted separately and is located close to the main buttons and, because of this, at first, can often be erroneous pressing. Otherwise, everything is thought out: a good key travel, spring recoil, so it is unlikely to have any complaints about it.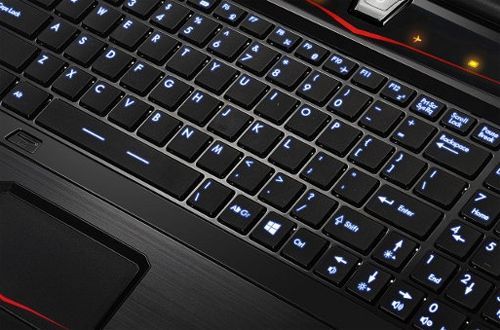 In addition to the keyboard area, there is a separate panel, where you can see the touch of a button. They are designed to quickly launch a number of programs, which greatly facilitates the work. For example, you can use the mode of "the plane", increase the speed of the cooler to the cooling system has become more actively and decreased heating temperature of internal components. In addition, you can activate the media player, turn off the display and others. In the center of the touchpad is a physical button on your notebook.
The touchpad is a workstation shifted to the left. He's a bit recessed and has a rough surface. Sensory area enough to properly control the cursor. Yes, and sensitivity to the mark. With the help of the manipulator can perform scrolling and zoom. As for the touchpad buttons, they cut corners a little. However, it is unlikely it may seem uncomfortable. To disable the touch area, you can use a special button located nearby.
Performance – MSI WT70
MSI WT70 2OK-2287RU works with the operating system Windows 7 Professional. Alternatively, it may be established professional "eight".
Excellent performance laptop processor shall Intel Core i7-4710MQ. This quad-core chip, built on norms of 22-nanometer process technology, having a frequency of 2.5 GHz and a cache memory of the third level 6 MB. Of course, the power consumption of the CPU is quite large (47 W), but given the great potential of Core i7-4710MQ, otherwise it can not be. By the way, thanks to technology Turbo Boost, the base processor frequency can be increased up to 3.5 GHz, and with Hyper-Threading it can simultaneously deal with the eight data streams.
In this package includes a data warehouse that meets modern requirements. In particular, this hybrid drive – HDD + SSD. Winchester has a capacity of 1 TB and the rotation speed of 7200 rpm. It is enough to store many programs, and created projects, documents, and even multimedia content. As for the SSD-drive, the 128GB enough to accommodate the necessary software and the operating system. Also, SSD is optimized for fast work laptop. It is noteworthy that, depending on the configuration storage offers a lot of options, in particular, the top-end version supports three SSD-drive in a RAID 0.
In the workstation provides 16 GB of RAM standard DDR3L-1600 MHz. Trims volume to 4 GB each is four slots. Interestingly, the manufacturer specifies the maximum capacity of 32GB. This means that the slot is set to 8 GB. Needless to say about the health of the device, which costs as many systems memories. Of course, it will be canceled.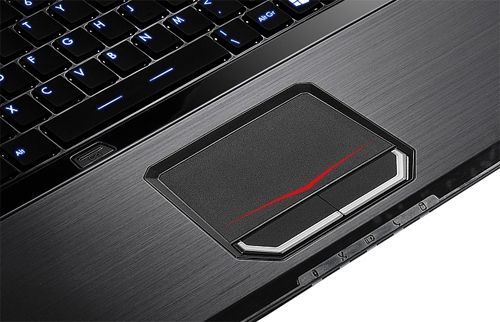 Should also be said about the graphics capabilities of the workstation. It provides two video cards. Built-in Intel HD Graphics 4600 supports DirectX 11 and uses a portion of memory taken from RAM. It is easier to use for simple daily tasks. But for complex calculations is better to use a discrete graphics card. Going at it done thanks to technology NVIDIA Optimus.
Graphics Quadro K3100M supports DirectX 11, OpenGL 4.3, and also has 4 GB of graphics memory standard GDDR5. It encodes and decodes the video, is used to display several connected monitors, to cope with modern programs, including professional, as its drivers are optimized for such tasks. As a result, on the WT70 you can perform design work, for example, or to engage in SolidWorks design using Autodesk. By the way, with the help of NVIDIA Quadro K3100M you can normally play many toys in the native Full HD-resolution and maximum settings: Diablo III, DiRT Showdown, F1. However, they are in 2012, ie are not the most modern.
It's no secret that under heavy load components fillings can seriously hot. To prevent overheating, the release of their failure, provides efficient cooling, based on the Cooler Boost 2. Earlier MSI Cooler Boost technology used in gaming laptops Series GT, the second version have been some changes. In particular, the additional heat added to the bridge, which enables to achieve instant cooling by 15%. Also, a quarter reduced noise produced by the fan.
Ports and Communications
All interfaces laptop located at the sides and rear. A sufficient number of ports located on the left side of the workstation. Among them are three-port USB 3.0, card reader MMC / SD / SDHC / SDXC, as well as connectors for headphones (there is support for S / PDIF-Out for transferring audio in digital form) and a microphone, line-in and line-out. For example, the last two interface designed to connect the column. Through the line-out – side, through the entrance – the rear. In addition, it is possible to connect via the «line-in» audio device, in particular, one microphone.
But right edge is more relieved. Here are placed only two USB 2.0 ports and built-in optical drive DVD ± RW Super Multi.

Ports on the rear panel are located in the middle and at the edges you can see the large ventilation grills, putting out warm air.
So, in the back provides VGA, HDMI, Mini DisplayPort. Through them will display the image on the three external monitors, and perform a variety of tasks. In particular, deal with 3D-modeling, working with conventional instruments. In addition, the rear has a network RJ-45 connector, a slot for a Kensington lock and a socket for recharging. As you can see, the interface to which will connect the wires handed back. They do not hurt if you intend to connect multiple devices.
Unfortunately, MSI WT70 2OK no connector for a docking station, but the base number of ports and connectors should be enough.
Wireless communication laptop presented Wi-Fi 802.11a / b / g / n / as and Bluetooth 4.0. Also worth noting Qualcomm Killer Doubleshot, which combines Killer Ethernet adapters and Wi-Fi. As a result, the line speed traffic, which reduces delays. In particular, it is good for games that you can play at your leisure.
As for the indicators, they can be seen beneath the sensor area. LEDs indicate when the notebook is turned on, the work drive, battery, and others.
Battery
Lithium-ion battery in the workstation has a capacity of 7800 mAh and nine sections. However, with such a powerful stuffing it can not provide a relatively high autonomy of the laptop.
Conclusion – MSI WT70
Workstation from MSI was very deliberate. This applies to both the filling and the whole functionality. The performance flawless, launch applications, even complex professional work without problems. And it is not difficult because the onboard device costs 16 GB of RAM, quad-core processor generation Haswell, as well as two cards, one of which is professional. In addition, ports and connectors in MSI WT70 more than enough and the keyboard – this is what is rightfully laptop can be proud of. It is not just a convenient due to the construction of the island but also equipped with a programmable backlight. Also, do not need advertising excellent cooling system, through which the laptop will work stable even under high load. Robust housing and superior Full HD-display contribute to the overall impression of the workstation. Of course, this configuration is evaluated is not cheap, at $ 3500, but you'll know exactly what MSI WT70 cope with the challenges and will not fail at the most important moment.
Source: MSI
Read another very interesting article about alternative energy of the Sun, water and air.