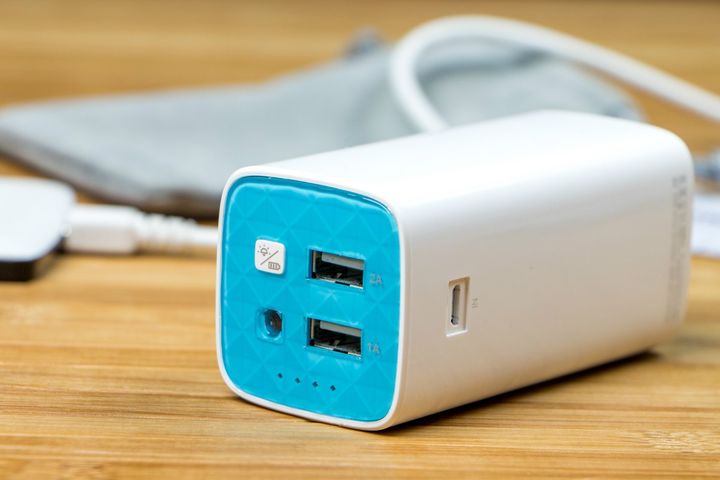 Product line is represented by TP-LINK at the market replenished laptop battery TL-PB10400. Among the advantages of the model – a striking design capacity battery and charging two mobile devices at the same time. Details about the characteristics and experiences of it, read on.
Model name already includes information about the capacity of the internal battery – 10400 mAh. On the real terms of time and expense charge discussed below. And start with the configuration.
In a box with external battery cable manufacturer invested microUSB – USB, a small manual and travel pouch. Last put in handy. Body glossy white, and only on the ends of the square under clear blue inserts basis. Application of logos on the part surface is flat, and the connector side rippled as large rhombus. Looks nice.
Portable battery housing TL-PB10400 – is flattened at the ends of the bar of solid weight. Micro USB port for charging it is located in one of the elongated sides. Two outputs USB 2.0 are on the "blue" end. Next to them, a flashlight, a button to turn it on and four LEDs. Incidentally, they also do not fall out of the diamond concept. In order to understand how much charge is left in the battery, just press the key.
Four brightly lit LED's indicate 75-100% charge. Three – 50-75%, two – 20-50%, a – 10-20%. If the rightmost lit only by half, then charge less than a 10% charge.
We now turn to the temporary portable battery indicator TL-PB10400. Actual operating conditions have shown that charging the battery from the mains takes from 7 to 10 hours, which depends on the power supply. If you plan to charge from your laptop, you get to 100% in less than 25-26 hours will not work.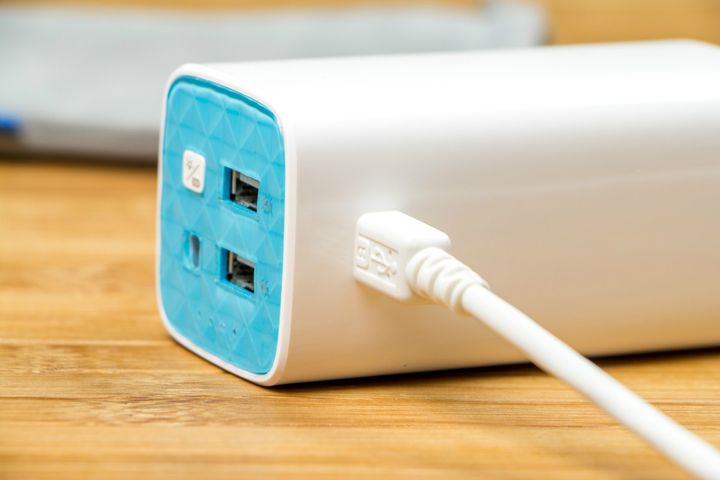 Now for a direct function of the device – charging my smartphone and tablet. For the test cell with a battery capacity of 1570 mAh and 3950 mAh tablet. The first is connected to the output at 1A, and the second to the fact that at 2A. Placing them on the charging at 23.00 in the morning at 7.00 percent charge devices features hundreds. When this battery was preserved in a 20 to 50% of its capacity, as it burned two LEDs.
The next evening I put on charge only smartphone. 3.5 hours he "scored" their 100% and left TL-PB10400 a blazing light. Do not believe it, but then again, fully discharge the smartphone, I was able to charge it to the full. And then there is the battery lit only half of one of the LEDs. It was only enough to charge cell up to 10%.
If recharged only smartphone that can withstand the test energy storage 5 complete cycles on iPhone 5S. Not Bad? I believe so, and would gladly have replaced its current external battery for this. I have enough on my two-three-day hike or ride a test well enough for a week. The real test showed that the loss of the charge does not exceed 10% -15%, and that says a good energy efficiency devices.
What we have in the end? TP-LINK TL-PB10400 works with Android-powered device, and with the products Apple, and even c other portable gadgets, which are charged via USB-port. The only thing that is mentioned by the manufacturer, you may have problems with charging the tablet Samsung.
It is also important that the tested model has energoperegruzki protection, short circuit, Rearrangement and overheating. In short, for the safety and reliability of the charging process should not worry, as actually and for their devices. The two-week test is confirmed.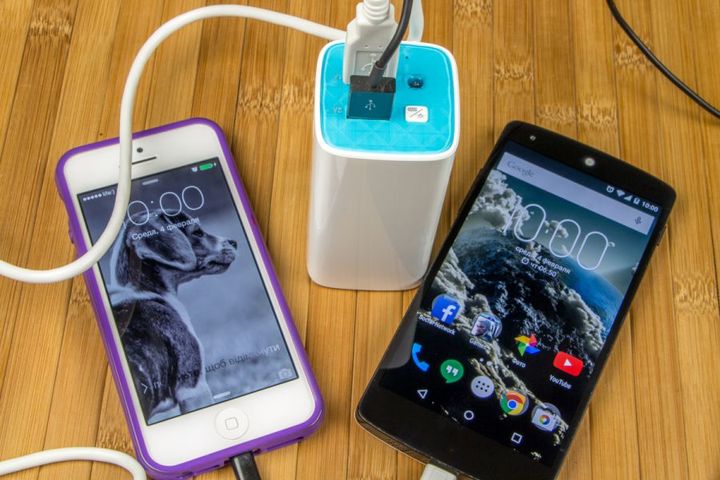 Summing up, I can say that the test battery – it is a great option spare external battery for long trips or travel. If you have a smartphone, you should buy this device only if you plan to charge him no more frequently than once a week. For girls who could carry it in your purse, the device is heavy. But for the geek who has in his pocket a pair of smartphones in the backpack eReader, tablet, modem, and maybe something else – TP-LINK TL-PB10400 fit just right.
pros:
Large capacity battery;
Beautiful design;
Two ports USB (1A and 2A);
Built-in Flashlight (includes 3 second press of a button);
More than 500 charge cycles.
Built-in security features
cons:
Read another very interesting article about alternative energy of the Sun, water and air.